Give your dinner a kick with spicy mac and cheese! Enjoy creamy baked macaroni and cheese with jalapeno peppers, creole seasoning, and crispy breadcrumbs on top.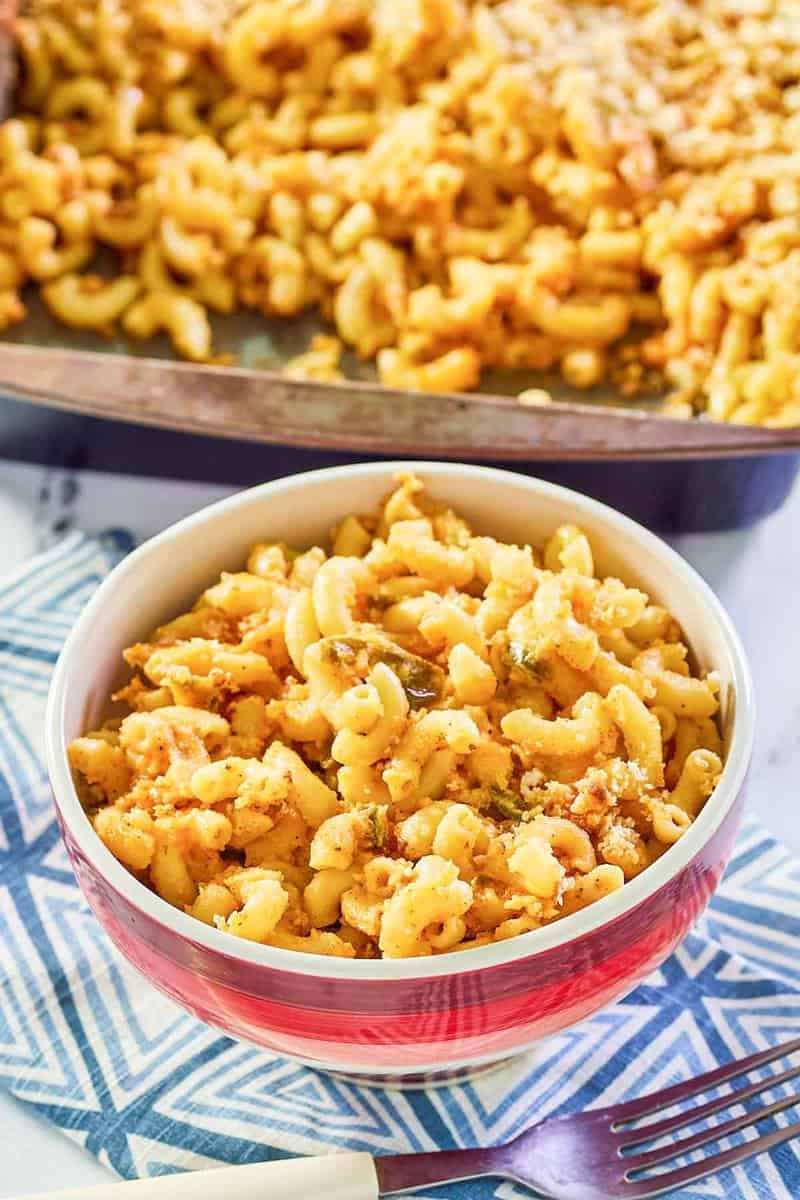 Homemade Mac and Cheese with a Kick
Is there anyone who doesn't love mac and cheese? You might be a devotee of the kind that comes in a box, or you might delight in making a gourmet mac and cheese with three different types of cheese. However you prepare it, there's no question, mac and cheese is a reliable and delicious crowd-pleaser.
But what if your comfort food favorite came with a little bit of a kick? If you haven't banished your inner child, you're probably often craving a big, creamy bowl of mac and cheese. And, because mac and cheese is a creamy dish, spice complements it perfectly.
Spicy Macaroni and Cheese is an excellent take on this classic comfort food. This spicy mac and cheese recipe is also great for a potluck party.
What's Different About This Mac and Cheese Recipe?
This easy, creamy mac and cheese recipe has a hint of spice for a fun twist! This recipe is a wonderful creamy version that has a bit of a kick. The juice from the jalapeño peppers adds just the right touch, and while it is a spicy mac and cheese, it is not too hot.
What Makes This Spicy Mac and Cheese Recipe So Good?
This mac and cheese spicy recipe succeeds on many different levels. It's far from being one-dimensional because it combines layers of flavors. Also, two types of cheese are used to provide an excellent cheese flavor.
By using seasoned salt and layering with jalapeño juice, you get a spice kick and lots of flavors. The creamy, cheesy sauce makes this dish perfect for enjoying any meal.
Do the Jalapenos in This Spicy Mac and Cheese Recipe Make This Dish Too Hot?
The good news is that this spicy mac and cheese recipe will not light your tongue on fire nor make you feel you've entered the 9th level of Dante's Inferno! Why is that? Well, a couple of things are going on here that really help.
The heavy cream and the cream cheese help to reduce the heat of the pickled jalapeños.
Pickled jalapeños aren't as hot as their fresh cousins. Learn more about why pickled jalapenos are less spicy than fresh peppers.
Why You Should Try This Mac and Cheese Spicy Recipe
Don't miss out on this wonderfully creamy mac and cheese because you think the jalapeños will make it too hot. This dish isn't nearly as spicy as you think it might be, and even your kids can enjoy their favorite family-friendly meal with a kick.
It's creamy and cheesy like a traditional recipe, but it's got something extra that makes it unique. The jalapeños add just the right amount of spice, and the breadcrumbs add a satisfying crunch.
Spicy Macaroni and Cheese Ingredients
This spicy macaroni and cheese casserole recipe takes this familiar and delicious comfort food to the next level. With its spicy cheese sauce, you will have people begging for seconds! Here's what you need:
Macaroni
Cream cheese
Cheddar cheese
Heavy cream
Butter
Pickled jalapeño slices
Salt
Breadcrumbs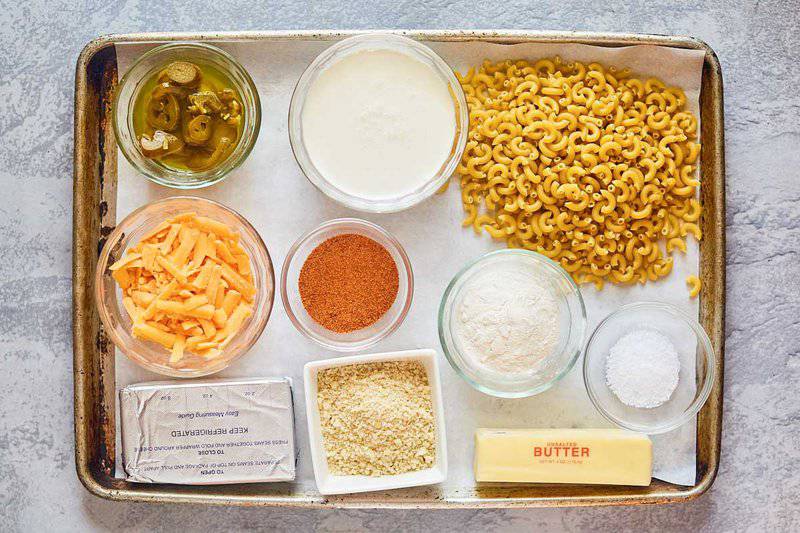 How to Make Spicy Mac and Cheese
Cook the macaroni in a large pot and drain well according to the package directions.
Melt the butter in a large skillet over medium heat on the stovetop, add the cream cheese, and mix until blended.
Add the heavy cream and the jalapeño juice.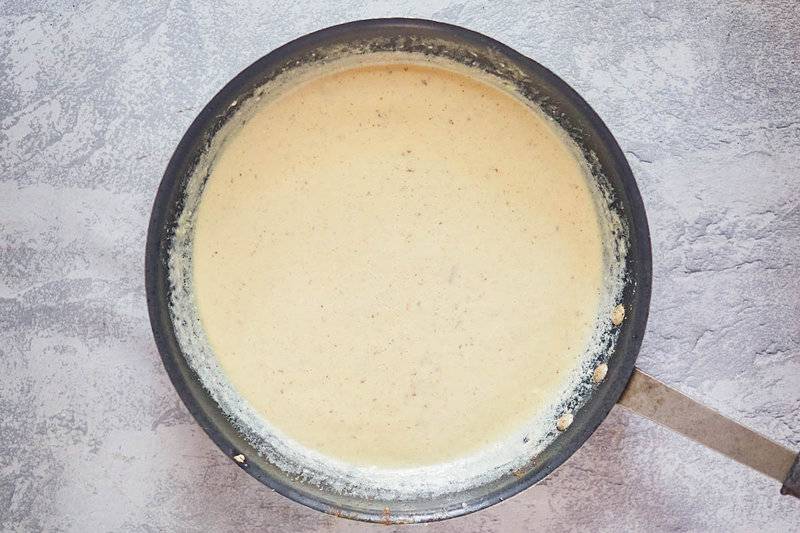 Mix in the Cheddar and the sliced jalapeños.
Add the salt and Tony Chachere's seasoning.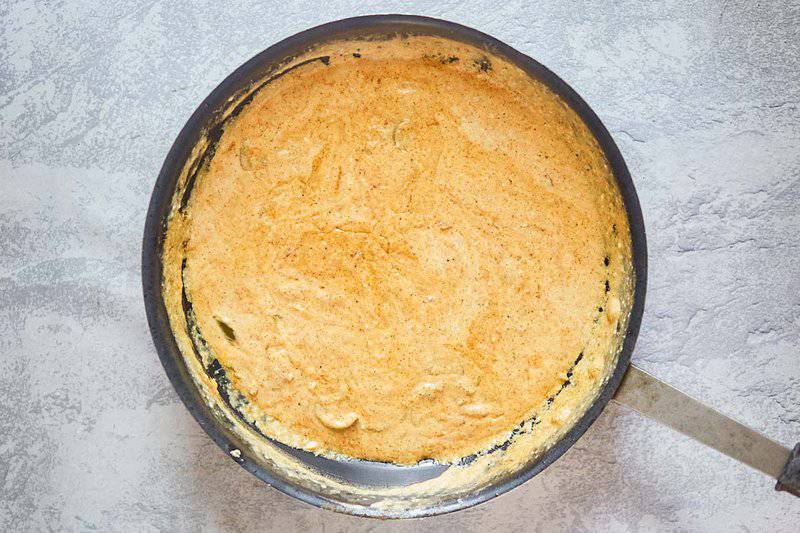 Layer your casserole dish with cooked macaroni and the cheese mixture.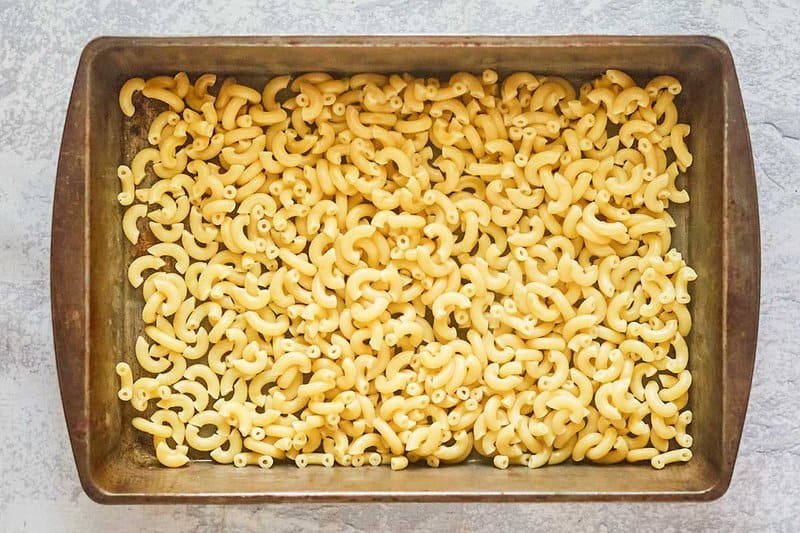 Sprinkle the breadcrumbs on top.
Bake at 350°F for 30 minutes.
Note: Keep the leftover jalapeño juice. It makes a wonderful addition to soups.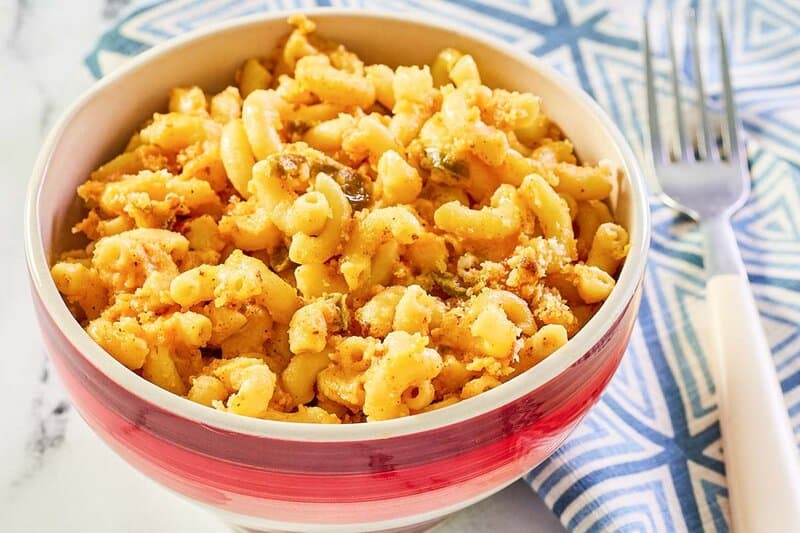 Recipe Notes
For best results, always shred your cheese yourself. Store-bought shredded cheeses are often coated with anti-clumping preservatives that prevent them from melting smoothly.
Make breadcrumbs at home. Learn how to make bread crumbs. Or, make homemade Panko breadcrumbs.
Recipe Variations
This easy, creamy baked mac and cheese with a hint of spice is ready in under an hour and is very easy to customize. Here are some suggestions:
Veggies: Roasted garlic, caramelized onion, broccoli, spinach, kale, and diced tomatoes all taste great in this spicy mac and cheese recipe.
Protein: to make your mac and cheese into a full meal, stir in fully cooked chicken, chorizo, andouille sausage, diced ham, or prosciutto.
Bacon: Top this mac with some crispy bacon pieces. Bacon bits add a nice little chew.
Cheese: This macaroni and cheese is excellent when you use pepper jack cheese. Or use a combination of cheeses – three kinds of cheese that work well together for mac and cheese are white or sharp Cheddar cheese, mozzarella, and parmesan.
Pasta: Use shells instead of elbow macaroni.
Cheddar provides that classic mac and cheese taste, melted mozzarella has that stretchy quality for fantastic texture, and parmesan adds a salty, umami flavor.
What to Serve With Spicy Macaroni and Cheese
Mac and cheese is a must for a holiday side dish. You can also serve it with steamed vegetables or a salad to make a well-rounded meal that everyone will love. Here are some more suggestions to go with your spicy macaroni and cheese:
How to Store Leftover Mac and Cheese
Storing: When you have mac and cheese leftovers, you want to ensure it doesn't dry out or turn into an unappetizing plate after reheating. Transfer the leftovers to an airtight container and keep them in the refrigerator for up to 5 days or in the freezer for up to 3 months.
Make Ahead: Make the dish as directed, except do not bake, and let it cool completely. Cover it with an airtight lid and store it in the fridge for 2 to 3 days or in the freezer for 2 to 3 months. Thaw it in the refrigerator and bake it the day you serve it.
Note: Never place a cold baking pan made of glass or ceramic into a hot oven, as it can shatter.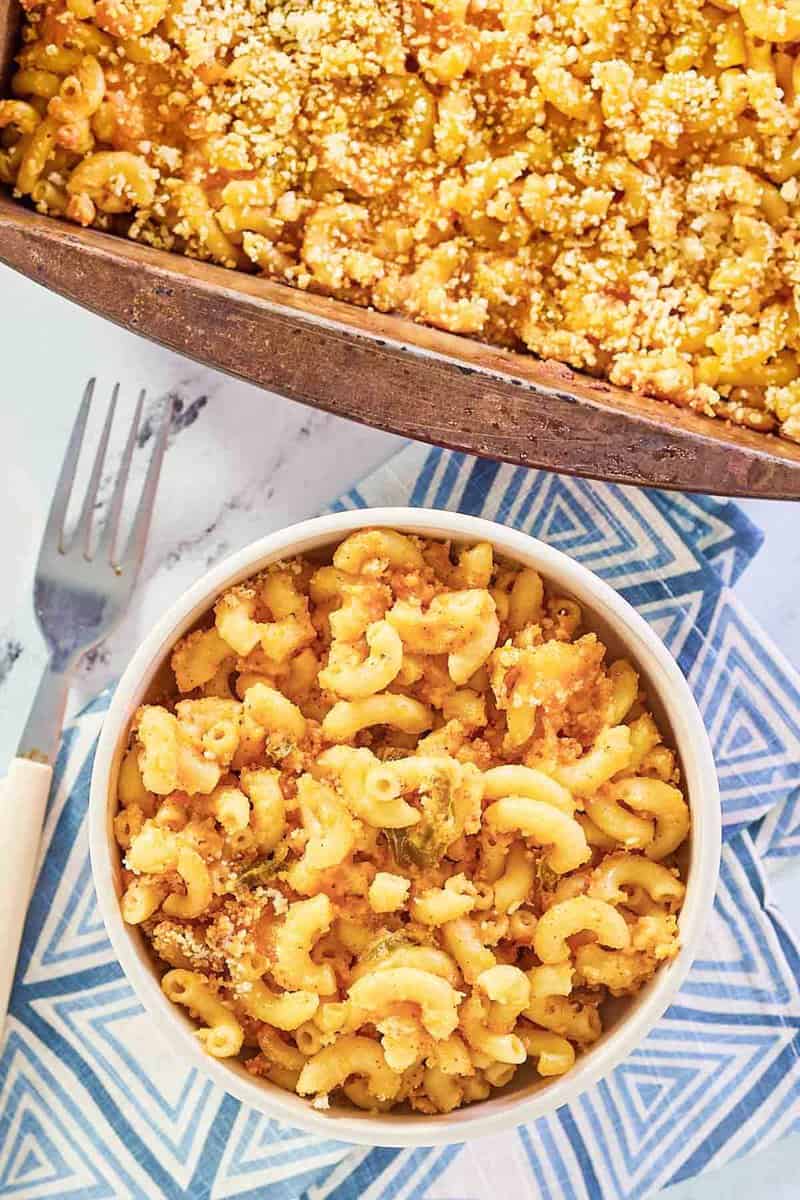 Love Mac and Cheese? Try These Recipes!
Favorite Casserole Side Dishes
Check out more of my easy casserole dishes and the best side dish recipes on CopyKat!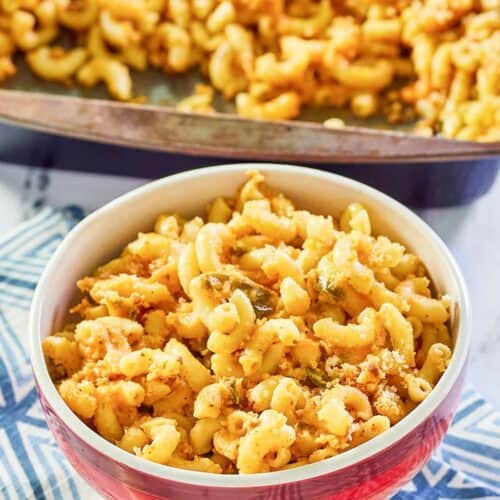 Ingredients
8

tablespoons

butter

1/2

pound

cream cheese

2 1/2

cups

heavy cream

1/2

cup

juice from a jar of jalapeños

1/2

pound

cheddar cheese

1

cup

jarred sliced jalapeños

1

teaspoon

salt

1/4

teaspoon

Tony Chachere's Creole Seasoning

1

pound

macaroni

prepared according to package directions

2

tablespoons

breadcrumbs
Instructions
Preheat the oven to 350°F.

Melt the butter in a saucepan over medium-low heat.

Add the cream cheese and mix until blended.

Add the heavy cream and jalapeño juice and whisk.

Mix in the cheddar, stirring until the cheese is completely melted.

Mix in the sliced jalapeños, salt, and Tony Chachere's Creole Seasoning and continue whisking until all ingredients are completely incorporated.

Spray a 9×13-inch baking pan with non-stick spray.

Layer the bottom of the pan with half of the cooked macaroni. Cover the macaroni with half of the cheddar mixture.

Add the remaining macaroni followed by the remaining cheddar mixture.

Dust the top with breadcrumbs.

Bake for 30 minutes.
Notes
Recipe Variations
Add some cooked linked sausage and turn this into a main dish.
This macaroni and cheese is great when you use pepper jack cheese.
This dish is really best eaten in one sitting, you can reheat it, but it gets a little dry the second time around.
Nutrition
Calories:
548
kcal
|
Carbohydrates:
36
g
|
Protein:
12
g
|
Fat:
39
g
|
Saturated Fat:
24
g
|
Cholesterol:
128
mg
|
Sodium:
1093
mg
|
Potassium:
227
mg
|
Fiber:
2
g
|
Sugar:
2
g
|
Vitamin A:
1910
IU
|
Vitamin C:
3.1
mg
|
Calcium:
207
mg
|
Iron:
1.5
mg