Grand Lux Cafe Macaroni and Cheese Skillet is a popular side dish at the restaurant. This incredible mac and cheese is creamy with a crunchy panko breadcrumb top and served in a cast iron skillet.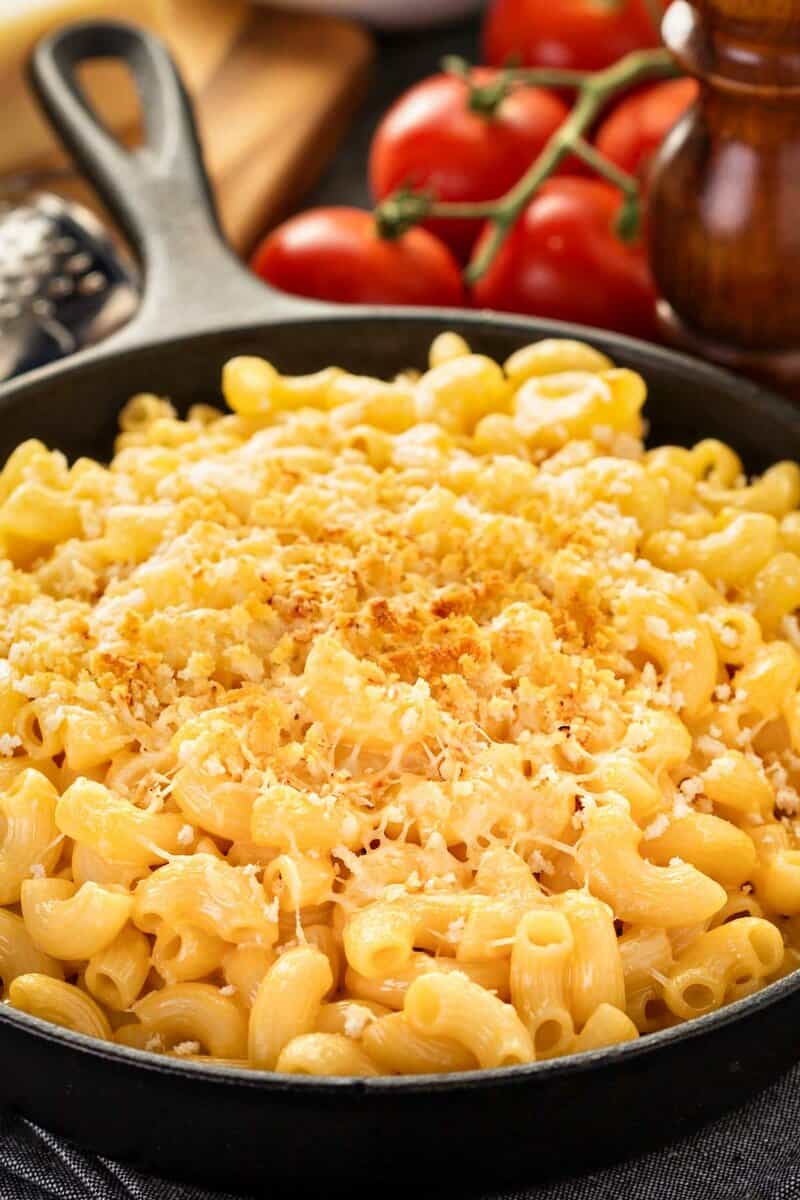 This post contains affiliate links. As an Amazon Associate, I earn from qualifying purchases.
What Makes the Grand Lux Café Macaroni and Cheese Taste So Good?
So, do you think you got too old for mac n cheese once you stopped wearing PJs with cartoon characters? That may be the case when it comes to eating the stuff in a box, but you are never too old for the real thing.
This skillet mac and cheese baked in the oven will change your mind about what the dish can be. Sure, it takes a lot longer to make, but it is definitely worth it.
Whether you make this versatile cast-iron mac and cheese as a main course or a side dish, you'll never be able to think about instant mac 'n cheese again without craving this recipe.
Ingredients For Grand Lux Cafe Macaroni and Cheese
To make skillet mac and cheese, you'll need:
For the cheese sauce:
Butter
All-purpose Flour
Milk
Heavy Cream
Medium sharp cheddar cheese, shredded
Kosher Salt
For the macaroni and cheese:
Elbow Macaroni or other pasta
Medium sharp cheddar, shredded
Monterey Jack, shredded
Panko breadcrumbs
Butter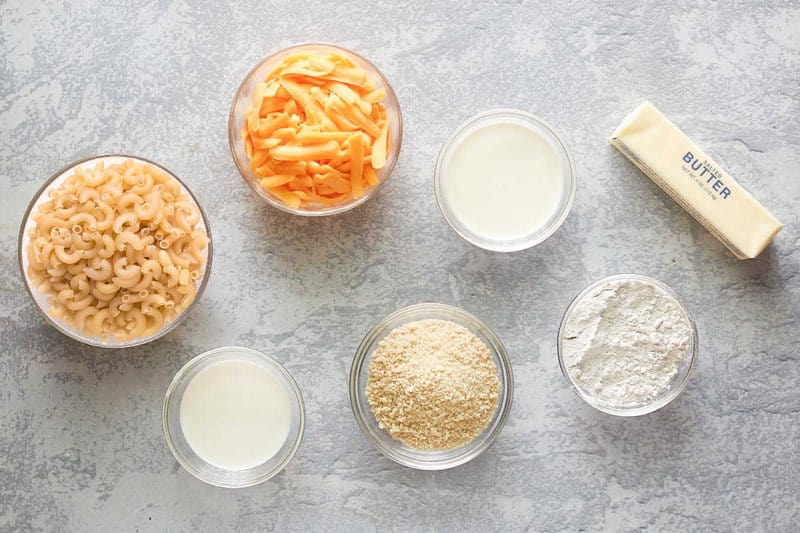 Ingredient Notes
Use your favorite type of short pasta. Elbow pasta is traditional, but the chefs use Gemelli in the restaurant. Use whatever you prefer, but make sure it is good quality.
The cheese is the star of the show here. Choose something a little higher-end than the kind that comes pre-sliced. Not everyone likes sharp cheddar or Monterey Jack, so go ahead if you want and switch one or both types of cheese.
How to Make Skillet Mac and Cheese
Breaking this long recipe into several shorter processes makes things a lot easier. You can make the cheese sauce a day ahead and keep it in the fridge to get dinner on the table faster after work.
To make the cheese sauce:
Melt the butter in a medium pan over medium-high heat.
Once the butter stops foaming, whisk in the flour.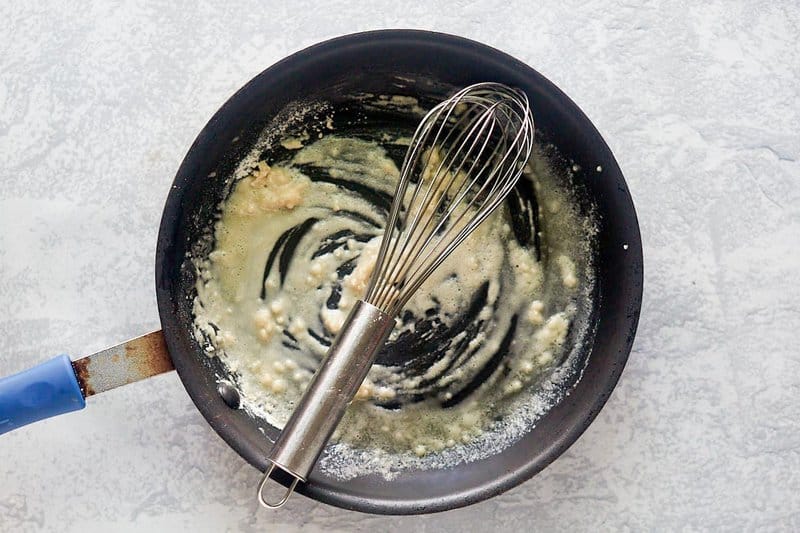 Cook the flour just until the roux turns a pale blond color, about 2 minutes.
Whisk in the milk slowly to prevent lumps.
Whisk in the heavy cream slowly.
Continue to whisk until the milk comes to a simmer.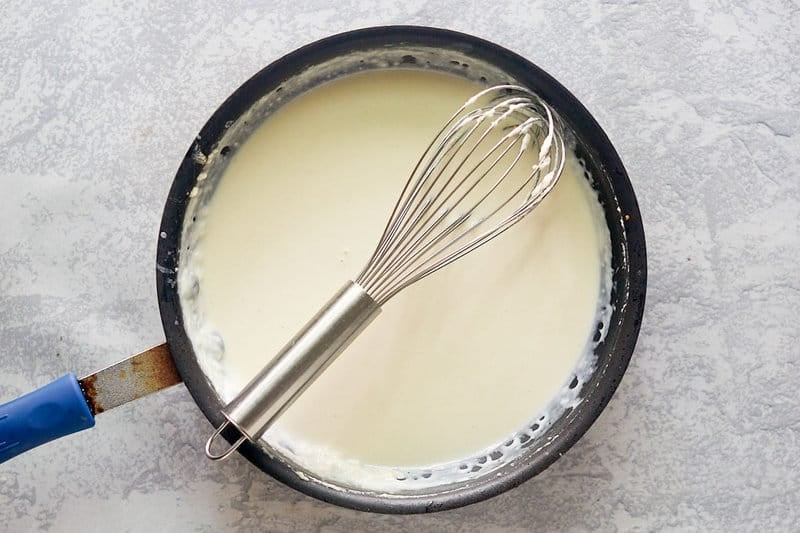 Reduce the heat to low and whisk in the cheddar cheese.
Turn off the heat and season to taste with salt.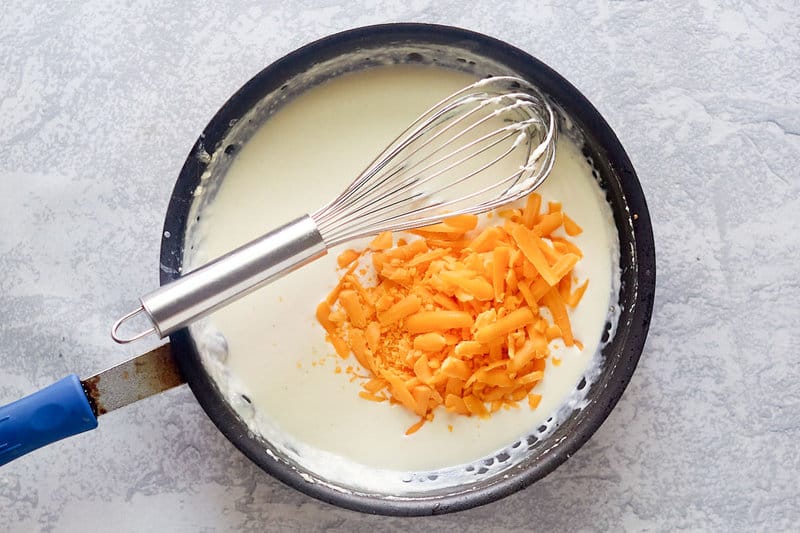 To boil the pasta:
Bring a large pot of salted water to a boil.
Add the uncooked pasta and cook for the recommended amount of time.
Check the pasta for doneness by biting one piece in half. You are looking for something softer than al dente. If there is any resistance to your bite, continue cooking for another minute and retest.
Drain and rinse the pasta under cold water to stop the cooking process. Set aside.
To bake the macaroni and cheese:
Set the oven rack at the top position and preheat the oven to broil.
While the oven is heating up, melt the butter for the breadcrumb topping in a small saucepan over medium-high heat.
Once the butter melts, stir in the bread crumbs and lightly toast. Set aside.
Stir the cooked pasta into the cheese sauce. Transfer the mixture to a cast-iron skillet. For a classier presentation, you can use miniature skillets for individual servings. If you don't have a cast-iron skillet, you can use ramekins or any other ovenproof container.
Sprinkle the macaroni and cheese with the shredded cheddar and Monterey Jack, and cover with toasted breadcrumbs.
Broil the mac 'n cheese in the oven until cheese melts and the breadcrumbs are golden brown.
Remove from the oven. Allow the Grand Lux Cafe Macaroni and Cheese to cool slightly before serving.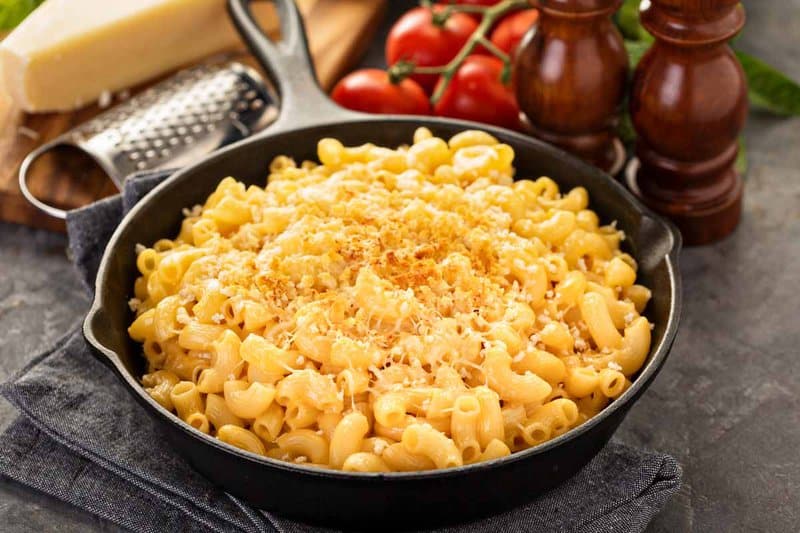 What Goes With Mac and Cheese
Cast iron mac and cheese works as both an entrée and a side dish. If you plan on serving it as a main course, choose something light and a little on the sour side to help balance the flavors. Sweet and Sour Coleslaw, or a Cucumber Tomato and Onion Salad would be perfect. A simple green or Caesar salad is also a good choice.
Skillet Mac and Cheese makes a great side dish for mains like baby back ribs, spicy meatballs, roast beef, and smothered pork chops.
How To Store Leftover Mac and Cheese
To save leftovers, let the mac and cheese cool in the skillet. Use a spatula to remove the pasta from the skillet. Try to get it to come out in one piece. Wrap in plastic and put in an airtight container in the fridge for up to five days.
Can You Freeze Mac and Cheese?
Yes, you can.
To freeze:
Separate the mac 'n cheese into individual portions.
Wrap each portion separately in plastic and put all of them in a freezer-safe container.
Store in the freezer for up to two months.
How to Reheat Mac and Cheese
Let frozen mac & cheese thaw in the refrigerator before reheating.
To reheat:
Preheat the oven to 350°F.
Place the macaroni and cheese in an oven-safe container.
Pour a splash of water into the bottom of the container to keep the pasta from drying out, and cover tightly with aluminum foil.
Heat in the oven until warm, about 15 to 20 minutes.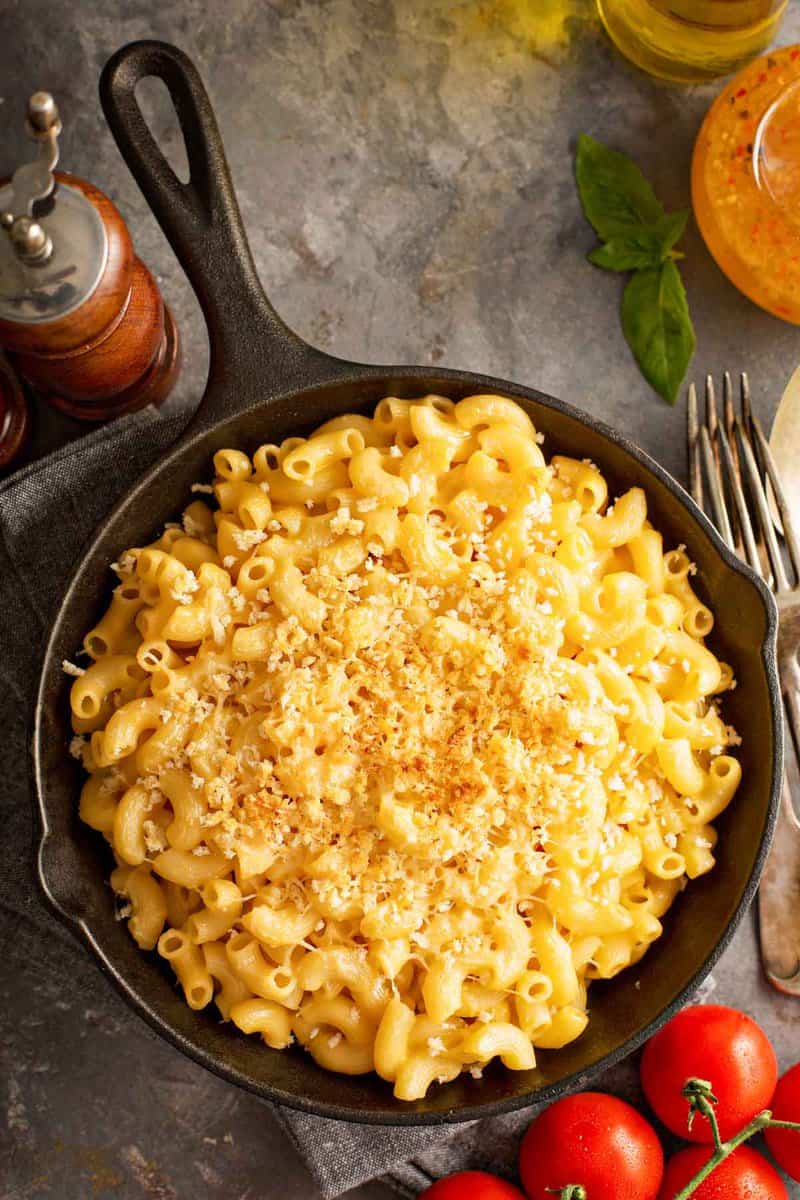 More Grand Lux Cafe Copycat Recipes
Popular Mac and Cheese Recipes
Favorite Side Dish Recipes
Check out more of my easy side dish recipes and the best copycat restaurant recipes here on CopyKat!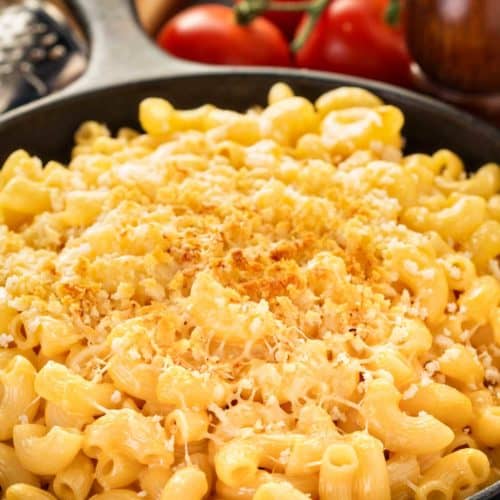 Ingredients
Cheddar Cheese Sauce
2

tablespoons

butter

2

tablespoons

all-purpose flour

1

cup

whole milk

¼

cup

heavy cream

2

cups

grated medium sharp cheddar cheese

¼

teaspoon

kosher salt
Butter Breadcrumb Mix
2

tablespoons

panko breadcrumbs

2

tablespoons

butter

melted
Macaroni and Cheese
8

ounces

dry/uncooked macaroni pasta

(or gemelli pasta, which is what they use in the restaurants)

1/2

cup

grated medium-sharp cheddar cheese

1/2

cup

grated Monterey jack cheese
Instructions
Cheddar Cheese Sauce
Heat the butter in a small saucepan over medium-high heat until it is completely melted.

Add the flour and whisk to incorporate. Cook until the raw flour taste has been cooked away (about 1 1/2 minutes). Do not allow it to turn brown; it should remain very light blond in color.

Slowly add the milk, 1/4 cup at a time, whisking to prevent lumps.

Add the heavy cream, continuing to whisk.

Allow the sauce to come to a gentle boil, and then lower the heat to a simmer, stirring occasionally to avoid burning (about 1 to 2 minutes).

Add the grated cheddar and stir with a wire whisk to incorporate until completely melted. 3. Season with salt, and remove from the heat.
Butter Breadcrumb Mix
Combine the panko breadcrumbs and melted butter in a small mixing bowl. Set aside.
Macaroni and Cheese
Preheat the oven to the "broil" setting. (If you do not have a broiler, set your oven to 500°F and leave your oven door slightly cracked open.)

Cook the macaroni according to the package directions. Drain.

Transfer the pasta to the saucepan with the cheddar cheese sauce. Using a rubber spatula, fold to incorporate.

Place the macaroni and cheese into a small

cast-iron skillet

or other oven-safe ramekin or small casserole dish.

Sprinkle the butter-breadcrumb mix evenly over the macaroni and cheese.

Broil until the cheese is melted and the breadcrumbs turn golden brown. Be careful not to burn the breadcrumbs.

Remove the macaroni and cheese from the oven. Serve and enjoy!
Notes
Cheddar cheese sauce can be made ahead of time and reheated.
Nutrition
Calories:
1544
kcal
|
Carbohydrates:
108
g
|
Protein:
62
g
|
Fat:
96
g
|
Saturated Fat:
56
g
|
Polyunsaturated Fat:
4
g
|
Monounsaturated Fat:
23
g
|
Trans Fat:
1
g
|
Cholesterol:
275
mg
|
Sodium:
1699
mg
|
Potassium:
630
mg
|
Fiber:
4
g
|
Sugar:
11
g
|
Vitamin A:
2967
IU
|
Vitamin C:
1
mg
|
Calcium:
1429
mg
|
Iron:
3
mg