Smoked Chicken Thighs are incredibly delicious and juicy. A dry rub flavors them perfectly so there is no need to brine or soak them in a marinade. This is the best recipe for smoking bone-in or boneless chicken thighs.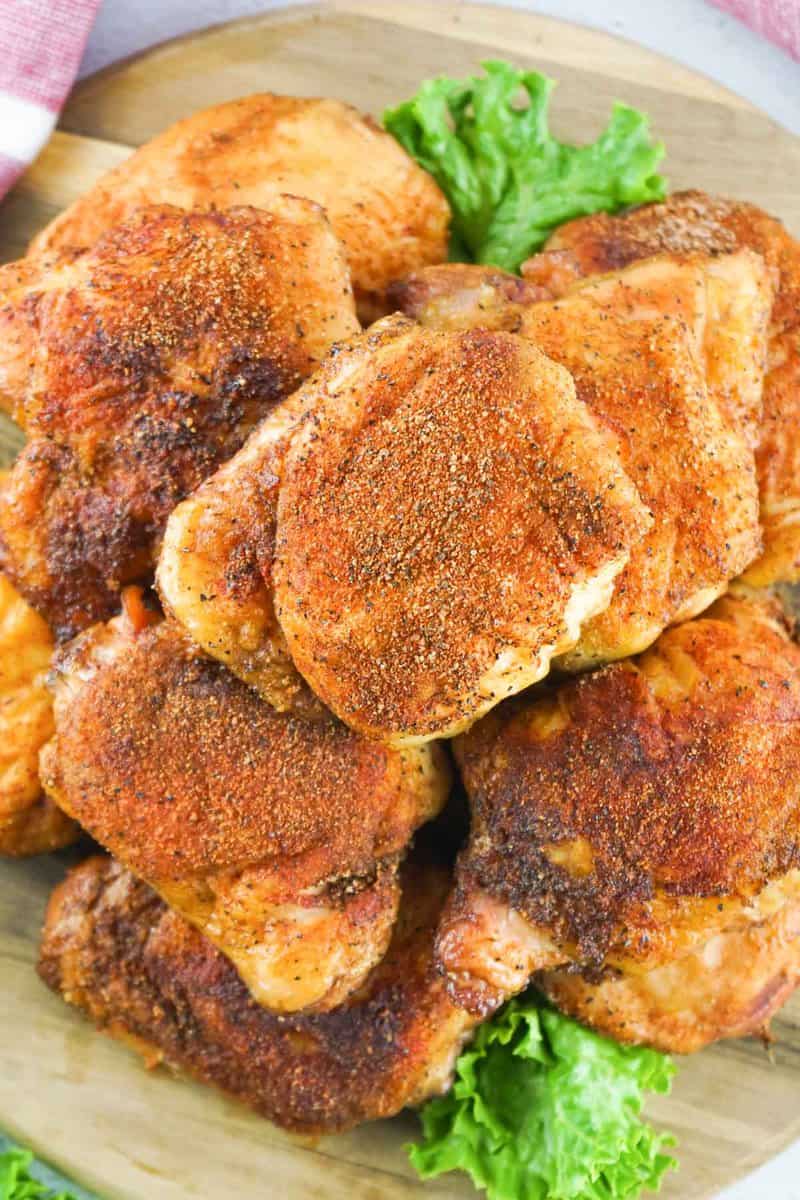 This post contains affiliate links. As an Amazon Associate, I earn from qualifying purchases.
Flavorful and Juicy Smoked Chicken Thighs
Chicken thighs are inexpensive, naturally fattier, and more flavorful than chicken breasts. Thigh meat has the same delicious flavor as chicken wings.
Slow-smoked chicken thighs are a great way to enjoy delicious chicken perfectly seasoned and smoked in your own backyard.
Even if you are a beginner at smoking, chicken thighs are one of the easier meats to cook in your Traeger pellet grill or pellet smoker.
Why This Is the Best Smoked Chicken Thigh Recipe You Need to Try
This recipe makes the best smoked chicken thighs – it just can't be beat! Chicken thighs are easy to smoke, and you get juicy and tender smoked chicken that's much more flavorful than chicken that has just been simply grilled.
This smoked chicken thigh recipe has a low carb count, is very easy to prepare, and tastes amazing! It's a go-to recipe you'll be coming back to again and again.
What Type of Wood Pellets Should You Use?
Fruitwoods are always great choices for smoking chicken – apple wood, peach wood, and cherry wood. You also can't miss with using hickory, pecan, or Traeger's signature blend for smoked chicken thighs Traeger.
Also, check out Competition Blend by Pit Boss, a delightful combination of hickory, maple, and cherry.
Smoked Chicken Thighs Rub Recipe
This chicken rub is easily made with ingredients right from your pantry. Apart from skin-on bone-in chicken thighs, here's what you will need for the best smoked chicken thigh recipe:
Paprika
Granulated garlic or garlic powder
Kosher salt
Black pepper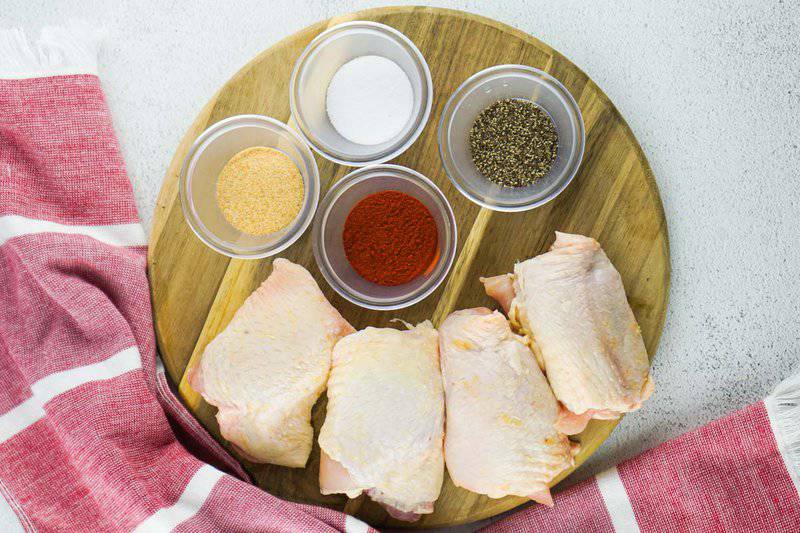 How to Smoke Chicken Thighs
Preheat the smoker to 225 degrees.
Place the spice rub ingredients in a small bowl.
Stir the spices until they are well combined.
Pat the thighs dry with a paper towel and season them on both sides with spice mix.
Place the seasoned thighs on the smoker grill grates.
Close the lid on the smoker.
Smoked Chicken Thighs Temperature: Smoke the thighs until the internal temperature reaches 155°F (about 1 1/2 hours).
Bump the smoker up to 300 degrees and smoke until the internal temperature reaches 185°F.
Let the smoked thighs rest for 10 minutes.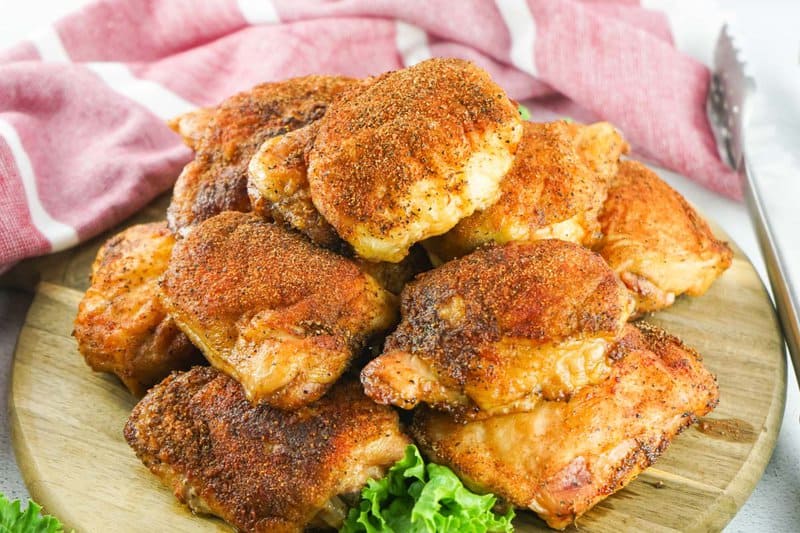 Recipe Variations
Feel free to change up this recipe to make it your own. Some fun variations to try would be:
Spicy: Add a pinch of chili powder, crushed red pepper flakes, or cayenne pepper to the spice rub to provide some heat.
Sweet: Add some brown sugar to the spice rub for a sweeter taste.
Saucy: Brush on your favorite barbecue sauce during the last few moments of smoking (when you raise the temperature to 300°F). Make sure that it's a sauce on the thinner side. This will allow it to glaze and become sticky much easier.
Slow-Smoked Chicken Thighs Recipe Tips
For the best smoked chicken thigh recipe ingredients, you definitely want to avoid skinless chicken thighs. You want the fat from the skin – it helps the chicken stay moist and contributes so much flavor.
This chicken thighs smoked method can also be applied to whole chickens. Cook time will vary, but the internal temps are the same, with the breast being done at 185°F.
Your wood pellets should be topped up before you begin. Check now and again while smoking and top up if necessary.
Smoked Chicken Thighs FAQ
Can you use boneless chicken thighs? Yes, you can use boneless skinless chicken thighs but you will have to cook the chicken for less time. Be sure to check the internal temperature often.
Do you flip chicken thighs when smoking? The only time it's necessary to flip chicken thighs while smoking is toward the end to get crispy skin. This process is called reverse searing.
How do you keep the chicken moist when smoking? Because these are slow-smoked chicken thighs, the chicken will remain moist if you do not overcook it. Dry chicken is the result of overcooking.

You can also use a mop sauce, a thin vinegar mixture that's applied to the chicken using a barbecue mop. A mop sauce should not be confused with a BBQ sauce – think of a mop sauce as a basting liquid.

Should you marinate chicken before smoking? Slow-smoked chicken thighs tend toward dryness because of the extended cooking process. Marinating the chicken prior to smoking will help keep the meat juicy and tender, as well as add another dimension of flavor.
How long do you smoke thighs for? How long it takes for chicken thighs smoked to fully cook is dependent on the thickness of the chicken and how consistent the heat of the smoker is. Be patient, and remember to cook to temperature, not to time. If your smoker lacks a probe, a good meat thermometer is essential.
How to Get Crispy Skin on Smoked Chicken Thighs
The skin can turn out to be a bit chewy when you smoke chicken low and slow. However, you can try a few things to get crispy chicken skin:
Let the thighs sit uncovered in the fridge overnight. The skin will dry out, and this will help to crisp it up.
Just before the thighs are finished smoking, toss them on the grill over high heat for a few minutes.
Slip the cooked chicken under the broiler for a few minutes.
Reverse searing the chicken thighs skin-side down will give you the best smoked chicken thighs with skin that is nice and crispy. Turn up the smoker's temperature to 400°F during the final 5 to 10 minutes of smoking.
What to Serve With Smoked Chicken Thighs
These tasty thighs are perfect paired with a side dish of cole slaw, BBQ baked beans, or cornbread. Other good dishes are:
You can also serve these smoked thighs with your favorite bbq sauce or a tasty homemade bourbon bbq sauce.
How to Store Leftover Smoked Chicken
Smoked chicken thigh leftovers make great chicken sandwiches. They can also be added to burritos, quesadillas, or used to make smoked chicken salad.
Refrigerator: Leftover pellet grill chicken thighs will keep in the fridge in an airtight container for up to 3 days.
Freezing leftovers: Place the meat in a plastic ziptop bag and place it in the freezer for meal prep and work or school lunches. It will keep for up to 2 months. Thaw the thighs overnight in the fridge.
Make ahead: Not only are these thighs delicious, but you can make them in bulk and freeze them to be used in the future.
To Reheat: Place the thighs in a pan and add a shallow layer of liquid, like chicken broth (adds moisture so they don't dry out). Cover the pan with aluminum foil. Heat in the oven at 350°F until the internal temp is 165°F.
Best Smoker Recipes
Favorite Chicken Recipes
Check out more of my easy chicken dinner recipes and the best recipes for summer here on CopyKat!
Ingredients
8

Skin-on Bone-in Chicken Thighs

1

teaspoon

Paprika

1

teaspoon

Granulated Garlic

1

teaspoon

Kosher Salt

1

teaspoon

Black Pepper
Instructions
Preheat the smoker to 225°F.

Mix the spices together in a bowl.

Season the chicken thighs on both sides.

Place the thighs on your smoker and smoke them until the internal temperature hits 155°F. This will take about 1½ hours.

Once the internal temp is reached, bump the smoker up to 300°F and let them smoke until the internal temperature hits 185°F.

Let them rest for 10 minutes before serving.
Notes
A good idea is to salt the chicken separately, ensuring a nice even coating of salt. It is the most important ingredient to juicy and flavorful chicken. Just mix the other 3 spices separately.
If you wish to put sauce on the chicken, do so when you bump the temperature up to 300°F. Also make sure that it is a sauce on the thinner side. This will allow it to glaze and become sticky much easier, resulting in a better end product.
This method can also apply to whole chickens. Cook time will vary, but the internal temps are the same, with the breast being done at 175°F.
Nutrition
Calories:
319
kcal
|
Carbohydrates:
1
g
|
Protein:
24
g
|
Fat:
24
g
|
Saturated Fat:
6
g
|
Polyunsaturated Fat:
5
g
|
Monounsaturated Fat:
10
g
|
Trans Fat:
0.1
g
|
Cholesterol:
142
mg
|
Sodium:
402
mg
|
Potassium:
310
mg
|
Fiber:
0.2
g
|
Sugar:
0.04
g
|
Vitamin A:
237
IU
|
Vitamin C:
0.01
mg
|
Calcium:
14
mg
|
Iron:
1
mg