Bourbon BBQ Sauce is thick, rich, and deeply flavored. What makes this sauce special is brown sugar, ketchup, and a variety of seasonings.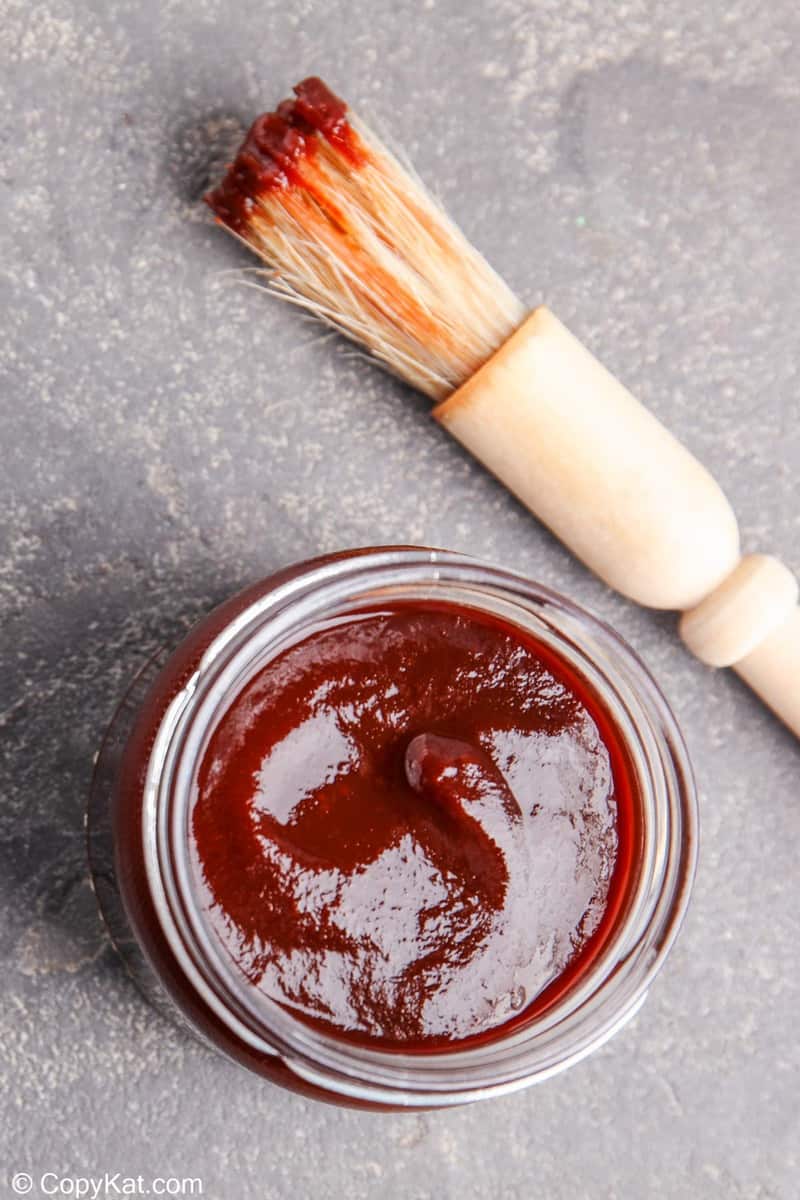 You can use bourbon barbecue sauce on a variety of meats such as ribs, pulled pork, and chicken breasts. This makes a wonderful basting sauce, but be sure to save some to dip your meat in.
This smoky bourbon BBQ sauce recipe is tangy and made richer and more complex with blended bourbon. Bourbon gives this barbecue sauce a depth of flavor that complements a variety of meats such as steaks and chicken breasts. It also makes a wonderful basting sauce; be sure to save some to dip your meat in.
Spicy and sweet with smoky flavors, you can make this mouthwatering BBQ sauce recipe in no time at all. All you need is brown sugar, bourbon, ketchup, liquid smoke, garlic, and onion.
What Is Liquid Smoke?
Liquid smoke is a concentrated seasoning that gives meat a smoky or woody flavor. It can be found in most grocery store spice or condiment aisles, as well as on line. You only need a small amount as the flavoring is very intense. Liquid smoke comes in a few different flavors, such as hickory, mesquite, pecan, and cherry. Hickory flavor is perfect for this recipe.
What Kind of Bourbon for This Bourbon Barbecue Sauce Recipe?
Don't break the bank for a pricey bourbon, but also don't buy one just because it's cheap – it's likely to be harsh, and the taste will come through in the sauce. As long as the bourbon is tasty enough to drink, you'll be good to go. If you aren't a regular bourbon drinker, here are a couple of ideas:
What About the Alcohol in This Barbecue Sauce?
The amount of alcohol that remains in food after it is cooked depends on a number of things – how long the food is cooked, the size of the pot (larger = more alcohol evaporation), and what other ingredients are in the recipe. In this BBQ sauce with bourbon recipe, simmering the sauce for 20 minutes will reduce the alcohol content. The raw taste of the alcohol goes away, but the bourbon flavor remains.
Will This BBQ Bourbon Sauce Keep?
Yes, store your bourbon barbecue sauce in an airtight container in the refrigerator for up to two weeks – a mason jar works great. Make a double batch and freeze some for later (it will keep for up to three months). It's really nice to have BBQ sauce on hand whenever you need it.
How to Use Your Bourbon Barbecue Sauce
There's no end to the ways you can use this bourbon BBQ sauce. Here are some ideas you may not have thought of:
Bourbon BBQ Sauce Recipe
Bourbon barbecue sauce is rich, thick, and perfect for ribs, chicken, pulled pork, French fries, and much more. It has just the right balance of sweetness and heat, and the bourbon flavor comes through really nicely. After one taste, I have no doubt this will become your new favorite BBQ sauce.
Bourbon BBQ Sauce is great for summer cookouts. Since this delicious sauce is made with bourbon, be sure to pair it with a cool and refreshing summer cocktail.
Ingredients
Here's a list of what you need:
How to Make Bourbon BBQ Sauce
In a saucepan over medium heat, combine brown sugar and bourbon.
Add ketchup, liquid smoke, garlic, and minced onion. Stir until well blended.
Cook for 15 to 20 minutes.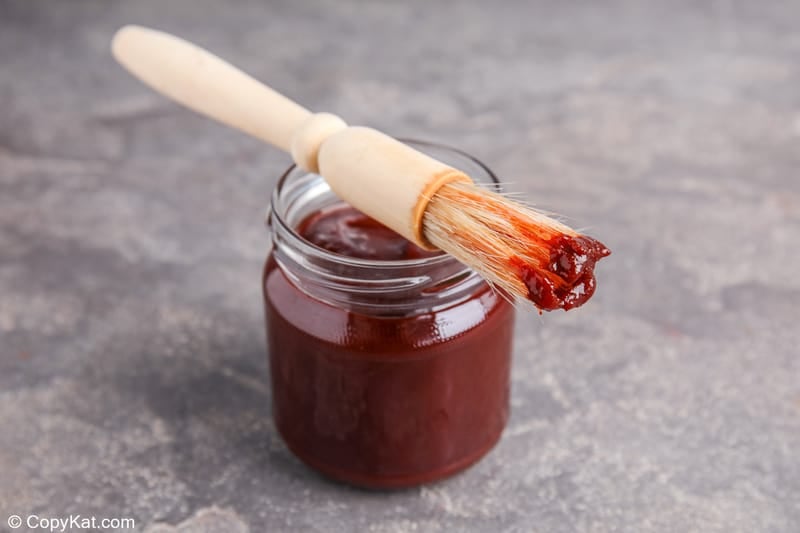 Popular Sauce Recipes
Favorite Summer Drink Recipes
Be sure to check out more of my easy sauce recipes and the best summer recipes here on CopyKat!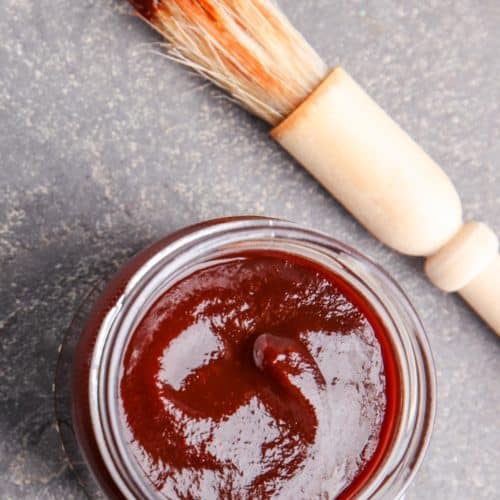 Ingredients
1/2

cup

dark brown sugar

plus 1 tablespoon

1/2

cup

blended bourbon

1/2

cup

Heinz ketchup

2

teaspoons

liquid smoke

1

clove

minced garlic

1

tablespoon

minced onion
Instructions
In a saucepan combine brown sugar and bourbon. Turn heat to medium and mix well.

Add ketchup and remaining ingredients. Stir until all is well blended.

Heat through for about 15 to 20 minutes, stirring occasionally
Notes
You want to make sure the most of the alcohol cooks away.
You can use this as a basting sauce for BBQ, or you can spoon it over chicken breasts and pop those into a 400-degree oven covered for about 30 minutes.
You can also prepare this with wings for a great change on hot wings.
Nutrition
Calories:
838
kcal
|
Carbohydrates:
141
g
|
Protein:
1
g
|
Fat:
0
g
|
Saturated Fat:
0
g
|
Cholesterol:
0
mg
|
Sodium:
1143
mg
|
Potassium:
524
mg
|
Fiber:
0
g
|
Sugar:
133
g
|
Vitamin A:
615
IU
|
Vitamin C:
5.9
mg
|
Calcium:
111
mg
|
Iron:
1.3
mg