Ninfa's green sauce is a delicious fresh avocado salsa made with green tomatoes, tomatillos, avocados, sour cream, this is so delicious and you recreate this recipe at home in no time at all.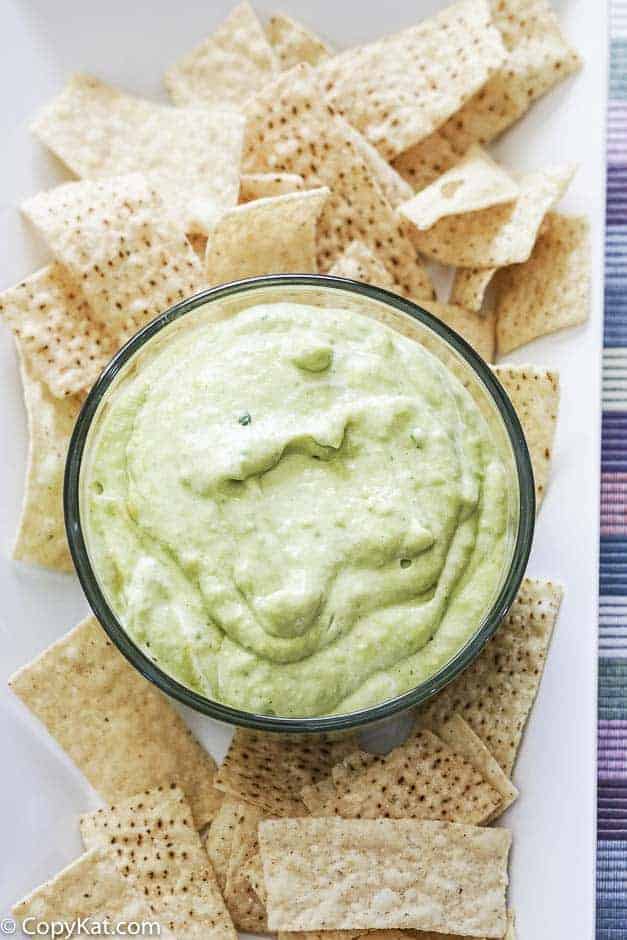 What is Ninfa's Green Sauce? It's a guacamole salsa recipe that is delightfully creamy with just the right touch of heat. Don't miss out on trying Ninfa's Green Sauce. Along with the usual bowl of red salsa, you get it when you get your salsa and chips before your meal. This guacamole salsa is low-carb friendly and is super easy to make. It's a lot like the commercially available Herdez Guacamole Salsa.
What is Ninfa's?
This sauce is a famous green salsa sauce that has ensured that Mama Ninfa will never be forgotten in Texas. Ninfa Laurenzo, the late owner of the Houston chain Ninfa's, is credited with inventing this green sauce. If you grew up in Houston, you knew who Mama Ninfa was. She personified the American rags to riches life story by turning a small tortilla shop into a popular Tex-Mex food chain. Her first restaurant, now lovingly known as Ninfa's on Navigation, has become a Houston institution. Opened in 1973, it is probably the only real Ninfa's restaurant left; the others have been bought out. It serves amazing Tex-Mex food, including fajita tacos al carbon, pickled carrots and jalapenos, and enchiladas.
What makes fresh avocado salsa so good?
Ninfa's green sauce, a creamy and tangy mix of avocados, cilantro, green tomatoes, tomatillos, jalapenos, garlic, and sour cream, is simply magical. The creamy avocados and the sour cream are the perfect complements to the tangy tomatillos. The cilantro helps give this guacamole salsa recipe its distinctive flavor. The sauce is not too spicy, but you can add more jalapenos if you crave more heat. You can scoop up this salsa with tortilla chips, but it also goes well with enchiladas, carnitas, chicken, and fish.
What is a Tomatillo?
Tomatillos look a bit like green tomatoes, but they come with a husk and a tart taste all their own. Although they come from the same family as regular tomatoes, they're not exactly "little tomatoes," as their name would suggest. When allowed to fully mature, tomatillos can turn shades of red, purple, or yellow. However, they are generally harvested and eaten while still underripe and green and still have their signature acidic edge. This tangy green fruit is a staple in Mexican cuisine.
Love Tex-Mex dips? Try these copykat salsa recipes and let me know which one is your favorite.
Sharkie's Casa Ole Green Sauce
Saltgrass Steakhouse Boiled Shrimp and Avocado Salsa
Pappasito's Salsa
Plus 27 Tomatillo Recipes
This is a perfect guacamole salsa recipe to wow your guests. This sauce keeps for about 7 days, but it's so good I doubt you'll have any leftover. However, the flavors and texture improve if you refrigerate the salsa for at least 2 hours in advance. Use as a sauce or dunk to your heart's content.
Can't get enough copycat recipes? Be sure to follow us on Facebook or Instagram!
Ninfa's Green Sauce
Ninfa's Mexican Green Sauce is creamy with a kick of heat. Get the easy copycat recipe with tomatillo, green tomato, avocado, jalapeno, garlic, and sour cream.
Print
Pin
Rate
Add to Collection
Go to Collections
Ingredients
3

avocados

3

medium

green tomatoes

4

fresh

tomatillios

3

cloves

garlic

2-3

teaspoons

cilantro

1

chopped jalapeno

1 1/2

cup

sour cream

salt to taste
Instructions
Nutrition
Calories:
144
kcal
|
Carbohydrates:
7
g
|
Protein:
2
g
|
Fat:
13
g
|
Saturated Fat:
4
g
|
Cholesterol:
14
mg
|
Sodium:
30
mg
|
Potassium:
349
mg
|
Fiber:
3
g
|
Sugar:
2
g
|
Vitamin A:
465
IU
|
Vitamin C:
14.1
mg
|
Calcium:
43
mg
|
Iron:
0.5
mg