We were a little surprised by the complexity of TGI Friday's Jack Daniel's Dipping Sauce. It's not really sweet. It does compliment meat flavors very well. We are also amazed at how sparingly TGI Friday's serves their sauces. You get a tiny little cup of it, and if you want more, you have to pay more.
The wonderful part of our version of this recipe is you can make it in a large quantity and use it to cook beef or chicken on the grill or to dip your favorite foods into.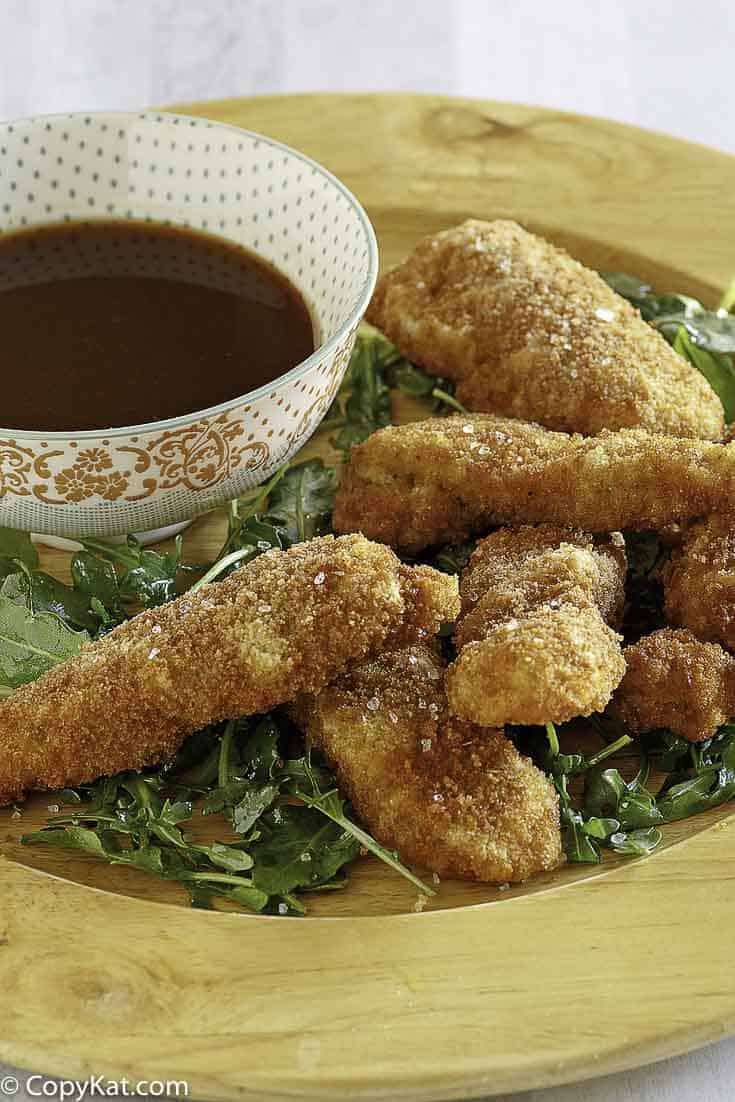 Perfect as a Glaze or for Dipping
Use Jack Daniel's Dipping Sauce as a glaze when you're cooking beef or chicken on the grill or as a dipping sauce for your favorite foods. But if you're grilling, be sure to apply the sauce late in the grilling process (just before taking the meat off the flame) as the sugar in the sauce will burn. And, don't forget to serve extra on the side.
Was TGI Fridays the First Singles Bar?
The first TGI Fridays opened up in 1965 on First Avenue and 63rd Street in New York City. Alan Stillman, a perfume salesman, started the bar and restaurant because he wanted the chance to get to know the unmarried airline stewardesses and other single women that lived in his neighborhood.
According to legend, Stillman thought up the name TGI Fridays while he was skiing with a friend. He was so furious because his friend had beaten him on the slopes, that he screamed out "Thank goodness it's Friday!" and thought that it would be a really great name for his restaurant.
Does Every TGI Fridays Have an Airplane Propeller Over the Bar?
Yes, perhaps to continue the airline theme of its beginnings, an airplane propeller is placed in every TGI Fridays bar to symbolize the engine that moves the business. The business has certainly moved as Fridays currently has over 900 restaurants in around 60 countries. You can read more fun facts about TGI Fridays.
TGI Fridays Jack Daniel's Dipping Sauce
You can make this sauce, and it tastes just a good as going to TGI Fridays, and you won't have to pay for extra. You'll love this sauce, and you can put it on almost everything! Even use it as gravy and pour it onto your mashed potatoes! Your family will become huge fans of this sauce.
Keep Some in Your Fridge
You can make our version of this recipe at home, and you can keep this sauce for up to a week in your fridge. In fact, it tastes even better if it cools in your fridge for a couple of days. And, you can eat like it's Friday every day!
Love TGI Fridays? Be sure to check out these recipes
Pretzel Sticks and Beer Cheese Dip
TGI Friday's Fried Mozzarella Sticks
TGI Fridays Potato Skins
Ingredients
1/3

cup

diced red onion

1/2

teaspoon

minced garlic

1/2

cup

water

1/2

cup

brown sugar

1/3

cup

teriyaki sauce

1/4

cup

soy sauce

1/3

cup

white grape juice

1/2

cup

Jack Daniel's Black Label Whiskey

1/2

teaspoon

Tabasco sauce
Instructions
Place the ingredients in a saucepan in the order listed. Stir after adding each ingredient. Place on medium heat and stir until it reaches a boil.


Turn the heat down to low until the sauce is on a slow simmer. Cook for 35 to 45 minutes. The sauce will have reduced in volume by one-fourth to one-third.

The sauce should be strained before serving.
Nutrition
Calories:
226
kcal
|
Carbohydrates:
36
g
|
Protein:
3
g
|
Fat:
0
g
|
Saturated Fat:
0
g
|
Cholesterol:
0
mg
|
Sodium:
1754
mg
|
Potassium:
162
mg
|
Fiber:
0
g
|
Sugar:
33
g
|
Vitamin C:
1.3
mg
|
Calcium:
35
mg
|
Iron:
1
mg