TGI Friday's B52 shot looks fantastic. Pour slowly and you will have a beautifully layered drink.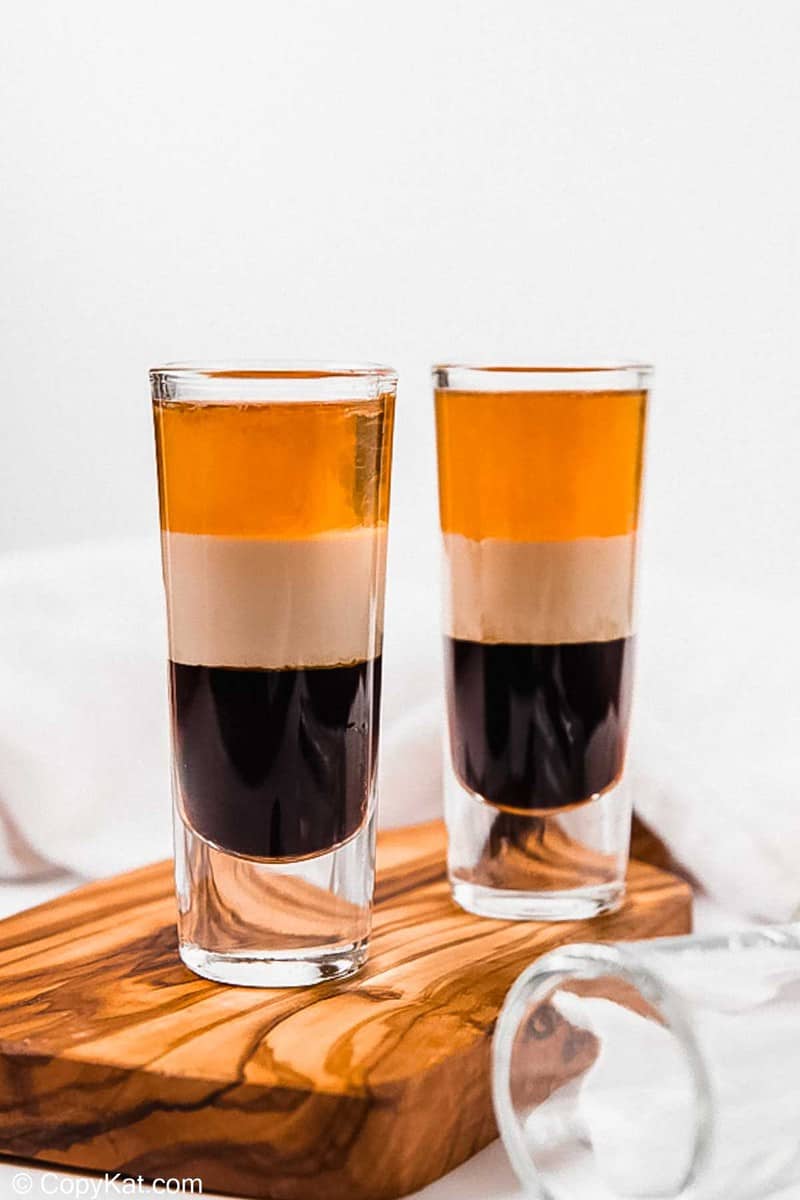 Creamy Caramel Shot
TGI Fridays has great bartenders that can pour some pretty delicious specialty cocktails, but you don't have to be a professional barkeep to make one of the most iconic shooters out there, the B-52 shot.
The B-52 is known for its three distinct layers of alcohol and a creamy caramel taste with just a hint of citrus to keep things from getting overly sweet. If you haven't ever tried the B-52 before, it is definitely worth a shot (or two).
No, It is Not Named After the B-52 Bomber
Don't call it a B-52 Bomber, and for heaven's sake, don't set it on fire and call it a "Flaming B-52 Bomber". The name comes from the quirky, new wave Southern band, The B-52's.
Peter Fich, a Canadian barman, created the shot to mimic the colors of the outrageous beehive wigs that the women in his favorite band, The B-52's, wore.
What's in a B-52 Shot?
The three B-52 shot ingredients are:
Kahlua Coffee Liqueur Kahlua is a sweet coffee-flavored liqueur from Mexico. At just 20 percent ABV, this rum-infused is more popular for its flavor profile than its intoxication ability. If you can't find Kahlua Coffee Liqueur near you, you can use Tia Maria or another coffee-flavored spirit as an alternative.
Bailey's Irish Cream Made with cocoa, cream, Irish whiskey, Bailey's is an essential ingredient in many cocktails. While it comes in several varieties including, almond milk, stick to the original for this recipe. If you don't want to spend a lot, you can consider O'Mara's Irish Country Cream,
Grand Mariner This renowned French orange-flavored liqueur combines bitter oranges and fine cognac with a bit of sugar and other secret ingredients to produce a drink that is equally at home sipped by itself or as part of a cocktail. There are substitutes, like Cointreau, that have a similar taste but isn't the same color if you care about such things.
How to Layer Alcohol in a Shot
While pouring a shot so each type of liquor stays separate won't radically alter the flavor of the drink. But what it will do is look gosh darn cool.
Besides, it's pretty easy to pull off after a few practice drinks and will give you a ton of cred as a home bartender. The effect depends on the specific gravity of each alcohol and careful pouring.
How to Make a B52 Shot
Pour the Kahlua into the shot glass. Make sure not to splash the sides.

Turn a bar spoon over with the back of the spoon pointing up. Place the tip of the spoon just over the Kahlua and very slowly pour the Bailey's over the spoon into the glass.

Finally, use the spoon in the same way to top with Grand Mariner.

Tips for Serving the B-52 Shot
Serve in a thinner, taller shot glass for greater effect. You can also use a cordial or any other smaller glass you have.
Pop the glasses in the freezer. Cold glasses and ingredients make pouring a B-52 shot easier.
A speed pourer, that little device bars attach to the top of bottles, makes pouring layered drinks easier.
Check out more cocktail recipes on YouTube!
CopyKat Tip: When layering liquor, gently pour it over the back of a spoon to keep the layers from mixing while pouring.
Love TGI Friday's? Try these copycat recipes!
Favorite Cocktail Recipes
Check out more of my easy cocktail recipes and the best copycat recipes for casual dining restaurants here on CopyKat!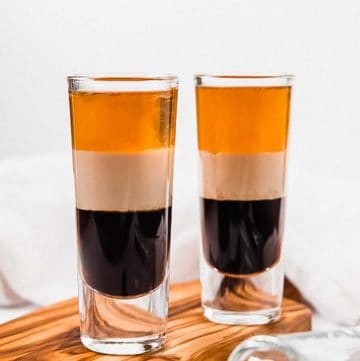 Ingredients
1/2

ounce

Kahlua Coffee Liqueur

1/2

ounce

Bailey's Irish Cream

1/2

ounce

Grand Mariner
Instructions
Pour Kahlua into a shot glass.

Gently pour Bailey's on top.

Gently pour Grand Mariner on top.
Notes
Slowly pour layers over the back of a spoon to keep the layers from mixing while pouring.
Nutrition
Calories:
138
kcal
|
Carbohydrates:
14
g
|
Protein:
0
g
|
Fat:
1
g
|
Saturated Fat:
1
g
|
Cholesterol:
0
mg
|
Sodium:
2
mg
|
Sugar:
14
g