Peach Jello Shots are fun, festive, and perfect for any celebration. Make homemade jello shots like a pro with this easy recipe. Enjoy the delicious peach flavors of this perfect treat for your next special occasion. This is the best way to entertain with an adult-friendly treat at your next pool party.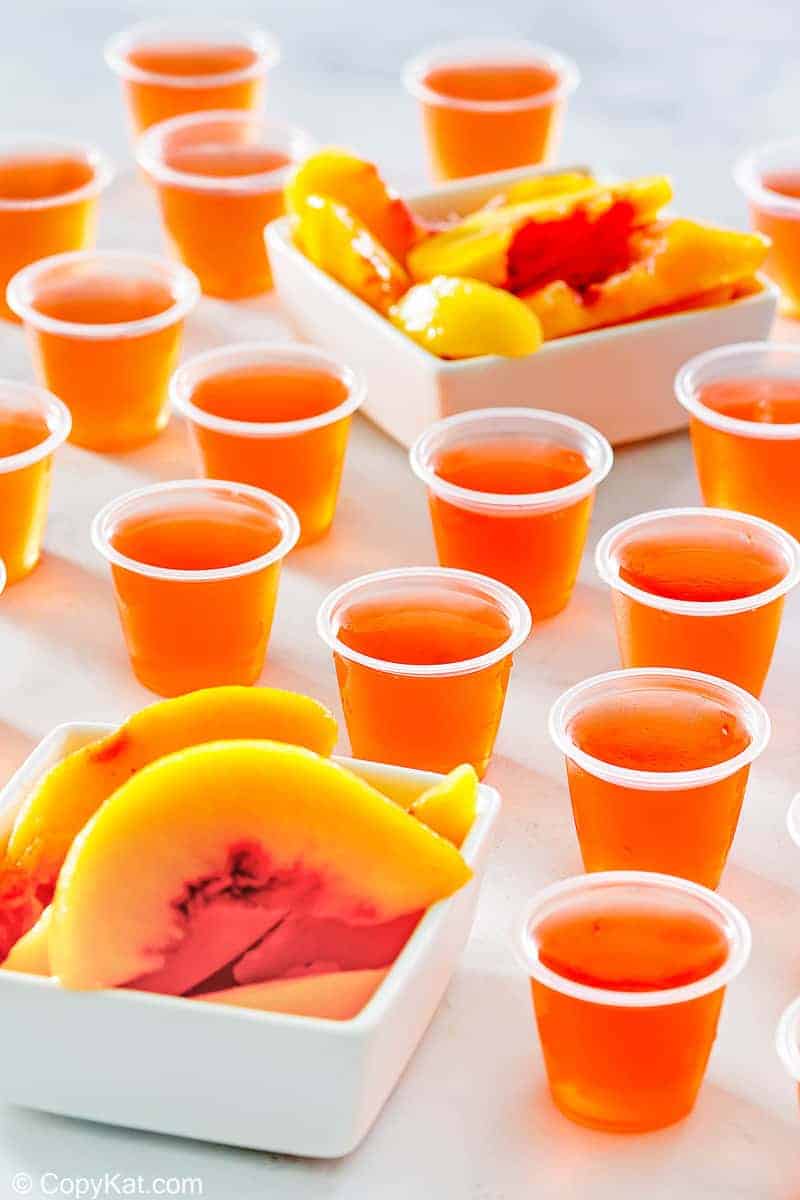 This post contains affiliate links. As an Amazon Associate, I earn from qualifying purchases.
Peach Schnapps Jello Shots
These peach jello shots with peach schnapps are not meant for children.
Jello shots and peach schnapps are two things that probably bring back many college memories. But just because you are older and more responsible these days doesn't mean you can't indulge in jello shots with peach schnapps occasionally.
Whether you are looking for nostalgia or wondering what you missed, why not whip up a few peach schnapps Jello shots?
Why This is the Peach Jello Shot Recipe You Want to Make
Many of the recipes out there call for peach gelatin and regular vodka. Using peach-flavored schnapps intensifies the peach flavor. These little shots are super peachy, sweet, smooth, and perfect for a summer party. This is one of the party favorites at my house, so it's a can't miss recipe. This is made with simple ingredients, so this is an excellent beginner jello shots recipe.
How to Take a Jello Shot Like an Expert
No experience with Jello shots? No problem. Use these tips to look like you know what you are doing!
Use a toothpick to loosen the Jello from the sides of the shot glass before attempting to pop it into your mouth. Adding a toothpick is particularly important if the Jello shot is in a glass shot glass because squeezing the sides of a plastic shot glass is usually enough for the Jello to come out.
Whatever you do, don't stir the Jello or try to use your tongue to try to remove it from the shot glass. You will wind up making everyone else giggle.
Once you have the Jello shot in your mouth, don't chew or try to swallow it in one big chunk. Swish it around like mouthwash until it breaks down enough to swallow.
Jello shots have about half the alcohol of a usual shot, but it is easy to overdo it due to the novelty factor. Pace yourself and drink responsibly.
Ingredients
Here's a list of what you need. The amount for each is on the printable recipe card below.
Peach Jello
Peach Schnapps
Cold Water
Plastic 2 ounce cups are not an ingredient, but you need these to make this recipe.
If you can't find peach schnapps, you can use peach vodka for the same peachy flavor.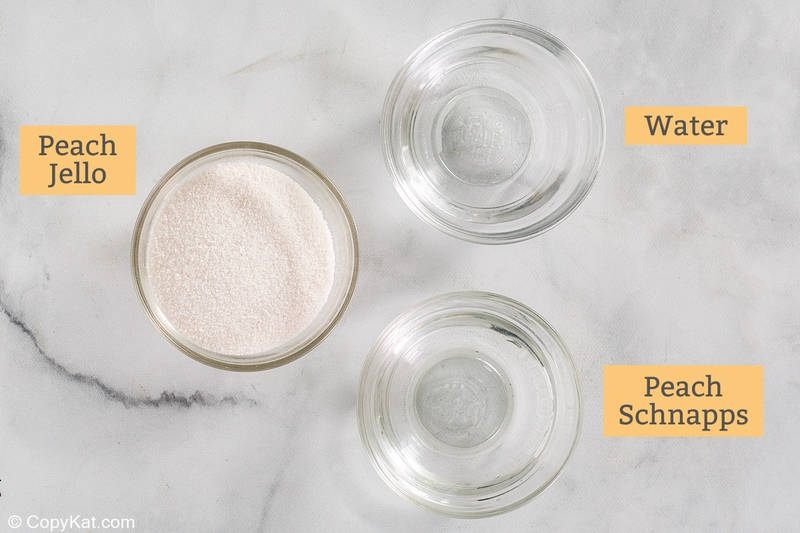 How to Make Peach Jello Shots
Mix Jello and boiling water until well blended.
Add Schnapps and stir or whisk to mix well.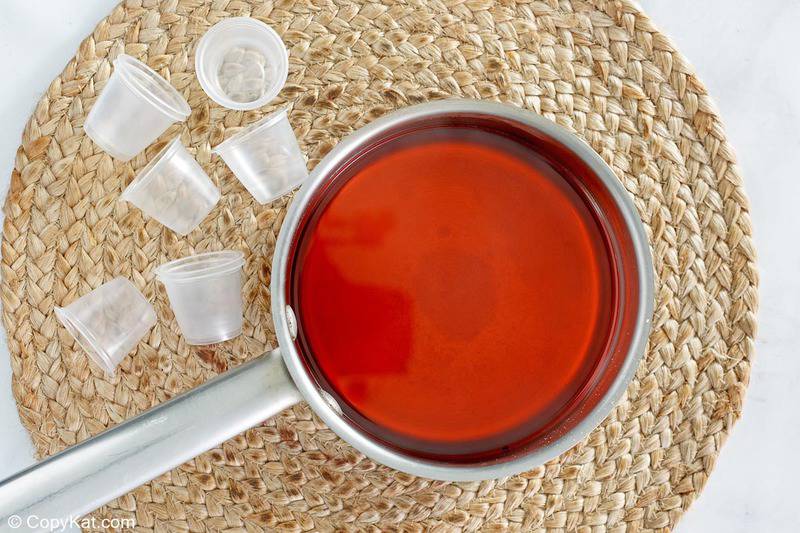 Pour jello mixture into plastic shot cups.
Chill them in the refrigerator until set.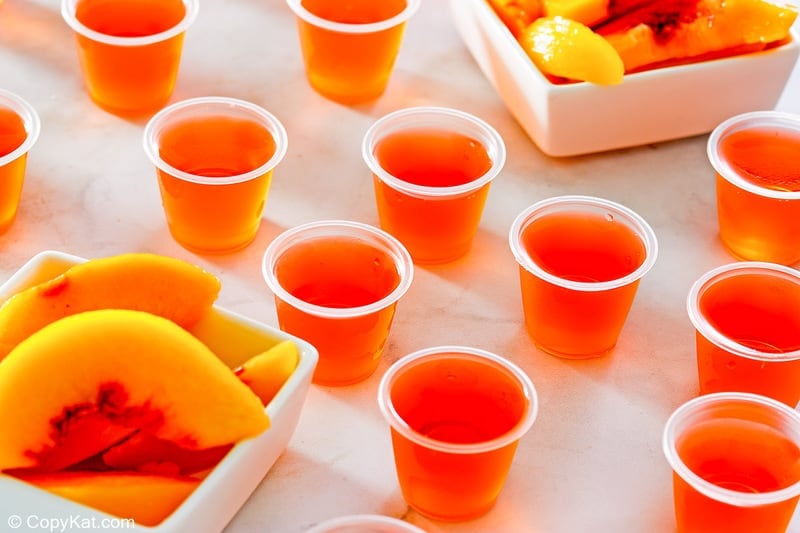 How to Garnish
If you want to get fancy, add a garnish on top of the Jello shot cups. Here are some ideas:
Gummy Peach Rings
Maraschino Cherry
Peach Candy
Gummy bears
Fresh whipped cream
Tips for Making Peach Jello Shots
Make multiple flavors at once. Everyone loves variety.
Use small plastic condiment cups with lids. The lids make the Jello shots easy to stack to store.
Try making the Jello shots in a syringe. Jello shot syringes provide a new experience of taking a Jello "shot." Just be sure to buy the plastic ones made for Jello shots.
You can pour the mixture into a square cake pan if you do not have the little plastic shot glasses. Let it set, then cut it into squares.
Try a Few Other Flavor Combinations
Peach schnapps Jello shots may taste amazing, but there is an entire world of different liquors and Jello flavors out there. Why not try recreating your favorite cocktail in a Jello shot form, or come up with something totally unique?! Here are a few excellent Jello shots to get you started, but it is by no means a comprehensive list:
Orange Jello and Vodka. According to legend, the first real Jello shot was created by the comedic songwriter and Ivy League mathematics professor, Tom Lehrer. Supposedly, he made a batch of orange Jello and vodka Jello shooters to get around a ban on alcoholic beverages on military bases during his time in the Army in the 1950s.
Pineapple Jello and Malibu Coconut Rum. Who up for so Pina Colada-inspired Jello shots? This mixture is dangerously delicious. Whether you are at the seaside in the summer or stuck in the middle of Minnesota in February, a couple of these Jello shots and you are going to have one fantastic beach party.
Cranberry Jello, Vodka, Triple Sec, and Cranberry Juice. After you master the more basic Jello shots, you are ready for this one. The liquor portion of the recipe is equally divided between the vodka and the triple sec. But here is where this recipe is genius. Replace half the water with cranberry juice and bring the cranberry and water mixture to a boil. You will be enjoying Cosmo Jello shots in no time!
Lemon Drop – Use lemon Jello and either lemon vodka or limoncello.
Strawberry Jello and Tequila for a strawberry margarita jello shot.
Crown peach jello shots – use Peach Crown Royal for the alcohol instead of peach schnapps.
Jello Shot Storage
Keep the Jello shots stored in an airtight container in the fridge for up to 1 week. If you have a deep container you can layer the shots with cardboard between each layer.
Watch us make more cocktails on YouTube!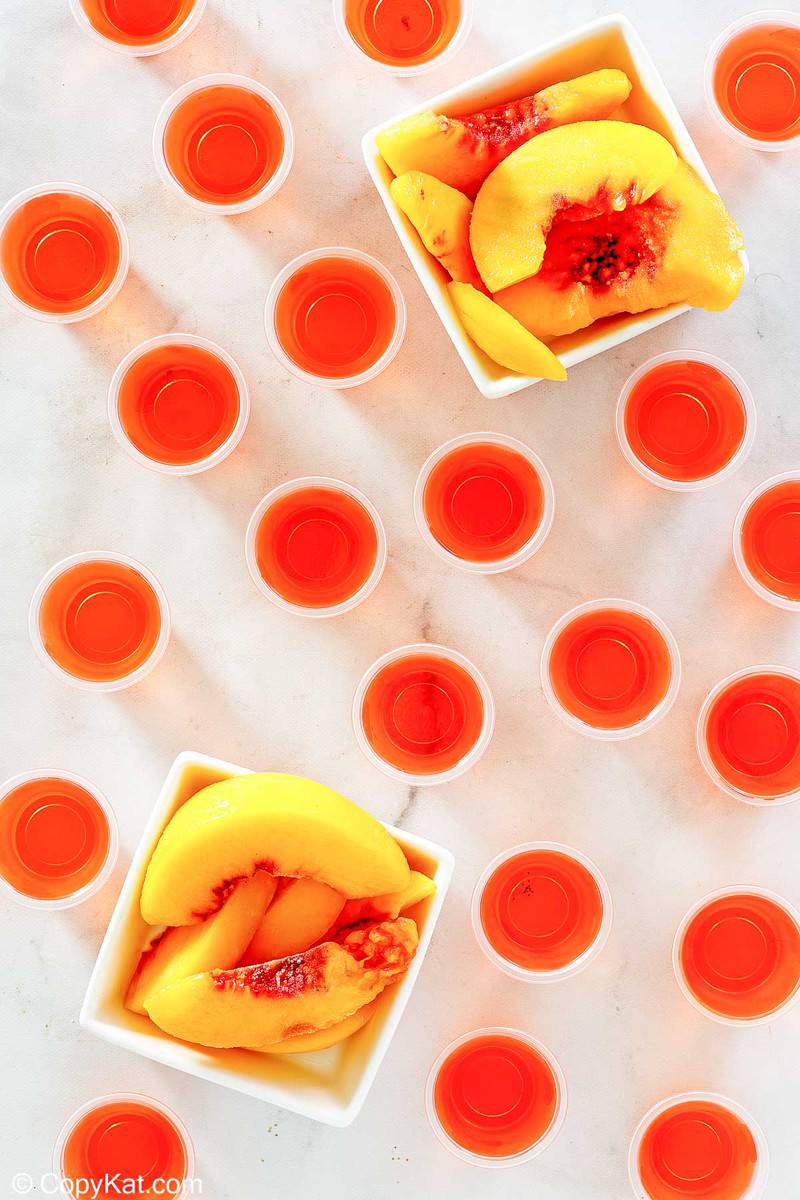 More Cocktail Recipes
Favorite Peach Recipes
Be sure to check out more of my easy cocktail recipes and the best dessert recipes here on CopyKat.com!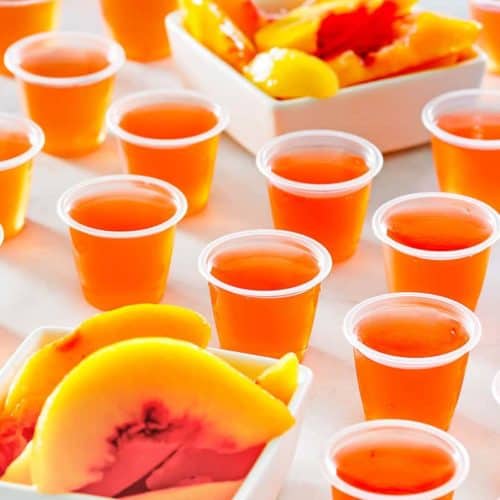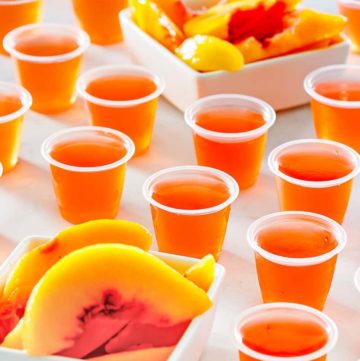 Ingredients
9

ounces

peach Jello

(3 boxes)

3

cups

boiling water

3

cups

peach schnapps
Instructions
Mix Jello and boiling water until well blended.

Add schnapps and mix well.

Pour the mixture into plastic shot glasses. Chill until set. Keep cold.
Notes
If you don't have plastic shot glasses, you can pour the mixture into a square cake pan. Chill until set then cut into squares.
Nutrition
Calories:
89
kcal
|
Carbohydrates:
5
g
|
Protein:
7
g
|
Fat:
0
g
|
Saturated Fat:
0
g
|
Cholesterol:
0
mg
|
Sodium:
16
mg
|
Potassium:
1
mg
|
Sugar:
5
g
|
Calcium:
5
mg
|
Iron:
0.1
mg