Dive into a taste of New Orleans with Shrimp Remoulade! This classic appetizer features succulent shrimp tossed in a vibrant, tangy remoulade sauce served over lettuce. It's a cool yet spicy salad that will dance on your palate. Shrimp Remoulade promises a burst of seafood deliciousness in every bite.
The creamy remoulade sauce is wonderful as a first course appetizer or for when you want light main courses. This is a shrimp recipe you will want to treasure; classic shrimp remoulade is one that you will want to make again and again.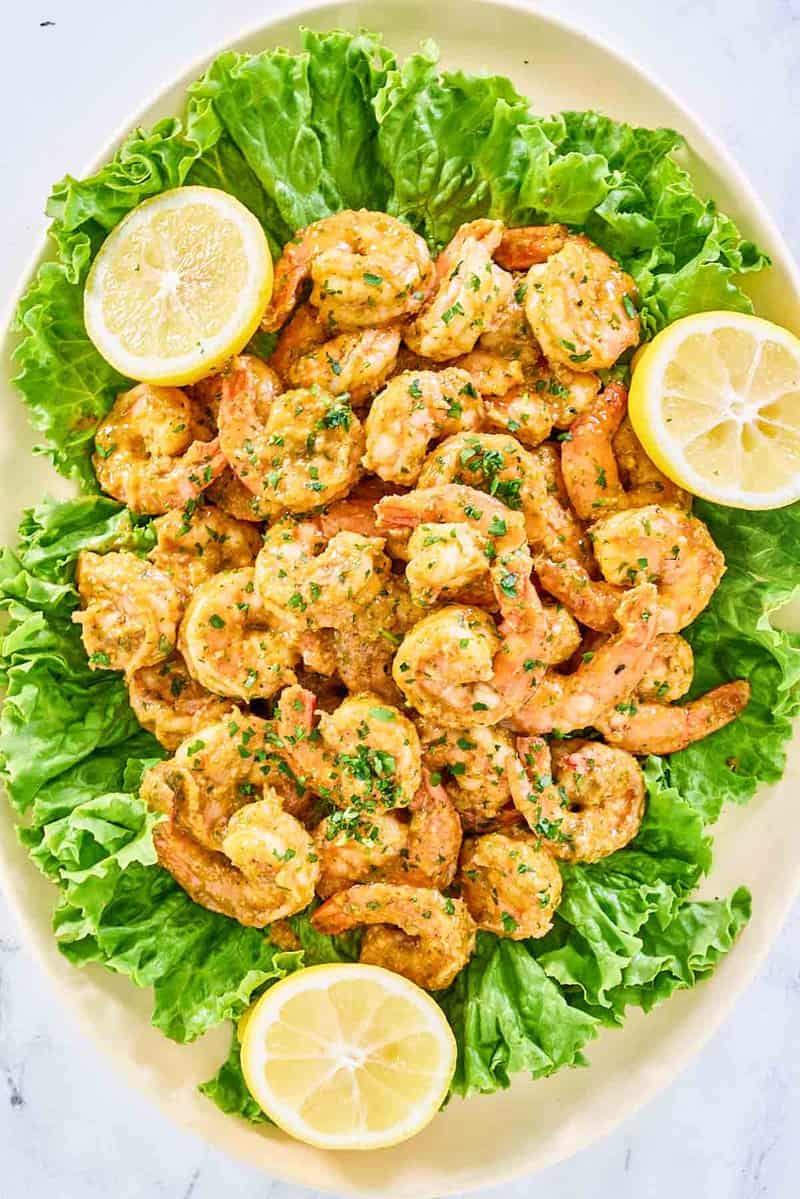 This post contains affiliate links. As an Amazon Associate, I earn from qualifying purchases.
What is Shrimp Remoulade?
Shrimp remoulade (pronounced ruma-lahd) is a cold fresh seafood salad perfect for a hot summer's day. This creole-inspired shrimp dish is so delicious!
This recipe starts with boiled shrimp. The sauce is made from celery, onions, parsley, red wine vinegar, ketchup, tomato puree, creole mustard, and Worcestershire sauce – goodness straight from your fridge. And, armed with a food processor, you can make the sauce in minutes! This is a wonderful cold appetizer that will remind you of dining in the big easy.
This recipe comes from Galatoire's famous restaurant in the French Quarter of New Orleans, Louisiana. Now you can enjoy a classic Southern dining experience in your home – nothing short of perfect white glove service!
Why You Should Try This Shrimp Remoulade Recipe
If you have never tried shrimp remoulade, you'll love this wonderful cold seafood salad with fresh cold boiled shrimp bathed in a spicy sauce. This dish is a cinch to prepare, and in about twenty minutes, you can have a wonderful creole shrimp salad!
This recipe for shrimp remoulade salad is perfect for holiday meals when you are extra busy – everything can be made ahead and chilled. And when you need a fancy, show-stopping recipe for a holiday or special occasion, this Galatoire's shrimp remoulade recipe can't be beaten!
Your family and friends will love this shrimp remoulade and are bound to ask you for the recipe.
Recipe for Shrimp Remoulade – Ingredients You Will Need
Here's what's needed to make this tasty remoulade shrimp. Don't be put off by the long list of ingredients because this shrimp remoulade recipe is really easy to make.
Large shrimp
Celery
Green onions
Onion
Flat-leaf parsley
Red wine vinegar
Ketchup
Tomato puree
Creole mustard
Worcestershire sauce
Vegetable oil
Paprika
Lettuce leaves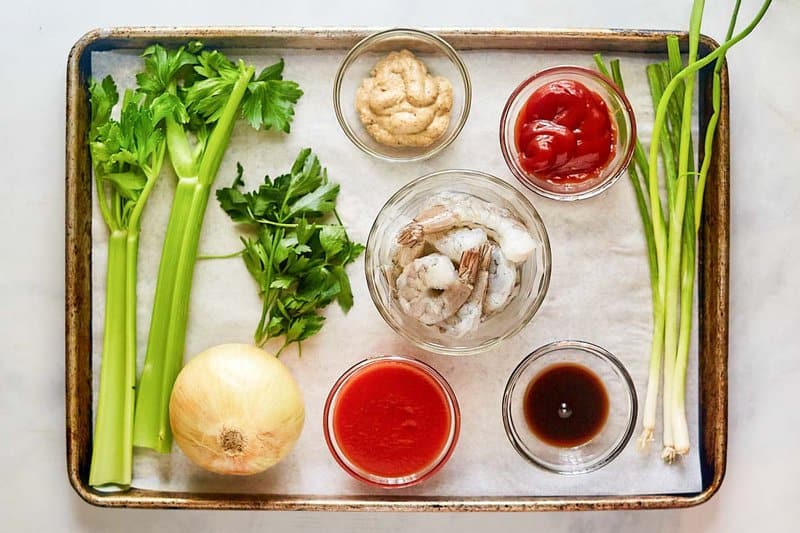 What Type of Shrimp Should You Use?
For this shrimp remoulade recipe, you need medium or large-sized shrimp. If you can get them, Texas Gulf shrimp are super delicious and will make this dish more authentic.
What Is Creole Mustard?
Creole mustard is a sweet and spicy staple in Cajun and New Orleans-style creole cuisine. Brown mustard seeds are marinated in white wine vinegar. Various spices are used for flavor, and horseradish may be added for extra heat. Brown sugar or molasses give it a sweetness.
Find out what you can substitute for creole mustard and how to make your own.
Deveining Shrimp
The thin black vein you see down the back of a shrimp is not actually a vein. Rather, it's the digestive tract, and the dark color is because it's filled with grit. The vein is not harmful if eaten, but most people choose to devein shrimp because of aesthetics.
To devein your shrimp, take a sharp paring knife, make a slit along the back of the shrimp, and lift out the vein with the tip of the blade. You can also use a shrimp deveiner, a tool made for that purpose.
Tip: Use toothpaste to rid your hands of that shrimp odor (or any fishy odor).
The Best Way to Boil Shrimp
Perfectly cooked shrimp defines the quality of shrimp remoulade. This means that if you overcook the shrimp, they will become tough and rubbery. You can boil shrimp in plain water, but seasoning the water will add flavor. Here are the steps to get perfectly boiled shrimp.
Bring water to a boil along with lemon slices, bay leaves, red pepper flakes, salt, and Worcestershire sauce.
Simmer for 10 minutes to allow the flavors to seep into the water.
Bring to a rolling boil over high heat and add the shrimp. Cook for 2 to 4 minutes (depending on the size of the shrimp). Drain in a colander and quickly dump in a bowl with ice and water.
Once the shrimp cool off, pat dry and refrigerate till ready to use.
How to Make Shrimp With Remoulade Sauce
If you have a food processor, this shrimp remoulade salad is very easy to make. Here are the steps:
Pulse the celery, green onions, onion, and parsley.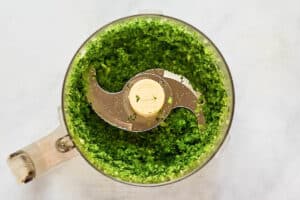 Add the vinegar, ketchup, tomato puree, mustard, and Worcestershire sauce, and blend well.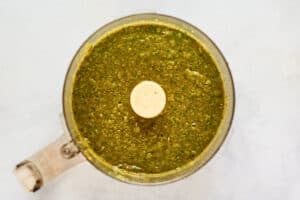 Drizzle in the oil, then add the paprika.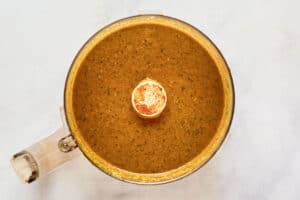 Pour the sauce into a mixing bowl or container, cover. Refrigerate it for 6 to 8 hours or overnight.
When ready to use, toss the shrimp in the sauce and serve on lettuce leaves. Drizzle fresh lemon juice over the top if desired. If you want to be extra fancy, served on bed of lettuce on a salad plate with a sprinkling of fresh tarragon.
How to Serve Shrimp Remoulade Salad
This cool and refreshing shrimp salad is often served on crispy lettuce leaves with lemons. It makes a great appetizer or a perfect light lunch. Butter lettuce or romaine – even fresh spinach would work. Here are some more ideas:
Instead of lettuce cups, serve over a wedge salad.
Serve on top of shredded iceberg lettuce, a green salad, or even in a sandwich.
Decorate the edge of your plates with thinly sliced hard-boiled eggs and a few black and green olives. Slices of avocado are also good.
Serve the shrimp over avocado halves.
A popular way to serve shrimp remoulade in the south is over the top of perfectly fried green tomatoes… yummy!
Serve your shrimp remoulade salad on French bread or a nicely toasted hoagie bun, and you're well on your way to a delicious shrimp po'boy!
Serve in small cocktail glasses as a beautiful appetizer and a significant change from shrimp cocktail.
How to Store Leftover Shrimp With Remoulade Sauce
Remoulade shrimp is best eaten within 24 hours. However, leftovers can be stored in an airtight container in the refrigerator for up to 3 days. Freezing is not recommended.
Love Cajun food? Try these recipes!
Favorite Shrimp Recipes
Check out more of my easy appetizers and the best seafood recipes on CopyKat!
Thanks to cynthiat for sharing this recipe.
Ingredients
4

stalks

celery

coarsely chopped

4

green onions

chopped

1/2

cup

chopped onion

3/4

cup

chopped Italian flat-leaf parsley

1/2

cup

red wine vinegar

1/2

cup

ketchup

1/2

cup

tomato puree

1/2

cup

Creole mustard

1

teaspoon

Worcestershire sauce

1 1/2

cups

vegetable oil

2

teaspoons

paprika

2

pounds

large cooked shrimp

peeled and deveined

12

lettuce leaves

for serving
Instructions
In a food processor, combine the celery, green onions, onion, and parsley. Pulse until finely chopped.

Add the vinegar, ketchup, tomato puree, mustard, and Worcestershire sauce. Process until well blended, stopping to scrape down the sides a few times.

With the food processor running, drizzle in the oil in a steady stream, processing until blended. Stir in the paprika.

Transfer the remoulade to a bowl. Cover and refrigerate for 6 to 8 hours, or overnight.

When ready to serve, stir the sauce, pour it over the shrimp, and toss to coat. Serve over lettuce leaves.
Nutrition
Calories:
405
kcal
|
Carbohydrates:
19
g
|
Protein:
49
g
|
Fat:
13
g
|
Saturated Fat:
1
g
|
Cholesterol:
571
mg
|
Sodium:
2454
mg
|
Potassium:
720
mg
|
Fiber:
4
g
|
Sugar:
10
g
|
Vitamin A:
2150
IU
|
Vitamin C:
33.6
mg
|
Calcium:
419
mg
|
Iron:
8.5
mg