Shrimp Casserole is an easy-to-put-together Southern shrimp recipe. Shrimp, rice, sharp Cheddar cheese, cream of mushroom soup, and a few fresh vegetables make a delicious casserole that you don't have to wait to have company over to enjoy. The tasty ingredients make this cheesy shrimp casserole the perfect comfort food.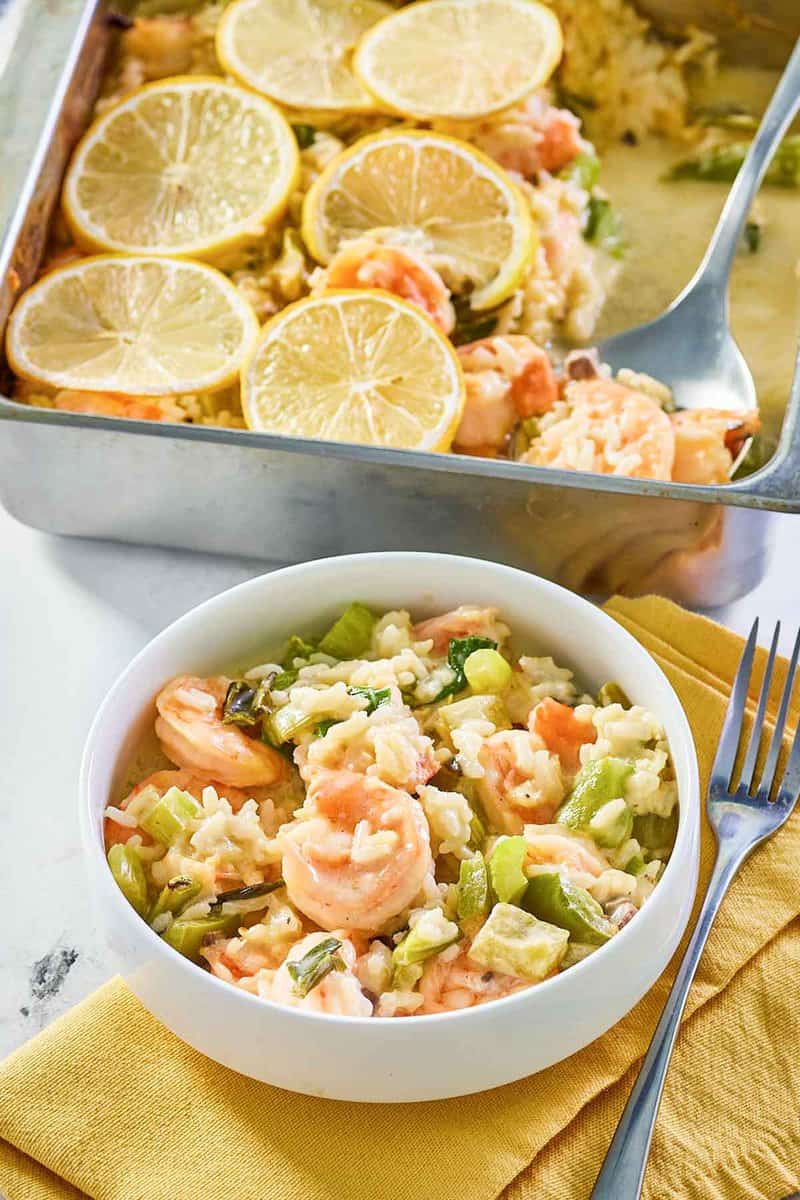 This post contains affiliate links. As an Amazon Associate, I earn from qualifying purchases.
Why You Should Try This Cheesy Shrimp Casserole Recipe
This recipe makes an easy shrimp casserole dinner your whole family will love. Baked shrimp casserole with rice is perfect for busy weeknights as well as when company is coming over. It also works well as a buffet dish.
Plus it is a nice change from the usual shrimp scampi or shrimp and grits.
Shrimp Casserole With Cheese – Ingredients You Need
This cheesy shrimp casserole with rice needs only basic ingredients as follows:
Cooked shrimp (medium size shrimp is best)
Cooked rice
Sharp Cheddar cheese
Condensed cream of mushroom soup
Butter
Green bell pepper
Green onions
Celery
Lemon slices
How to Make Shrimp Casserole
The fact that the basic ingredients are precooked makes this a quick and easy shrimp casserole to put together. Here are the simple steps that will take you no time at all:
Stir the shrimp, rice, cheese, and soup together in a large bowl.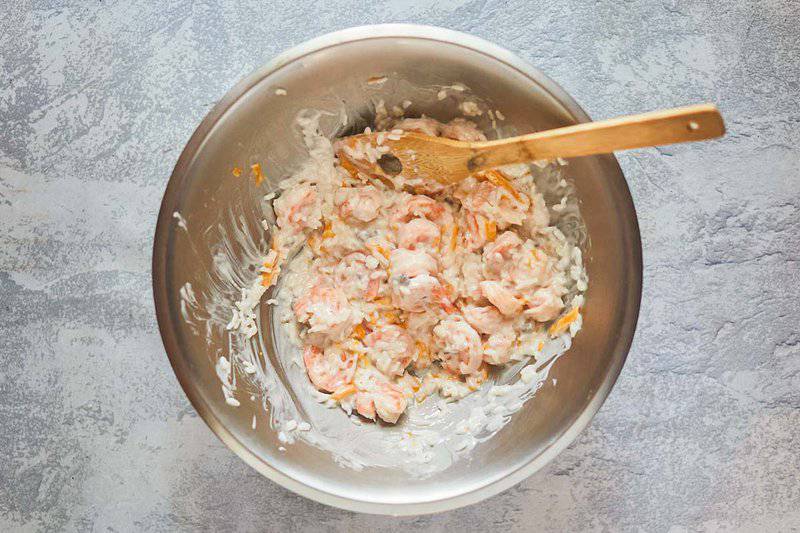 Sauté the peppers, onions, and celery in butter in a large skillet over medium-high heat until tender and add to the shrimp mixture. Taste and season salt and black pepper if desired.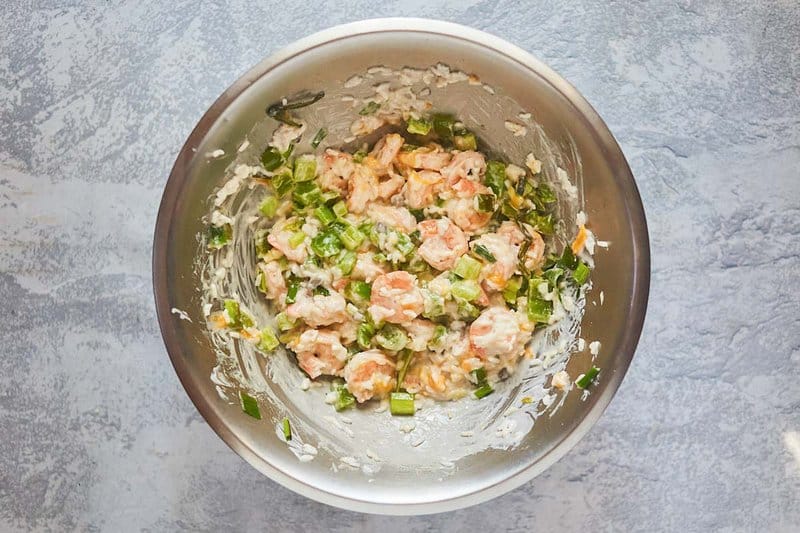 Place in a baking dish and cover with lemon slices.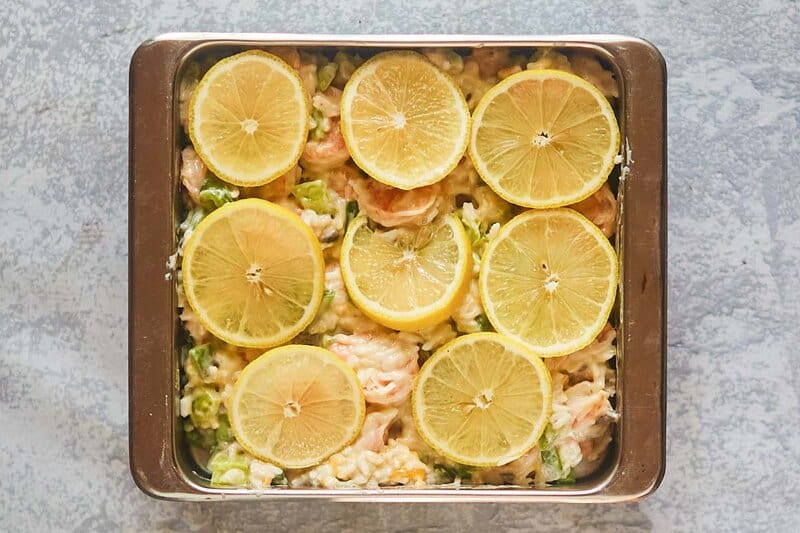 Cook for 20 minutes at 375 degrees Fahrenheit.
Serve immediately. You can sprinkle chopped parsley on top for a garnish if desired.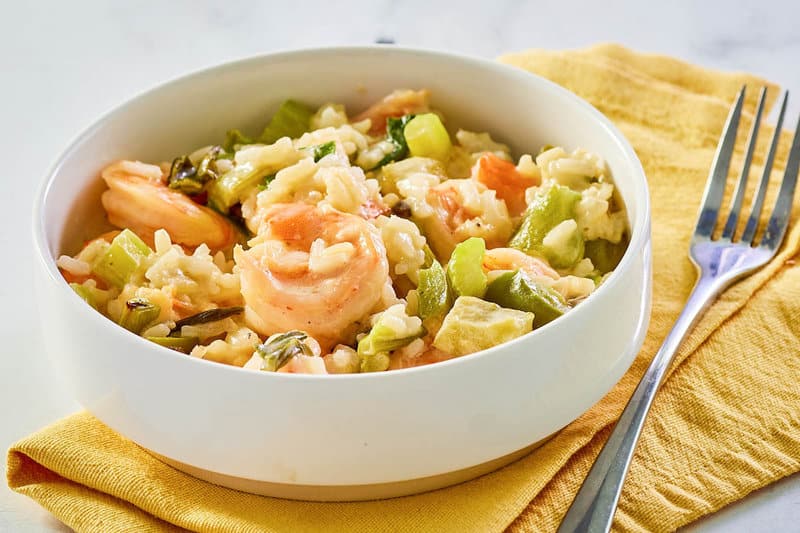 Recipe Variations
One of the best things about this recipe is its versatility. You can vary the ingredients and really make it your own. Here are a few suggestions:
Soup: Vary the soup. Instead of cream of mushroom, go for cream of shrimp.
Vegetables: Add other veggies, such as chopped carrots, peas, diced tomatoes, or corn. Swap the green bell pepper with red bell peppers for a pop of color.
Rice: For this shrimp casserole with rice, you can easily choose brown rice or wild rice in place of white rice.
Shrimp Casserole With Pasta: Instead of rice, you could use cooked noodles or pasta such as large wide egg noodles, penne, elbow macaroni, or shells.
Shrimp Casserole With Potatoes: Another idea is to use cooked, crispy potato wedges.
Note: If you choose a substitute for the rice, avoid anything that may be too soft. You need ingredients with some body to complement the creamy seafood layer.
Seafood Casserole: Add pretty much any seafood you like, and it will always turn out well. Go for a combination of succulent shrimp, sea scallops, crab meat, lobster meat, calamari, or fish. Seafood casserole is a big catch for your dinner table!
Chicken and Shrimp Casserole: Combine shrimp and chicken.
Spicy Shrimp Casserole – Add some cajun seasoning or cayenne pepper.
Topping – Instead of lemon slices, drizzle lemon juice over the casserole and top with breadcrumbs mixed with a little melted butter. Mixing in some parmesan cheese with the breadcrumbs would be good too.
Shrimp Casserole With Rice – Tips to Save Time
Buying peeled and deveined shrimp saves a ton of time.
Use precooked rice that comes in a pouch.
Buy a frozen seasoning blend consisting of a "trinity" of onion, bell pepper, and celery. See the recipe below if you would like to make your own seasoning blend.
Homemade Seasoning Blend
Many recipes call for a "seasoning blend", which is a blend of onions, green pepper, and celery. Some grocery stores carry a nicely proportioned bag of this seasoning blend in the freezer section. However, you can make it yourself and keep several quart-sized bags in your freezer that you can pull out as needed.
Seasoning Blend Ingredients
2 cups bell pepper, chopped
2 cups celery, chopped
2 cups onion, chopped
Seasoning Blend Instructions
Toss 2 cups of the seasoning blend into each of 3 quart-sized freezer bags.
Flatten the bags out and place them in the freezer lying flat. Once frozen, they can be stacked upright.
This seasoning mix recipe is about equal parts of all 3 vegetables, but you can choose to add or subtract amounts or add other ingredients to fit your taste buds.
What to Serve With This Cheesy Shrimp Casserole With Rice
It's a good idea to stick with sides that have a crunch or freshness to them, so they balance well with the rich flavors of the shrimp casserole. Here are some ideas:
How to Store Shrimp Casserole Leftovers
Fridge: Leftovers can be stored in your refrigerator in an airtight container for up to 4 days.
Freezer: Wrap leftovers tightly with plastic wrap or place them in a freezer-safe container. Seafood casserole will keep in the freezer for up to 3 months.
Reheating: Using your oven is best for a dish containing shrimp. What you have to be most cautious about is the oven's potential to dry your shrimp out. Follow these steps for the best results:
Thaw the leftovers in the refrigerator overnight.
Preheat your oven to 300°F.
Cover your pan or dish with aluminum foil and bake for about 15 minutes. The trick here is to use a low temperature, so you don't overcook your shrimp.
Warning: If you use a glass casserole dish, taking the dish straight from the fridge to the oven can cause the container to break from temperature shock.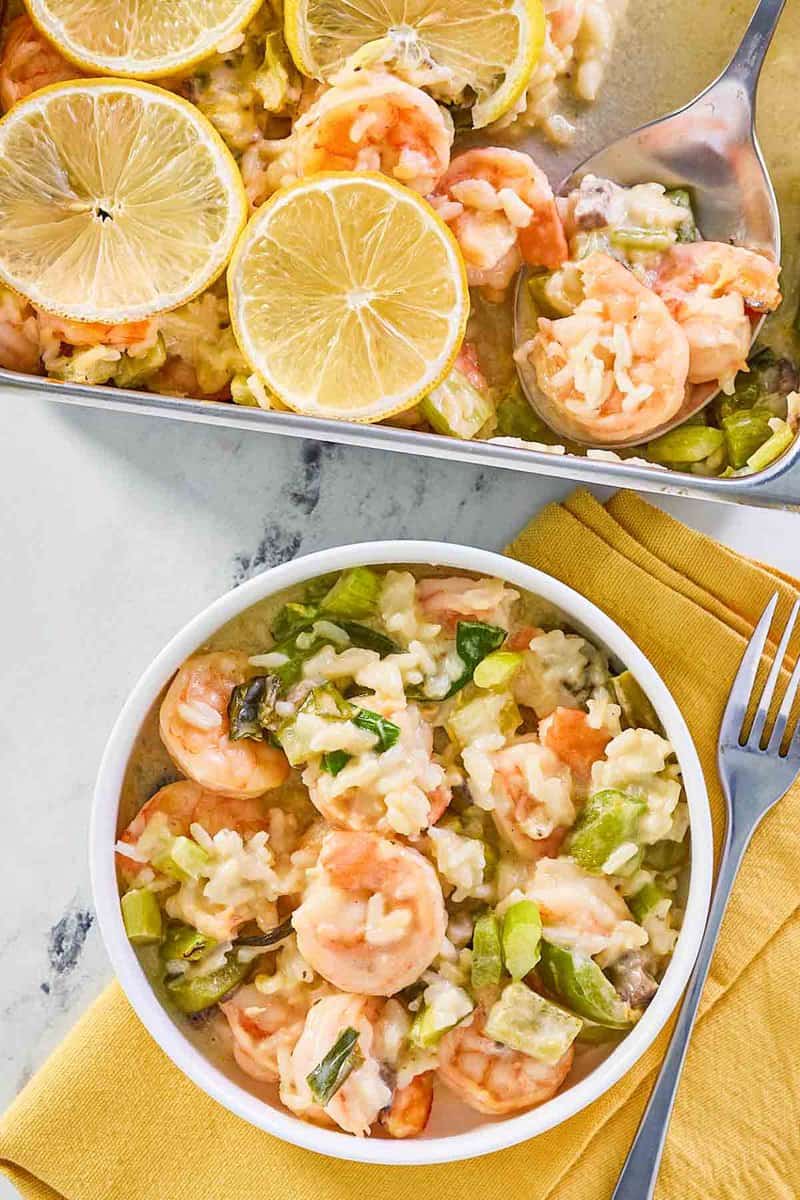 Favorite Dinner Casserole Recipes
Popular Shrimp Recipes
Check out more of my easy casserole recipes and the best seafood recipes on CopyKat!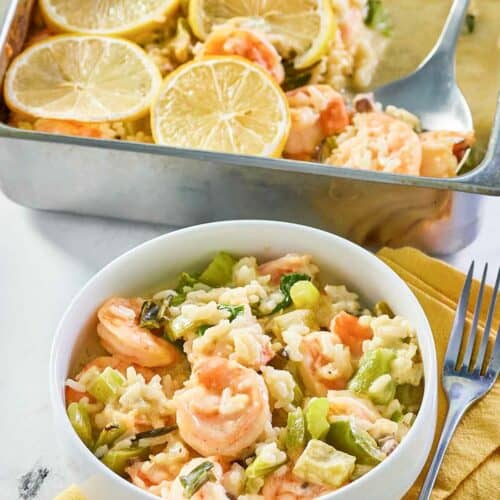 Ingredients
2

pounds

cooked shrimp

peeled and deveined

1

cup

cooked rice

1

cup

sharp cheddar cheese

1

can

condensed cream of mushroom soup

1/2

cup

chopped green bell pepper

1/2

cup

chopped green onions

1/2

cup

chopped celery

4

ounces

butter

8

very thin slices

lemon
Instructions
Preheat the oven to 375°F.

Mix the first 4 ingredients together.

In a skillet over medium heat, sauté the green peppers, green onions, and celery in butter.

Add the sautéed vegetables to the shrimp mixture and stir to combine.

Transfer the mixture into a long, flat casserole dish and cover the top with lemon slices.

Cover the dish and bake for about 20 minutes.
Nutrition
Calories:
434
kcal
|
Carbohydrates:
11
g
|
Protein:
39
g
|
Fat:
24
g
|
Saturated Fat:
14
g
|
Cholesterol:
443
mg
|
Sodium:
1795
mg
|
Potassium:
279
mg
|
Fiber:
0
g
|
Sugar:
0
g
|
Vitamin A:
830
IU
|
Vitamin C:
18
mg
|
Calcium:
374
mg
|
Iron:
3.9
mg