Always popular, the Dunkin Donuts Coffee Coolatta is an easy way to enjoy a frozen coffee drink at home.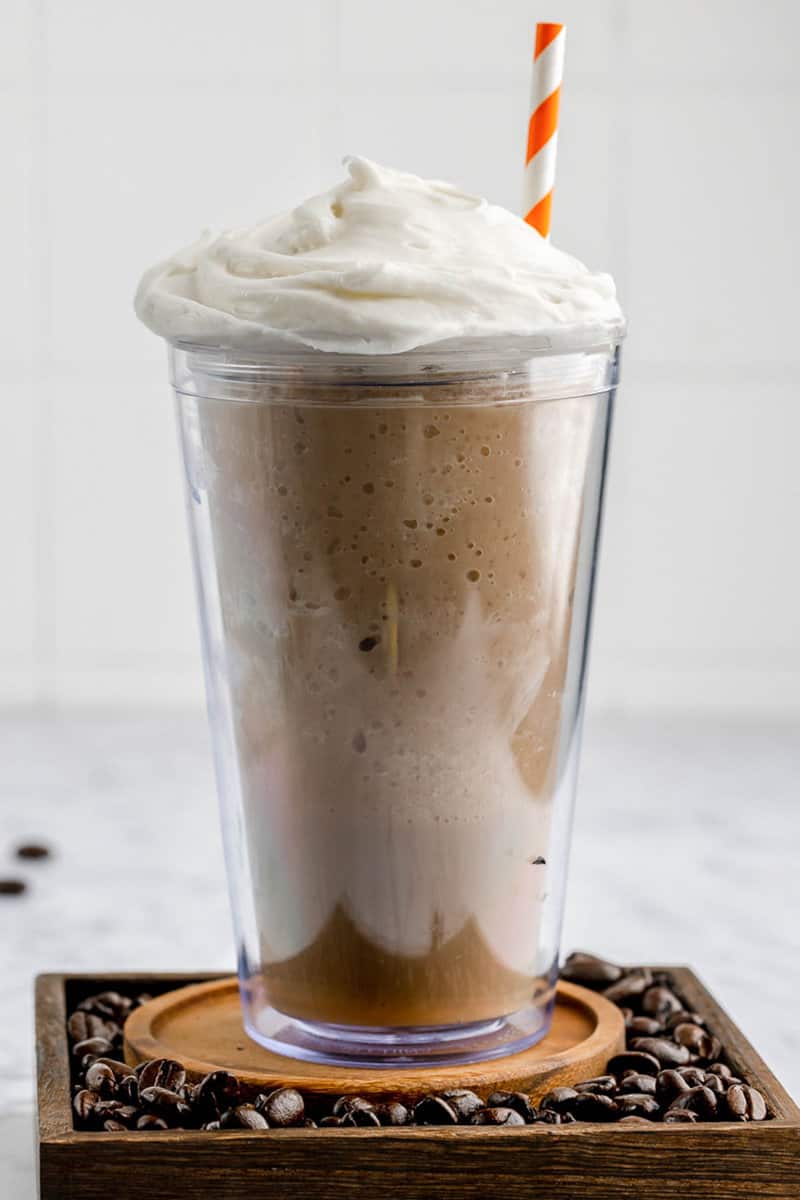 This post contains affiliate links. As an Amazon Associate, I earn from qualifying purchases.
What Makes the Dunkin Coffee Coolatta So Special?
Way back in the late nineties, when Dunkin was still Dunkin Donuts, a new type of coffee drink appeared on the chain's menu: The Coolatta. The Dunkin Donuts Coffee Coolatta was a coffee base blended with ice, hazelnut, and vanilla flavoring. Unique for its time, it was not quite a coffee and not quite a milkshake.
Over the years, Dunkin experimented with over twenty varieties of Coolatta flavors, many of which were available for only a limited time. However, many people still preferred the original. In 2017, Dunkin introduced Frozen Coffee, and the Coolatta that started it all was taken off the menu.
Why Should You Try This Recipe?
Not everyone was pleased with the discontinuation of the original coffee-flavored Coolatta. For those who miss it, making this Dunkin Coolatta is the only way to satisfy your craving.
Even if you don't remember drinking Coffee Coolattas but want something cold, sweet, and deliciously unique that's so easy to make, try this recipe.
Ingredients to Make a Dunkin Coffee Coolatta
To make this icy drink, you'll need:
Coffee, well chilled
Milk
Hazelnut syrup
Ice
Whipped cream
Use regular-strength coffee for the authentic taste, or opt for a double-strength cold brew for a smoother but more intensive coffee flavor.
You can use sugar-free versions of the flavoring syrups to cut back on calories.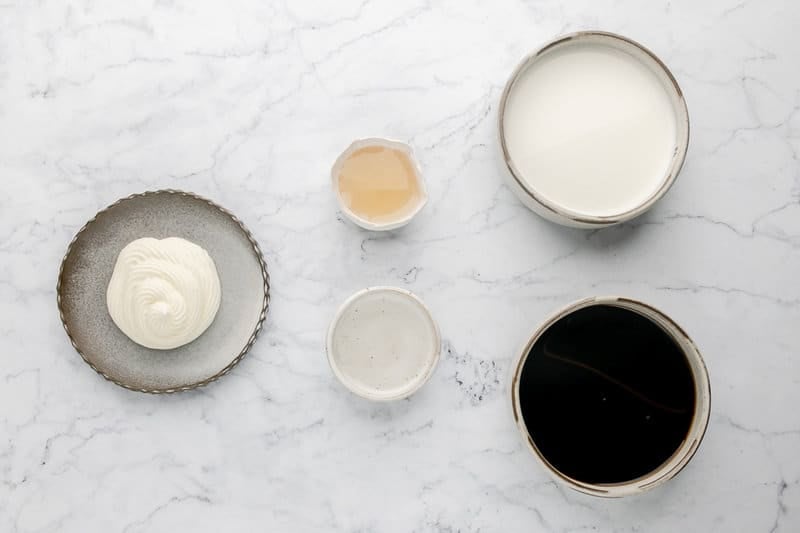 How To Make This Dunkin Frozen Coffee
To make a copycat recipe of the original Dunkin Coolatta:
Add the cold coffee, milk, vanilla syrup, hazelnut syrup, and ice to the jar of a blender. Use a powerful blender like a Vitamix or a Blendtec for the best results. If you don't have a commercial-quality blender, you can still make this drink, but you may have to use a spoon to remove some of the larger chunks of ice.
Start blending the drink on the CRUSH ICE setting and switch to the SMOOTHIE setting once the larger pieces of ice break up.
Continue to blend until you can't hear any large chunks of ice rattling around in the blender jar.
Pour the mixture into the serving glass. You may need to use a rubber spatula to scrape out of the Coolatta.
Add a swirl of whipped cream on top and serve with a thick straw.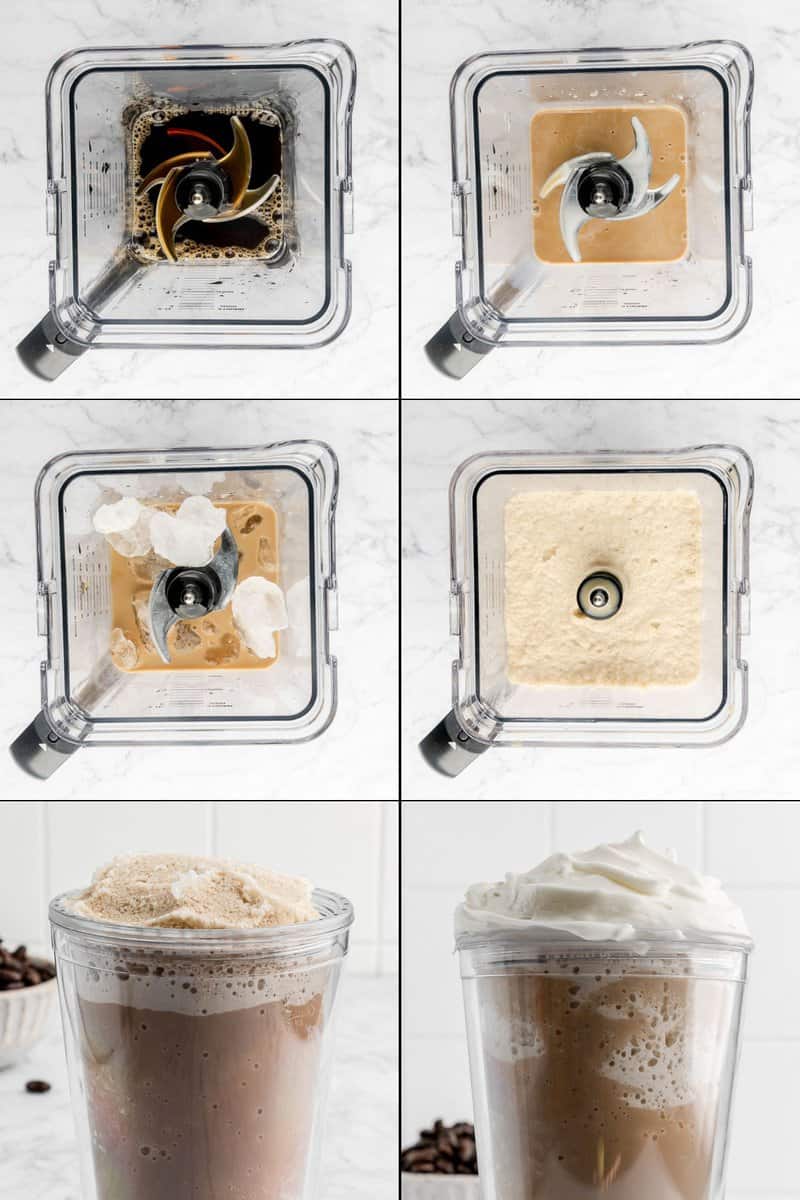 What To Serve With a Dunkin Donuts Coffee Coolatta
You may want to sprinkle a few mini chocolate chips or chocolate curls on top of the whipped cream as a garnish. A swirl of chocolate or caramel sauce on top is also a welcomed addition.
Recipe Variations
There are almost endless ways to customize this drink. Here are just a few:
Use coffee ice cubes instead of regular ice.
Swap out the hazelnut and vanilla syrups for other or additional flavors. Chocolate and caramel-flavored syrups are natural choices, but you can get a little more exotic with French Vanilla, Brown Sugar Cinnamon, Brown Butter Toffee, or Irish Cream syrups.
Make it a Chocolate Raspberry Coolatta. Use chilled hot chocolate to replace the coffee, two tablespoons of Creme de Cacao, and a tablespoon of Raspberry or Blue Raspberry syrup for a fruity finish.
Make it dairy free and use plant-based milk such as almond or coconut milk.
A shot of your favorite alcohol turns this refreshing drink into a delicious adult beverage. Rumchata makes a particularly good addition.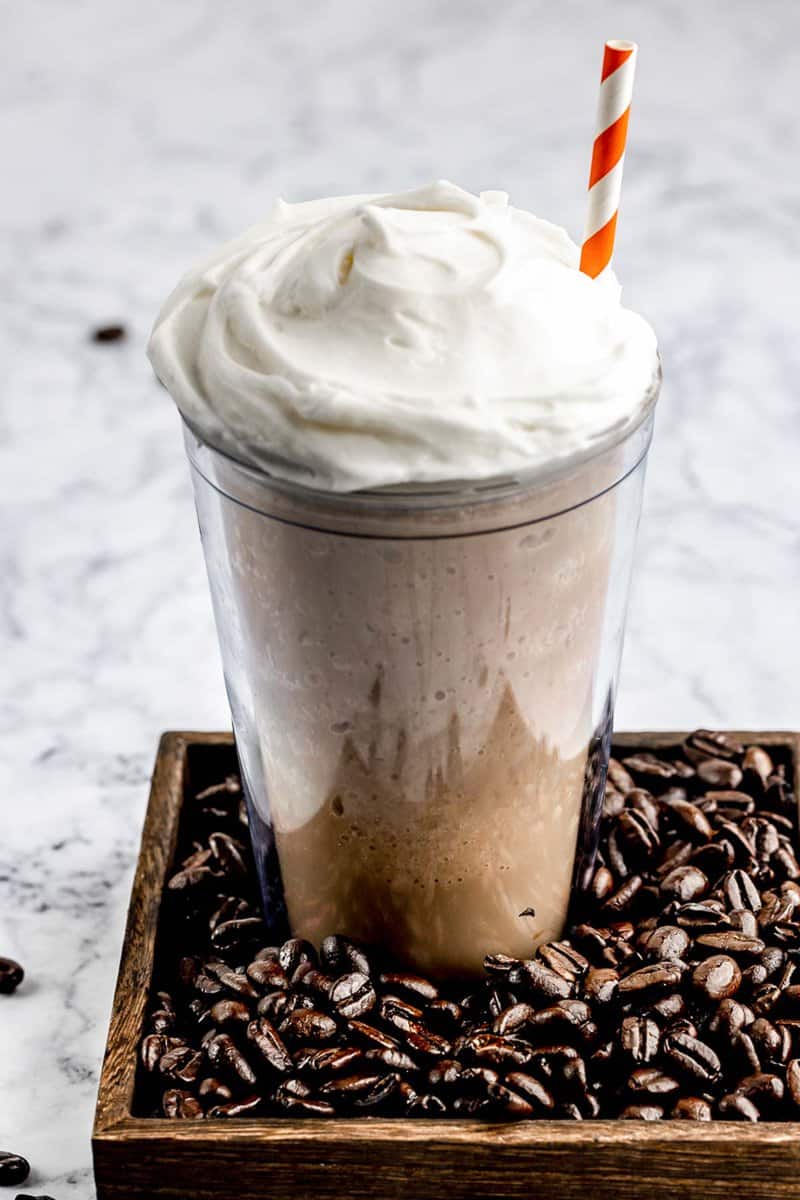 Love coffee house drinks? Try these favorite recipes!
Homemade Coffee Flavorings
Be sure to check out more of my easy drink recipes and the best coffee house copycat recipes.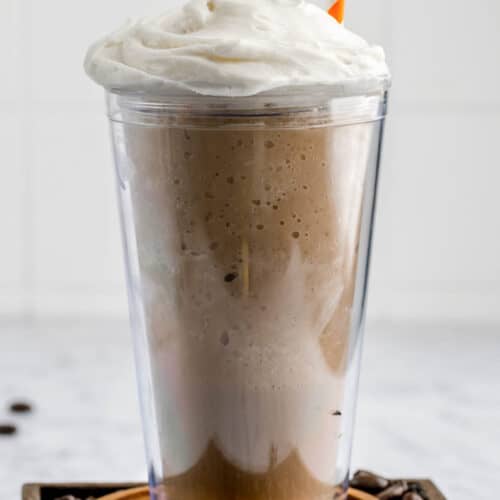 Ingredients
1

cup

cold coffee

1

cup

milk

2

tablespoons

vanilla syrup

1

tablespoon

hazelnut syrup

2

cups

ice

2

tablespoons

whipped cream
Instructions
Place all the ingredients (except for the whipped cream) in a blender, adding the liquids first, followed by the ice.

Blend, but do not over-blend; the key to the coolatta is to make it icy and not creamy.

Pour into a glass and top with whipped cream. Enjoy!
Nutrition
Calories:
167
kcal
|
Carbohydrates:
28
g
|
Protein:
4
g
|
Fat:
4
g
|
Saturated Fat:
2
g
|
Cholesterol:
15
mg
|
Sodium:
73
mg
|
Potassium:
219
mg
|
Sugar:
28
g
|
Vitamin A:
230
IU
|
Calcium:
138
mg
|
Iron:
1.1
mg