Get ready to be tempted with Ice Cream Mud Pie! This luscious no-bake pie boasts indulgent flavors, starting with a chocolate Oreo cookie crust. Layers of coffee ice cream, hot fudge sauce, and whipped cream, are topped with slivered almonds. Each bite promises a heavenly fusion of flavors and textures, making it a perfect frozen dessert for any occasion.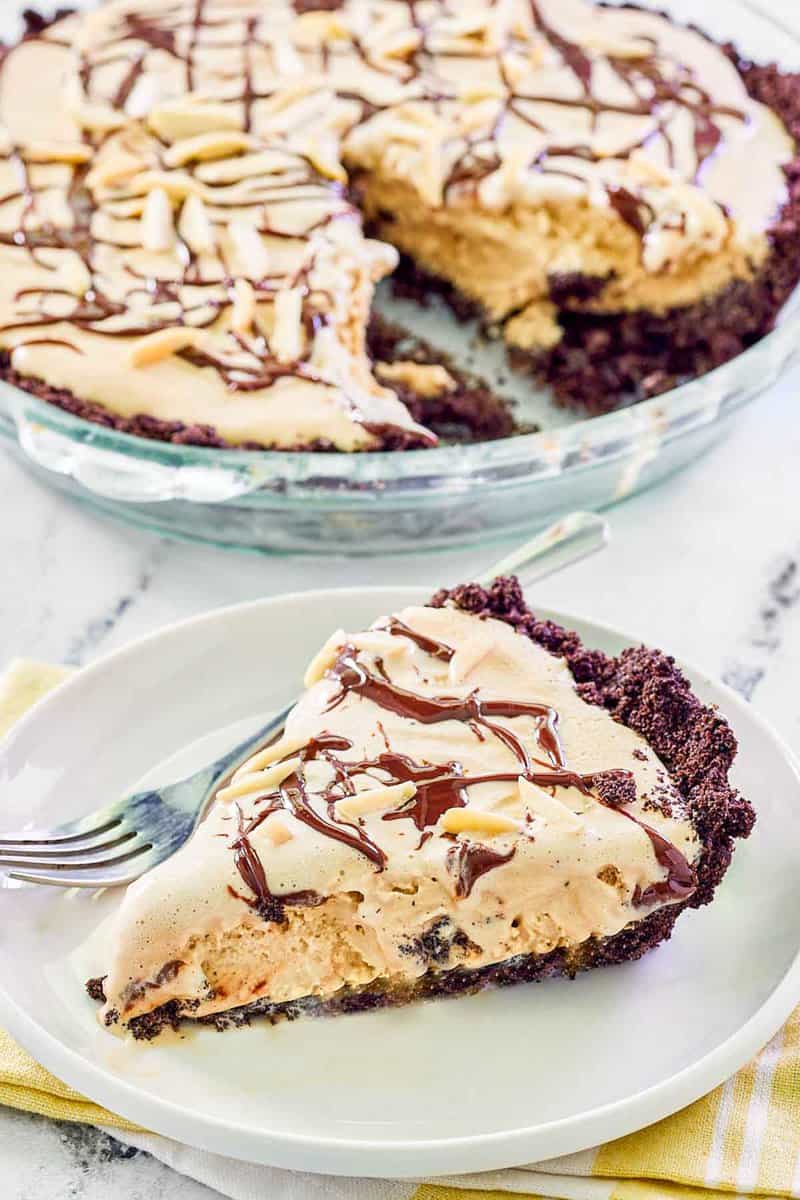 This post contains affiliate links. As an Amazon Associate, I earn from qualifying purchases.
What Makes the Mud Pie the Perfect Refreshing Treat for a Hot Day?
Mid-afternoon, with the summer sun beating down on you, you want just one thing. Ice cream! Now imagine that same ice cream crammed into a chocolate wafer pie crust layered with cold fudge, whipped cream, and slivered almonds. That sounds a whole lot better! What's even better, this rich dessert is no bake dessert.
You don't know what you are missing if you have never tried the classic frozen Mud Pie. Try this super simple and refreshing warm-weather dessert, and your family and friends, especially chocolate lovers, will be mightily impressed! It's the perfect dessert for summertime.
Why You Should Try This Recipe
You can buy a premade ice cream cake just about anywhere, but you won't find a tastier pie than the one you can make using this classic Mud Pie recipe. This can't-fail recipe doesn't require turning on your oven, so you won't have to worry about heating up your home!
If you are not a fan of coffee ice cream, check out the 'Recipe Variations' section below for other great options to try!
Coffee Mud Pie Recipe No Bake Ingredients
For a no-bake Mud Pie dessert, you'll need:
Coffee ice cream
Store-bought chocolate cookie pie crust or homemade Oreo crust.
Hot fudge sauce
Whipped cream
Slivered almonds for garnish
If making a homemade Oreo cookie crust, you'll need:
Oreo cookies
Unsalted butter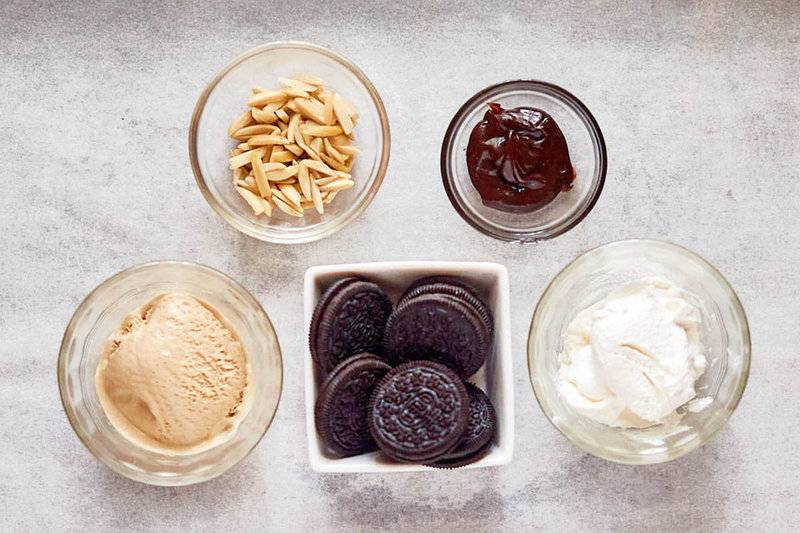 Ingredient Notes and Substitutions
Try chocolate ganache instead of hot fudge for an even more decadent pie.
Don't care for almonds? Substitute them with chopped pecans or walnuts.
You can use whipped topping for this pie, but it will taste better if you make the whipped cream with heavy whipping cream. Simply use a whisk or hand mixer to whip 1 cup heavy cream and ½ teaspoon vanilla extract.
How to Make Mud Pie
To prepare a homemade chocolate cookie crust:
Crush 22 Oreo cookies using either a food processor or using a rolling pin to crush the cookies into crumbs in a plastic zip-top bag.
Place the cookie crumbs in a large bowl.
Melt 5 tablespoons of butter and stir the melted butter into the cookie crumbs.
Press the mixture into a pie plate.
To prepare a Mud Pie recipe no bake style:
Place the coffee ice cream on the counter to soften.
Pack the ice cream into the prepared pie crust in an even layer when it has softened. Use an offset spatula to push the ice cream down into the edges and remove any air pockets. Smooth the top.
Drape a piece of plastic wrap loosely over the top of the pie and freeze for about four hours.
Once the pie is frozen, warm the hot fudge sauce according to the package, let the fudge sauce cool slightly, then drizzle it over the ice cream.
Top the fudge sauce with whipped cream and garnish with a sprinkling of slivered almonds.
Wrap the pie loosely in plastic and freeze for at least four more hours before serving.
Tip: Run hot water over a knife to warm it and make it easier to slice the pie.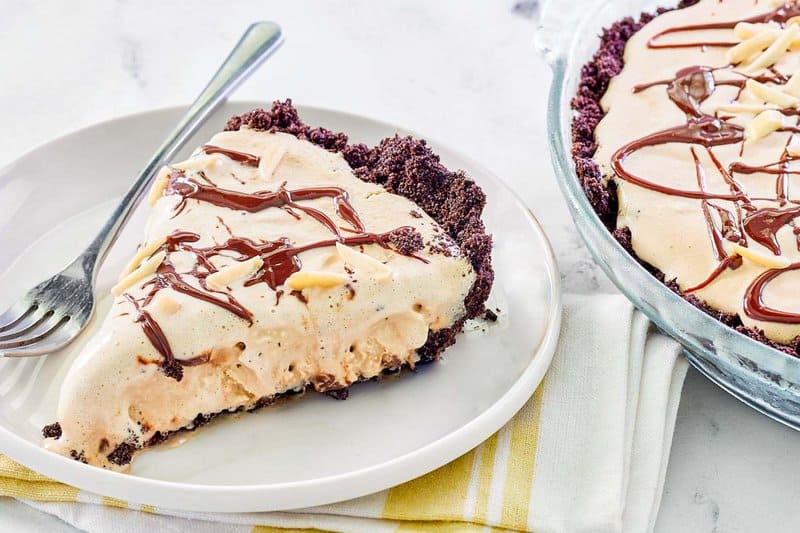 Recipe Variations
In addition to the classic Mud Pie recipe, there are a few of the most common versions of mud pies that you may want to try making:
Chocolate Mud Pie. Swap out the coffee ice cream for chocolate ice cream. Use a Y-peeler to shave a dark chocolate candy bar into chocolate curls for garnish.
Oreo Mud Pie. Make a crust with crushed Oreo Thin. Swap the coffee ice cream for cookies 'n cream. Freeze chocolate-covered Oreo cookies. Break them into small pieces and swap them for the silvered almonds.
Grasshopper Mud Pie. Replace the coffee ice cream with mint chocolate. Freeze Andes Crème de Menthe Thin Mints and break them with a spoon. Sprinkle the broken candies over the whipped cream instead of the slivered almonds.
What to Serve This Coffee Mud Pie Recipe With
A big slice of Mud Pie goes wonderfully with a delicious beverage. Coffee, hot coffee-based drink, and tea are good choices since they can help ward off the dreaded 'brain freeze'.
For the adults in the room, you may want to try pairing the pie with a little tipple. A glass of Kahlúa or a Chocolate Martini would make a tasty combo with the pie, as would an Irish Coffee.
How to Store the Mud Pie Dessert
Since it can be dangerous to freeze, thaw, and refreeze the pie, pre-slicing the pie before freezing is a good idea. Keep the sliced pie in the pie plate and cover it in a layer of plastic wrap. Then wrap it in a layer of aluminum foil. You can also wrap each slice separately if you prefer.
How Long Does It Last?
Frozen Mud Pie should last a month or perhaps a little longer in the freezer. Do not refreeze any slices that have been out of the freezer for more than a few minutes.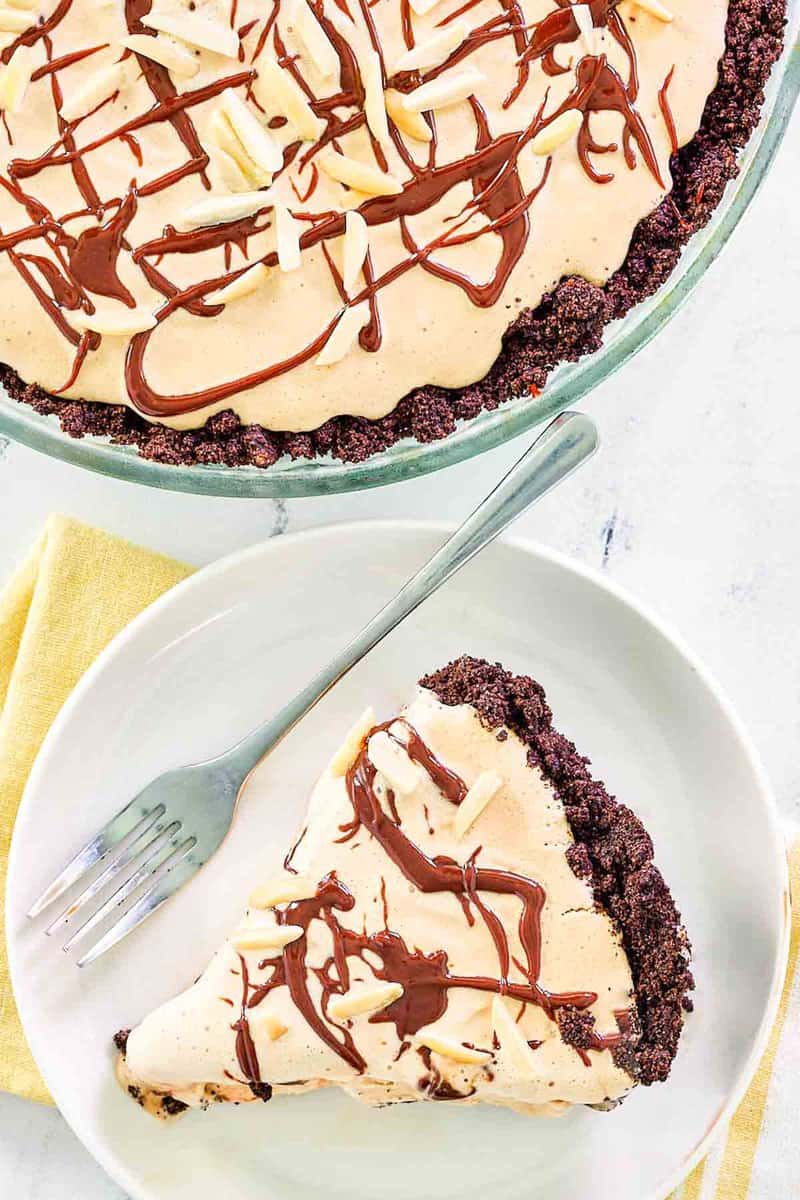 Favorite Pie Recipes
Popular Ice Cream Recipes
Check out more of my easy pie recipes and the best ice cream recipes on CopyKat!
This recipe came from the book The Best of Colorado's Gourmet Gold. Although it's out of print, you may be able to obtain a copy via Amazon or even your local used book store. The restaurant that this was adapted from was the Chart House in Aspen.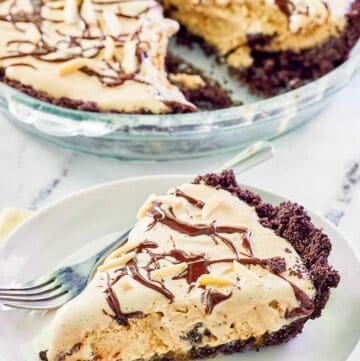 Ingredients
1

quart

coffee ice cream

1

chocolate cookie pie crust

8

ounces

hot fudge sauce

6

ounces

whipped cream

1/4

cup

slivered almonds

for garnish
Instructions
Let the ice cream stand at room temperature until softened.

Spread the ice cream into the pie crust and place the pie in the freezer for 4 hours.

Warm the hot fudge sauce.

Remove the pie from freezer. Pour the hot fudge sauce over the ice cream. Spread the whipped cream on top and sprinkle with slivered almonds.
Nutrition
Calories:
419
kcal
|
Carbohydrates:
49
g
|
Protein:
7
g
|
Fat:
22
g
|
Saturated Fat:
12
g
|
Polyunsaturated Fat:
1
g
|
Monounsaturated Fat:
7
g
|
Trans Fat:
0.01
g
|
Cholesterol:
68
mg
|
Sodium:
195
mg
|
Potassium:
372
mg
|
Fiber:
2
g
|
Sugar:
37
g
|
Vitamin A:
644
IU
|
Vitamin C:
1
mg
|
Calcium:
196
mg
|
Iron:
1
mg