Harry's Bar Bellini is a cocktail that goes hand in hand with a Sunday brunch. You can make this drink easily, and when fresh peaches are in season it is almost a sin not to make it.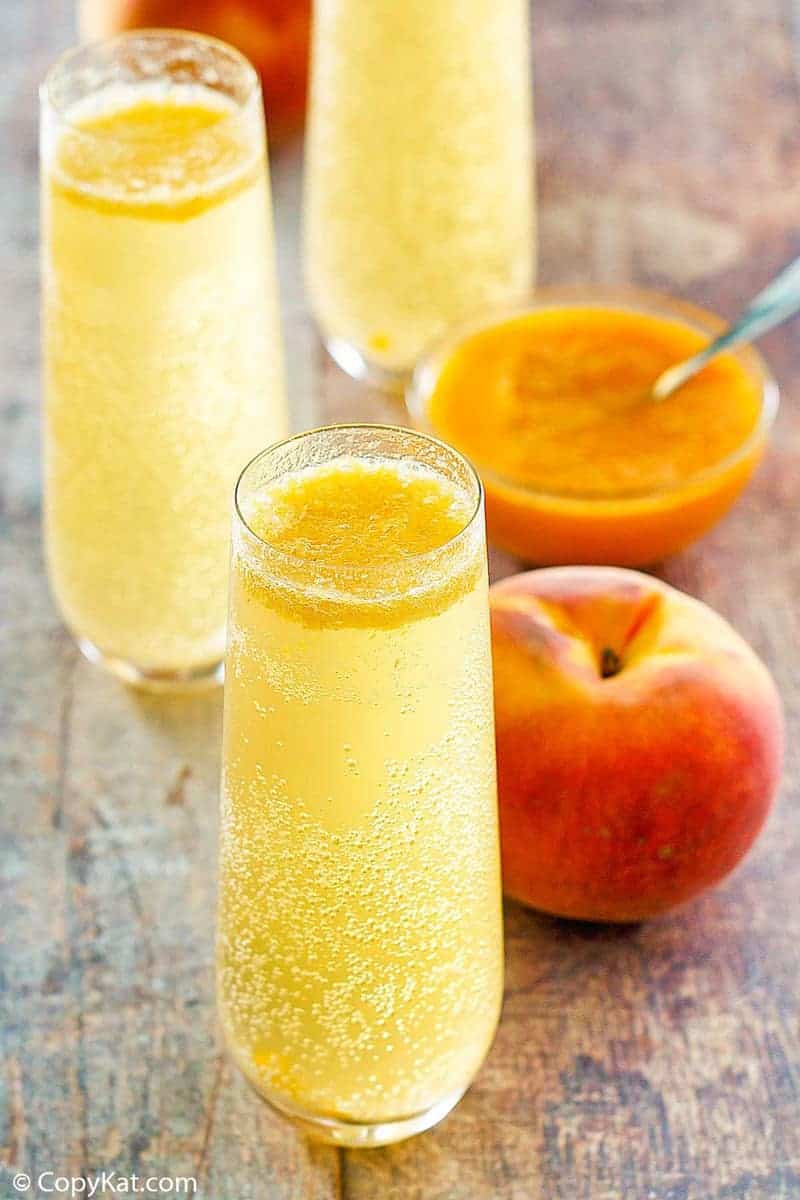 This post contains affiliate links. As an Amazon Associate, I earn from qualifying purchases.
It said that the Bellini came about due to Giuseppe Cipriani's peculiar predilection for both peaches as well as the color of a particular saint's clothing depicted in a Giovanni Bellini painting. Whether that is indeed how the drink came to be or not matters little, but what is undeniable is that the Bellini did become a popular cocktail at Cipriani's legendary Venice drinking establishment, Harry's Bar. The patrons of the watering hole, literati such as Hemingway, Capote, Welles, as well as other celebutantes, and even royalty, spread the drink worldwide until it began showing up on just about every brunch menu. But why not? The Bellini is delicious and adds just the right amount of sophistication to elevate a simple breakfast into something the average person is perfectly willing to spend a small fortune to enjoy. But you can save your money and make your own Bellinis anytime you want with this simplified Harry's Bar Bellini recipe.
Bellinis Are Not the Same as Mimosas
Although mimosas and Bellinis both make a fine brunch cocktail, you shouldn't confuse the two since there are several distinct differences. The most pronounced distinction is the use of juice versus fruit puree. Mimosas use fruit juice, while Bellnis always use fruit purees. Secondly, the champagne that is the alcohol component in a mimosa can slightly overwhelm the classic Bellini's delicate peach flavor. Therefore, most bartenders make a Bellini using Processco since it has a milder flavor profile.
But Where Can I Get White Peach Puree?
The recipe below simplifies things by substituting a blended fresh peach for white peach puree, but if you want to go the traditional route for this cocktail, you need to get your hands on some white peach puree. This often easier said than done.
White peach puree isn't something you usually see on the shelves at big-name supermarkets. Most high-end specialty stores don't even carry it. So, once again, your best chance of finding this elusive ingredient is online. Unfortunately, white peach puree is not only hard-to-find but rather expensive. But there is an easy, inexpenive solution, make your own. This New York Times recipe for White Peach Puree is amazingly simple to make and only requires three ingredients and about 5 minutes to pull together.
Variations on the White Peach Bellini
Although the classic Bellini is scrumptious, for some reason, not everyone enjoys peach cocktails. Well, lucky for them, these poor individuals do not need to live Bellini-free lives. Give these alternative recipes a try:
Mango Bellini. Replace the one part of white peach puree with mango puree and combine with two parts of Prosecco garnish with a mango slice.
Strawberry Lemonade Bellini. Blend two cups of frozen strawberries with one cup of frozen lemonade concentrate. Use one part of puree for two parts of Prosecco. Garnish with a fresh strawberry.
Tips For Preparing a Peach Bellini Recipe
Keep everything cold. For the best results, the drink's ingredients and the barware need to be well chilled.
White flesh peaches preferred, but yellow flesh peaches are acceptable. Classic Bellinis never use yellow flesh peaches because they are higher in acidity; however, you may personally prefer the tartness they can bring to this drink.
We always have new recipes, so friend us on Facebook to stay in the loop
Ingredients
Here's what you need to make a Bellini:
Fresh Peach, white peach if available
Chilled champagne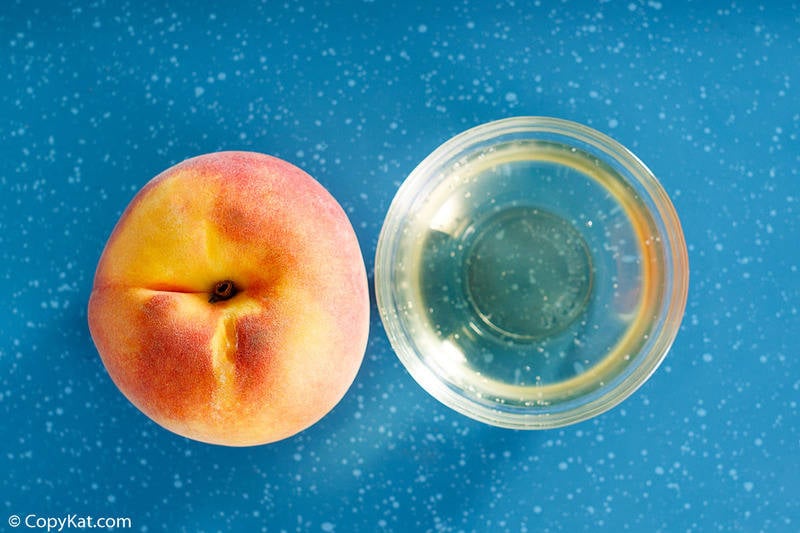 How to Make a Bellini
Wash, core, and peel the peach and puree in a blender.

Add one tablespoon of the puree in a champagne flute glass and top off with champagne.
Stir gently and serve.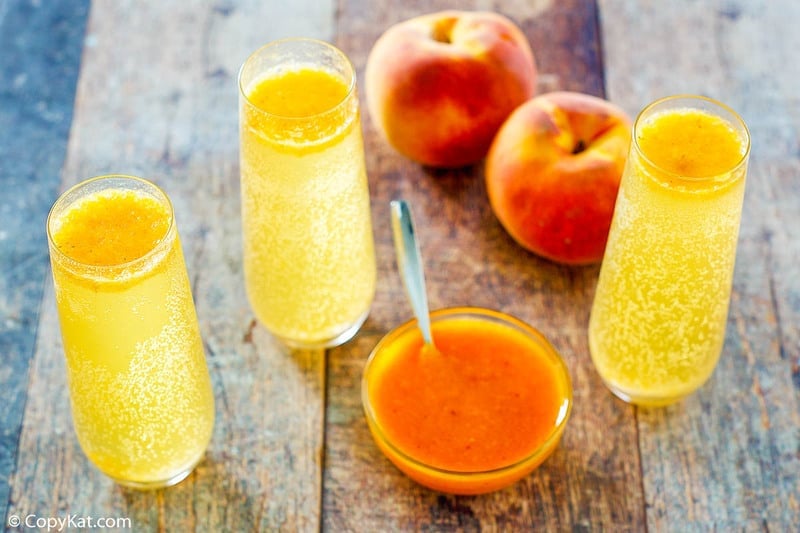 Popular Cocktail Recipes
Fruity Non-Alcoholic Drinks
Be sure to check out more of my easy cocktail recipes and the best refreshing drink recipes.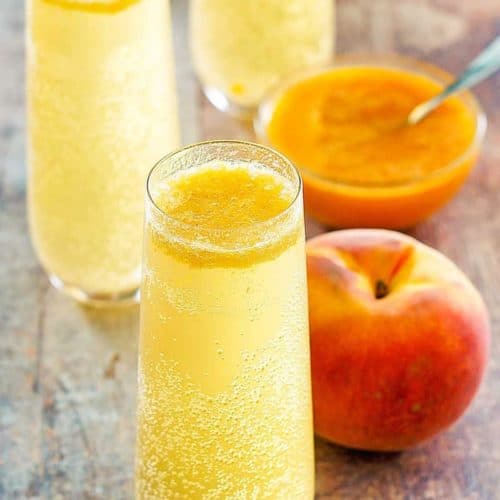 Ingredients
1

peach

(white peach if available)

6

ounces

champagne

chilled
Instructions
Wash, core, and peel the peach and puree in

blender

. Add one tablespoon of the puree in a champagne flute and top off with champagne, mix and serve.
Nutrition
Calories:
141
kcal
|
Carbohydrates:
16
g
|
Protein:
1
g
|
Fat:
0
g
|
Saturated Fat:
0
g
|
Cholesterol:
0
mg
|
Sodium:
11
mg
|
Potassium:
434
mg
|
Fiber:
2
g
|
Sugar:
14
g
|
Vitamin A:
490
IU
|
Vitamin C:
9.9
mg
|
Calcium:
15
mg
|
Iron:
1.1
mg