The Olive Garden Watermelon Moscato Sangria is a refreshing drink, perfect for summertime, or when you want something light and refreshing. This drink pairs perfectly with the Olive Garden Alfredo Sauce. Best of all you can make a batch of homemade sangria in the time it will take you to find your car keys!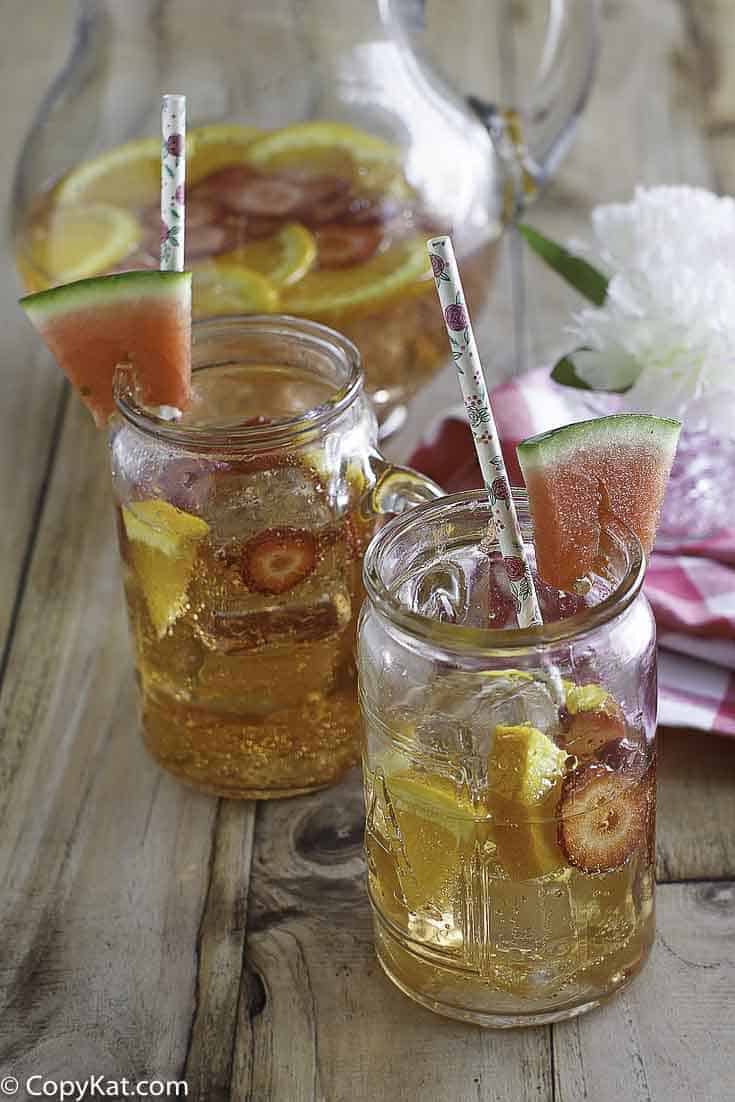 This post contains affiliate links. As an Amazon Associate, I earn from qualifying purchases.
Watermelon Sangria
Are you ever looking for a light and refreshing cocktail? It's the perfect summer drink that will quench your thirst. Serve this at your summer party, an evening with friends, or when you want to enjoy a summer drink.
The sparkling and fruity concoction is perfect for those who do not drink a lot. Ginger ale and watermelon syrup are added to the wine. It's the perfect spritzer.
It's so easy to make sangria. I love to serve sangria at parties during the summer. A spritzer like this is perfect for when you want a fizzy and fruity light drink.
When it is super hot outside, a cold sangria is perfect. It feels like you can push away a hot summer evening with a glass of this watermelon Moscato sangria.
Cut up some fruit and have some fun!
Watermelon sangria is perfect for the summertime. Watermelons are fresh and in season. While this recipe does not use a fresh watermelon syrup, fresh-cut watermelon slices are the perfect accompaniment to serve. The Olive Garden serves this with fresh strawberries and fresh orange slices.
What is Moscato Wine?
Moscato wine is a white wine that is sweet. So it's perfect for those who do not drink a lot of wine! It comes from the Muscat Blanc grate.
Moscato works very well for making sangria because is known for its five predominant flavors; Meyer lemon, mandarin orange, pear, orange blossom, and honeysuckle.
While this wine originates in Italy, it is now made in regions around the world.
What is Sangria?
Sangria is a punch made with wine, fruit, and sometimes additional spirits or alcohol. Sangria originated in Spain but it has become a popular drink everyone loves. It is oven served at bars, restaurants, and in homes everywhere.
What does Moscato Sangria taste like?
Moscato sangria tastes fruity and sweet. Moscato wine has flavor notes of Mandarin orange, lemon, peach, honeysuckle, and orange blossom.
Often Moscato sangria has bubbles. It can be made with seltzer or ginger ale. So imagine a light refreshing fruity wine cocktail with a bit of fizz.
Simple ingredients that are easy to find!
This recipe is made with easy to find ingredients. This is much-loved sangria is made from:
750ml (or 1 bottle) Moscato wine
Ginger Ale
Watermelon Syrup
Fresh cut fruit: Watermelon, Strawberries, Oranges
Can't find Watermelon Syrup? No Problem.
The Olive Garden uses Monin Watermelon Syrup. I have found this at Cost Plus World Market, Bed Bath and Beyond, and at some liquor stores.
If you can't locate it, and you drink alcohol, you still can enjoy this drink. Substitute the watermelon syrup with watermelon vodka. It will work very well. Unlike many recipes for sangria, this drink recipe does not contain simple syrup.
What type of Moscato does the Olive Garden use for their Watermelon Moscato Sangria?
The Olive Garden uses Castello del Poggio Moscato. It is an Italian Moscato sparkling wine. The tasting notes of this Moscato are musk, peach, and white flower. If you have a Sam's Club membership, or if you go to Total Wine, you may be able to find it there, in addition to your favorite wine store.
You can use your favorite Moscato, since we are mixing it with Ginger Ale, and a Watermelon syrup, some of those tasting notes are muted in the final glass. I personally would use a value-priced Moscato from Gallo wines.
Best wines to use for Moscato sangria
Again, for this recipe, I recommend Castello del Poggio Moscato for this copycat recipe.  If you can't find that brand, I recommend other brands like  Stella Rosa, Skinnygirl Moscato, Bearfoot, and Papi.
Since you are mixing this wine with Watermelon syrup and more, I don't recommend buying an expensive brand, I would choose something moderately priced.
How to Make Olive Garden Watermelon Sangria
Wash and cut the orange and strawberries into small slices.
Pour Moscato into a large pitcher.
Add ginger ale and watermelon syrup. Stir gently.
Add ice and stir gently.
Add sliced strawberries and oranges.
Garnish with watermelon slices.
Non-Alcohol Version
This recipe can be easily modified for those who do not drink. So the version without the Moscato could be served at baby showers, the younger than 21 crowds, and to anyone to abstains from alcohol.
Simply omit the Moscato, and be sure to use watermelon syrup.
Why not make some copycat Olive Garden Watermelon Sangria today?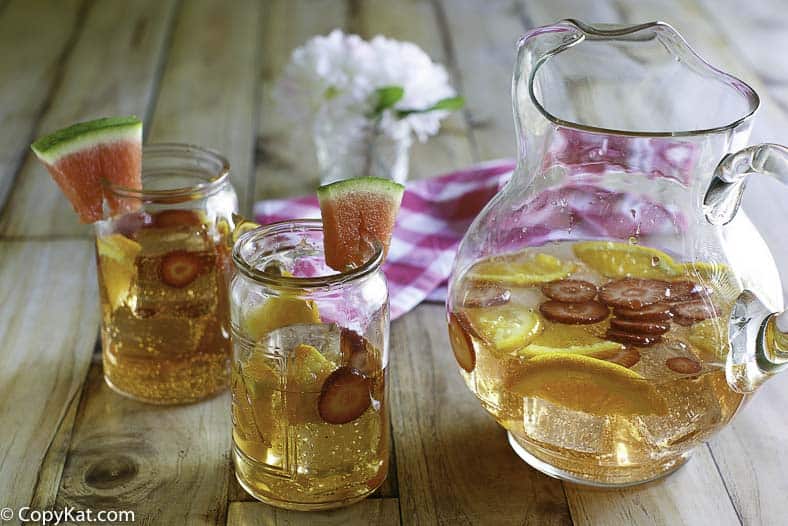 Love Olive Garden Drinks? Try these copycat recipes
More Tasty Cocktail Recipes
Be sure to check out more of my copycat Olive Garden recipes and the best cocktail recipes.
Ingredients
750

mls

Moscato

6

ounces

Ginger Ale

6

ounces

Monin Watermelon Syrup

4

cups

ice

3/4

cup

sliced strawberries

1

orange

sliced
Instructions
Wash and cut fruit into small slices.

Pour Moscato into a large pitcher.

Pour Ginger Ale and Watermelon syrup into a pitcher. Stir gently.

Add ice to the pitcher, and stir gently.

Add sliced strawberries and oranges.

Serve with watermelon slices if desired.
Nutrition
Calories:
204
kcal
|
Carbohydrates:
33
g
|
Protein:
0
g
|
Fat:
0
g
|
Saturated Fat:
0
g
|
Cholesterol:
0
mg
|
Sodium:
19
mg
|
Potassium:
84
mg
|
Fiber:
0
g
|
Sugar:
26
g
|
Vitamin A:
50
IU
|
Vitamin C:
22.2
mg
|
Calcium:
15
mg
|
Iron:
1.2
mg