Olive Garden Italian Margarita is a classic cocktail with a twist! This cocktail is prepared with top shelf ingredients and is served on the rocks and with a side of amaretto. This is one to enjoy for any occasion.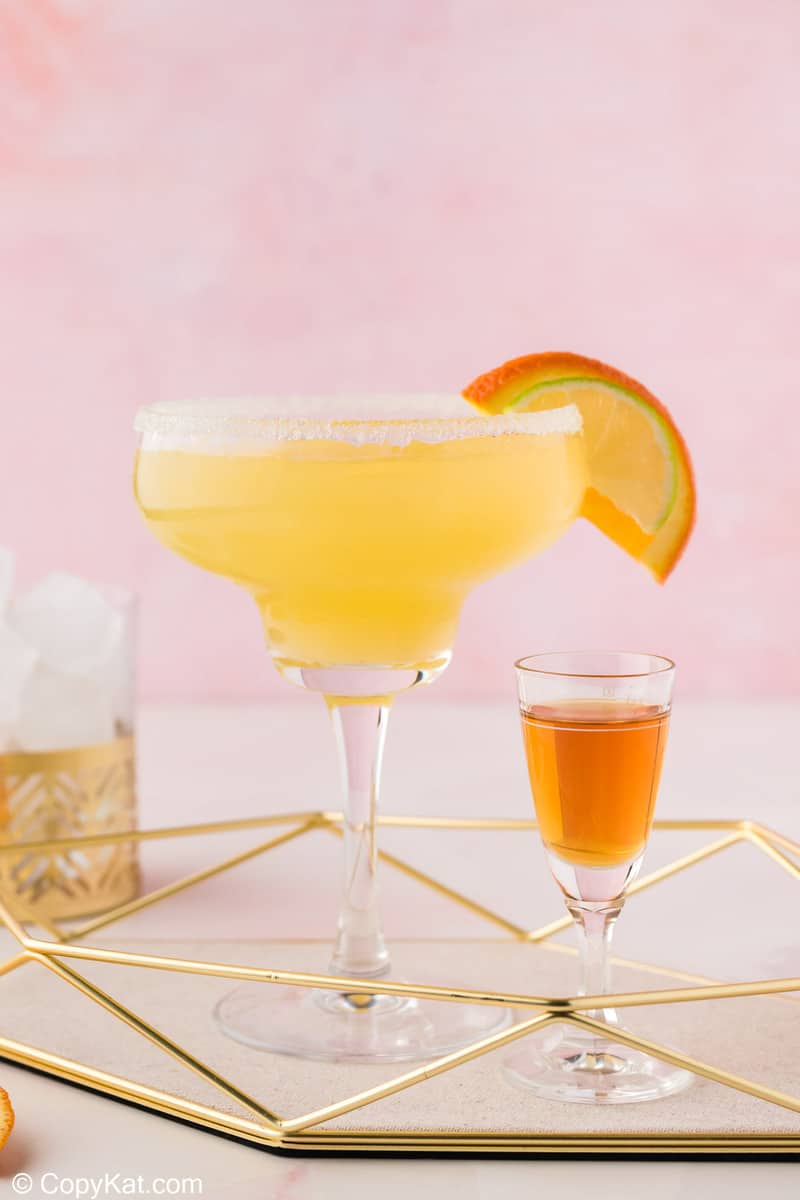 Olive Garden restaurants may be famous for the American-Italian cuisine they serve, but if you check out the menu, there are some pretty unique cocktails on it as well. Take the Olive Garden Italian Margarita, for example. The chain puts an Italian spin on the classic Margarita with an additional shot of amaretto liqueur. This extra fruity, sweet and sour drink is definitely not for the lightweights with its three and a half ounces of booze in every glass. Not every location serves mixed drinks, so if you can't order the drink at your local Olive Garden, why not try making a few at home?
What's In the Olive Garden Italian Margarita Recipe?
Jose Cuervo Especial Silver
Tequila is made from the blue agave plant and is one of the world's most popular liquors. At the heart and soul of a good Margarita, it is always nice to use the best quality tequila you can find. There are five different categories. Blanco tequila is the purest form because it doesn't undergo any aging in oak barrels, and therefore has the mildest taste. Most bartenders prefer to use this category of tequila in the Margarita they make.
Jose Cuervo Especial Silver, often called Jose Cuervo Blanco, is a popular choice for tequilas because it is moderately priced and widely available. But you may use any Blanco tequila you have at home without affecting the cocktail's taste very much.
Triple Sec
Triple Sec is an orange-flavored liqueur originally from France. The bright citrus flavor comes from the peels of sweet and bitter oranges and other 'secret' ingredients blended with neutral spirits. The Combier brand was the first Triple Sec, but there are many different brands. Although formerly drank straight as an after-dinner digestif, Triple Sec today is more commonly added to cocktails.
If you don't happen to have a bottle labeled "Tripe Sec" on hand, you can try substituting another citrusy spirit like Grand Marnier, Cointreau, or Pierre Ferrand Dry Curaçao.
Amaretto
The Italian influence for this Margarita comes from Amaretto, an almond-flavored liqueur from Italy. There are lots of mixed drinks with Amaretto, but it's also common to serve over ice on its own. Many brands produce a decent Amaretto, but Disaronno Amaretto Liqueur is probably the most famous in the US. Olive Garden serves its Italian Margaritas with a shot of Amaretto on the side, to allow the diner to add it. When you make the cocktail at home, you might as well mix it with the rest of the drink.
Fans of Amaretto drinks may want to try a few like Amaretto di Saschira or Lazzaroni Amaretto to find your favorite.
Sour Mix
Perhaps a better name for sour mix might be a "sweet and sour" mix. It is essentially nothing more than simple syrup with some lemon and lime juice to balance the sweetness. You can buy sour mix in almost any supermarket, but it is simple to make at home, and it tastes much better than anything you can find on the shelf.
To make your sour mix:
Combine one cup of water with a cup of white sugar in a small saucepan.
Slowly bring to a boil while stirring.
Once the sugar mixture comes to a boil, remove the pan from the heat and add a half cup of fresh lemon juice and an equal amount of lime juice.
Stir and let cool.
Tips for Making an Olive Garden Italian Margarita
You got to move it, move it. Give your cocktail shaker more than a few shakes. Shaking helps to aerate the drink and bring out the flavors thoroughly. If you are ever confused about whether to shake or stir a cocktail, the rule of thumb is that anything with fresh ingredients like fruit juice or cream needs to go into the shaker.
Choose your shaker wisely. There are two types of shakers: Boston and Cobbler. A Boston shaker is better at aerating, but it takes longer to chill. The extra time in the shaker may cause drinks to become more watery. On the other hand, a Cobbler shaker chills cocktails quicker but doesn't incorporate as much air into the cocktails. Most bartenders prefer using a Boston shaker for making Margaritas.
Check out more delicious cocktails on YouTube!
Ingredients
Here's a list of what you need:
Jose Cuervo Blanco or any white tequila
Triple sec
Orange juice
Sour mix
Amaretto
Sugar
Orange
Lime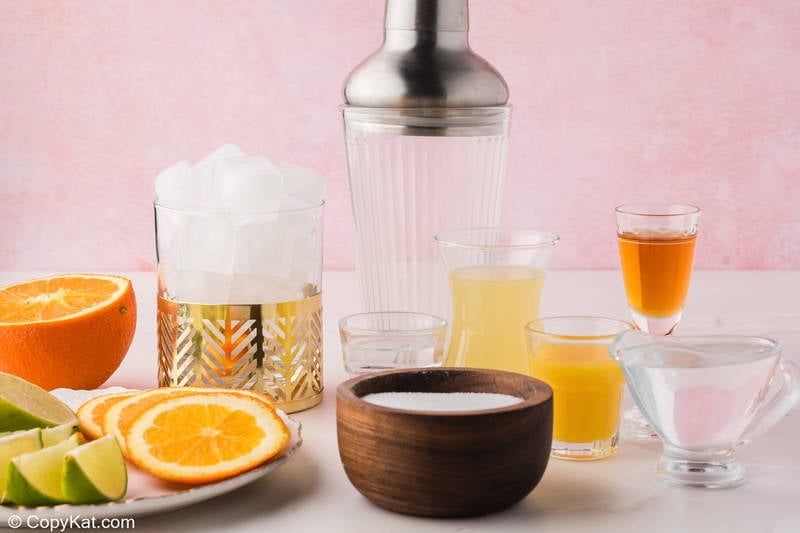 How to Make Olive Garden Italian Margarita
Cut a lime wedge and rim the margarita glass with the lime.

To rim the glass, dip the wet margarita glass into a dish filled with sugar. 

Fill a cocktail shaker with tequila, triple sec, orange juice, and sour mix.

Shake until blended.

Pour into a margarita glass filled with ice.

Garnish with orange and lime slices.

Serve the margarita with the amaretto in a cordial glass.
Pour the amaretto into the margarita and enjoy!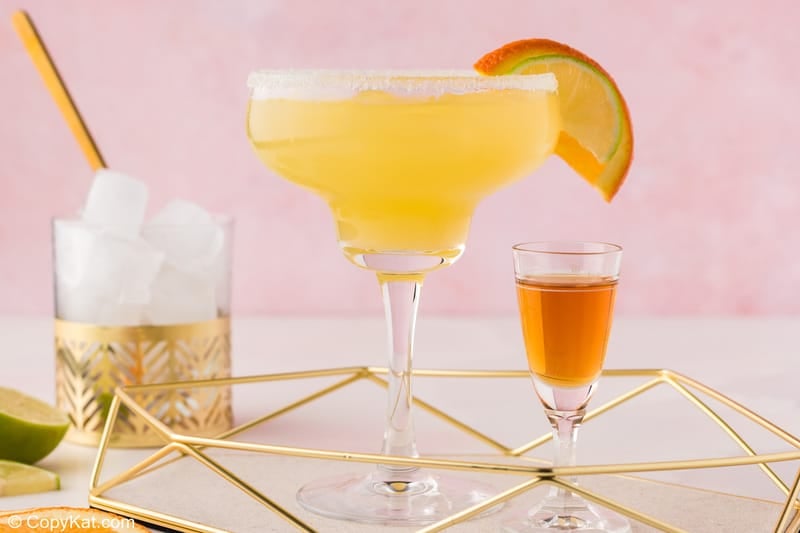 Love Olive Garden? Try these copycat recipes!
Favorite Cocktail Recipes
Check out more of my copycat Olive Garden recipes and the best cocktail recipes here on CopyKat!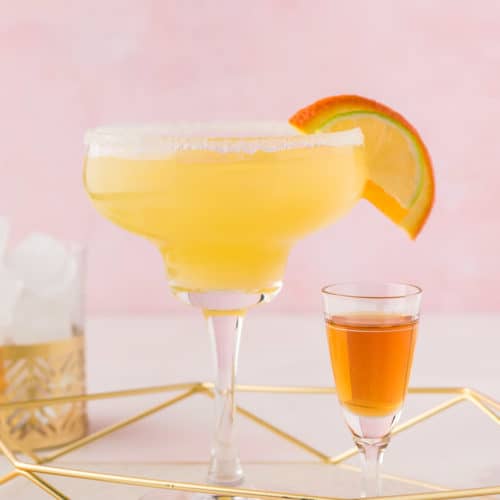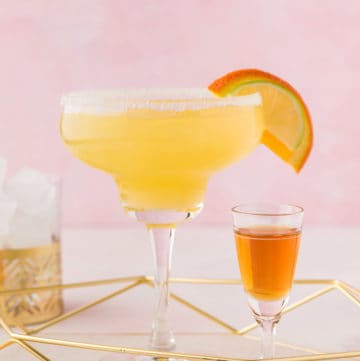 Olive Garden Italian Margartia
Olive Garden Italian Margarita takes a classic cocktail to a whole new tasty level! Get the easy copycat recipe and learn how to make the best margarita with tequila, triple sec, orange juice, sour mix, and a side of amaretto. This delicious homemade margarita on the rocks is great for any fun occasion.
Print
Pin
Rate
Add to Collection
Go to Collections
Ingredients
1 1/2

ounces

Jose Cuervo Blanco Tequila

you can use your favorite tequila

1

ounce

triple sec

1

ounce

orange juice

3

ounces

sour mix

1

ounce

amaretto

this is served alongside the margarita

sugar

for rim

orange slice

lime slice
Instructions
Cut two lime wedges and rim the margarita glass with one lime slice. Dip the wet margarita glass into a dish filled with sugar. Save the other lime wedge for garnish.

Fill a boston shaker with tequila, triple sec, orange juice, sour mix, and shake. Pour into a margarita glass full of ice.

Service with a cordial glass full of amaretto, it's recommended to pour the amaretto inside the margarita glass before serving.
Nutrition
Calories:
323
kcal
|
Carbohydrates:
31
g
|
Protein:
1
g
|
Fat:
1
g
|
Saturated Fat:
1
g
|
Sodium:
21
mg
|
Potassium:
75
mg
|
Fiber:
1
g
|
Sugar:
30
g
|
Vitamin A:
57
IU
|
Vitamin C:
14
mg
|
Calcium:
4
mg
|
Iron:
1
mg