Grand Lux Cafe Double Stuffed Potato Spring Rolls combine the crisp crunchy texture of a spring roll and the savory goodness of a baked potato together in one appetizer. I had tried these and knew they simply had to be recreated.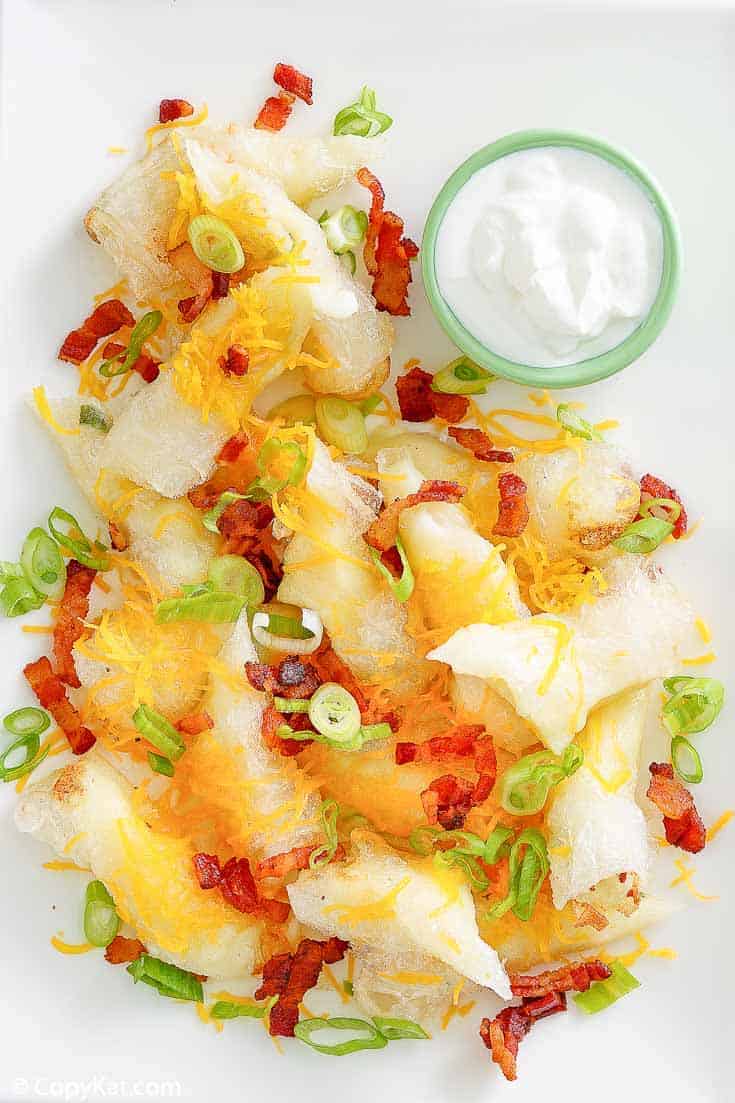 Grand Lux Cafe Double Stuffed Potato Spring Rolls combine the crisp, crunchy texture of a spring roll and the savory goodness of a baked potato in one appetizer. When I first tried these, I knew they simply had to be recreated. What makes these stuffed potato appetizers so special? These aren't just your average spring rolls – they're superior loaded baked potato spring rolls.
If you ever find yourself in Las Vegas, a world of delicious food awaits you at the Grand Lux Cafe. You will enjoy an inspired dining experience in an elegant but relaxed setting. Part of The Cheesecake Factory Company, this upscale, but casual eatery, is unique.
The mashed potato filling has a wonderful touch of green onions, and the spring rolls are topped off by the flavors of smoked bacon and cheddar cheese. These mashed potato appetizers just taste so good. Now, you can make them at home even if you live nowhere near a Grand Lux. These spring rolls are also the perfect way to use up leftover mashed potatoes.
These potato appetizers are perfect if you're throwing a party. It's just amazing what can go inside a spring roll wrapper. The rolls are served with sour cream because they wouldn't be genuine loaded baked potatoes without sour cream making an appearance.
Can These Spring Rolls Be Frozen?
Yes, you can make a bunch at a time and just freeze them. The next time you want some loaded baked potato spring rolls, all you have to do is take them out of your freezer and pop them into some hot oil. It's great to have these on hand anytime you need an appetizer on the fly because friends dropped by with hardly any notice. Or, if you feel lazy one day and don't want to cook, you'll remember that you stored a bunch of spring rolls, and you'll be thankful that you did.
What Are the Best Wrappers to Use?
You can use egg roll wrappers. Another good choice, if you can find them, is Tyj Spring Roll Pastry, which has a crunchier texture when fried than egg roll wrappers. Your best bet, if you have one near you, is a Vietnamese grocery store. Also, you can find a variety of wrappers on Amazon.
A Few Tips for the Perfect Mashed Potato Spring Rolls
Make sure you roll your spring rolls tightly. If there are any air bubbles inside, the filling will ooze out of your wrappers and into the oil.
Place the rolls in the freezer for about 30 minutes before frying. This firms up the potatoes and dries out the wrappers a bit.
Fry the rolls in batches so that you don't overcrowd the pan and drop the temperature of the oil.
Ingredients
Here is what you need to make the potato spring rolls:
Russett potatoes
Heavy cream
Butter
Salt
Green onions
Spring roll wrappers
Oil for frying
Bacon
Cheese
Sour Cream
How to make loaded mashed potato spring rolls
Peel and cut potatoes into cubes. Boil until tender.
Drain water and mash potatoes. Add butter, cream, salt, and green onions. Stir to combine.
Wrap mashed potatoes in spring roll wrappers.
Cut bacon into matchstick strips and fry until crispy.
Lightly fry spring rolls in oil until crispy.
Cut spring rolls in half.
Top with cheese, cooked bacon, and sliced green onions.
Serve with sour cream and enjoy!
Love potatoes? Try these recipes
Popular Copycat Fried Appetizer Recipes
Be sure to check out more easy comfort food and the best copycat appetizer recipes.
Ingredients
1

pound

russet potatoes,

peeled, and chopped into large chunks

1/4

cup

heavy cream

you may want to add a little more

2

tablespoons

butter

1/2

teaspoon

salt

1

bunch

green onions

1

package

spring roll wrappers

(you can use egg roll wrappers)

4

ounces

applewood smoked bacon

1/2

cup

cheddar cheese, shredded

1/4

cup

sour cream

vegetable oil

for frying
Instructions
Mashed potatoes Place peeled and cut potatoes into a saucepan, and cover with water. Bring the saucepan to a boil, and then reduce to a simmer, simmer potatoes for 15 - 20 minutes, or until potatoes are fork tender. When potatoes are tender, drain off the water, and mashed potatoes with a hand masher, add butter, and heavy cream, blend until smooth. Season to taste with salt and pepper.

Chop the green onions into small 1/4 inch thick slices. Add 1/4 cup of the sliced green onions to the mashed potatoes and resume the remaining green onion slices for the garnish.

Slice bacon into matchstick slices, and cook bacon until the bacon is browned and crispy. 

To make spring rolls: I like using fresh spring roll wrappers, I found the ones that need to be re-hydrated could be difficult to work with. Add about 1 1/2 tablespoons of mashed potatoes to the spring roll. Roll the spring roll, and secure the ends with a bit of water. Repeat until you have either no more mashed potatoes or no more spring roll wrappers.

Cook spring rolls: In a deep pan, add enough oil to cover the bottom 4 inches of the pan with cooking oil. Heat oil until it is about 350 degrees. Add a few spring rolls at a time to the oil, cook for about 1 to 2 minutes on each side. Drain spring rolls on paper towels.

Cut spring rolls diagonally in half. Place spring rolls on a serving plate, garnish with cheese, cooked bacon, green onion tops, and serve with sour cream.
Nutrition
Calories:
279
kcal
|
Carbohydrates:
29
g
|
Protein:
7
g
|
Fat:
15
g
|
Saturated Fat:
8
g
|
Cholesterol:
28
mg
|
Sodium:
427
mg
|
Potassium:
222
mg
|
Fiber:
1
g
|
Sugar:
0
g
|
Vitamin A:
215
IU
|
Vitamin C:
2.1
mg
|
Calcium:
65
mg
|
Iron:
1.7
mg