Have you ever wanted to try a Steak and Shake Frisco Patty Melt? This is a delicious burger that is hard to put down. One bite and you will be convinced this is one tasty burger.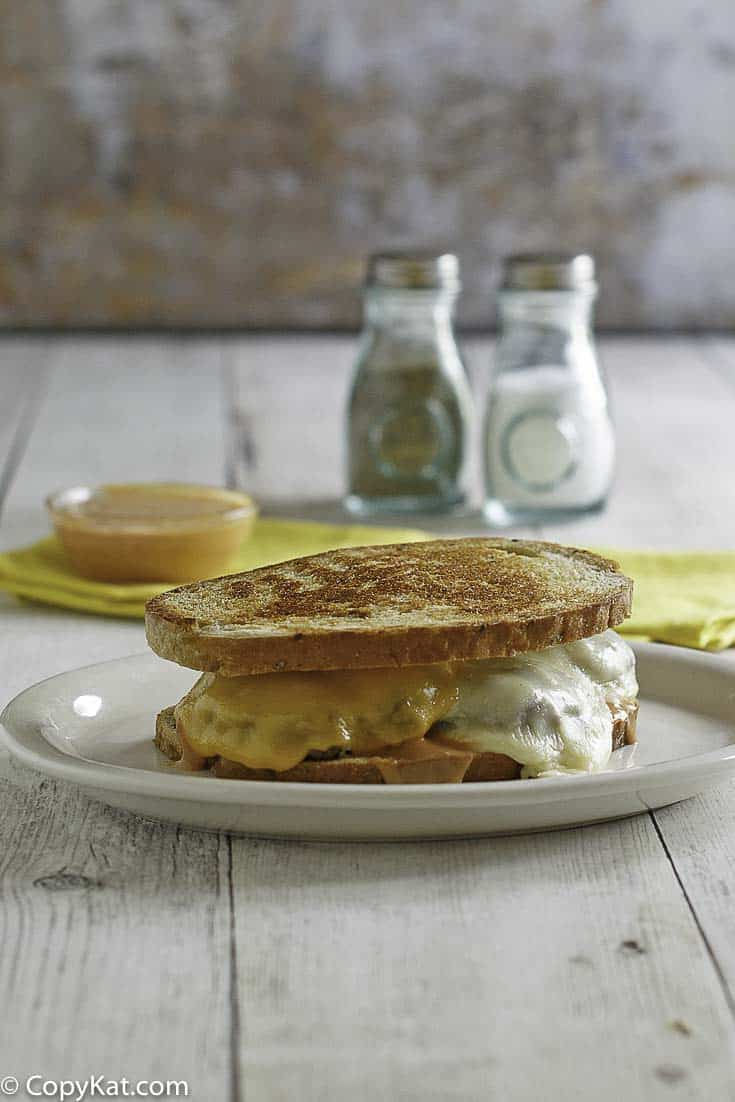 Steak and Shake makes some of the best burgers out there. Did you know their meat is never frozen, and fresh meat can taste better than frozen burgers?
They also use a unique mix of beef. Did you know that they use several cuts of beef to make their specially ground beef? They use a combination of round, sirloin, and T-bone steak. This mix of beef makes their burger patties extra unique and gives them an added flavor.
For this recipe, I will use a mix of ground round, ground sirloin, and ground chuck. If you only want to purchase one type of ground beef, I would suggest that you go with ground sirloin. It has a medium amount of fat when compared to ground round and ground chuck.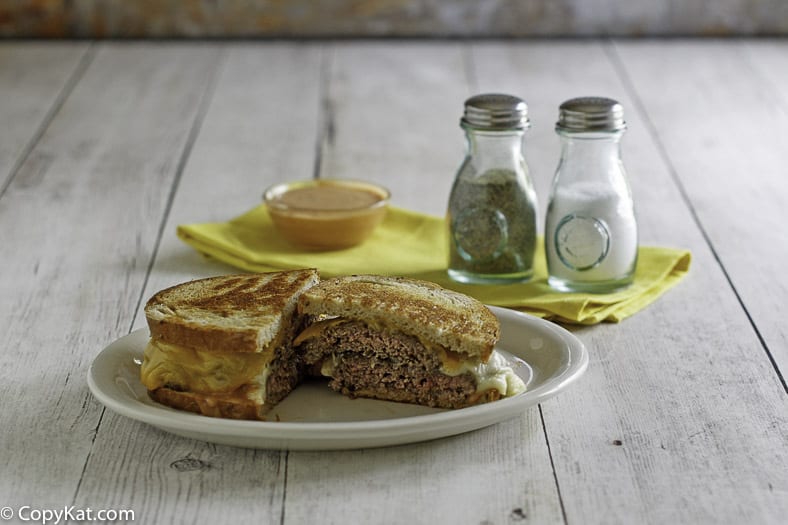 This patty melt has two different types of cheese. You will use Swiss cheese and American cheese for this recipe. The combination of the two cheese gives this burger a good variety in the flavor.
Swiss cheese gives you a wonderful nuttiness and the American cheese melts into perfection.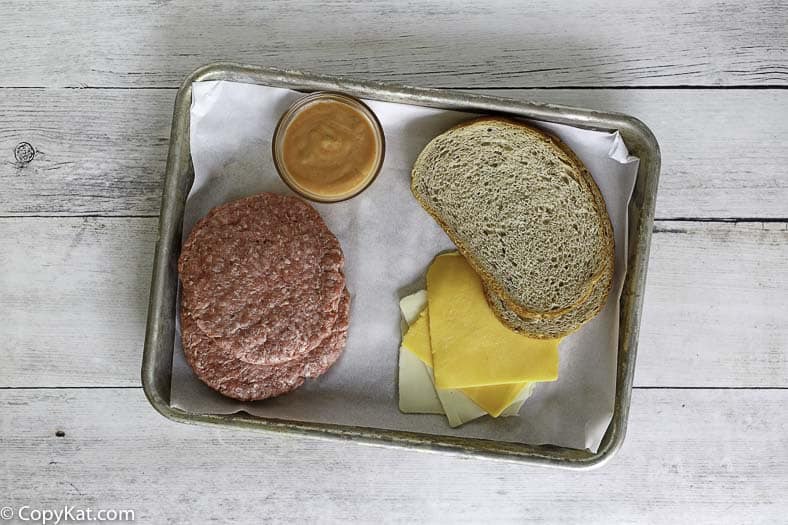 The bread for the Steak and Shake Frisco Patty Melt is sourdough bread. Many other patty melts are made with pumpernickel or another style of bread. Your favorite sourdough will work out well for your burger.
In the restaurant, they butter the bread with a special machine. The "butter" that they use, really isn't butter. It is a spread that helps the bread brown nicely, makes the bread a little crispy, and gives a butter taste.
At home, you would spread some softened butter on your bread.
The sauce on this bread is a mix of French Salad Dressing, Thousand Island Salad Dressing, a touch of ketchup, and a dash of Worcestershire sauce.
What makes the Steak and Shake Frisco Melt unique is they do not prepare grilled onions for their sandwich. You could do this if you desire, but that isn't something that they do in the restaurant.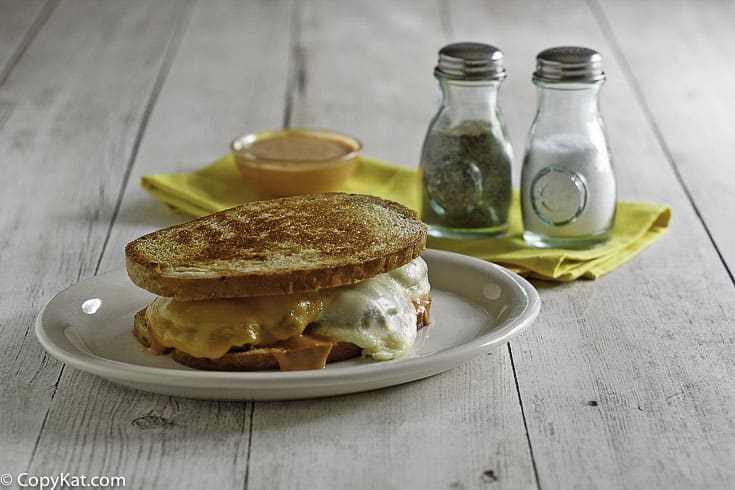 Want more great burgers? Check out these recipes
Popular Fast Food Sandwich Recipes
Be sure to take a look a more of my easy recipes with ground beef and the best fast food copycat recipes.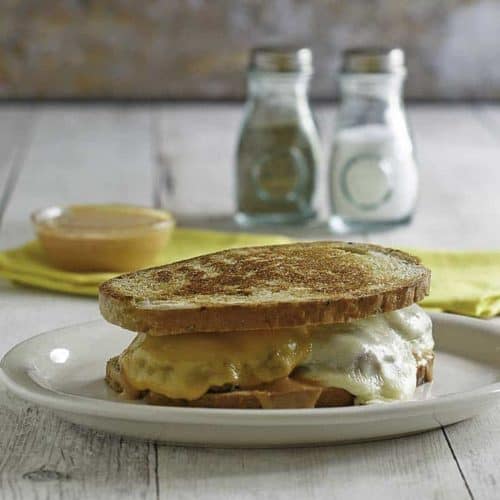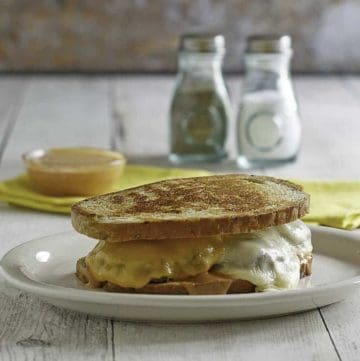 Ingredients
Burger Mix
8

ounces

ground round

4

ounces

ground sirloin

4

ounces

ground chuck
Seasoning Mix
1

1/2

teaspoons salt

1

teaspoon

ground black pepper

1/4

teaspoon

onion salt

1/4

teaspoon

garlic salt
Frisco Sauce
1/2

cup

Thousand Island dressing

1/2

cup

French Salad dressing

2

tablespoons

ketchup

1/4

teaspoon

Worcestershire sauce
Sandwich Ingredients
4

slices

sourdough bread

1

tablespoon

softened butter

2

slices

American cheese

2

slices

Swiss cheese
Instructions
In a medium-sized bowl combine the ground round, ground sirloin, and ground chuck. Combine and mix. Allow meat to rest about 10 minutes in the refrigerator before forming 4 - 4-ounce balls of meat.

While the meat is resting combine the salt, black pepper, onion salt, and garlic salt in a small bowl. You will use this burger seasoning on the burger.

Prepare the Frisco sauce by combining the thousand island dressing, French salad dressing, ketchup, and Worcestershire sauce in a bowl.

Preheat the griddle to 375 degrees, if you do not have a griddle I suggest that you use a large cast iron pan. If you have a large griddle butter 4 pieces of bread on one side, and allow the bread to toast on the griddle while the burger cook. If you do not have a griddle you may want to toast the bread on one side in your skillet before you cook the beef.

Once the cooking surface had heated up fully place the meatballs onto the skillet. You will need to press the burgers into thin patties. Use a spatula to press the burgers into thin patties. Season with the burger seasoning. These burgers cook very quickly 2 to 3 minutes on the first side. Once the edges begin to brown flip the burgers and season them again. Place the 4 slices of cheese onto the meat patties. They will need to cook for another minute or two before they have cooked through.

To build the burgers spread the Frisco sauce on the untoasted portion of the bread liberally. Build your burger starting with a piece of the toasted bread, and then place a meat patty topped with Swiss cheese, and then one topped with American cheese, and top with a piece of toasted bread.
Nutrition
Calories:
1606
kcal
|
Carbohydrates:
98
g
|
Protein:
70
g
|
Fat:
103
g
|
Saturated Fat:
32
g
|
Cholesterol:
230
mg
|
Sodium:
3242
mg
|
Potassium:
1053
mg
|
Fiber:
3
g
|
Sugar:
26
g
|
Vitamin A:
1105
IU
|
Vitamin C:
2.9
mg
|
Calcium:
555
mg
|
Iron:
10.9
mg