Warm up on a cold day with Panera Turkey Chili. This hearty and comforting homemade chili recipe is perfect for a cozy night at home. You'll enjoy a delicious and healthy chili with ground turkey, chickpeas, beans, edamame, corn, tomatoes, and warm spices.
This post contains affiliate links. As an Amazon Associate, I earn from qualifying purchases.
What Makes Panera Turkey Chili So Good?
The Turkey Chili at Panera is a great middle-of-the-road chili crowd-pleaser. It comes loaded with vegetables and spices that complement the mildness of the turkey but are not too spicy or bland.
People who want to reduce the amount of saturated fat they eat will love this alternative to traditional beef chili.
Why You Should Try This Copycat Panera Turkey Chili Recipe
You can never have too many chili recipes, especially ones that are as easy as this. Chili makes a superb freeze-it-and-forget-it meal, so don't be afraid to double the recipe so you'll always have some extra in the freezer.
Other versions of this Panera Turkey Chili recipe contain sweeteners like brown sugar and molasses, but this recipe doesn't include either. The spices and beef stock give the dish a great depth, while the cilantro adds a bit of brightness to keep the flavors from getting too muddled.
Panera Turkey Chili Ingredients
For this recipe, you'll need:
Ground turkey
Olive oil
Yellow onion
Tomato paste
Red kidney beans, canned
Chickpeas, canned
Whole corn, canned
Fire-roasted green chilies, canned
Edamame, shelled
Carrot
Beef broth
Salt
Freshly ground black pepper
Chili powder
Oregano
Garlic powder
Cumin
How to Make Copycat Panera Turkey Chili
To make this chili recipe on the stove top:
Dice the yellow onion into small pieces.
Heat a large pot or Dutch oven over medium heat.
Pour the oil into the pot, and when it starts to shimmer, add the turkey.
Use a wooden spoon to break up the ground turkey and let it cook until let it cook for a minute or two.
Add the diced yellow onion to the pot and stir.
Continue to cook until the turkey browns. Stir occasionally.
While waiting for the turkey to brown, empty the cans of kidney beans, chickpeas, and corn into a colander in the sink. Rinse well and leave the colander in the sink to drain.
Once the turkey browns, add all the other chili ingredients to the pot.
Increase the heat to high and stir well until the chili comes to a boil
Reduce the heat to low and simmer covered for about half an hour. Remove the lid from the pot and cook until the chili thickens.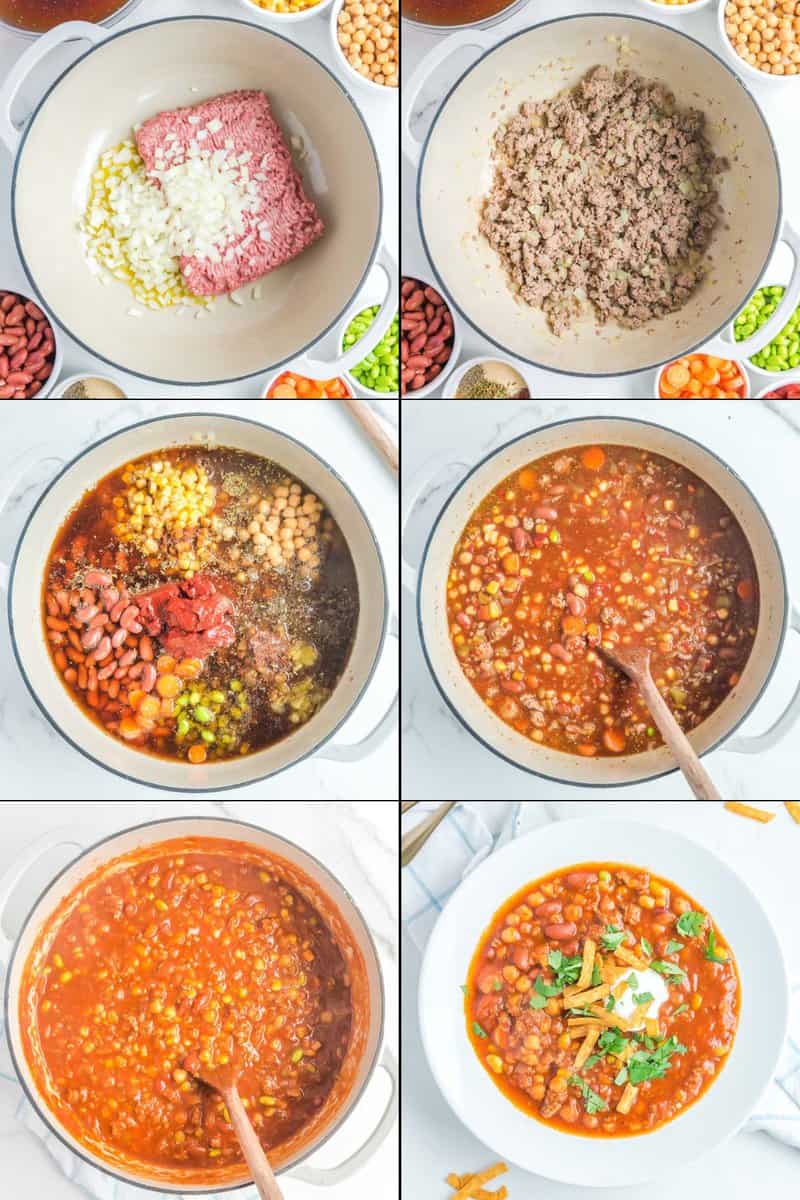 Recipe Variations
Go ahead and play around with this recipe to make it your own. Here are a few suggestions:
Thicken the chili by whisking a tablespoon of cornstarch with two tablespoons of water. Add the cornstarch slurry to the pot when you remove the lid after cooking it.
Use chicken broth instead of beef broth.
Use different beans. Not a fan of chickpeas? Try substituting pinto beans instead. Cannellini and black beans are also good options.
Spice things up a bit by adding chopped jalapenos, cayenne pepper, or red pepper flakes.
Add other veggies such as zucchini, green beans, or tomatillos.
Chopped chipotle peppers in adobo sauce will bring a lot of smoky flavors to this dish.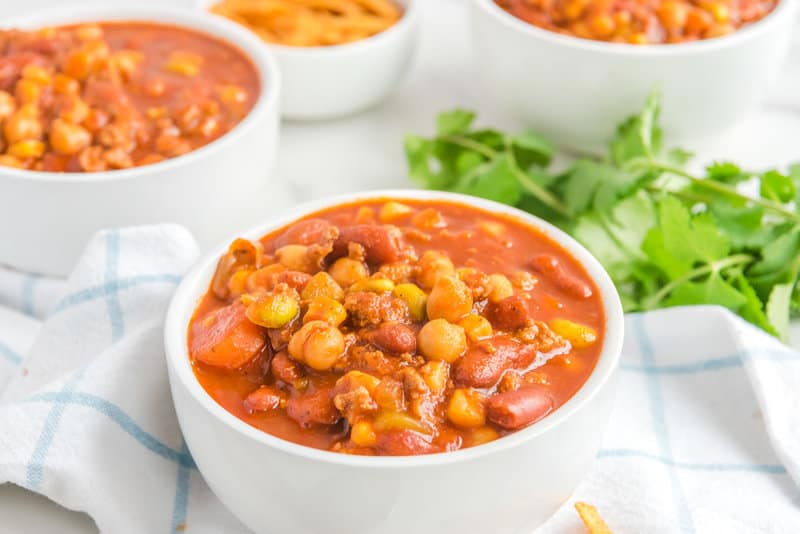 What to Serve With Panera Turkey Chili
Give your guests as many options for garnishing their bowls of chili as possible. Some favorites include avocado, sour cream, chopped cilantro, tortilla chips or strips, shredded cheese, lime wedges, and chopped raw white or red onion, or green onions.
You may want to serve this chili over rice or polenta. You can also add a slice of artisan sourdough bread or a piece of cornbread on the side.
How to Store Copycat Panera Turkey Chili Leftovers
Keep any extra Turkey Chili in an airtight container in the fridge for up to three days.
For longer storage, freeze chili for up to two months. To avoid having to defrost all the chili, try using freezer bags to portion the chili into individual servings.
What's the Best Way to Reheat Turkey Chili
For the best results, reheat thawed chili on the stove over medium-low heat. Stir continuously to prevent the chili from burning.
Since beans can soak up a lot of liquid, you may need to add some water to thin the chili out before reheating.
You can also microwave chili on HIGH for 1 minute, stir, and additional 30-second increments until warm.
Frequently Asked Questions
Is Panera Turkey Chili Gluten Free?
Yes, the restaurant version is gluten-free, and so is this recipe. However, be aware that some ingredients may be processed where they can come into contact with non-gluten-free foods.
Is Panera Turkey Chili healthy?
Eating more vegetables, beans, and legumes is something everyone should do, and this recipe is full f them. However, is chili with ground turkey healthier than chili made with ground beef? That answer is a little more complicated. While ground turkey has less saturated fat than ground beef, it contains more overall fat and calories than beef. So turkey is better for your heart than ground beef, but just about equal if you are concerned about weight loss.
Is Panera chili spicy?
No, when it comes to chilis, this Panera Turkey Chili recipe is on the more mild end of the spectrum. Check out the section above on recipe variations if you are longing for something that will tingle your tongue. 
How long does ground turkey last in the refrigerator?
Ground turkey typically lasts in the refrigerator for 1-2 days, assuming it has been stored properly. Here are some general guidelines for storing ground turkey in the fridge:
Store the ground turkey in a sealed container or resealable plastic bag. This will help prevent contamination and keep the meat fresh.
Keep the ground turkey in the coldest part of the refrigerator, usually the bottom shelf or meat drawer. This will help maintain a consistent temperature and prevent bacterial growth.
Use the ground turkey within 1-2 days of purchase or preparation. This is the recommended time frame to ensure the meat stays fresh and safe. If you are unsure whether the meat is still good, you can use your senses to determine its freshness. Look for signs of discoloration, a sour or unpleasant odor, or a slimy texture. If any of these are present, the meat may be spoiled and should be discarded.
If you have ground turkey that you won't be able to use within the recommended time frame, you can freeze it to extend its shelf life. Ground turkey can be frozen for up to 3-4 months and should be stored in an airtight container or freezer bag.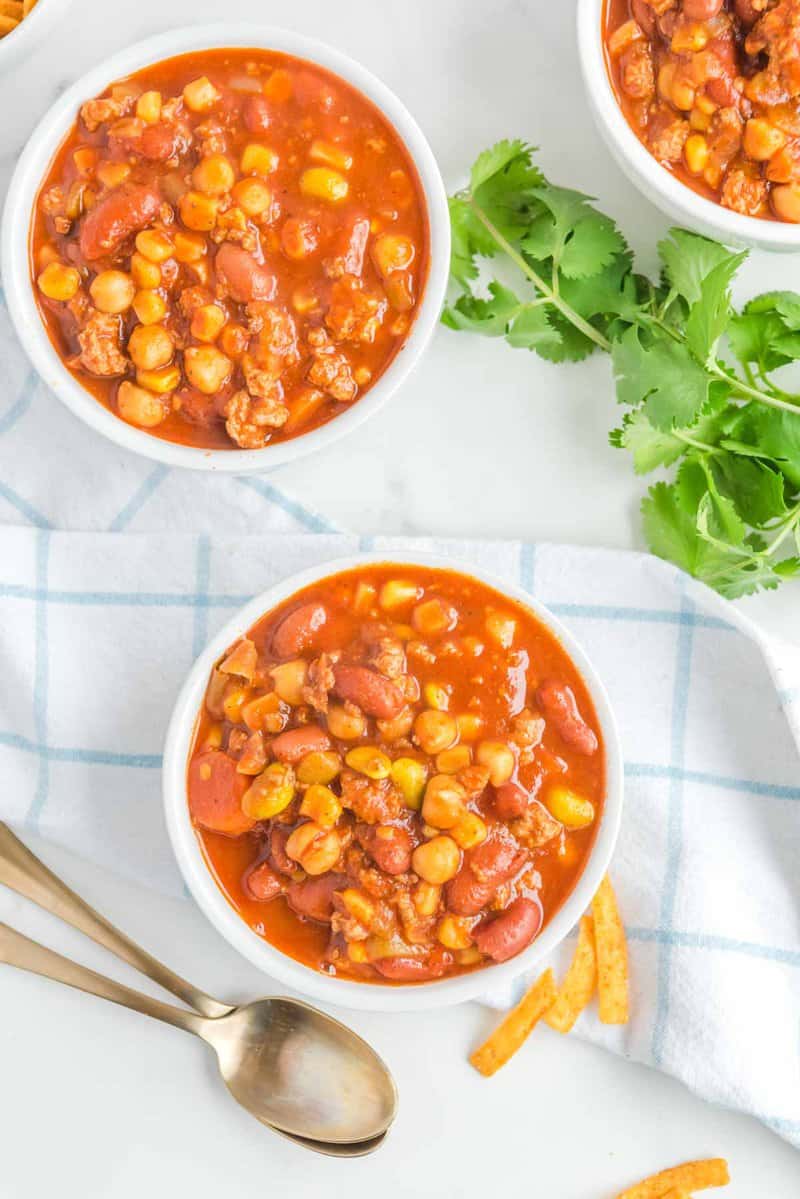 More Panera Copycat Recipes
Favorite Chili and Stew Recipes
Check out more of my easy chili, stew, and soup recipes and the best copycat Panera Bread recipes on CopyKat!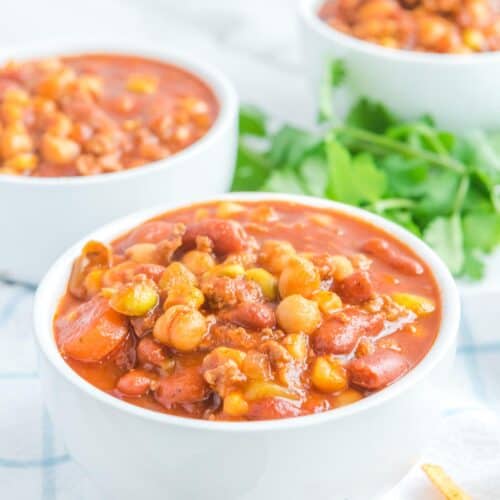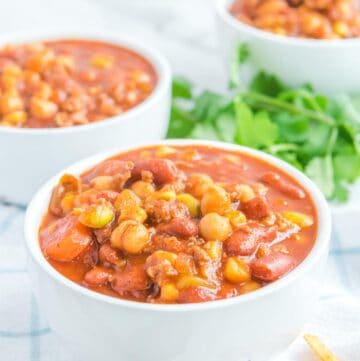 Ingredients
Soup
1

tablespoon

olive oil

1

pound

ground turkey

1/2

yellow onion

chopped

12

ounces

canned tomato paste

15

ounces

canned kidney beans

drained and rinsed

15

ounces

canned garbanzo beans

drained and rinsed

15

ounces

canned whole corn

drained

8

ounces

canned fire-roasted green chilies

2 cans

1/2

cup

shelled edamame

1/2

cup

chopped carrots

32

ounces

beef broth

2

teaspoons

salt

1

teaspoon

pepper

1

teaspoon

chili powder

1

teaspoon

oregano

1

teaspoon

garlic powder

1/2

tablespoon

cumin
For Serving
sour cream

tortilla strips

chopped fresh cilantro
Instructions
Heat the olive oil in medium or large stock pot over medium heat. Add the ground turkey and onion and cook for about 10 to 25 minutes or until the turkey browns.

Add the remaining soup ingredients in the stock pot, mix well, and bring to a boil. Reduce the heat to a simmer and cook for 30 to 45 minutes.

Serve with sour cream, tortilla strips, and cilantro.
Nutrition
Calories:
365
kcal
|
Carbohydrates:
47
g
|
Protein:
33
g
|
Fat:
8
g
|
Saturated Fat:
1
g
|
Polyunsaturated Fat:
2
g
|
Monounsaturated Fat:
3
g
|
Trans Fat:
0.01
g
|
Cholesterol:
42
mg
|
Sodium:
2125
mg
|
Potassium:
1427
mg
|
Fiber:
13
g
|
Sugar:
13
g
|
Vitamin A:
2867
IU
|
Vitamin C:
28
mg
|
Calcium:
120
mg
|
Iron:
6
mg