Are you looking to upgrade your plant-based burger options? This black bean vegan burger is packed full of flavor, and a great way to enjoy a burger that is meatless.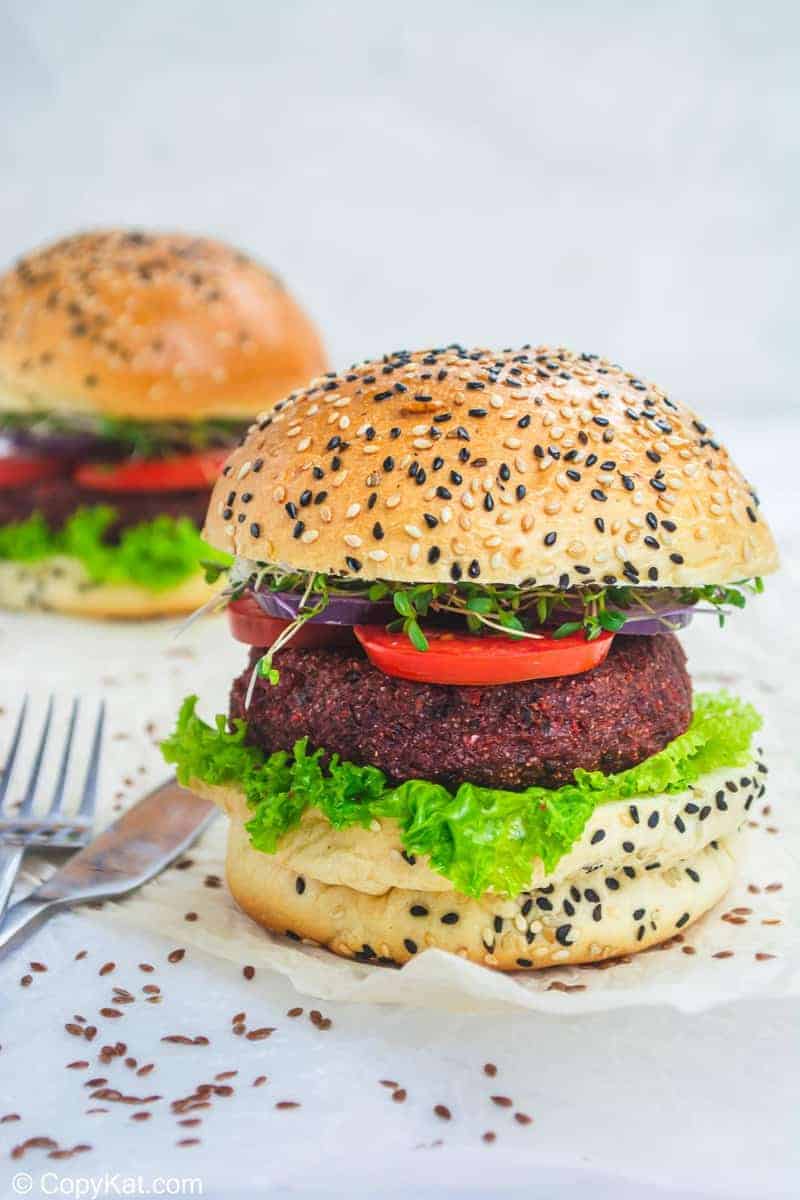 These vegan burgers have an incredible flavor and are easy to prepare. They're big, thick, and hearty, and even meat eaters will love them. These vegan black bean burgers are crispy on the outside, soft on the inside, and firm enough for the grill.
This vegan burger recipe adds healthy legumes to your diet. And there's nothing more satisfying than eating a burger that you know has no added preservatives and is made with very few, simple ingredients. Black beans have a wonderful earthy taste and are combined with mushrooms, beets, carrots, onions, and garlic. More flavor is provided by soy sauce, cumin, black pepper, and smoked paprika. Healthy oat flour helps bind everything together.
For a light lunch, skip the bun and eat a vegan burger on a salad. You could even eat one for breakfast with an egg on top (but of course, that would not be a vegan breakfast).
For a special supper, get creative with the toppings for your black bean burger:
mashed avocado plus caramelized onion
sautéed spinach and onion
sriracha and sautéed mushrooms
grilled pineapple and jalapeño
spicy mustard and sweet pickles,
corn salsa
Tips for Making the Best Black Bean Burgers
To prevent your vegan burgers from turning out mushy, partially dry out the black beans. Spread the canned black beans on a lined baking sheet and bake for about 10-12 minutes at 350° (beans should just be beginning to split).
When using a food processor or blender, make sure you don't completely mash the black beans. Chunks of beans will give your vegan black bean burgers a bulky and satisfying texture.
If you want a little more pizazz, add a little chili pepper.
You can also make this vegan burger recipe ahead of time and freeze your burgers. Stack them between parchment paper in a freezer container or zipped-top bag. You can even bake or grill the frozen burgers if you forget to thaw them.
Variations to vegan burgers:
Using canned beans for convenience means you can go ahead and substitute other canned beans for black beans if you want: kidney beans, red beans, pinto beans, Roman beans, or black-eyed peas. Experiment with different flavors and textures.
Add in other vegetables that you like, such as celery or green or red peppers. Simply sautée 1/2 cup of your chosen vegetables with the onions. However, don't overload the mixture with too many veggies because the patties may crumble.
Add a finely chopped handful of cilantro or parsley leaves. Dried herbs like oregano, sage, or marjoram are also a flavorful addition.
Ingredients
Here's a list of what you need:
Black beans
White mushrooms
Red beet
Carrot
Soy sauce
Garlic cloves
Yellow onion
Olive oil
Oat flour
Ground cumin
Ground black pepper
Smoked paprika
Kosher salt
Hamburger buns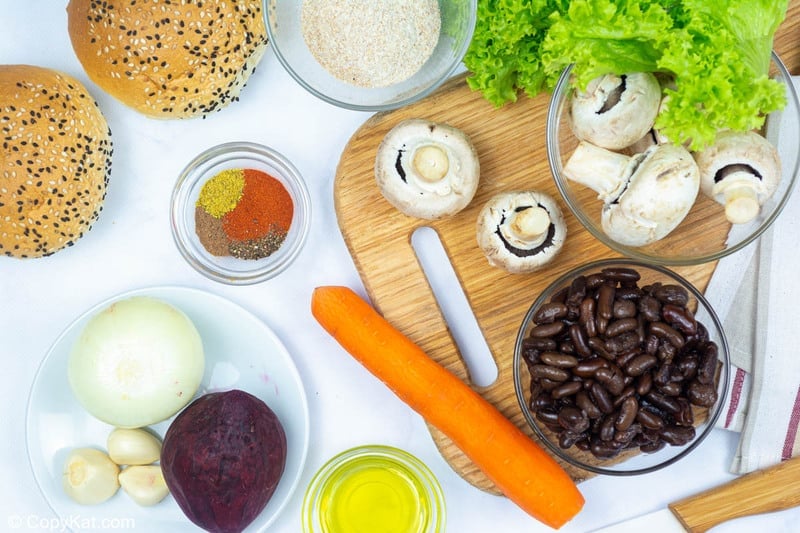 How to Make a Veggie Burger
Cut the beet and the carrot into big chunks, add some oil, and place them on the baking sheet.

Roast at 325 degrees until soft, about 15 minutes.

Chop the mushrooms.

Fry mushrooms until golden then add chopped onion and minced garlic cloves. Sauté for 5-7 minutes.

Put the roasted beet, carrot, black beans, sautéed onion, and mushrooms into a food processor or a blender.

Pulse the mixture a bit.

Add flour, spices, and salt.

Pulse again, leaving some small chunks.
Form the mixture into patties.
Place patties on a preheated skillet with a few spoons of olive oil.

Fry them on each side for about 2-3 minutes.

Toast hamburger buns.
Spread a sauce of choice on the top bun. Add a patty.
Top with your choice of burger fillings (lettuce, onion rings, tomato, pickles).
Add more sauce if desired.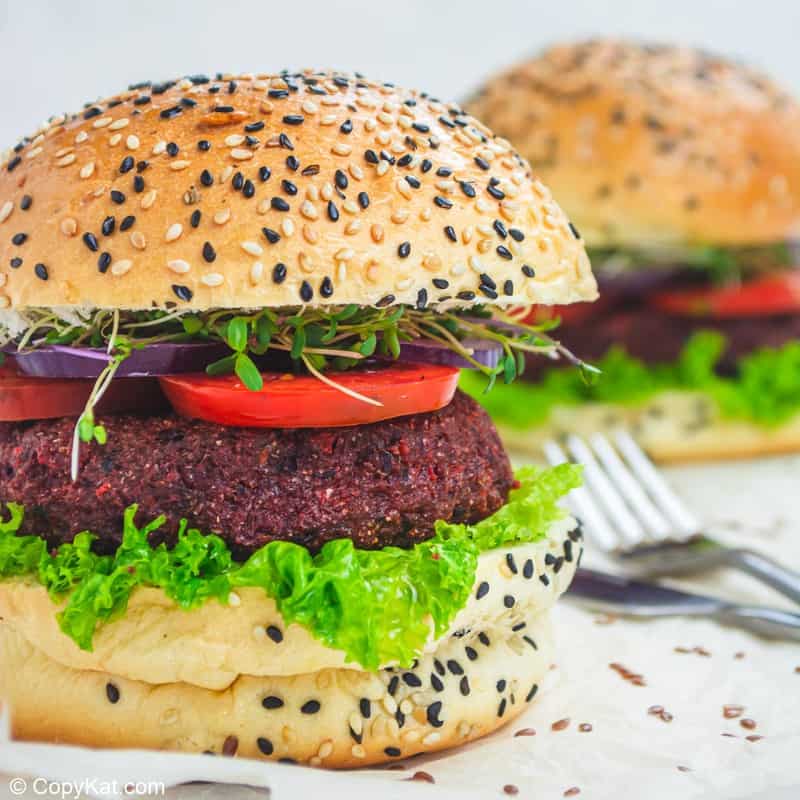 More Vegan Recipes
Favorite Vegetarian Side Dishes
Be sure to check out more of my easy vegan recipes and simple vegetarian recipes here on CopyKat.com!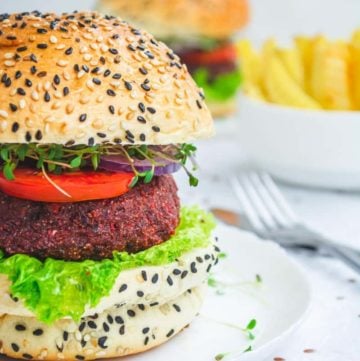 Black bean vegan burger
This Vegan Burger is perfect for a healthy plant-based meal. Get the easy recipe and find out how to make the best veggie burger patties with black beans, mushrooms, roasted beets, and carrots. Make your homemade vegan burger with your favorite buns and toppings. A great DIY veggie burger for a tasty vegetarian dinner.
Print
Pin
Rate
Add to Collection
Go to Collections
Ingredients
1

cup

canned black beans

drained and rinsed

1/2

cup

white mushrooms

chopped

1/3

cup

red beet

cut into chunks

1

cup

chopped carrot

1

tablespoon

soy sauce

3

teaspoons

chopped garlic

1

cup

chopped yellow onion

3

tablespoons

olive oil

3

tablespoons

oat flour

1/2

teaspoon

cumin

1/2

teaspoon

ground black pepper

1/2

teaspoon

smoked paprika

kosher salt

4

hamubrger buns

burger toppings of your choice
Instructions
Preheatthe oven to 325°F. Roast the beet and carrot chunks with some oil on a bakingsheet until soft (about 15 minutes).

Meanwhile,fry the mushrooms till golden in a splash of olive oil. Add the onion and garlic and sauté for about 5-7minutes.

Placethe beet, carrot, black beans, sautéed onion, and mushrooms into a foodprocessor or blender and pulse the mixture a bit. Add the flour, spices, andsalt, and pulse again, leaving some small chunks.

Formthe mixture into patties and place them on a preheated skillet with a fewspoonfuls of olive oil. Fry them on each side for about 2-3 minutes.

Toast the buns. Spread a sauce of your choice on thetop bun. Add a patty to the bottom bun. Top with your choice of burger fillingsand add more sauce if desired.
Nutrition
Calories:
319
kcal
|
Carbohydrates:
42
g
|
Protein:
10
g
|
Fat:
13
g
|
Saturated Fat:
2
g
|
Sodium:
667
mg
|
Potassium:
462
mg
|
Fiber:
6
g
|
Sugar:
7
g
|
Vitamin A:
5469
IU
|
Vitamin C:
8
mg
|
Calcium:
116
mg
|
Iron:
3
mg