Unearth the magic of simplicity with Chili's Black Beans! Using wholesome canned black beans delicately seasoned to perfection, this dish is a vegan delight. Robust, flavorful, and heartily satisfying, these beans are a testament to the idea that sometimes, less truly is more. Serve them as a side, toss them into salads, or enjoy them as they are.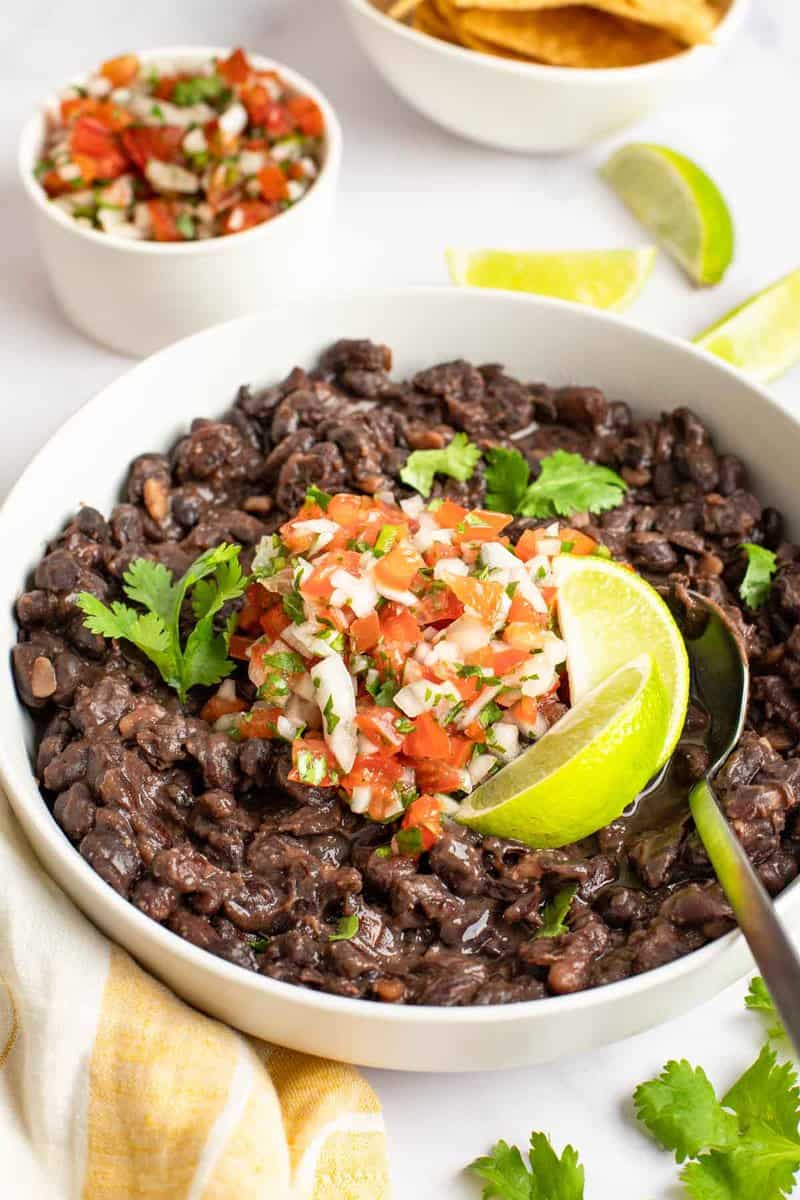 This post contains affiliate links. As an Amazon Associate, I earn from qualifying purchases.
Chili's Black Beans Side Dish
Few sides are as simple and tasty as Chili's black beans. It's a mainstay on the menu of the Chili's Grill and Bar chain, where it's been served alongside fajitas and other delicious Tex-Mex and Southwestern-inspired casual cuisine for nearly half a century.
But if you're craving a scoop, you'll be excited to learn it's among the easiest recipes to recreate at home. With just four pantry ingredients, you can replicate this restaurant favorite for simple, affordable weeknight cooking. Plus, it's mostly hands-off, one less thing to worry about after a long day or while juggling other dishes.
What Makes Chili's Black Beans So Good
Chili's black beans have two big benefits — they're delicious and can be paired with just about anything.
Aside from the fantastic flavor and versatility, it's also a vegan black beans recipe that serves as an excellent part of a plant-based diet. This can be difficult to follow at some popular chain restaurants for those who're in the mood for something more substantial than salad.
Why This is the Best Recipe for Chili's Black Beans
This Chili's black beans recipe uses canned beans, which are significantly more convenient than uncooked dried ones. They're the reason you can enjoy the homestyle texture that tastes like it's been cooking all day in less than a half-hour. However, those partial to dried beans can still use them but should expect a longer cooking time, even if they're pre-soaked.
You can also serve it to just about anyone, as it's gluten-free, dairy-free, and vegan. These vegetarian black beans make a good choice for a meatless protein in Mexican meals like tacos, burritos, and more.
Ingredients
Diners who've tasted the robust flavors of these copycat Chili's black beans may be surprised at the simple ingredients:
Canned Black Beans
Sugar
Chili Powder
Garlic Powder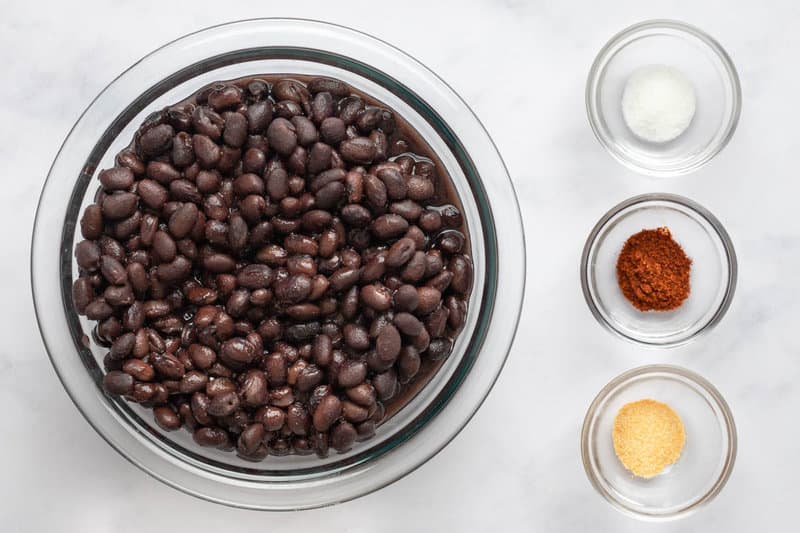 Ingredient Substitutions
Though part of the appeal of these black beans is their simplicity, home cooks should feel free to add additional spices if they desire, including ground cumin or cayenne pepper.
Those sensitive to salt can use low-sodium canned black beans.
How to Make Chili's Black Beans
There's truly not much to this recipe when it comes to cooking, one of the reasons it's equally good as a side dish for easy dinners or to allow you to focus on more involved main courses.
Combine the beans, sugar, and spices in a saucepan and stir.
Simmer over low heat for 20 to 25 minutes.
Serve the beans hot.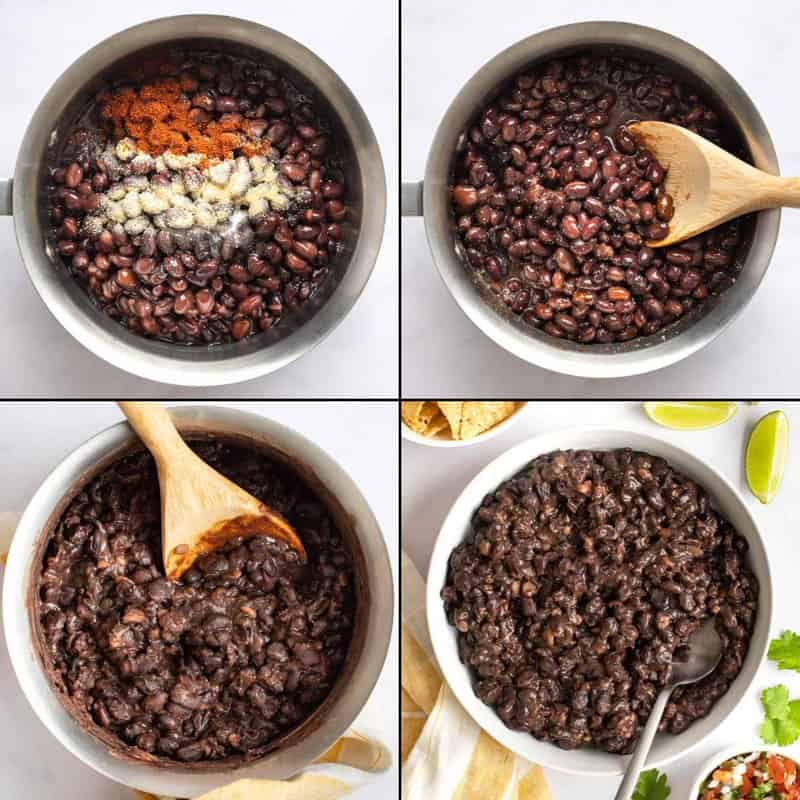 Canned Beans vs. Dried Black Beans
Canned black beans have made it so easy to enjoy these protein-packed beans. Even this recipe calls for two cans of black beans. But some enjoy the process of cooking black beans from a dried state. Black beans don't necessarily need to be pre-soaked but it will speed up the cooking time.
How to Cook Dried Black Beans
If you're using dried black beans instead:
Rinse the beans thoroughly in cold, running water.
If possible, soak them overnight.
Bring the beans to a boil in a medium pot for three minutes, then reduce the heat to low.
Simmer until tender. This will take between an hour and an hour and forty-five minutes, depending on the length of soaking and temperature.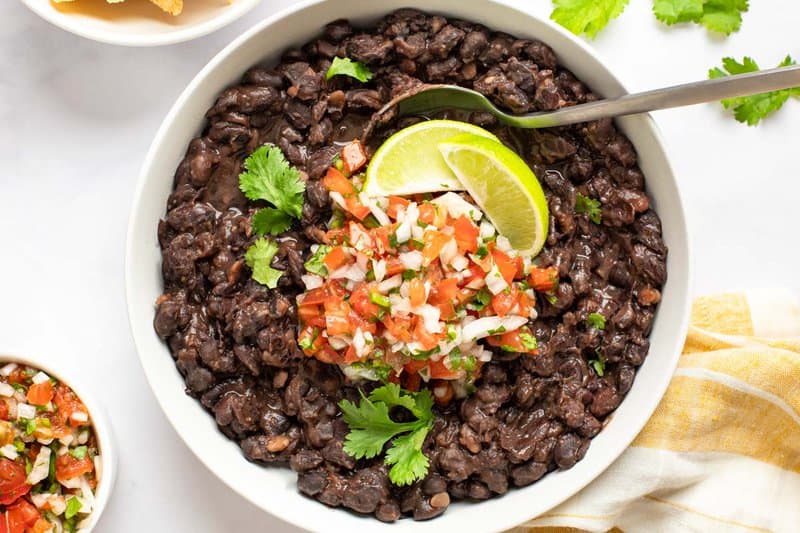 Recipe Variations
Diners craving a thicker texture can mash a few black beans as they simmer in the saucepan. This releases some of the starches into the cooking liquid, binding it together. It can also help produce a more intense, beany flavor.
How to Serve the Dish
Black beans are an excellent vehicle for toppings. Try out some like:
Sour cream
Guacamole
Chives
Fresh parsley
Shredded cheddar cheese
Jalapenos (fresh or pickled)
What Goes Well with Chili's Black Beans
Just about any Mexican or Caribbean-style recipe can be improved by being paired with Chili's black beans. One of the simplest is chicken, rice, and pico de gallo. Assemble the dish with beans and rice on the bottom of a plate, topped with a seasoned and cooked chicken breast, finished off with a scoop of pico and a sprinkling of crushed tortilla chips.
As mentioned above, these black beans can also serve as a vegan-friendly filling for tacos, burritos, enchiladas, empanadas, and more.
They can even fill in as a simple meal on their own, supplemented with a few scoops of rice and some of your favorite toppings. Don't forget the cornbread!
How to Store Leftovers
Chili's black beans can be stored in an airtight container in the refrigerator for three to five days. Allow the beans to cool before storing them.
How to Freeze
Black beans also freeze well. Allow them to cool, then store them in a freezer bag or freezer-safe container. They'll last up to six months before the quality begins to degrade.
How to Reheat
If they're frozen, defrost the beans overnight in the fridge if you can. Otherwise, it's OK to warm them in the microwave first or even defrost them right in the saucepan. Beans should be reheated in the pan on low, stirring occasionally, until warmed through.
Is There Anything Vegan at Chili's?
Chili's vegan options are mostly limited to appetizers, salads, and sides. However, you can make a decent vegan meal out of these choices. For instance, you could order Mexican rice and beans with tortillas and guacamole.
Are Chili's Black Beans Vegetarian? Yes, vegan black beans are the perfect source of protein for vegetarians and those enjoying a plant-based diet.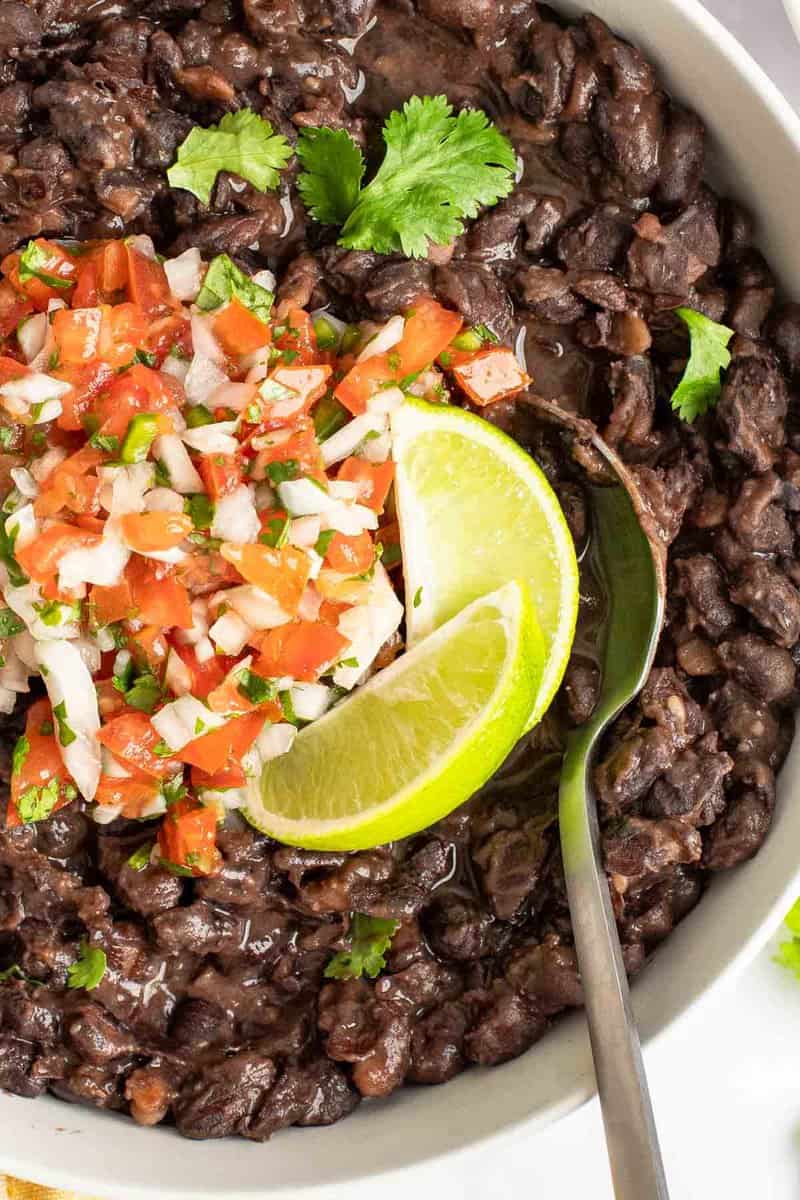 How do you like to eat black beans? Let us know in the comments below. And make sure you follow us on Instagram and Facebook to see all of our copycat recipes!
Can't get enough copycat Chilis recipes? Try these!
Here are 2 black bean recipes you don't want to miss.
Be sure to check out all of my great vegan recipes and the best Chili's copycat recipes.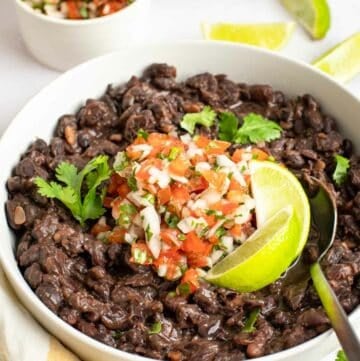 Ingredients
2

cans

black beans

(31 ounces)

1/2

teaspoon

sugar

1/2

teaspoon

chili powder

1/2

teaspoon

garlic powder
Instructions
Combine all the ingredients in a saucepan and simmer on low heat for 20 to 25 minutes.

Serve immediately.
Notes
Allow more time if you are using dry black beans.
Serve the black beans by itself with some tortilla chips.
Or serve them with some chicken, rice, and pico de gallo. Place beans on the bottom of the plate. They should cover the middle of the plate. Place chicken in the middle, rice on the side, and a generous helping of pico de gallo. and sprinkle with a tablespoon of crushed tortilla chips.
Nutrition
Calories:
113
kcal
|
Carbohydrates:
20
g
|
Protein:
7
g
|
Fat:
0.5
g
|
Saturated Fat:
0.1
g
|
Polyunsaturated Fat:
0.2
g
|
Monounsaturated Fat:
0.04
g
|
Sodium:
4
mg
|
Potassium:
302
mg
|
Fiber:
7
g
|
Sugar:
0.4
g
|
Vitamin A:
54
IU
|
Vitamin C:
0.01
mg
|
Calcium:
23
mg
|
Iron:
2
mg