Chilis pico de gallo can be made in minutes. This fresh pico goes great with corn tortilla chips, or even the Chilis Margarita Grilled Chicken.

Chilis is the place where you want to go to grab a drink and some fun and exciting Tex Mex food. Their Chilis Awesome Blossom Petals are iconic. Their perfectly thin and crisp corn chips are irresistible. You can enjoy their famous salsa with their chips, or you can enjoy some of their pico de gallo. I love their pico de gallo, wonderfully fresh, and it is perfect on tacos, served with chips, or as a fun topping on grilled chicken or even a burger.
Ingredients for Pico de Gallo
This salsa fresca (fresh salsa) is made from raw ingredients, there is no cooking required to make this fresh accompaniment to so many dishes. The ingredients for this recipe are super easy. You will need ripe red tomatoes, white onions, cilantro, fresh lime juice, salt, pepper, and jalapeno pepper. I like to buy my ingredients just before I make this, this way I know I am getting the ripest tomatoes.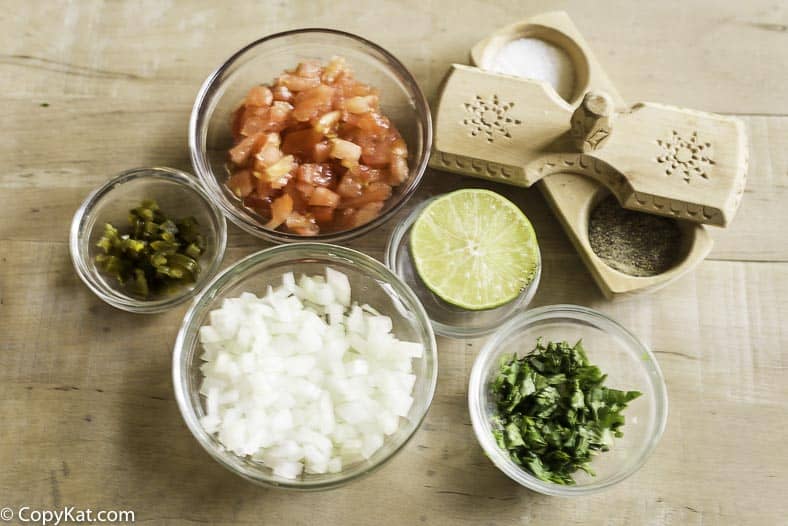 6 Tips for making the best pico
Ripe tomatoes – look for ripe red tomatoes. You want tomatoes that have rich red color, and when gently squeezed they should give a little. You do not want to use tomatoes that are squishy, as they are overripe and your pico won't last as long if you make it with overripe tomatoes.
Remove the seeds of the tomatoes – Remove the seeds and some of the juice of the tomatoes. Pico that is watery is salsa!
White Onions – white onions are critical because they are not "too hot". White onions are traditionally used for this recipe, and it is because their flavor blends better than yellow onions. Look for firm unblemished white onions, do not use onions that have a green tint to them, or where the shoots are starting to grow from these onions. Those onions are past their prime for eating but are perfect for planting
Cut everything into small pieces – the more finely you chop your ingredients, the better the flavor will be. Why? The greater the surface area of the chopped vegetables means the flavors will mingle together.
Can't stand the heat – devein the jalapenos. Remove the ribs and the seeds from these peppers, as they carry most of the heat. Still, feel nervous about the heat? Used pickled jalapenos. The pickling seems to remove most of the heat. Also, be sure to finely chop these peppers!
Remove the ribs from the Cilantro – the ribs of cilantro can be woody. The ribs are ok when cooking because they break down. The best flavor of the cilantro is in the tender leaves, not the stalks. So pull the leaves off the stalk when chopping the cilantro.
How long will pico de gallo last?
Well, yours might not last that long once you put it out to serve, but it if does make it through the meal and the chips, it will last for about a week in the refrigerator. After about a week the tomatoes become mushy, the cilantro wilts, and the all of the water of the vegetables begins to release turning into this spicy relish into a mushy slightly fermented mess.
How to make pico de gallo
Select the freshest vegetables you can find, this way the flavors really shine. Then give the tomatoes a good wash, and cut them in half. If the tomatoes are super juicy give them a quick squeeze over the sink and squeeze out some of the juice. You don't want a watery pico, that's too much like salsa!
Chop everything very finely. If you are concerned about the heat of the pico, you can remove the seeds from the jalapenos, or you may want to use pickled jalapenos, pickled jalapenos are often milder than the fresh variety.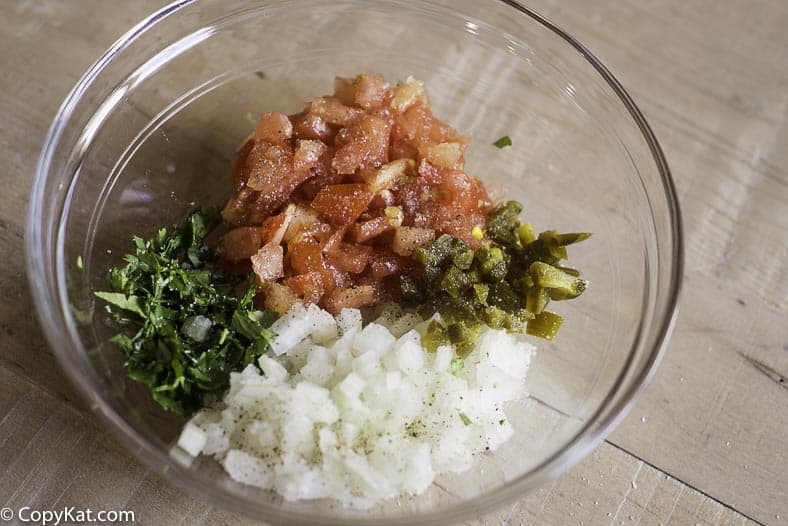 Place all of your ingredients into a bowl, and sprinkle salt over them. Let them rest a moment or two before you add the lime juice, then give everything a good stir. I like to let mine rest about 30 minutes before serving.
Should you refrigerate pico de gallo?
If you have any leftover, yes you should refrigerate it. So over it up, and place in a container in the refrigerator.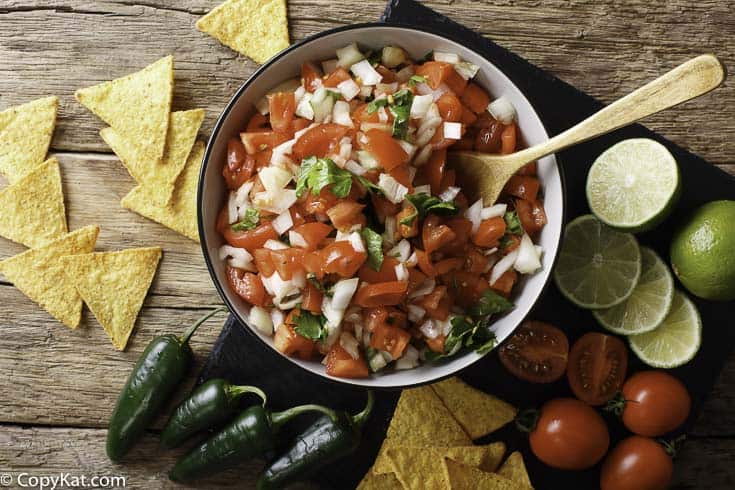 Love salsa? Check out these homemade salsa recipes
Chipotle Mexican Grill's Spicy Corn Salsa
Dump Salsa – you make this by dumping everything in the food processor.
Pappasito's Salsa
Ingredients
1/2

cup

diced onion

1/2

cup

diced tomato

2

tablespoon

chopped cilantro

1

teaspoon

diced jalapeno
Instructions
Dice both tomatoes and onions. Chop cilantro, and add enough diced jalapeno seeds to suit your desired hotness. Mix together, and serve.
Nutrition
Calories:
6
kcal
|
Carbohydrates:
1
g
|
Protein:
0
g
|
Fat:
0
g
|
Saturated Fat:
0
g
|
Cholesterol:
0
mg
|
Sodium:
1
mg
|
Potassium:
42
mg
|
Fiber:
0
g
|
Sugar:
0
g
|
Vitamin A:
30
IU
|
Vitamin C:
2.9
mg
|
Calcium:
7
mg
|
Iron:
0.1
mg