Monterey's Little Mexico Queso is unique, packed full of cheese, green chilies, celery, and onion, it offers so much more than ordinary queso, you can't pass this one by!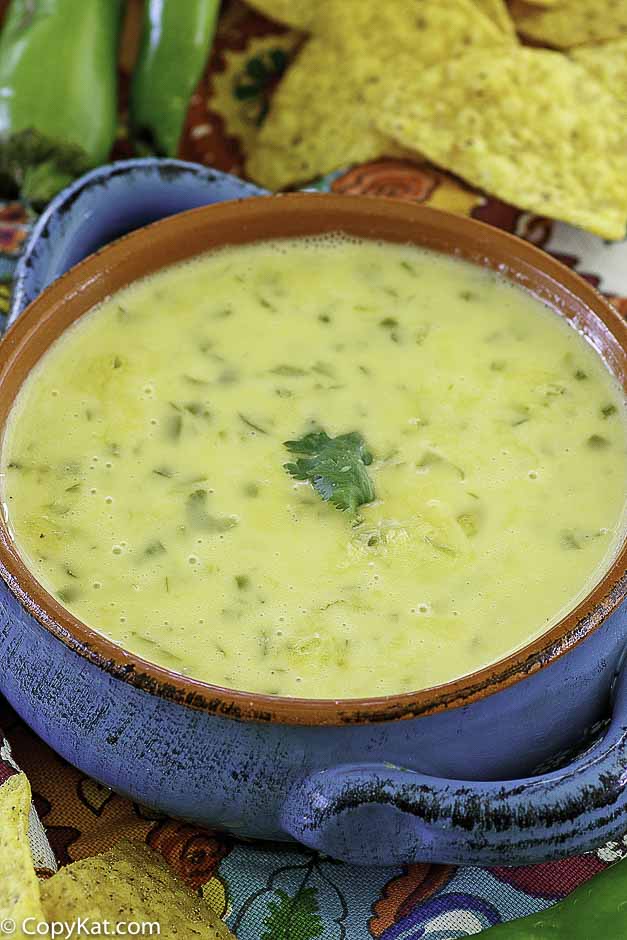 I don't think anyone should go into a Tex Mex restaurant and pass on the queso dip. Monterey's Tex Mex is a chain and it looks like they have changed their name to Monterey's Little Mexico. Whatever the restaurant's name, there are few things that I enjoy more than Monterey's Tex Mex Queso.
This is wonderfully mild queso that is tasty with tortilla chips, or even spread on a crisp corn tortilla as a side dish. This queso dip is delicious, and the onions and celery add a nice touch.
What does Queso mean?
Queso is the Spanish word for cheese. However, you get more than cheese when you see this gooey and spicy delight on the menu at a Tex-Mex restaurant.
Queso is the shortened form of chile con queso, which translates to chile with cheese. This Tex-Mex appetizer is a cheese dip recipe, but it should not be restricted to just dipping; it also goes well over burritos, fajitas, nachos, tacos, and even grilled chicken.
Type of cheese to use to make Queso
I had forever been stumped on finding the right cheese to make the cheese dip recipe that is familiar in so many Tex Mex restaurants. In this queso dip recipe, we use American Cheese. Not Cheddar, not Monterey Jack, but the good-melting American cheese that you can buy in the deli at your local grocery store. With American cheese, you get a cheese that melts quickly and can be reheated easily.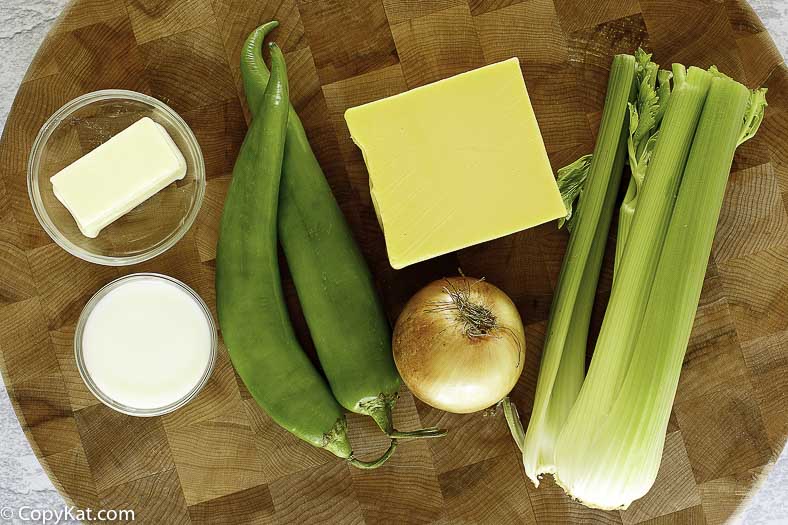 This recipe calls for Anaheim or hatch chile peppers.
Anaheim or Hatch Peppers
Anaheim peppers (or California peppers) are called chile verde del norte in Mexico since they belong to the northern part of the country. Anaheim is also one of the most common chile peppers in the southwestern United States.
These long, vividly green chiles have been cultivated in California to be milder, in order not to overwhelm the tastebuds of the norteamericanos. However, although these green chiles are some of the mildest you can find, they can still vary in the level of heat they add to a dish.
Hatch peppers are very similar in appearance to Anaheim peppers, but they are much, much hotter. These premium green chiles are grown in the small town of Hatch, New Mexico. Every Labor Day weekend, there is a Hatch Valley Chile Festival when approximately 30,000 people descend on the little town to buy and eat these delicious hot peppers.
Get more queso recipes!
Here are some more copykat queso recipes for you. And, let me know what is your favorite dish served in Tex Mex Restaurants. I love hearing what my readers most like to eat.
Applebees Queso Blanco
Best Ever White Queso
Chili's Skillet Queso – Make it in your slow cooker
Pappasito's Queso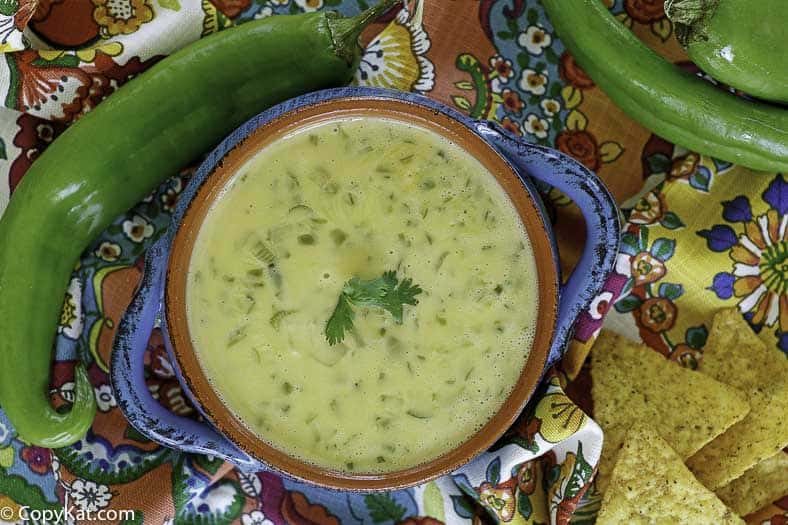 Can't enough recipes like Monterey's Little Mexico Queso? Be sure to follow us on Facebook and get your favorite recipes all of the time.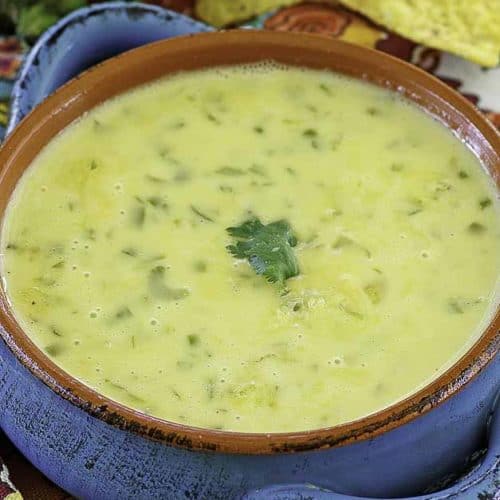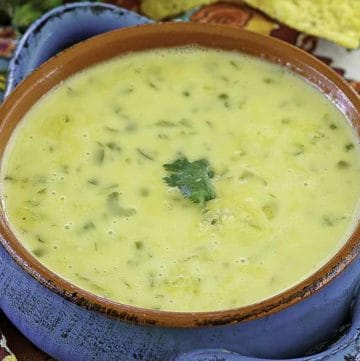 Ingredients
1/2

cup

chopped yellow onion

1/2

cup

thinly sliced celery

2

large

green peppers

such as anaheim or hatch peppers, diced fine

2

tablespoons

butter

1

pound

American cheese

1/3

cup

milk
Instructions
The real secret to a flavorful queso is sauteeing your vegetables until they are cooked almost all of the way through, you want there to be a touch of crunch when you begin to add in your American cheese.

Place the chopped onion, thinly sliced celery and diced peppers in a saute pan over medium heat, add the two tablespoons of butter, and saute until the onions are translucent. In a medium pot add American cheese, sauteed vegetables, and milk. Heat on a low to a medium heat until the cheese is melted.
Nutrition
Calories:
226
kcal
|
Carbohydrates:
4
g
|
Protein:
9
g
|
Fat:
18
g
|
Saturated Fat:
10
g
|
Cholesterol:
57
mg
|
Sodium:
874
mg
|
Potassium:
169
mg
|
Fiber:
0
g
|
Sugar:
2
g
|
Vitamin A:
730
IU
|
Vitamin C:
30.1
mg
|
Calcium:
545
mg
|
Iron:
0.5
mg