Who doesn't love Chili's skillet queso? We all do. Chilis is known for this famous queso appetizer. You can make this recipe at home, it's so easy to do, and I will show you how to do it in a crockpot slow cooker.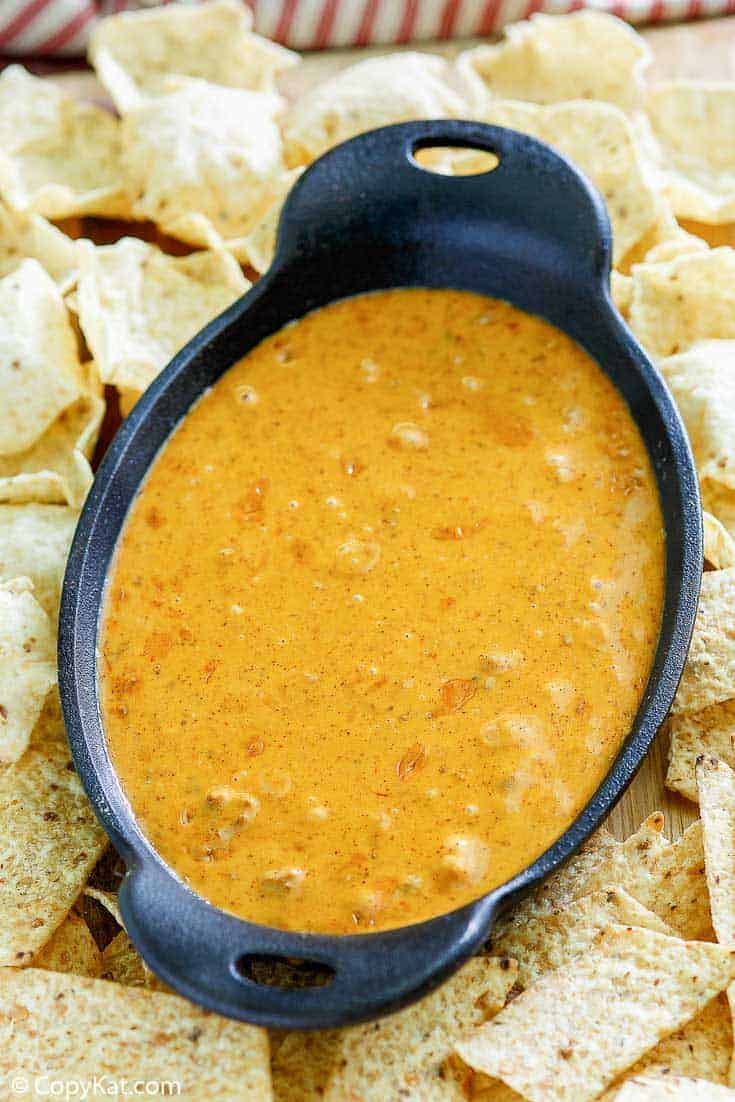 The best Chilis appetizer made at home
Chilis Skillet Queso has to be a favorite appetizer at Chilis restaurant. This recipe has been a menu item for over 20 years. Why not recreate this famous recipe at home?
This is a nice change from your standard queso recipe. When you make this chili con queso recipe in a crockpot slow cooker you have the ability to start this dip and let it melt and cook together. This means you are free to work on other things.
An Easy Party Dip
This is a great dip to make for a party. Serve it with some homemade or store-bought tortilla chips and you have the ultimate game day food everyone will love.
Time to Drag Out Your Slow Cooker
You already know how helpful a slow cooker is when cooking for a crowd, but did you know that it is also the perfect appliance to make chili cheese dip? Not only does a slow cooker give you set-it-and-forget-it freedom, but it can also keep the chili cheese dip warm for hours.
Making the dip is as easy. Start by lightly greasing the inside of the slow cooker insert. Doing this will help to prevent food from sticking to the sides and scorching. Next, cut the Veletta cheese into 1-inch cubes and put them into the slow cooker along with two cans of Hormel No-Bean Chili. Set the slow cooker on low for around one hour or thirty minutes if you are cooking on high.
Ingredients
This recipe uses just three simple ingredients.
Cheese – You will want to use processed cheese, like Velveeta, I honestly think for this recipe a store brand works well too, and this way you can save some money and still make a great tasting dip.
Half and Half – If you use heavy cream instead of half and half it will come out tasting different and even creamier. Stick with the half and half.
Hormel Chili – Chili's queso dip doesn't have beans in it. If you want to duplicate this recipe, you don't want to put beans in yours either. I don't know why, but this brand of chili always seems to go on sale right before the Super Bowl, so I like to pick up a few extra cans so I can prepare this special Chilis Skillet Queso any time of the year for less.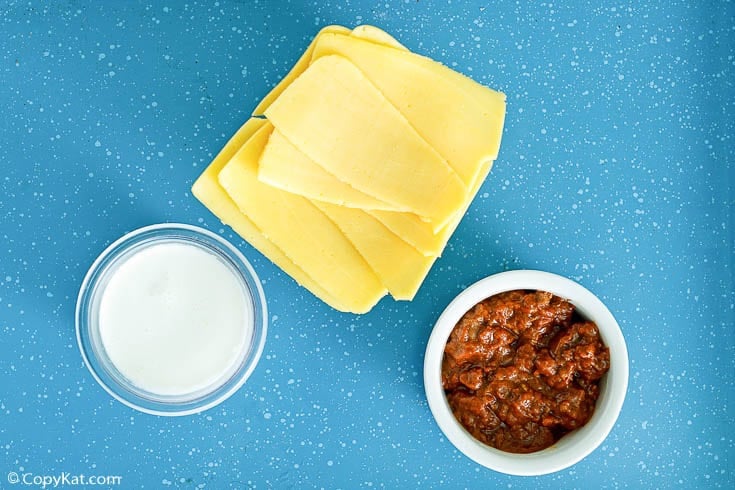 How to Make Chili's Skillet Queso in a Crock-Pot
I love simple dips like this, easy to put together, and this chili cheese dip will make your crowd happy. You can put the ingredients in the slow cooker, move on, and get the rest of your party or evening together.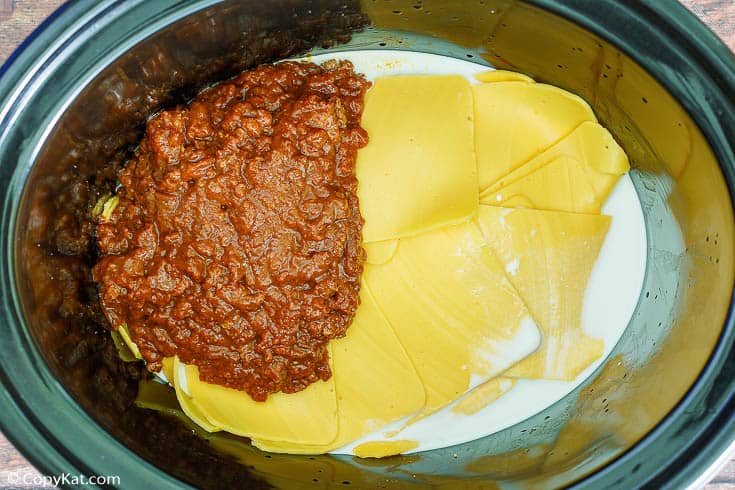 Recipe Variation
Add some lime juice if you want a little extra fresh kick. It elevates the flavor in an incredible way.
Does Chilis skillet queso have beans?
No, the popular appetizer doesn't have any beans in it. It's just a cheesy sauce with ground beef and spices.
What to do with leftover queso
This is such a popular dip, I bet there isn't any leftover. But if there is, store it in the refrigerator in an airtight container. It will stay good for about a week. Then, you can use it and reuse it on these other food or snack ideas:
Baked potato topping
Toss it on top of noodles for a southwest pasta dinner
Add more ground beef and turn it into a southwest sloppy joe
Mix with cooked pasta to make a quick chili mac and cheese
How You Can Really Enjoy Your Chili's Skillet Queso
Sure, you can serve this recipe nacho cheese style over a handful of tortilla chips, but even if you gussy it up with sour cream, bacon, diced onions, salsa, and guac, you are still going to be missing out on the true potential of this dish. Think outside the box and use this dip on everything from hamburgers to french fries. This dip also makes for a particularly good light supper when spooned over a few pieces of toast and paired with a salad!
Tips For Cooking and Storing Chili's Skillet Queso
LGet rid of the lumps. Once the dip has cooled to room temperature, you can use a food processor or blender if you prefer a smoother texture. Push the mixture through a sieve after pureeing to ensure an even consistency.
Use your favorite chili recipe. While many people prefer no-bean chili for this dish, feel free to substitute your favorite chili.
Easy to store. You can double or even triple recipe because it stores well in the freezer for months!
Be sure to know when our newest Chili's recipes are out by friending us on Facebook!

Easy Appetizer Dips and Game Day Food
Popular Chili's Copycat Recipes
Be sure to take a look at more of my famous restaurant copycat recipes and the best appetizer recipes.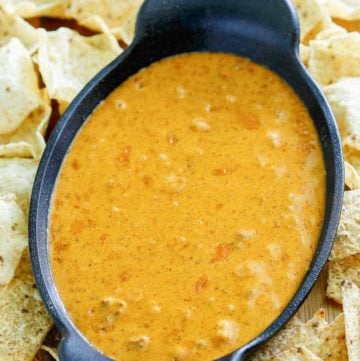 Ingredients
16

ounces

American cheese

1

cup

half and half

1

can

Hormel Chili No Beans
Instructions
Combine all ingredients in a slow cooker and heat on low.

Heat on low for about 1 hour.
Nutrition
Calories:
199
kcal
|
Carbohydrates:
2
g
|
Protein:
8
g
|
Fat:
17
g
|
Saturated Fat:
9
g
|
Cholesterol:
54
mg
|
Sodium:
768
mg
|
Potassium:
91
mg
|
Sugar:
1
g
|
Vitamin A:
515
IU
|
Vitamin C:
0.2
mg
|
Calcium:
499
mg
|
Iron:
0.3
mg