Luby's Grits are grits that are wonderfully sweet and cooked with milk instead of water. The combination of sweetened grit cereal with a creamy texture was a surprising find.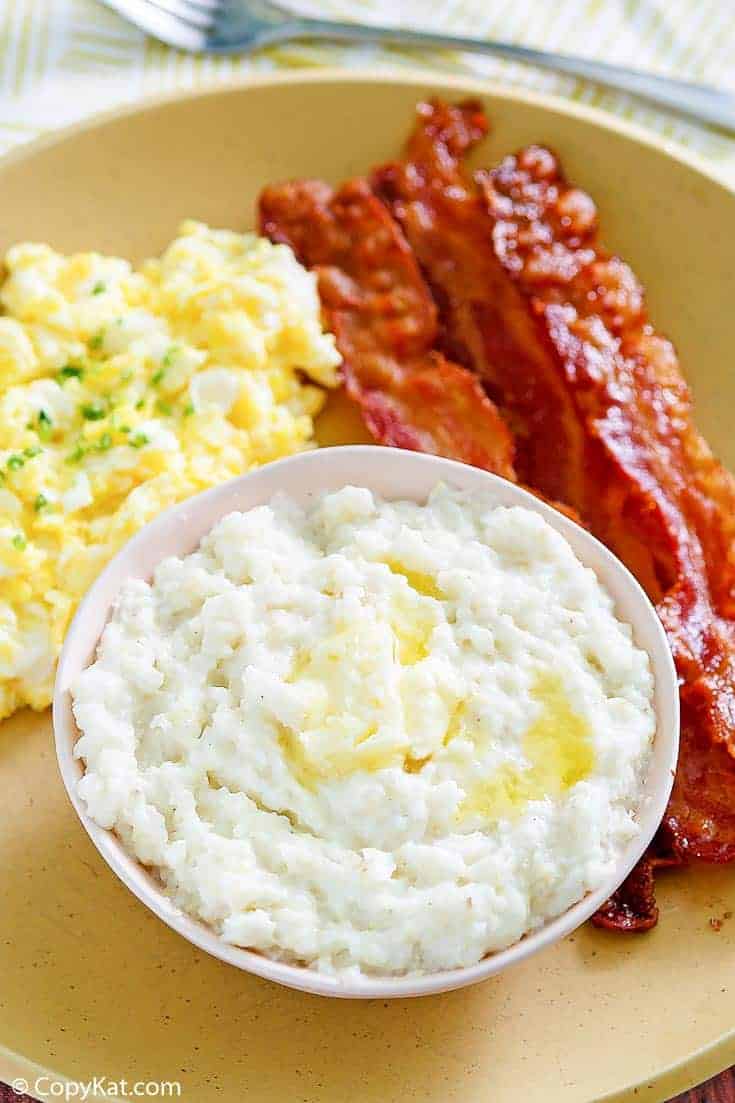 Luby's Grits are wonderfully sweet and are unique because they're grits made with milk in place of water. This combination of sweet grits and creamy texture was a surprising and pleasing find. Now you can make the best sweet and creamy grits like those from Luby's Restaurant with this easy-to-make copycat Luby's Grits recipe. From mac and cheese to grits, it doesn't get better than Luby's comfort food!
I'm not originally from the South, but I have made my home in Texas for over twenty years now. Grits were never a breakfast that I grew up in the mid-west. In fact, I never even tried grits until, at the age of thirteen, I went on a trip with my grandparents to visit my great aunt in Jackson, Mississippi, who was a wonderful cook. One morning, in addition to fresh-out-of-the-oven biscuits, we had grits. I wasn't then an adventurous eater, so I reluctantly tried the grits. I fell in love with them, and whenever I could, I would order grits with breakfast.
What makes this corn grits recipe amazing? By using whole milk, the grits are creamy and flavorful. When you prepare them with just water, the corn doesn't open up as it does with grits made with milk.
Different Types of Grits
There are stone-ground, fast-cooking, and instant kinds of grits. In theory, most varieties of grits could be interchanged with cornmeal, masa, or polenta, but you usually get better results when you use the specific type of grain called for in a recipe. Stone-ground grits are full of flavor and provide a chunky bite because the germ is left intact. On the other hand, finely ground cornmeal will turn into an almost watery and smooth mush when cooked.
Grits Are Versatile
Grits can be enjoyed for breakfast, lunch, or dinner. They can be eaten very simply with a pat of butter and a dash of salt, with butter and dark brown sugar for sweet grits, or turned into something more elaborate and flavorful. Here are a few suggestions.
Combine them with cheese and salt and pepper.
After they are cooked, make a pocket in the center and add a poached egg.
Make them New Orleans style with shrimp.
Click here for more ways to use grits.
Are Grits Healthy?
Grits have more than a few health benefits, including.
Good source of fiber.
Contain zeaxanthin, an antioxidant that is important for good vision.
Lower glycemic response compared to milled rice, making them a good choice for diabetics.
Good source of iron and may help in treating anemia.
Gluten-free, so if you are gluten intolerant or have celiac disease, you can include corn grits in your diet.
Ingredients for creamy grits
Here's what you need:
5-minute grits. Do not use instant or regular.
Whole milk
Sugar
Salt
Butter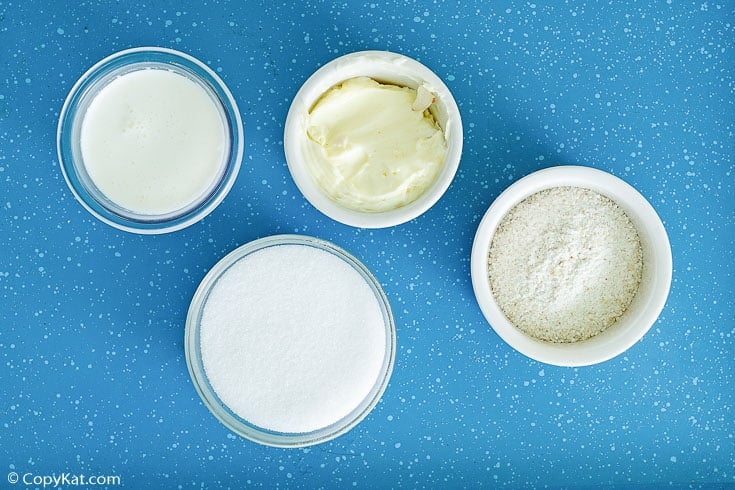 How to Make Lubys Grits
In a medium pot, pour milk in and heat until the milk simmers over medium heat.
Add grits, salt, and sugar, whisk in, and simmer for about five minutes.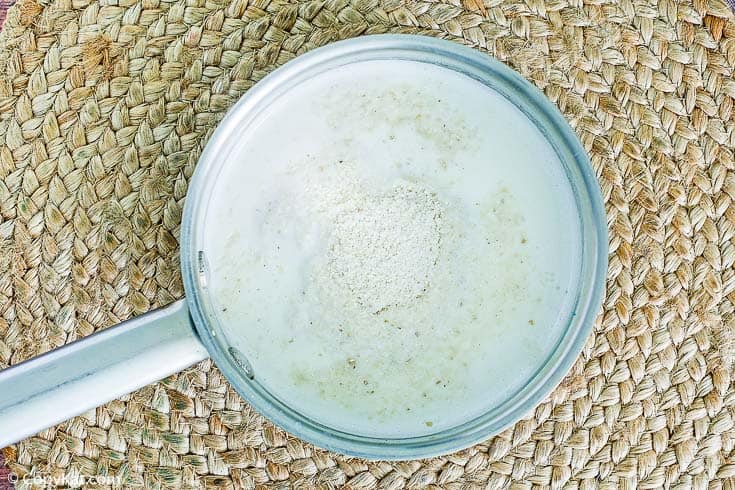 Stir continually while the grits swell and finish cooking.
When the grits have finished cooking in about five minutes stir in butter.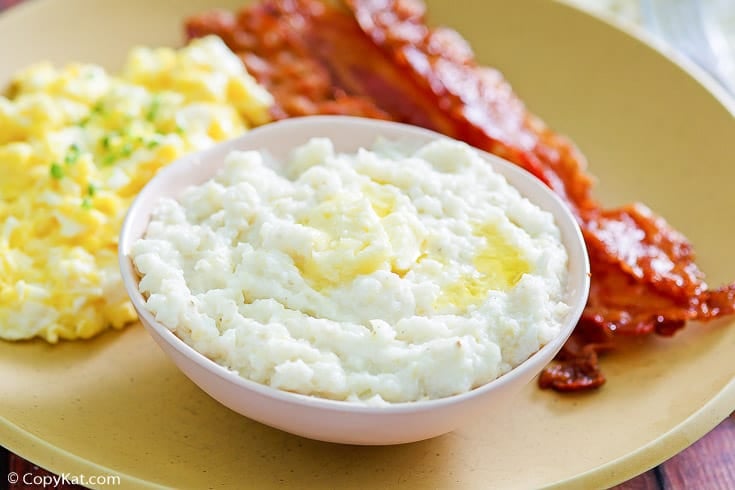 Delicious Breakfast Recipes to Try
Most Popular Luby's Copycat Recipes
Be sure to check out more of my easy breakfast recipes and famous restaurant copycat recipes.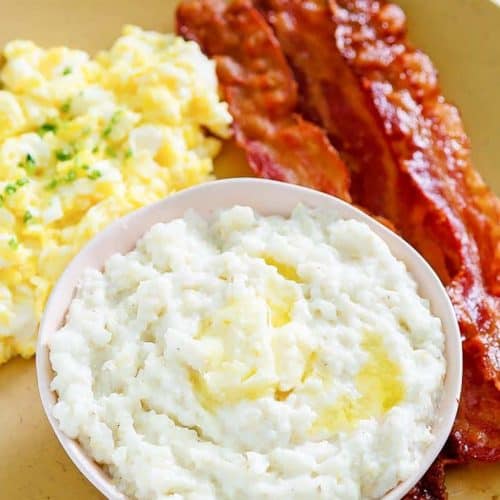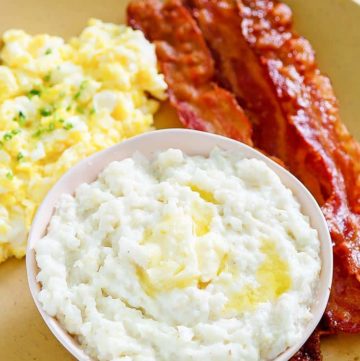 Ingredients
2

cups

whole milk

3/4

cups

grits

- 5 minute, not instant grits

4

teaspoons

sugar

1/2

teaspoon

salt

1

tablespoon

butter
Instructions
In a medium pot over medium heat, heat the milk until it simmers.

Whisk in the grits, sugar, and salt. Simmer for approximately five minutes, stirring continually until the grits swell and are cooked.

Remove from the heat and stir in the butter.
Nutrition
Calories:
223
kcal
|
Carbohydrates:
33
g
|
Protein:
6
g
|
Fat:
7
g
|
Saturated Fat:
4
g
|
Cholesterol:
19
mg
|
Sodium:
368
mg
|
Potassium:
201
mg
|
Fiber:
0
g
|
Sugar:
10
g
|
Vitamin A:
350
IU
|
Calcium:
138
mg
|
Iron:
0.3
mg