With the costs of groceries increasing, many of us spend more time cooking or baking delicious recipes in the kitchen. Granola is a classic staple snack, and with the right ingredients, it can be one of the most nutritious, not to mention delicious. You can control the sweetness and customize the ingredients to your taste by making maple almond granola at home. Here's a guide to help you produce perfectly sweetened maple almond granola from home.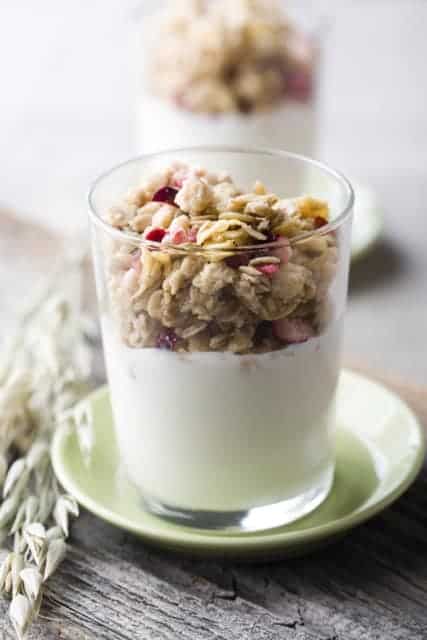 What makes homemade maple granola the perfect granola recipe to make at home
Homemade granola is a great way to utilize dried fruits, nuts, and seeds in your pantry. Making it yourself also allows you to control the sweetness of your granola. The best granola will include ingredients that are not only delicious but nutritious, making it a healthy choice for breakfast or a midday snack.
Did you know you can make your homemade granola recipe? Granola can be expensive to buy, I have seen it for up to 12 dollars a pound at some health food stores, but you can make it much cheaper at home.
What ingredients do I need to make maple almond granola?
Coconut oil
Maple syrup
Brown sugar
Vanilla extract
Almond extract
Oats – quick or old-fashioned are both ok to use
Salt
Craisins
Sliced Almonds
How to make homemade maple almond granola
Get creative in the kitchen by baking up a batch of delicious granola.
Preheat your oven to 350°F and combine oil, brown sugar, maple syrup, vanilla extract, almond extract, and salt into a large bowl – mix until fully blended.
Stir in oatmeal flakes with Craisins® dried cranberries for zingy sweetness plus almonds for crunch!
Spread evenly onto an oiled jelly roll pan before placing it on the center rack of the preheated oven.
Bake for 40-45 minutes or when golden brown around edges; remove from heat allow to cool completely at room temperature overnight before storing airtight as desired!
How to serve maple granola
I love to top yogurt with a little crunchy granola; it also goes so well with a bowl of milk in the morning. While I love granola, sometimes it is really expensive, and it's just oatmeal, so I thought, why not try making my own homemade granola recipe?
How to store almond maple granola
Homemade granola can be stored in an airtight container at room temperature for 3-4 weeks.
Ingredients
1/2

cup

coconut oil

you can use vegetable oil

1/3

cup

maple syrup

1/4

cup

brown sugar

3

teaspoons

vanilla

1/2

teaspoon

almond extract

1/2

teaspoon

salt

5

cups

oatmeal

– quick or old fashioned are both ok to use

2

cups

Craisins

3

cups

sliced almonds
Instructions
Preheat oven to 350 degrees.

In a large bowl combine oil, brown sugar, maple syrup, vanilla, almond extract, and salt. Stir to blend until it is a uniform mixture. Add in oatmeal, Craisins, and almonds. Stir until the granola is evenly coated.

Spray a jelly roll pan with non-stick spray and spread granola over the pan. Press the granola until it is even. Bake for 40 to 45 minutes or until the granola is golden brown. Allow the granola to cool to room temperature and store in an air tight container.
Nutrition
Calories:
552
kcal
|
Carbohydrates:
56
g
|
Protein:
12
g
|
Fat:
34
g
|
Saturated Fat:
11
g
|
Cholesterol:
0
mg
|
Sodium:
124
mg
|
Potassium:
425
mg
|
Fiber:
8
g
|
Sugar:
29
g
|
Calcium:
142
mg
|
Iron:
2.8
mg