Did you know you can make your own homemade granola recipe? Granola can be expensive to buy, I have seen it for up to 12 dollars a pound at some health food stores, but you can make it much cheaper at home.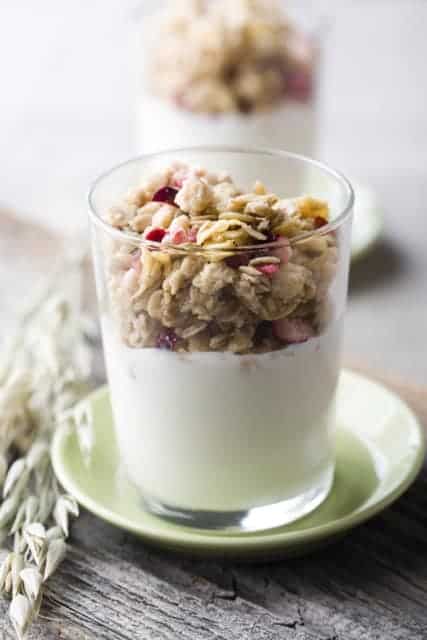 I personally love to top yogurt with a little crunchy granola, it also goes so well with a bowl of milk in the morning. While I love granola, sometimes it is really expensive, and its really just oatmeal, so I thought why not try making my own homemade granola recipe. Turns out, its easy to make, did I mention very easy. If you have a bowl, a measuring cup, a spoon, and a baking pan, you have all of the kitchen equipment you will need to make this wonderful breakfast or heck, even snack food.
All granola works off of a basic function, oatmeal, dried fruit, dried nuts, and a sweet base to combine all of this goodness together. You simply combine everything and bake, when it cools off you get to store the granola goodness. For my recipe we are using oatmeal, Craisins, almonds, and a sweet mixture made of brown sugar and maple syrup. You could use any dried fruit that you like, but if the dried fruit is very large you will need to chop it into smaller pieces. You may also want to add in your dried fruits after baking. I find that raisins, and Craisins hold up well in the baking process but if you want to add fruit like dried blueberries, mango, pineapple, dried cherries, you will want to stir those in later.
For my recipe I am using coconut oil, I like to use coconut oil when I can, because of its health benefits, and it may give your granola a little extra added granola flavor. You should use a neutral vegetable oil if you aren't using coconut oil. I find canola, corn, and sun flower oil all to work very well. While I haven't tried using peanut oil, I think that would be a good one to use as well.
You can store your homemade granola recipe in a large air tight container. This will stay fresh for about a month. You know what, your granola isn't going to last that long. So why not give making your own homemade granola a try?
Ingredients
1/2

cup

coconut oil

you can use vegetable oil

1/3

cup

maple syrup

1/4

cup

brown sugar

3

teaspoons

vanilla

1/2

teaspoon

almond extract

1/2

teaspoon

salt

5

cups

oatmeal

- quick or old fashioned are both ok to use

2

cups

Craisins

3

cups

sliced almonds
Instructions
Preheat oven to 350 degrees.

In a large bowl combine oil, brown sugar, maple syrup, vanilla, almond extract, and salt. Stir to blend until it is a uniform mixture. Add in oatmeal, Craisins, and almonds. Stir until the granola is evenly coated.

Spray a jelly roll pan with non-stick spray and spread granola over the pan. Press the granola until it is even. Bake for 40 to 45 minutes or until the granola is golden brown. Allow the granola to cool to room temperature and store in an air tight container.
Nutrition
Calories:
552
kcal
|
Carbohydrates:
56
g
|
Protein:
12
g
|
Fat:
34
g
|
Saturated Fat:
11
g
|
Cholesterol:
0
mg
|
Sodium:
124
mg
|
Potassium:
425
mg
|
Fiber:
8
g
|
Sugar:
29
g
|
Calcium:
142
mg
|
Iron:
2.8
mg