Taco soup makes a quick Mexican meal! You don't need to get takeout, you can make this soup faster than you can get in your car and go to the drive-through. You can make this soup in about the time it will take you to leave the house and come back home. If you are looking for one of those easy soup recipes that is filling, this taco soup recipe is the one you want to try!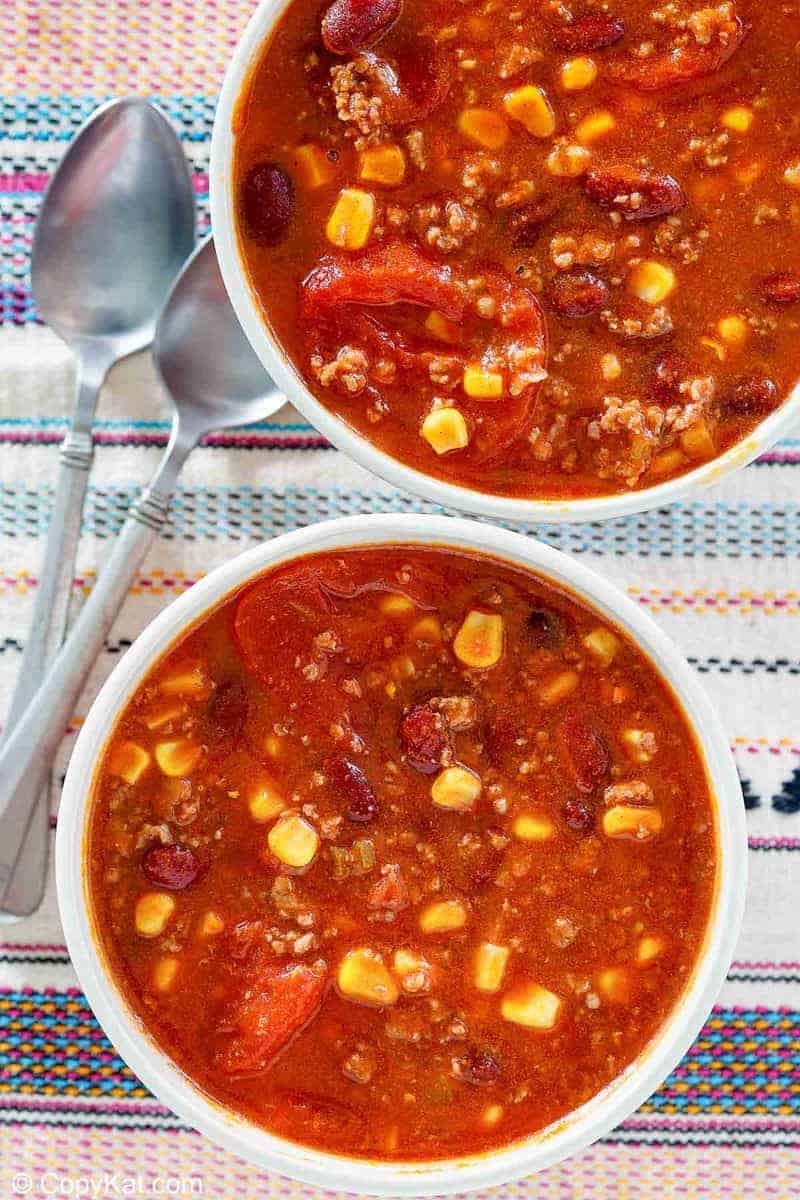 Soup is good food, and when a bowl of it tastes as great as this taco soup with ground beef does, you're going to want to cook it often. Thankfully, this recipe is quick and easy and uses common ingredients you probably already have in the kitchen. If you know how to use a can opener and brown ground beef (and if you don't know how to cook ground beef, see below), you can do this.
Enjoy this extremely hearty beef taco soup as a light meal, or pair it with a sandwich or salad when you are really hungry. It's a snap to customize, simple to cook in bulk, and stores wonderfully. Give this simple taco soup a try.
How to Cook Ground Beef
Cooking ground beef is a frequent kitchen task that is a little more complicated than it may seem at first. Sure, you can just plop a bunch of ground beef in the middle of a hot pan and stir it now, but that's not going to give you the best results. If you want great taste and texture, try these tricks.
Start with room temperature ground beef. Avoid using frozen ground beef or thawing the meat quickly in the microwave. Instead, allow it to thaw overnight in the fridge slowly. Doing this allows the meat to reabsorb some of the juices and give it a much better flavor.
Cook the ground beef in a large saute pan with a thick bottom to better distribute the heat. You don't have to add additional oil to the pan unless the ground beef is ultra-lean. Try to crumble the meat evenly across the entire surface of the pan. Each clump of meat should be approximately the same size to cook evenly. Use low heat to prevent the ground beef from drying out and shrinking excessively.
Use a wooden spatula to turn the meat over every few minutes. Cook slowly until the ground beef is no longer pink. If you notice liquid collecting in the pan, drain it to keep your beef from simmering.
When done, drain the meat in a colander. If you want to reduce the fat and calories drastically, you can briefly rinse the ground beef.
What's in Taco Seasoning?
There isn't one recipe when it comes to taco seasoning. Typically, it is a mixture of paprika, chili powder, cumin, oregano, onion and garlic powders, salt perhaps even a pinch of sugar. You can use store-bought taco seasoning, but they are usually expensive, and who knows what's is in it? If you have a stocked spice cabinet, you can make your own. There are many taco seasoning recipes on the web, but this one is pretty simple and adds excellent flavor to taco soup with ground beef.
Remember, you can use taco seasoning for much more than just tacos. Try it on burgers, eggs, or as a dry rub for red meat.
Tips For Serving This Quick and Easy Taco Soup
Make a day before. This soup actually tastes better the second day after cooking, so plan ahead.
This soup is made for topping. Be creative and add what you love, but you can try corn chips, sliced avocado, sour cream, chopped chives, shredded cheese, or your favorite hot sauce.
See what we are up to on Facebook!
Ingredients
Here's a list of what you need:
Ground beef – you can swap the beef for ground turkey if you desire
Taco seasoning – you can buy a packet of taco seasoning or you can use your own homemade taco seasoning
Canned corn – Mexi-corn is a great swap
Canned kidney beans – you could use black beans
Canned stewed tomatoes – you can use a can of diced tomatoes
Tomato sauce
Water
How to Make Taco Soup
Brown ground beef and drain.

Dump all ingredients in a large pot or skillet.

Simmer approximately 20 minutes or until thoroughly heated.
This easy Taco Soup tastes great when reheated the next day, in fact, this is one of those dishes that tastes better on day two. I love to bring this soup to work for lunch.
Serve this soup with crispy corn chips and garnish it with sour cream and grated cheddar cheese.
How to Make Taco Soup in a Slow Cooker
This is an easy recipe to adapt for your crock-pot. Simply brown your ground beef in a skillet. Drain the beef and then add everything into the slow cooker, stir well, and cook on low for 4 hours.
Toppings for Taco Soup
You may want to top your taco soup with some fun toppings. Here are some toppings you should try.
Shredded Cheddar cheese
Chopped cilantro
Crispy tortilla chips or tortilla strips
A dollop of sour cream
A couple of dashes of Tabasco Chipotle sauce
A squeeze of fresh lime juice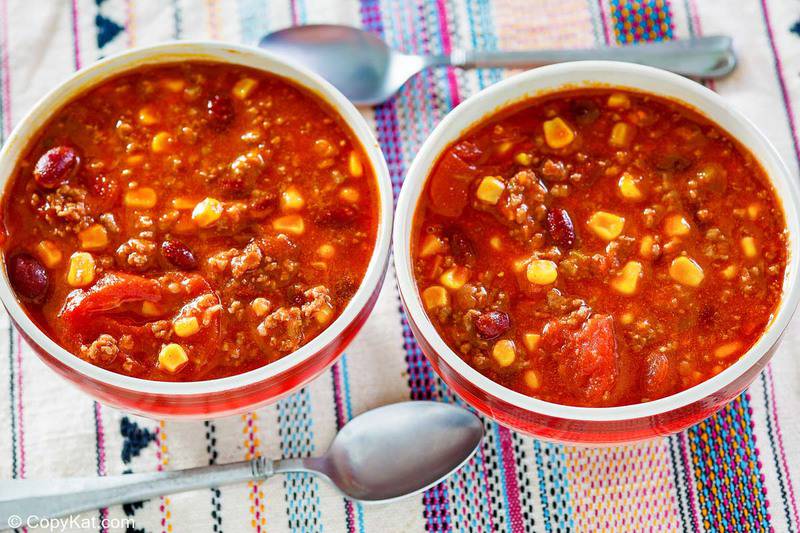 How to Serve Taco Soup
I love to serve this soup with a sprinkle of cheese and crushing a handful of tortilla chips into the soup. Sometimes I will heat up from fresh flour tortillas and dig into this soup.
How to Store and Reheat this Original Taco Soup Recipe
This soup makes a lot of soup. To refrigerate your leftovers simply store the leftover soup in an airtight container for up to five days. To freeze the soup, be sure to store it in an airtight container or a vacuum-sealed bag.
I recommend reheating the soup by placing the portion you want in a pot and reheat over medium heat until the soup has been heated through. If you are wanting to reheat soup that is frozen, pull it out of the freezer the night before to thaw in the refrigerator before reheating on the stove top.
I know you are going to love this easy taco soup recipe. It is a very versatile soup. I have been known to add in a can of green chilies, or even a packet of dry ranch dressing mix for a variety of flavors. This soup is always gobbled up by the family when it is served.
More Soup and Chili Recipes
Favorite Taco Recipes
Be sure to check out more of my hearty soup recipes and the best Mexican food recipes here on CopyKat.com!
Ingredients
1

pound

ground beef

1

ounce

taco seasoning

15

ounces

corn

1 can, do not drain

15

ounces

kidney beans

1 can, do not drain

29

ounces

stewed tomatoes

15

ounces

tomato sauce

1

cup

water
Instructions
Brown ground beef and drain.

Dump all ingredients in a large pot and simmer approximately 20 minutes or until thoroughly heated.
Notes
Thanks to demaine for sharing this recipe.
Nutrition
Calories:
308
kcal
|
Carbohydrates:
34
g
|
Protein:
17
g
|
Fat:
12
g
|
Saturated Fat:
4
g
|
Cholesterol:
40
mg
|
Sodium:
832
mg
|
Potassium:
871
mg
|
Fiber:
7
g
|
Sugar:
9
g
|
Vitamin A:
880
IU
|
Vitamin C:
17
mg
|
Calcium:
69
mg
|
Iron:
5.1
mg