Hooters Fried Pickles are one of my favorite appetizers at Hooters. If you have never tried fried pickle slices, you have been missing a crunchy and tangy treat. I know that once you try these you will want this fried pickle recipe.
You can make these at home. And if you are making some Hooters Hot Wings, why not try some of the fried pickles to go along with them?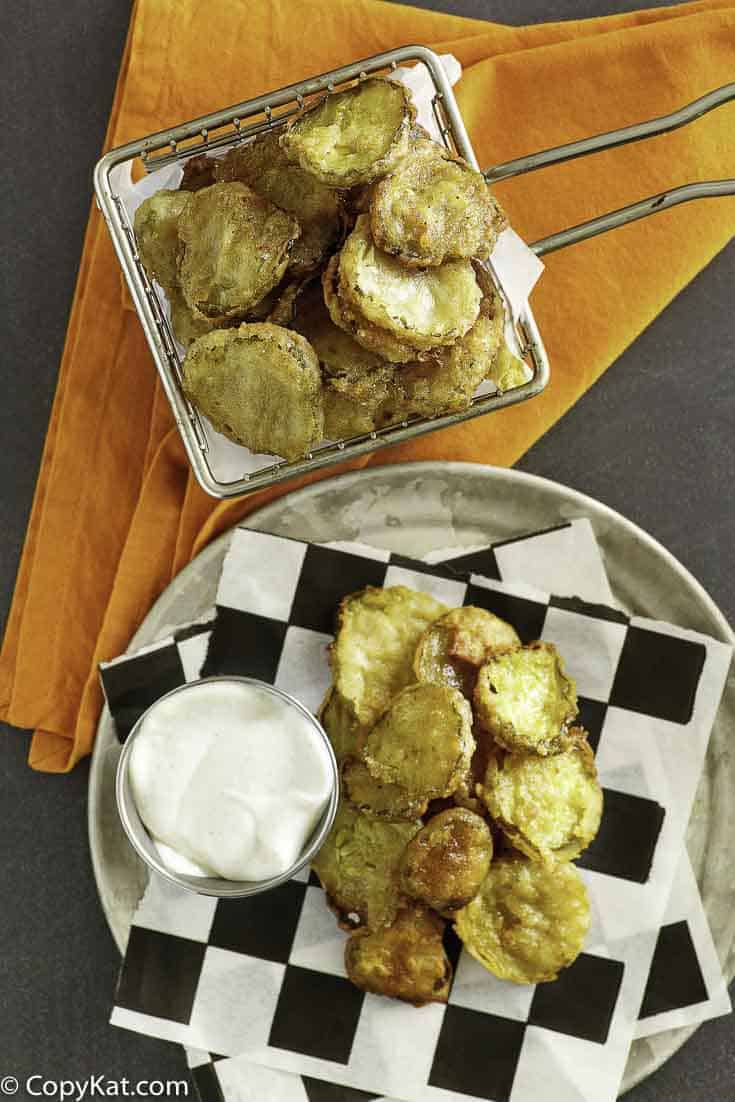 Hooters Fried Pickles
I know what you might be thinking, fried pickles do not sound so great, they sound weird. I promise if you try these, you will soon fall in love with these delicious tart snacks.
Best of all you don't need to go out to make these Hooters Fried Pickles from scratch. For this recipe, you will need a jar of dill pickle slices. I like Del Dixie, but this is a brand in the Houston area.
I drain the number of pickles that I want to cook. You can save the pickle juice it is always good to use in potato salad or even egg salad.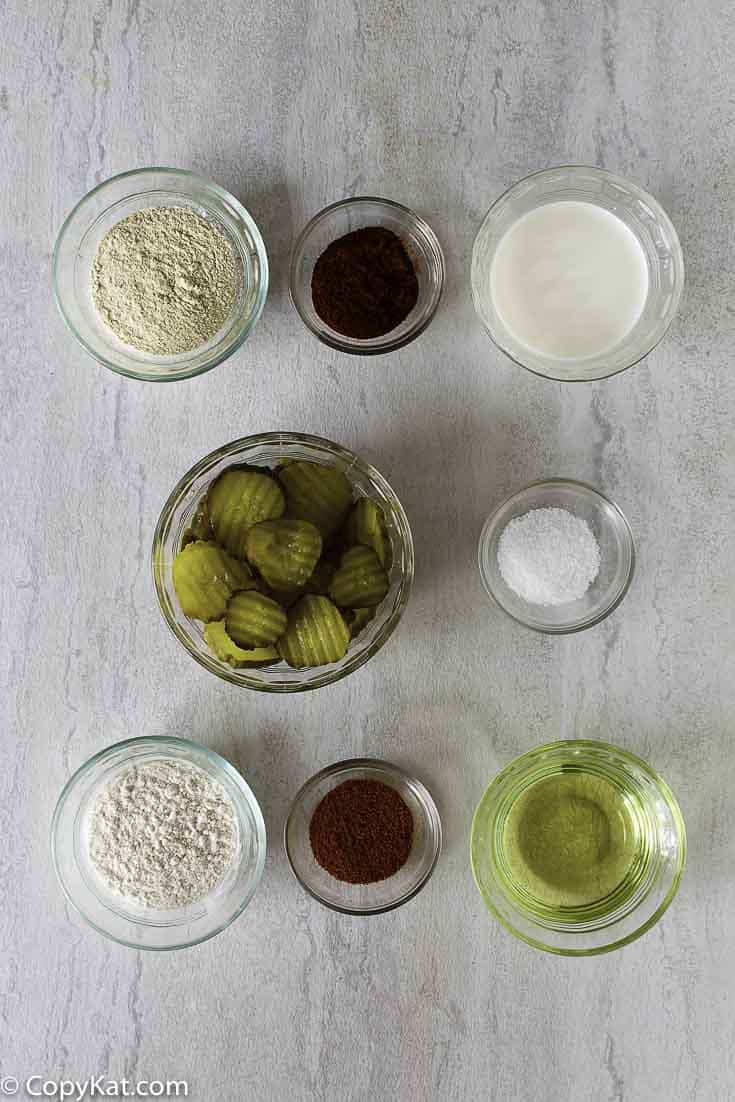 For me, the buttermilk is what makes this recipe extra special. It seems to counteract the tartness of the pickles perfectly.
We are also using a mixture of flour. We are using white and whole wheat flour. I really think the two types of flour make a difference in the final product. The whole wheat flour and the white flour fry at different levels so the taste is complex.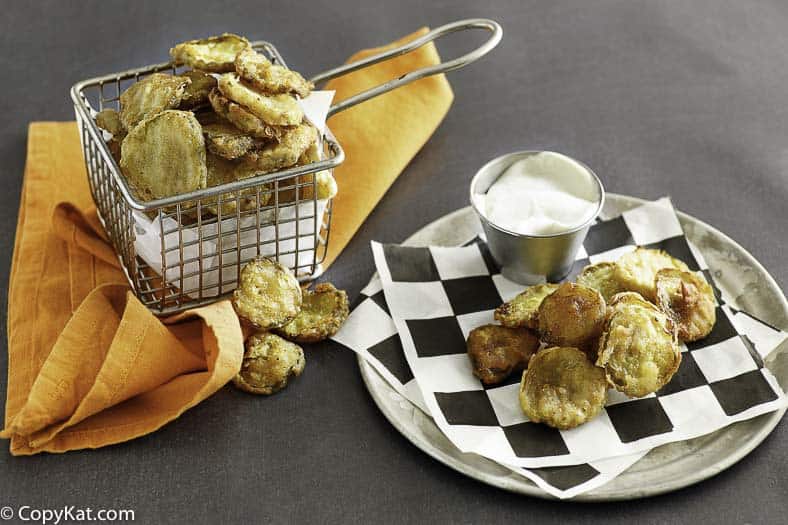 If you want a little variety in our deep-fried pickles you could marinate the pickles in beer before you soak them in buttermilk. They are also good like this.
When I grew up there was a local restaurant in Coldspring, Texas called the County Seat, and the owner Mike Kelly, told me he marinated their fried pickles in beer, and they were amazing.
I hope you enjoy these fried pickles at home.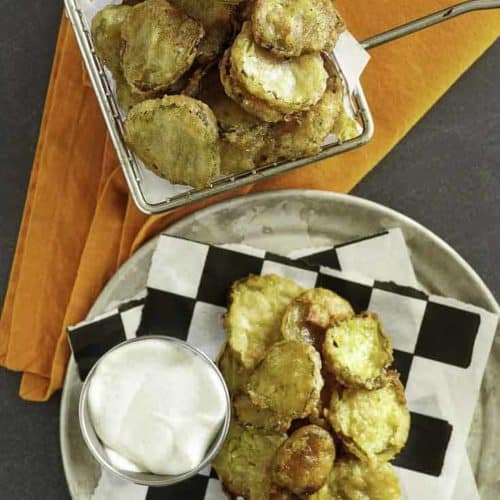 Ingredients
2

quarts

vegetable oil

16

ounces

dill pickle chips

2

cups

buttermilk

2

cups

whole-wheat flour

1

cup

all-purpose flour

2

teaspoons

salt

1

teaspoon

paprika

1/4

teaspoon

cayenne pepper
Instructions
Heat the oil to 350 degrees F in a large pot. Cover a platter with a few layers of paper towels. Drain the pickles in a colander. Place the pickles in a medium bowl and cover with the buttermilk. Stir the flours, salt, paprika, and cayenne together in another bowl; mix well. Take about a handful of the pickles out of the buttermilk and dredge in the seasoned flour. Shake off the excess flour and place the coated pickles in the hot grease. Be careful not to place too many pickles into the hot grease, or the pickles won't fry up crisp. Fry the pickles until golden brown. Scoop them out with a slotted spoon and put them on the paper towels to drain. Continue frying pickles until all are done.
Nutrition
Calories:
525
kcal
|
Carbohydrates:
76
g
|
Protein:
15
g
|
Fat:
19
g
|
Saturated Fat:
13
g
|
Cholesterol:
13
mg
|
Sodium:
2283
mg
|
Potassium:
528
mg
|
Fiber:
8
g
|
Sugar:
7
g
|
Vitamin A:
705
IU
|
Vitamin C:
0.9
mg
|
Calcium:
211
mg
|
Iron:
4.1
mg