Good banana bread is fantastic on its own, and it's tastes even better toasted with a thick slab of butter on top. But leave it to IHOP to find perhaps the most scrumptious way to enjoy it: Banana Bread French Toast! Eat this as a decadent breakfast or serve as a heavenly dessert. Either way, you're sure to love it!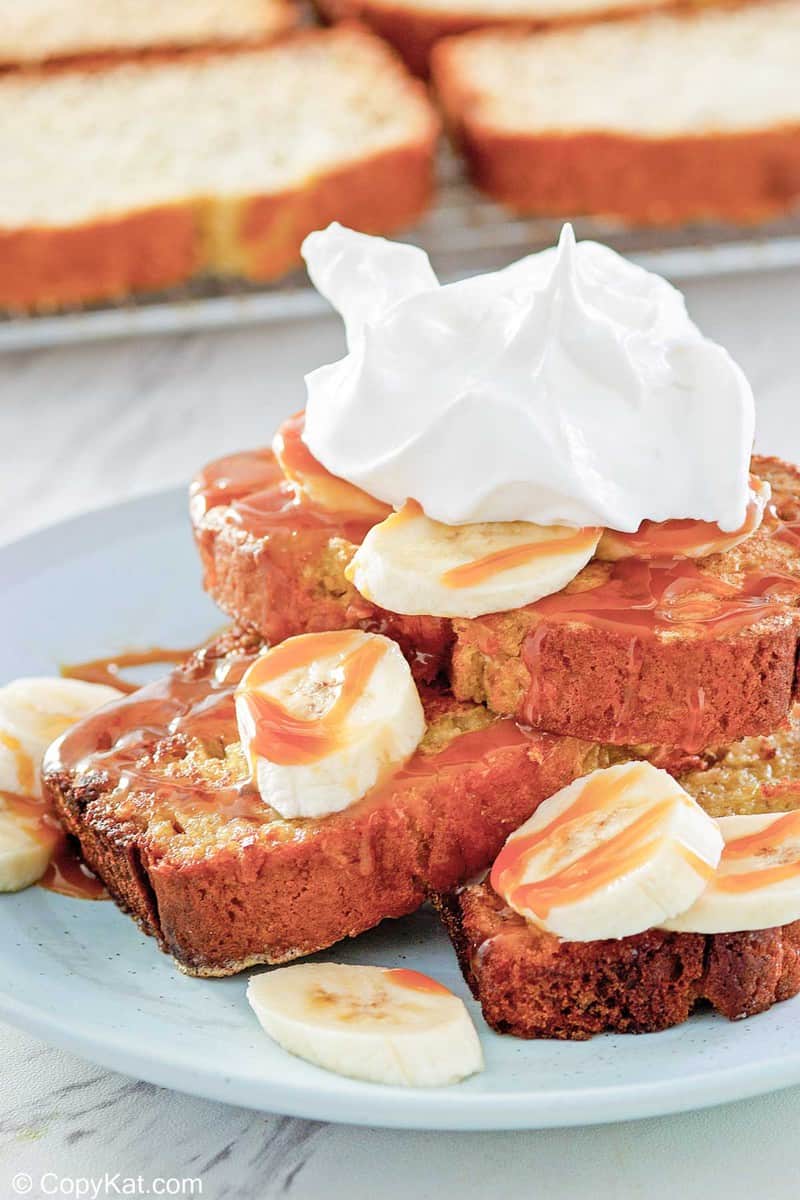 This post contains affiliate links. As an Amazon Associate, I earn from qualifying purchases.
What is Banana Bread French Toast?
Banana Nut French Toast combines freshly baked banana bread with a drizzle of caramel sauce, whipped cream, and fresh banana slices.
Why This is the Best Banana Nut Bread French Toast Recipe
Move over pancakes; this Banana Bread French Toast recipe will become the star of your next brunch!
The dense, cake-like crumb of the banana bread ensures a thin, crisp coating of savory eggs that combines wonderfully with the rich caramel and airy whipped cream. The fresh bananas add a burst of extra flavor and sweetness to this glorious dish.
Recipe Ingredients
To make this Banana Bread French Toast recipe, you will need:
Large eggs
Milk
Butter
Premade banana bread, I sometimes make an extra loaf of banana bread for this recipe
Banana
Caramel sauce
Whipped cream
Nutmeg (optional)
Substitutions and Variations
The banana bread is the star of the show, so, if you can, try to make it yourself. If you don't already have a favorite banana bread recipe, try baking Banana Nut Bread or Starbucks Banana Bread.
It is perfectly fine to purchase good-quality banana bread. It will make a huge difference in how the recipe turns out.
The thicker the caramel sauce, the better. A salted caramel sauce, like the one from Postre, helps bring out the dish's sweetness and is a good substitution for regular caramel sauce.
A sprinkling of nuts on the whipped cream and banana slices is a great addition. Walnuts go extraordinarily well with bananas, or just use the same nuts that are in the banana bread.
How to Make Banana Bread French Toast
Place a heavy-bottom large skillet over medium heat. Using a two-burner griddle pan is perfect for those times when you have to prepare multiple servings at the same time.
Meanwhile, cut the banana bread into 1-inch thick slices. Don't make the slices too thin, or they could fall apart.
Whisk together the eggs and milk in a wide and shallow container. Feel free to add a pinch of salt at this point.
Put a slice of banana bread into the egg mixture and let it soak for about one minute per side. You don't want the bread to become overly saturated.
While the bread is soaking, add a teaspoon of butter to the hot pan. Swirl the butter around the pan, and when it stops foaming, add the banana bread.
Cook the bread on each side for about 4 to 5 minutes or until it turns golden brown.
Remove the slice from the pan and repeat steps 4 to 6 for each piece of banana bread. Keep the cooked French toast slices on a baking sheet in a warm oven.
To serve, put a slice of French toast on a serving plate and top with a few banana slices. Add a drizzle of caramel sauce and a dollop of whipped cream. Garnish with a pinch of nutmeg or chopped nuts if used.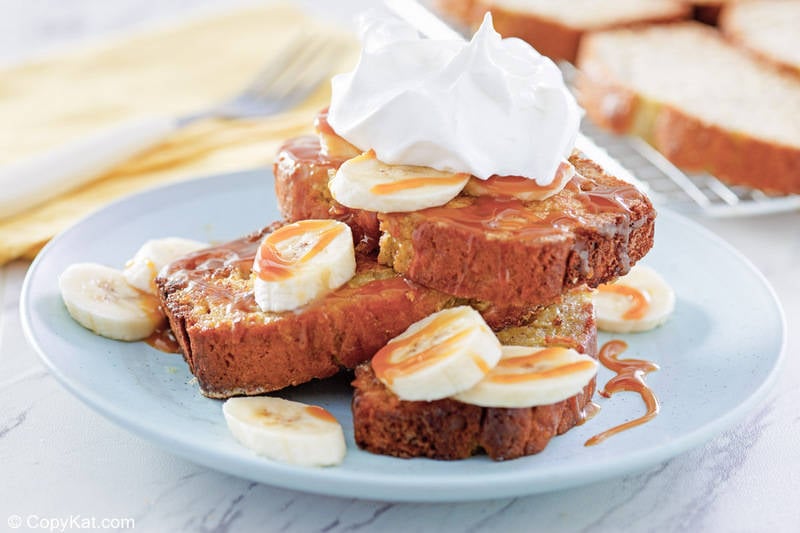 Recipe variations
While the IHOP does not do it this way, you may want to make these modifications to customize the recipe for you.
Add 1/2 teaspoon of cinnamon to the egg batter
Add 1 teaspoon of vanilla extract to the egg batter
Serve with real pure maple syrup
Can I Store Banana Bread French Toast?
Surprisingly, yes, you can! In fact, leftover Banana Bread French Toast holds up pretty well for one to two months in the freezer as long as you store it properly.
How to Freeze French Toast
Let the bread cool completely.
Cut a sheet of wax paper slightly larger than each slice.
Stack the Banana Nut Bread French Toast slices with a piece of wax paper between each of them.
Wrap the stack with a couple of layers of plastic wrap and then a single layer of aluminum foil.
Pop the stack into a freezer-safe container to prevent the French toast from getting crushed. Store in the freezer for up to two months.
How to Reheat Leftover Banana Bread French Toast
There is no need to thaw the French toast before reheating it in the oven.
To reheat the French toast:
Preheat the oven to 400 degrees.
Separate the French toast stack into individual slices. If you have trouble, you can try reheating in the microwave for 15 seconds.
Coat a baking pan with a neutral vegetable oil like canola and lay out pieces of French toast with at least an inch between them.
Cook in the preheated oven for about 5 minutes per side, or until hot.
More IHOP Copycat Recipes
Favorite Breakfast Recipes
Check out more of my easy breakfast recipes and the best casual dining restaurant recipes here on CopyKat!
Ingredients
2

eggs

2

tablespoons

milk

4

teaspoons

butter

divided

4

slices

banana bread

1

banana

peeled and sliced

4

tablespoons

caramel sauce

4

tablespoons

whipped cream

1

pinch

nutmeg

optional
Instructions
Whisk together the eggs and milk, and pour the mixture into a shallow dish.

Heat a skillet over medium heat, and add about 1 teaspoon of butter to the pan.

Place 1 slice of banana bread into the egg mixture and coat evenly, flipping the bread over to coat both sides.

Place the bread into the skillet and cook for about 1 minute on each side.

Repeat with the remaining slices of banana bread, adding another teaspoon of butter to the skillet for each slice.

Place a slice of French toast on a plate, and top with 1/4 of the banana slices.

Drizzle with caramel sauce.

Add some whipped cream and a pinch of nutmeg on top.
Nutrition
Calories:
648
kcal
|
Carbohydrates:
93
g
|
Protein:
12
g
|
Fat:
26
g
|
Saturated Fat:
10
g
|
Cholesterol:
242
mg
|
Sodium:
648
mg
|
Potassium:
274
mg
|
Fiber:
1
g
|
Sugar:
1
g
|
Vitamin A:
1145
IU
|
Vitamin C:
2.1
mg
|
Calcium:
88
mg
|
Iron:
2.4
mg