Family gatherings mean sharing meals together. This sausage roll is the perfect way to start the day. Crescent roll dough is filled with sausage, eggs, and cheese then baked to perfection. This sausage roll delivers a hearty and wonderful breakfast for a crowd.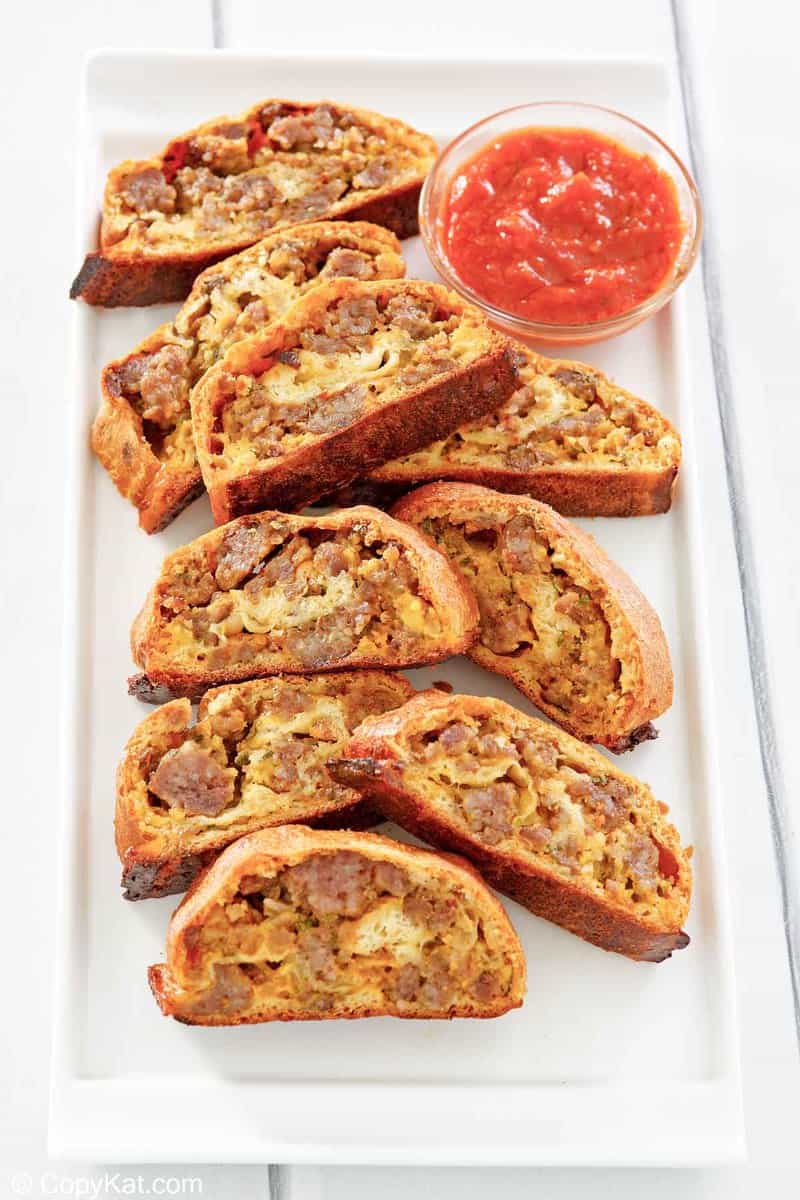 This post contains affiliate links. As an Amazon Associate, I earn from qualifying purchases.
Breakfast Sausage Roll
That package of oven-ready crescent dough that you have rolling around in the back of your fridge is destined for something greater than becoming just another roll. With only a few other everyday ingredients, you can bake one of the easiest and most mouthwateringly delicious breakfasts you have ever tried: a sausage roll.
What is a sausage roll?
For the uninitiated, a sausage roll is a kind of stuffed bread.
Although it contains many of the same ingredients as a typical breakfast sandwich: sausage, fresh eggs, two types of cheese, onions, and a spicy sauce, baking the filling inside the bread creates a one-of-a-kind taste you have to try!
Why this Sausage Roll Recipe is the Best
Feed a crowd with this easy-to-make recipe without a lot of hassle. Prepping takes only a few minutes and, since you bake the sausage roll in the oven, you are free to tackle all those other early morning tasks you need to do to get out of the door on time.
Even when things are less hectic, you'll still appreciate the flavor and flexibility of this recipe.
Ingredients
Here's a list of what you need:
Ground pork sausage (Jimmy Dean recommended)
Onion
Eggs
Grated Swiss cheese
Grated cheddar cheese
Picante sauce
Parsley
Pillsbury Crescent Dough Sheet
Butter
Ingredient Notes
Use your favorite type of bulk sausage in this recipe. If you are cooking for a crowd, opt for milder flavors and provide hot sauce for those who like things a little spicier.
Picante means spicy in Spanish, but that doesn't mean all Picante sauces are hot. There are milder versions out there. While it's tempting to use that half-finished jar of salsa in this recipe, go for it. Just know that Picante sauces are much thinner than most salsas.
Pillsbury is the tried-and-true brand for this recipe, but there's no reason why you can't substitute your favorite instead!
How to Make a Sausage Roll
It's very easy to make a sausage roll. Here are the recipe steps:
Brown the sausage and onions, drain off the grease, and return the browned sausage and onions to the pan.
While the sausage and onions are cooking, mix together eggs, cheeses, and parsley in a small bowl.
Add this mixture to the drained sausage and stir to combine.
Quickly cook the sausage, egg, and cheese mixture, as everything needs to be fully cooked before assembling the sausage roll.
Roll out the crescent dough sheet to a large rectangle that is 1/4-inch thick.
Spread the sausage mixture on the dough.
Roll it up like a jelly roll and place the roll on a baking sheet seam-side down. Be sure to seal the dough well.
Brush melted butter on top.
Bake at 400 degrees for 20 minutes, the top should be golden brown when you remove it from the oven.
Slice the sausage meat roll with a sharp knife before serving.
Serve with picante sauce if desired.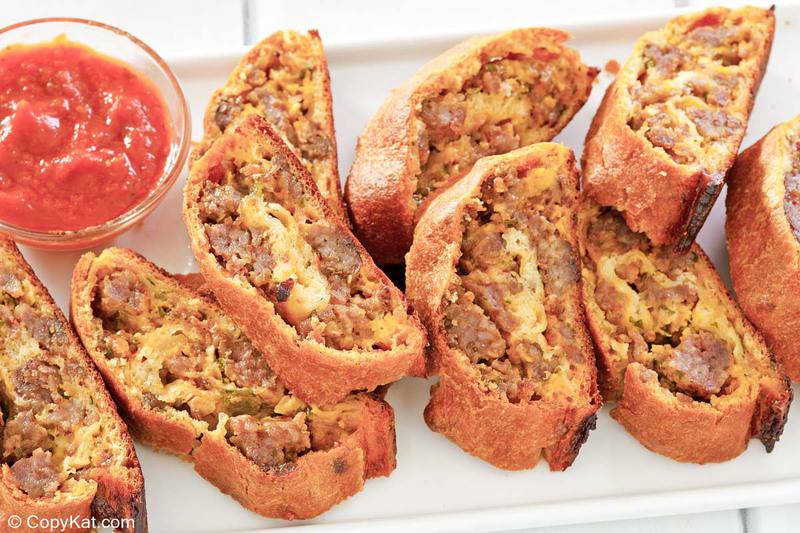 Substitutions and Variations
There really isn't anything that you can't stuff inside this roll. Go ahead and try switching out the meat and cheese, or add your favorite vegetables and sauces. It is entirely up to you! Here are a few suggestions:
Change the type of cheese
Add some green chilies
Toss in cooked bacon for extra flavor
Puff pastry sheets – you can swap out the Crescent roll dough for a package of Pepperidge Farm's puff pastry
No one says this is strictly for breakfast. Stuffed bread is fantastic any time of the day! Here are three great lunch and dinner combinations that you may want to try:
Spinach Roll – You don't have to be Popeye to love a Spinach Roll. Make this Santa Fe Spinach Dip and use it as the filling for the roll.
Roast Beef Roll – If you are ready for a meaty, cheesy meal, the Roast Beef Roll is perfect. Spread a thin layer of horseradish mayonnaise on the dough, and then layer a pound of thinly sliced roast beef on top. Place a few slices of sliced banana peppers on top (or marinated red peppers if you don't like things too spicy). Sprinkle with a cup of shredded cheddar cheese.
Pizza Roll – Move over frozen pizza pockets. You can make your own, and they are so much better. Spread a thin layer of pizza sauce on the rolled-out dough and sprinkle on a cup of your favorite cheese or cheeses. Add your favorite pizza toppings.
No time for a sit-down meal? Divide the dough into six equal portions and make individual rolls. They make the perfect take-along meal that you can eat on the go!
How Can I Store a Sausage Crescent Roll?
To freeze an uncooked sausage roll:
Place the uncooked sausage roll on a sheet pan and cover loosely with plastic wrap.
Put the sheet pan in the freezer for about eight hours or until the sausage roll freezes.
Remove the sausage roll from the sheet pan and cover tightly with parchment paper or plastic wrap.
Place in a freezer bag and stick in the freezer for up to a month.
To store a cooked sausage crescent roll:
Let the sausage roll cool and wrap in parchment or plastic wrap, and keep in the fridge for up to 48 hours.
Cover a cooked, room-temperature sausage roll with parchment paper or plastic wrap and freeze in a freezer bag for up to a month.
How to Reheat a Cooked Sausage Roll
Unwrap the sausage roll and bring it up to room temperature.
For an uncooked roll, bake according to the recipe.
For a cooked roll, wrap in aluminum foil and cook for 10 – 15 minutes in a 375-degree oven until the filling is hot.
Optional Serving Suggestions
I personally love this for a breakfast entree. It also makes a great addition to appetizers you might serve up at a party. My family has also enjoyed this as a snack during game night.
Favorite Breakfast Recipes
Popular Sausage Recipes
Check out more of my easy breakfast recipes and the best recipes for Christmas here on CopyKat!
Ingredients
1

pound

ground sausage

1

cup

chopped onion

2

eggs

beaten

1/2

cup

grated Swiss cheese

1/2

cup

grated cheddar cheese

2

tablespoons

picante sauce

2

teaspoons

parsley

1

package

Pillsbury crescent roll dough sheet

1

tablespoon

melted butter
Instructions
Preheat the oven to 400°F.

Fry the sausage and onion in a frying pan; drain.

Add the remaining ingredients (except for the dough and butter), stir, and let cool.

Roll the crescent roll dough to ¼-inch thick.

Spread the meat mixture over the dough.

Roll it up like a jelly roll.

Brush the top with melted butter.

Bake for 20 minutes.

Remove the sausage roll from the oven.
Nutrition
Calories:
484
kcal
|
Carbohydrates:
19
g
|
Protein:
20
g
|
Fat:
37
g
|
Saturated Fat:
15
g
|
Polyunsaturated Fat:
6
g
|
Monounsaturated Fat:
13
g
|
Trans Fat:
1
g
|
Cholesterol:
132
mg
|
Sodium:
928
mg
|
Potassium:
279
mg
|
Fiber:
1
g
|
Sugar:
5
g
|
Vitamin A:
392
IU
|
Vitamin C:
3
mg
|
Calcium:
162
mg
|
Iron:
2
mg