No need to leave the house to get Outback Steakhouse sauteed mushrooms (or 'shrooms as it appears on the menu). Sauteed mushrooms go great on a steak or baked potato and also make a great side dish!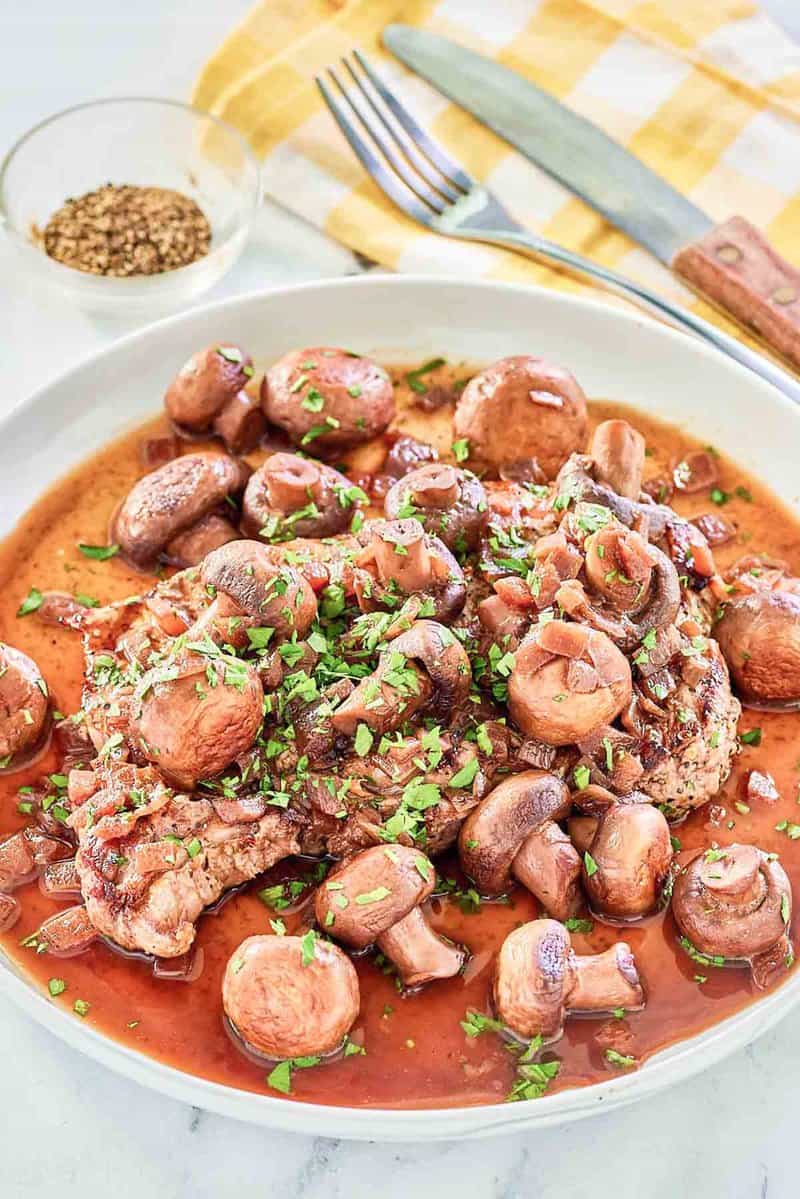 This post contains affiliate links. As an Amazon Associate, I earn from qualifying purchases.
Outback Mushrooms
Going to a steakhouse so often means having your steak with an extra treat or two. Sauteed mushrooms are often the side dish of choice when you order a steak. Now you can make mushrooms just like the Outback Steakhouse.
These mushrooms are super easy to make, in fact, they make a great side dish anytime you want to add mushrooms to your meal.
What Makes Outback Steakhouse Sauteed Mushrooms So Good?
This recipe is full of well-balanced flavors. The wine's sharpness cuts through the mushrooms' earthiness and the sweet caramelized onions keep the dish from getting too intense.
If you love mushrooms, you have got to try this Outback Steakhouse Mushroom recipe.
What Makes This Recipe the One You Want to Try
There are many copycat recipes for Outback Steakhouse's Sauteed Shrooms online. Some are extremely basic, using canned mushrooms, while others call for buttermilk, dry mustard, and paprika!
This Outback Steakhouse mushroom recipe isn't too complex and tastes just like what you get in the restaurant.
Outback Sauteed Mushrooms Ingredients
Here's a list of what you need:
Butter
Button Mushrooms
Onion
Beef Broth
Red Wine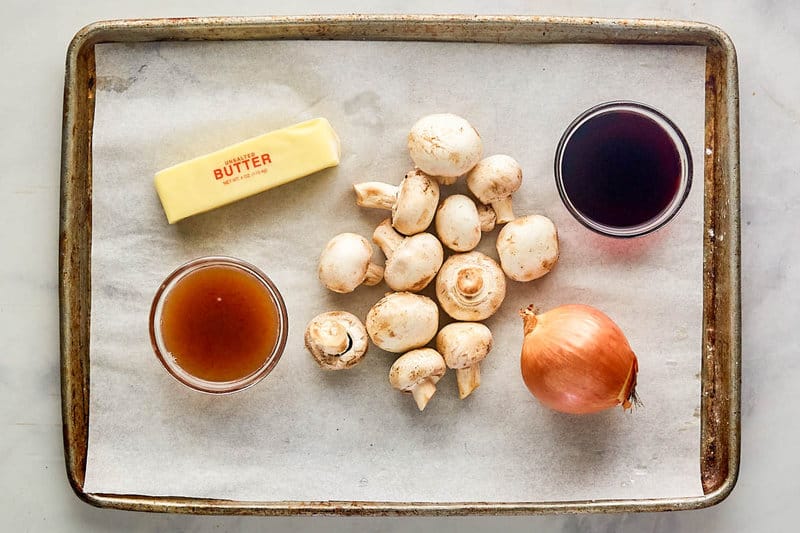 How to Make Outback Steakhouse Mushrooms
Heat butter in a large skillet over medium heat.
When the butter melts, add mushrooms, onions, and salt.
Sauté mushrooms until they have browned and started to cook through.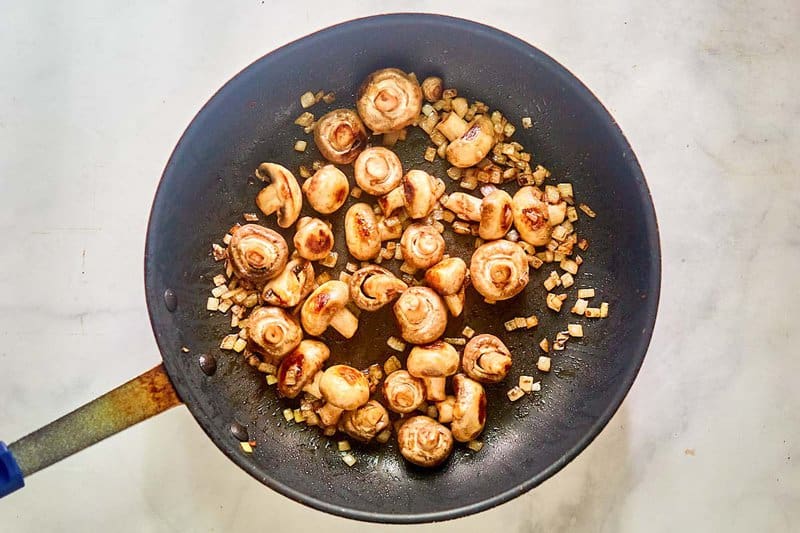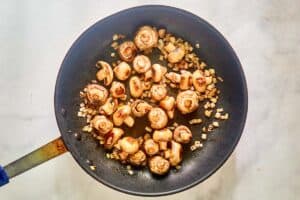 Add red wine and beef broth.
Cook for a few additional minutes and allow the liquid to reduce.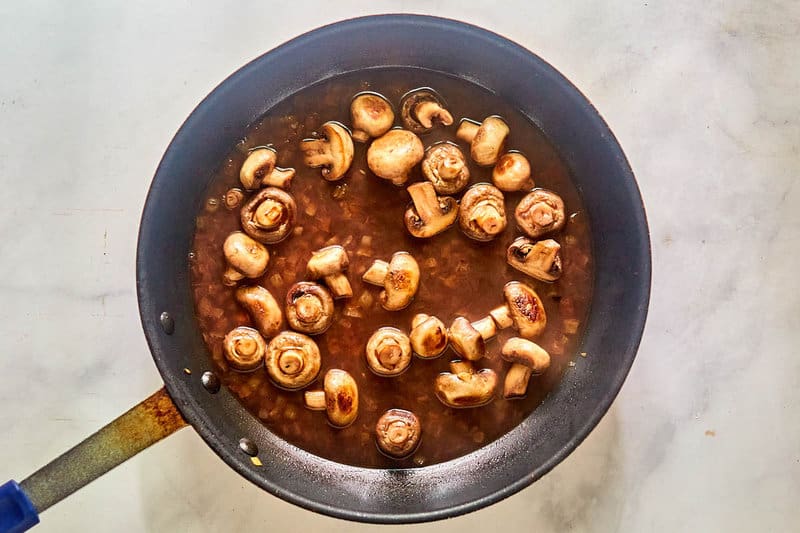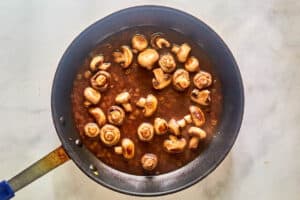 Outback Mushroom Recipe Notes
For this recipe, there are instructions for both fresh and canned mushrooms. I personally love making these with fresh mushrooms. You may wish to blanch them before cooking to keep a nicer color and shape.
I find that you can get great deals on mushrooms at Costco. So every time I go to Costco, the mushrooms make it into my basket.
For the red wine, I suggest that you use an inexpensive red wine. When I say inexpensive, I am thinking something like the Franzia brand. I use their burgundy wine. It comes in a box, and while I wouldn't drink it, it is fine to cook with. The vacuum bag means that it is ok to store and cook with for a long time.
If desired, you can add some chopped fresh garlic to the mushrooms and onions, a few mins after they are cooking in the butter.
For a fresh herb touch, garnish with chopped fresh thyme, parsley, or basil.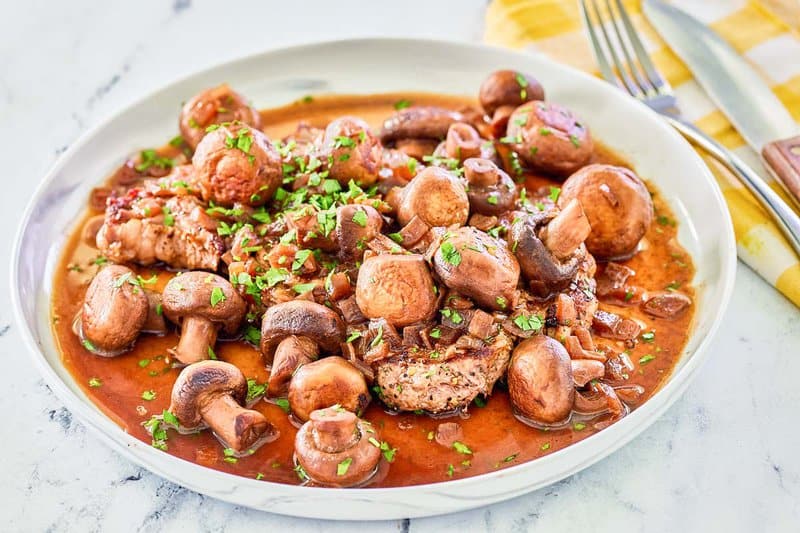 How Do You Cut Mushrooms?
After cleaning the mushrooms with a damp paper towel, you need to figure out how to cut them. Cutting mushrooms isn't very difficult, but there is a technique.
Cut off just the very end of the stem. Many cooks lop off the entire stem, but that is a waste. Try to leave as much of the stem as possible.
Turn the mushroom on its side with the cap away from you and the stem end facing you.
Use a small knife or the top part of a chef's knife to slice the mushrooms into 1/8-inch slices.
What to Serve Outback Steakhouse Mushrooms With
Just about any steak dish pairs wonderfully with the meaty texture and earthy flavors of mushrooms. But don't stop there. These Outback mushrooms are much more versatile than you think.
Top a crostini. This quick and easy appetizer is a bit on the fancy side. Check out this crostini recipe if you don't know how to make crostinis.
Fill an omelet. If you need help with your omelet-making game, this fluffy omelette recipe and video walks you through the entire process.
Stuff a sandwich. From grilled cheese to backyard burgers, mushrooms add a new depth of flavor.
How to Store, Freeze, and Reheat Steakhouse Sauteed Mushrooms
If you look online, you'll come across lots of advice that you shouldn't reheat cooked mushrooms because they can make you ill. But some people have been reheating mushrooms for years without any problem. So, the choice is yours whether to store or throw out any leftovers.
If you decide to keep the sauteed mushrooms, store them properly and cool them down as quickly as possible. Try spreading out the leftovers on a parchment-lined, chilled baking sheet.
To refrigerate mushrooms:
Once the mushrooms are cool, put them in an airtight container and get them into the fridge pronto.
Store for up to three days.
To freeze mushrooms:
Once the mushrooms are at room temperature, place the tray in the freezer until they are frozen, about two hours.
Transfer the frozen sauteed mushrooms into a freezer-safe container.
Store for up to six months.
To reheat the mushrooms on the stovetop:
Melt a tablespoon of butter in a pan over medium-high heat.
Place the frozen or thawed mushrooms into the pan.
Stir frequently and cook until the mushrooms are just warmed.
FAQs for Outback Steakhouse Mushrooms
Do You Salt Sauteed Mushrooms?
Traditional cooking wisdom dictates that you shouldn't season mushrooms until after cooking to prevent them from drying out.
Although adding salt prior to cooking can cause mushrooms to release moisture, it's generally not enough to make that much of a difference. Wait a while to season your mushrooms for the best texture, but don't worry too much about it. 
How Long Should You Saute Mushrooms For?
When cooking sliced mushrooms over medium-high heat, it will typically take about five minutes until they are slightly tender and browned. The most important thing to remember is to use a large enough pan to avoid overcrowding. 
What Kind of Mushrooms Go with Steak?
Jarred mushrooms are acceptable for this Outback Steakhouse mushroom recipe, but you'll get a much better flavor with fresh ones. You can use just about any variety of mushrooms that you like, but buttons, creminis, and porcinis are particularly good.
How Many Carbs Are in Outback Sauteed Mushrooms?
Outback Steakhouse's Sauteed Shrooms has 10 grams of carbs as served according to a nutritional menu. 
How Many Calories Are in Outback Mushrooms?
According to a nutritional menu, the Sauteed Shrooms Outback Steakhouse serves has 130 calories — 50 of which come from fat.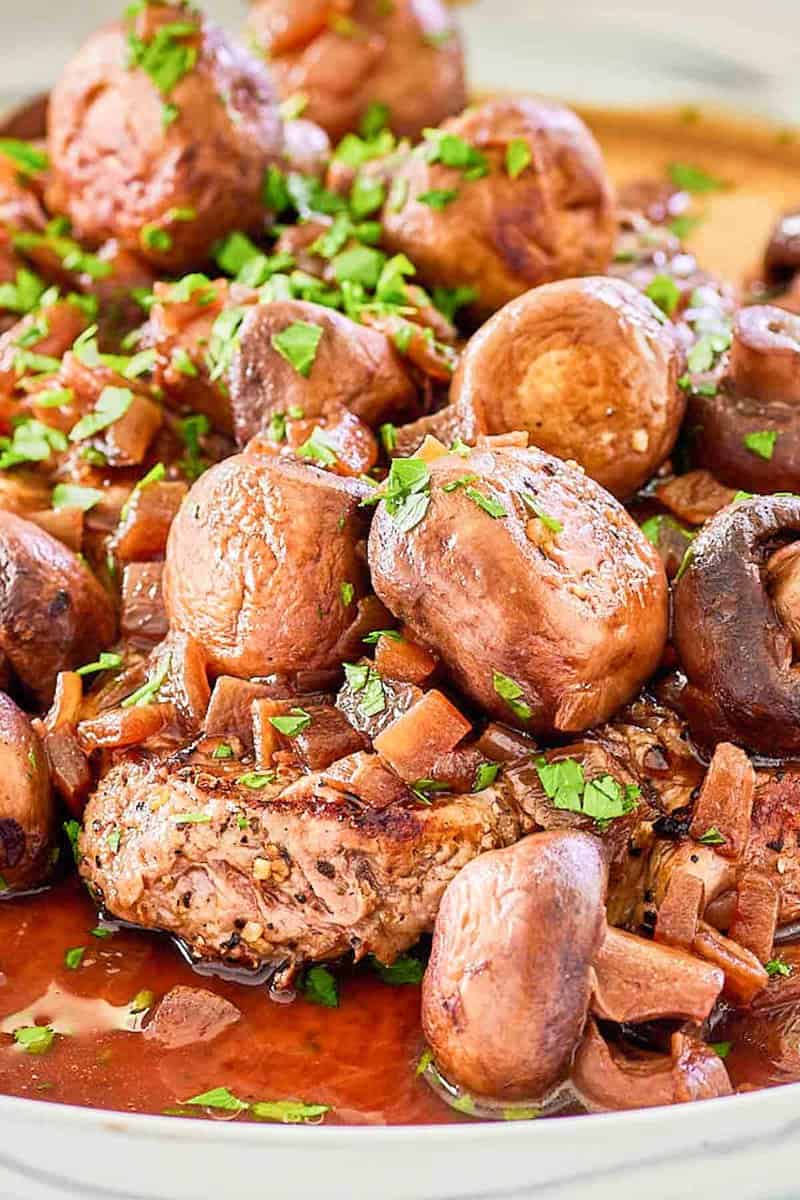 Love Outback Steakhouse? Try these copycat side dish recipes!
Best Mushroom Recipes
You can find more easy side dish recipes and the best Outback Steakhouse copycat recipes here at CopyKat.com.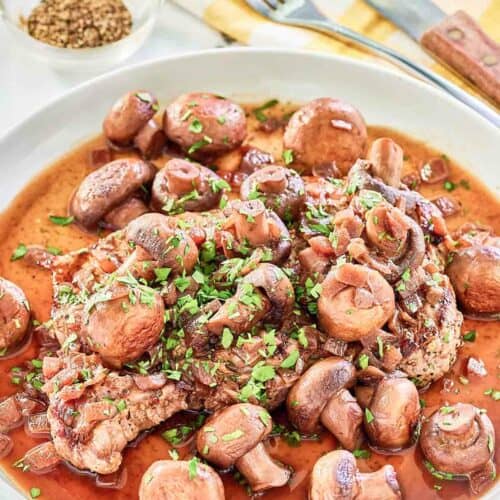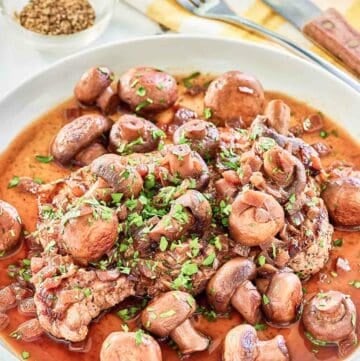 Ingredients
1

tablespoon

butter

16

ounces

fresh small white button mushrooms

or 2 cans/jars (8 ounces each) of small whole mushrooms (plus the juice from one of the cans/jars)

1/2

cup

diced onions

large dice

1/4

teaspoon

salt

10.5

ounces

beef broth

1 can

1/3

cup

Burgundy wine
Instructions
Heat a skillet over medium heat and add the butter.

When the butter melts, add the mushrooms and onions, sprinkle with salt, and sauté until the mushrooms are browned and cooked through.

Add the beef broth and wine and cook for a few additional minutes to allow the sauce to reduce.
Nutrition
Calories:
80
kcal
|
Carbohydrates:
6
g
|
Protein:
4
g
|
Fat:
3
g
|
Saturated Fat:
1
g
|
Cholesterol:
7
mg
|
Sodium:
309
mg
|
Potassium:
455
mg
|
Fiber:
1
g
|
Sugar:
3
g
|
Vitamin A:
90
IU
|
Vitamin C:
3.9
mg
|
Calcium:
12
mg
|
Iron:
0.8
mg