Chicken Salad Chick Fancy Nancy is a fruity chicken salad with grapes, apples, pecans, and celery.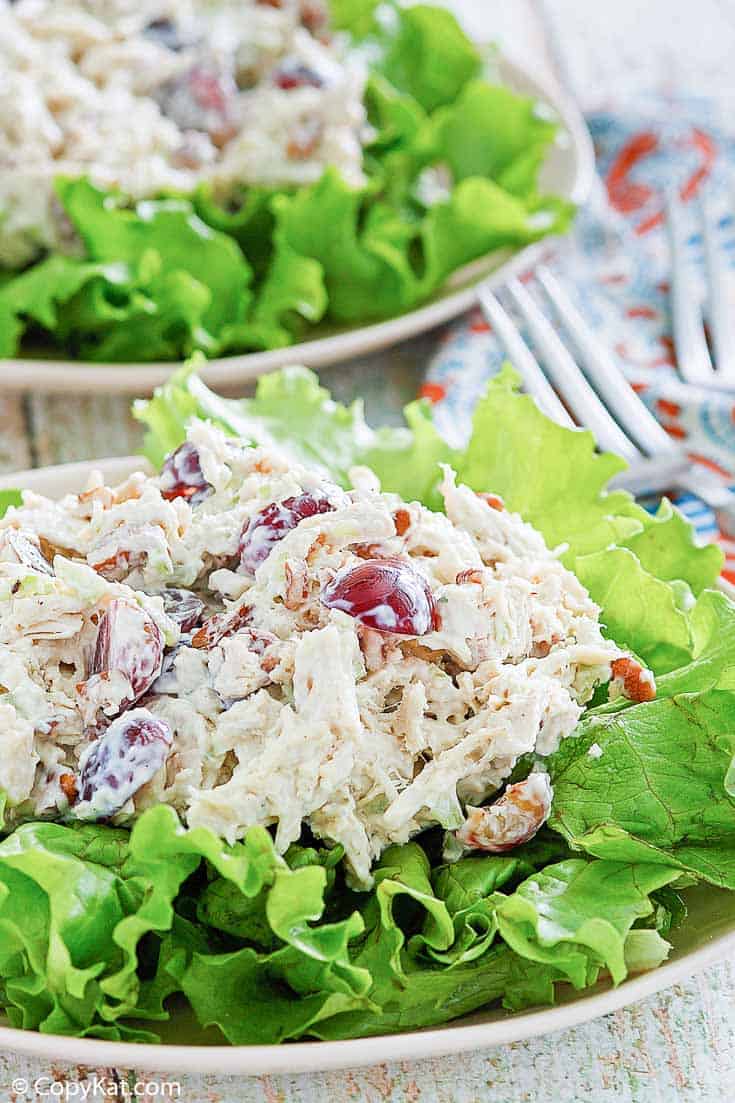 Chicken Salad Chick offers delicious homemade Southern favorites and specializes in chicken salad. They understand that everyone has a different notion of what the perfect chicken salad should be. You can choose from more than a dozen varieties, including simple, nutty, fruity, savory, or spicy. There's a chicken salad for everyone.
This Chicken Salad Chick Fancy Nancy recipe is made with a generous amount of chicken tenders that shred easily when pulled apart after cooking. The chicken tenders are cooked in flavorful chicken stock, and the tenders absorb some of these flavors. The celery is finely minced, so there are no large pieces. Dry ranch salad dressing mix contributes a special character, and the salad is dressed with Fuji apples for crispness, seedless grapes for a sweet crunch, and pecans for a touch of nuttiness. Fancy and tasty indeed!
If you are not lucky enough to be located near a Chicken Salad Chick restaurant, you can make this copycat Fancy Nancy Chicken Salad at home. The great thing about chicken salad is that it fits every occasion – lunch, light suppers, potlucks, baby showers, lake days, beach trips. You could say it's the little black dress of spreads! Chicken Salad Chick uses Duke's mayonnaise, which is a superior mayonnaise. However, I've used Hellmann's with excellent results.
How Long Does Chicken Salad Last?
This recipe will keep in the refrigerator in an airtight container for up to three days. Since this salad has chicken and mayonnaise, it should not be left out at room temperature for longer than two hours.
Chicken Salad Chick Fancy Nancy
Make the best chicken salad sandwich with this easy Fancy Nancy Chicken Salad recipe. It's just great for a hearty lunch or a quick informal dinner. Good ole' Nancy will keep everyone coming back for more!
Ingredients for copycat chicken salad
Here's what you need to make Fancy Nancy chicken salad:
Chicken
Chicken stock (low sodium)
Mayonnaise
Dry Ranch salad dressing mix
Red seedless grapes
Fuji apple
Pecans
Celery
Salt and pepper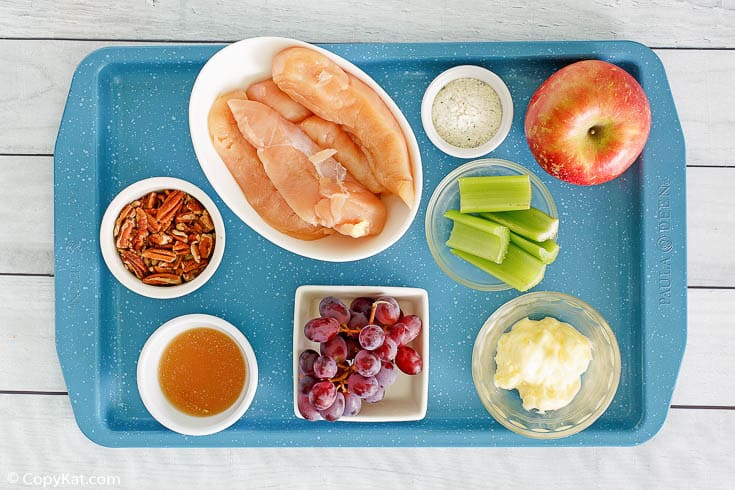 How to Make Fancy Nancy Chicken Salad
Cook the chicken in chicken stock until done.
Use two forks or a stand mixer to shred chicken.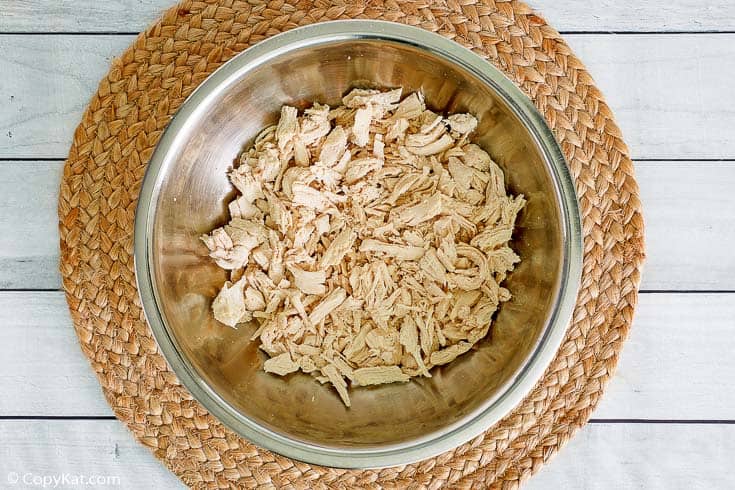 Add remaining ingredients to another bowl.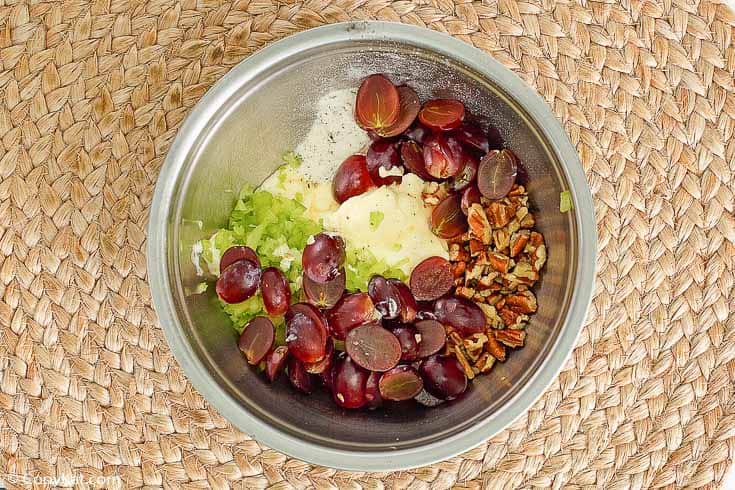 Add shredded chicken and stir to combine.
For best flavor, make the salad a couple of hours in advance. Keep salad refrigerated until serving.
Serve on top of lettuce or in a sandwich.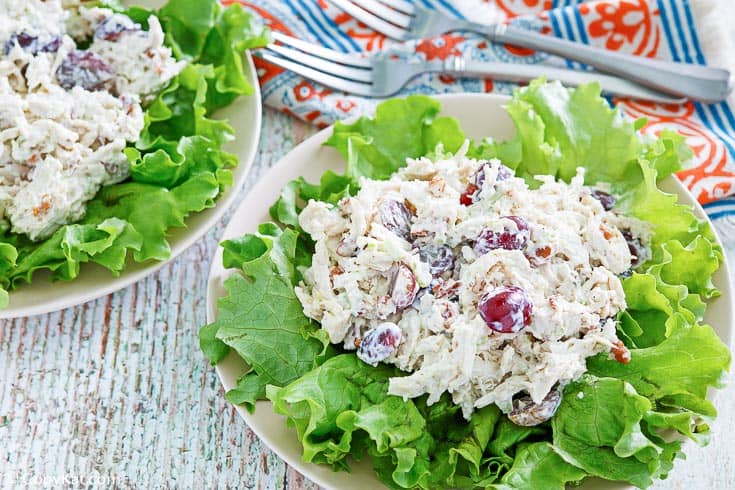 More Chicken Salad and Salads with Chicken Recipes
Top Copycat Recipes
Be sure to check out more of my easy salads and the best restaurant copycat recipes.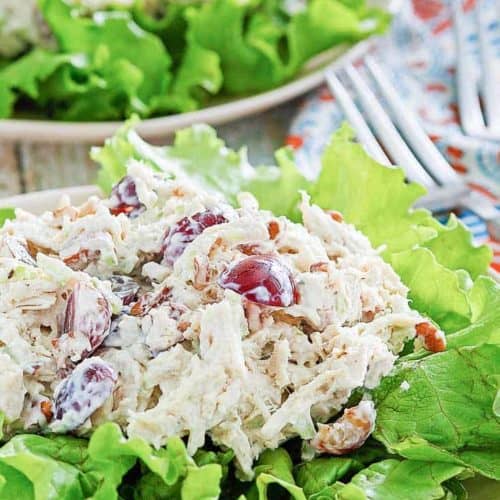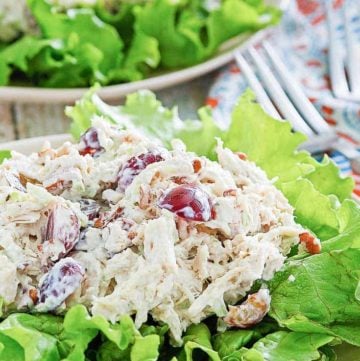 Ingredients
1 1/2

pounds

chicken tenders

32

ounces

chicken stock

3/4

cup

mayonnaise

Chicken Salad Chick uses Duke's

2

tablespoons

celery

finely minced

2

teaspoons

dry ranch salad dressing mix

1/2

teaspoon

ground black pepper

1/2

teaspoon

salt

3/4

cup

red seedless grapes

1/2

cup

chopped pecans

1/2 to 3/4

cup

Fuji apple

chopped
Instructions
Place the chicken tenders and chicken stock in a large pot. Poach over medium heat for about 15 to 20 minutes or until the chicken is fully cooked.

Shred the chicken. The chicken can be shredded with a stand mixer by using a paddle attachment. Or shredding the chicken tenders using two forks works well also.

In a medium-sized bowl, place the celery, dry ranch dressing mix, mayonnaise, salt, and pepper. Blend well. 

Add the shredded chicken and mix in thoroughly. 

Serve on a bed of lettuce or in a sandwich.
Recipe Tips for the Cook
This chicken salad tastes better if prepared a couple of hours ahead of time. Store in an airtight container.
Nutrition
Calories:
693
kcal
|
Carbohydrates:
19
g
|
Protein:
44
g
|
Fat:
48
g
|
Saturated Fat:
7
g
|
Cholesterol:
133
mg
|
Sodium:
1308
mg
|
Potassium:
1005
mg
|
Fiber:
2
g
|
Sugar:
11
g
|
Vitamin A:
115
IU
|
Vitamin C:
4
mg
|
Calcium:
31
mg
|
Iron:
2
mg