Easy Homemade Ham Salad is the perfect classic ham salad spread. This homemade version tastes better than any store-bought version. So if you love ham salad, you will love this recipe.
Old Fashioned Ham Salad
I should name this recipe Gloria's ham salad. Gloria makes an amazingly tasty, quick, and easy ham salad without eggs. I was recently at a party and Gloria brought the most delicious ham salad I've had. I wasn't the only person at the party that thought this was the most amazing ham salad imaginable. I knew with one bite, I had to ask her for her recipe and share this recipe with you.
You don't need to have leftover ham to prepare this recipe. I love that she uses simple slices of ham to make this homemade old fashioned ham salad. She also uses a lot of unique ingredients in it, and I thought it would be a great recipe to add to the website.
In no time at all, you can enjoy this easy to make ham spread.
When you start with great quality ingredients you get results that are quite good. I had one of the best ham salad sandwiches in recent memory, and best of all this was made with this easy ham salad.
Ham Salad Ingredients
Here's a list of what you need:
Ham
Brown sugar
Red onion
Gherkin pickles
Pickle juice
Mayonnaise (not Miracle Whip)
Salt
Ground black pepper
How to Make Ham Salad
Place ham slices and brown sugar in a pot with enough water to cover the ham. Bring to a boil then reduce heat to low and simmer for 20 minutes.
Remove the ham from the water and let it cool to room temperature.
Place the ham, red onion, gherkin pickles, pickle juice, and mayonnaise in a food processor. Pulse several times. Taste, and season with salt and pepper.
Transfer the mixture to a bowl. Cover and refrigerate until serving.
Ingredient and Recipe Notes
Gloria started her delicious ham salad spread with a package of sliced ham. While packaged ham slices are nothing to get excited about, this lunch meat is transformed by cooking.
She first cooked the ham in water with brown sugar. This helps to remove some of the saltiness of the ham. The brown sugar adds a nice touch to the flavor. I have made this with both a smoked ham, and honestly some of the cheapest ham you can buy, and both of them worked great.
She uses gherkin pickles. These are small pickles that are sweet. You could use sweet pickle relish, but I think using the gherkin pickles adds a unique flavor. I think you could also use India Relish (made by Heinz) could also work well. Pickle juice adds to the flavor.
She claimed her real secret was by grating red onion in the salad as well. By grating the onion into the salad you get subtle onion flavor yet many people can't quite figure out that you grated onions in there. This is a great tip for when you want the flavor but not a bunch of finely chopped onions in your dish.
Why cook the ham again? Ham is already cooked.
Gloria, the lady who gave me her recipe, said she thought that cooking the ham again with brown sugar added flavor to ham salad. After having sampled a fair amount of her ham salad, I agree that it does indeed add to the flavor of it.
Recipe Variations
Of course, you can mix other ingredients into this recipe to make it your own. Customizing your recipes is one way you can enjoy exactly what you and your family will love. Here are a few suggestions to make this ham spread recipe one you will love.
Chopped dill pickles
Chopped onions and celery
Boiled eggs
Cheese
Making the Best Ham Salad Sandwich
What makes for a delicious sandwich? Starting with good quality ingredients. Here are just a few tips for creating your best ham salad sandwich ever!
Use good bread – try a different hearty bread like wheatberry or sourdough.
Use condiments like mayonnaise – did you know the fat of the mayonnaise or other sandwich spread like Miracle Whip keeps the bread from getting soggy. No one wants wet bread. Sure fresh tomatoes and freshly washed lettuce are great, but not if they make your bread soggy.
Spread condiments and the filling right to the edge – don't just put the filling in the center. Spread it out so every bite is the same. Do the same with the condiments like mayonnaise. No one wants a sandwich with dry bread.
Use fresh veggies – Use tomatoes at the peak of their ripeness.
Cut the sandwich into triangles – Did you know people will eat 50% more if you simply cut your sandwich into a triangle?
If you can, get someone else to make your sandwich – a sandwich made by someone else always tastes better.
Love ham? Be sure to check out these recipes with ham
More Tasty Salads
Be sure to take a look at my copycat salad and pork recipes.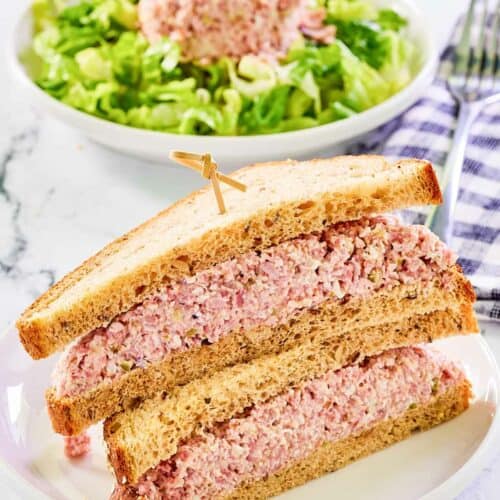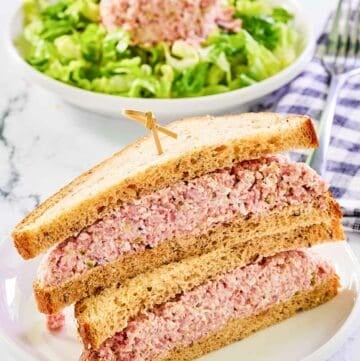 Ingredients
16

ounces

sliced ham

1

tablespoon

brown sugar

1 1/2

tablespoons

grated red onion

1 1/2

tablespoons

chopped gherkin pickles

2

teaspoons

pickle juice

2

tablespoons

mayonnaise

do not use Miracle Whip

1/2

teaspoon

salt

or to taste

1/2

teaspoon

ground black pepper

or to taste
Instructions
Place the ham slices and brown sugar in a pot and add enough water to just cover the ham. Simmer for about 20 minutes. Remove the ham from the water and let cool.

Place the ham slices, red onion, gherkin pickles, pickle juice, and mayonnaise in the bowl of a food processor. Pulse several times. Taste and season with salt and pepper.

Transfer the ham salad to a large bowl and refrigerate until ready to serve.
Notes
This recipe was adapted from Gloria, thanks to her for this delicious recipe! 
Nutrition
Calories:
342
kcal
|
Carbohydrates:
4
g
|
Protein:
24
g
|
Fat:
24
g
|
Saturated Fat:
7
g
|
Cholesterol:
73
mg
|
Sodium:
1744
mg
|
Potassium:
324
mg
|
Fiber:
0
g
|
Sugar:
4
g
|
Vitamin A:
40
IU
|
Vitamin C:
0.2
mg
|
Calcium:
11
mg
|
Iron:
1
mg