Chocolate Butterscotch Haystacks are the perfect combination of salt, sweet, and crunchy! You cannot go wrong with easy haystack cookies with butterscotch, chocolate, and chow mein noodles.
What are Haystacks made of?
I know the term haystack can be a little misleading but, they are called haystacks because the cookie resembles a haystack. Don't worry, there is no hay in these delicious cookies!
Instead, you will make the cookies with chow mein noodles, chocolate, and butterscotch. This combination will produce the most amazing chow mein butterscotch haystacks you've ever had.
Haystacks Ingredients
You'll be able to find everything you need at your local grocery store for these chow mein noodle cookies. Here's a handy list to make sure you add these items to your next pick-up order or grocery list.
Chocolate chips
Butterscotch chips
Chow Mein noodles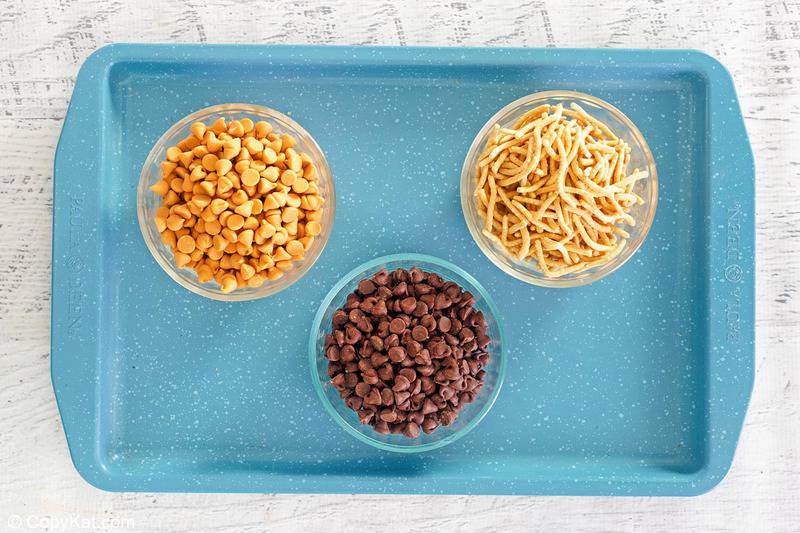 Recipe Variations
This recipe is perfect for being creative. You can add more things to this recipe to suit what you and your family like. Here are a few of my favorite things to add to these butterscotch haystacks:
Nuts
M&M's
Reese's Pieces
Reese's Peanut Butter Cups chopped up
Crushed pretzels
Marshmallows
How to Make Chocolate Butterscotch Haystacks
Combine chocolate chips and butterscotch chips in the top pan of a double boiler. Heat over hot water until melted, stirring occasionally until blended and smooth.
Remove the mixture from the heat and stir in the noodles.
Drop by rounded spoonfuls onto waxed paper. Let stand until firm.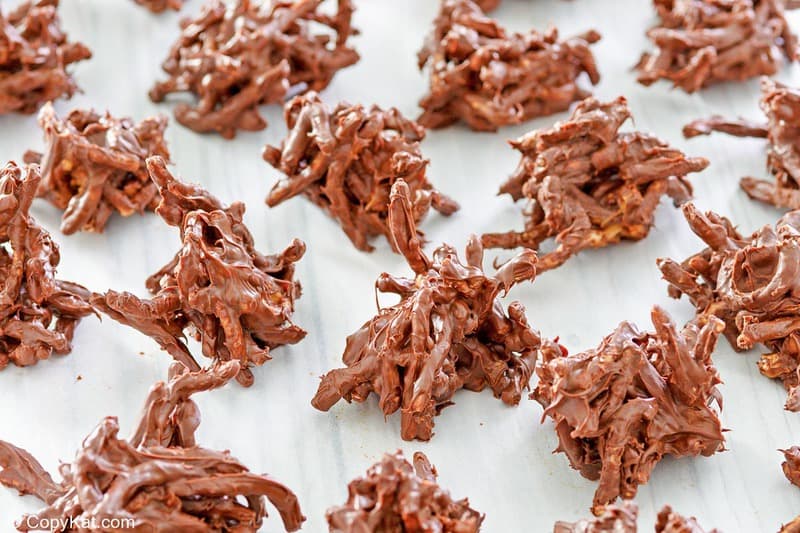 Tips for Making the Perfect Butterscotch Haystacks
Sometimes getting no-bake cookies to set properly can be difficult. Use these tips to help make the best haystack cookies:
Use a Double Boiler
When you melt the chocolate and butterscotch using a double boiler, you are less likely to burn the chocolate mixture, which can cause it to seize and prevent it from setting properly. When you use the microwave, the chocolate can get overheated.
Use Wax Paper
When you are ready to drop the haystacks, make sure you are using wax paper. This will allow the cookies to set but not stick to the paper.
Spray Your Spoon with Nonstick Spray
Once the cookie mix is ready to drop, coat your metal spoon with nonstick cooking spray. This helps the cookie slide off the spoon to give you the best "drop" to form the haystacks without having to use your fingers.
Use Two Spoons when Dropping the Cookies
Using two spoons will avoid having to use your fingers when dropping the cookies on the wax paper. Use one spoon to scrape out the scoop from the other spoon.
How long does it take the chocolate and butterscotch to set?
After you have dropped the cookies onto the wax paper, it is best to let them sit for 30 to 40 minutes before picking them up and moving them to a container or serving tray.
If you need them to set faster, I would suggest placing the wax paper on a cookie sheet BEFORE you drop the cookies onto it, and then place the cookie sheet in the fridge. This should speed up the time that the cookies need to set.
How to Store Haystacks
These haystacks can be stored in an airtight container either on your counter or in the fridge. I would not suggest a bag though, as they can break and fall apart easily if they are not protected.
Can You Freeze Haystack Cookies?
Yes! These chow mein noodle cookies freeze wonderfully! Just store them in a freezer-safe container for up to 3 months.
Take them out of the freezer at least 12 hours before you need them and set them out at room temperature to thaw.
Love homemade cookies? Try these recipes!
Favorite Candy Recipes
Check out more of my easy cookie recipes and the best candy recipes here on CopyKat!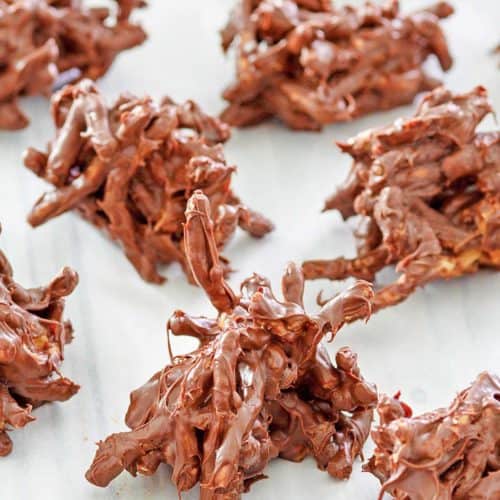 Ingredients
2

cups

semisweet chocolate chips

6

ounces

butterscotch chips

5

ounces

chow mein noodles
Instructions
Combine the chocolate chips and butterscotch chips in the top pan of a double boiler. Heat over hot water until melted, stirring occasionally.

Remove from the heat, and stir in the noodles.

Drop rounded spoonfuls onto waxed paper. Let stand until firm.
Nutrition
Calories:
141
kcal
|
Carbohydrates:
18
g
|
Protein:
1
g
|
Fat:
7
g
|
Saturated Fat:
3
g
|
Cholesterol:
1
mg
|
Sodium:
79
mg
|
Potassium:
92
mg
|
Fiber:
1
g
|
Sugar:
11
g
|
Vitamin A:
15
IU
|
Calcium:
10
mg
|
Iron:
1.2
mg