These Dairy Queen onion rings are from restaurants in Southeast Texas. All Dairy Queens are not equal, some do only ice cream treats, some are Brazier stores, and some are not. I made countless of these during my days at the DQ.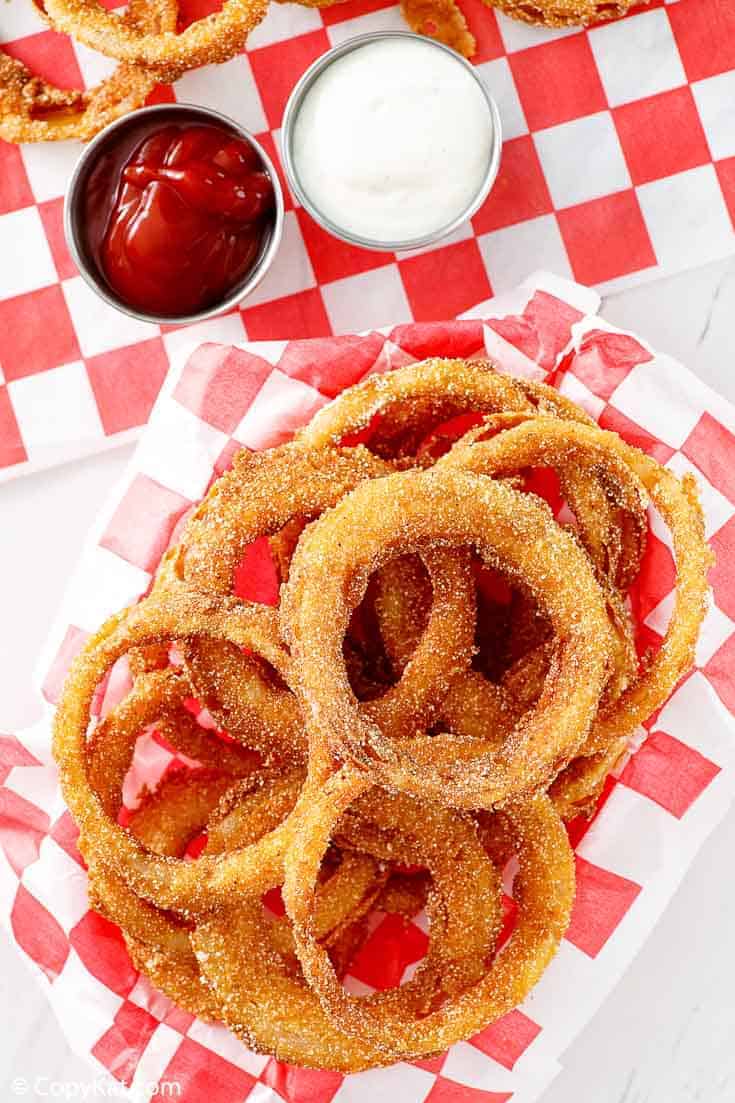 This post contains affiliate links. As an Amazon Associate, I earn from qualifying purchases.
Homemade Onion Rings
This copycat Dairy Queen onion rings recipe is based on onion rings made in Southeast Texas restaurants. I made countless numbers of these during my days at Dairy Queen.
These homemade onion rings are crispy with just the right amount of crunch and perfectly seasoned. You can make them in your kitchen with this easy copycat onion rings recipe. All you need are a few simple ingredients.
Dairy Queen Onion Rings Ingredients
What you need to make this recipe:
Vidalia Onions
Flour
Cracker crumbs
Cornmeal
Vegetable oil for frying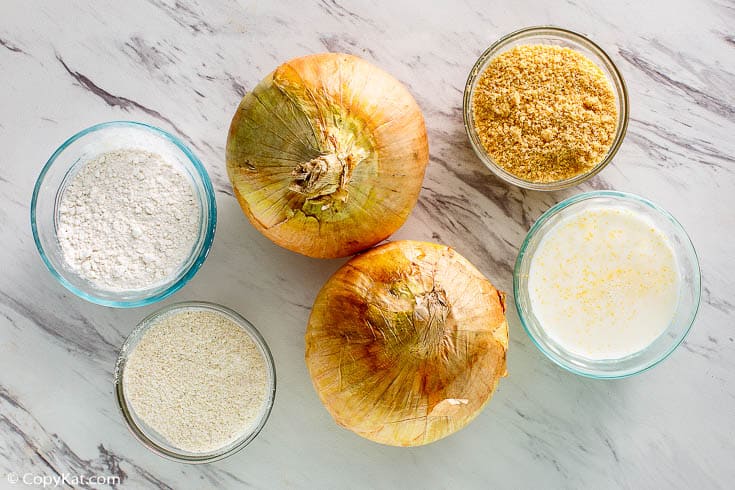 What Are the Best Onions for Onion Rings?
Fragrant and tasty sweet onions such as Vidalia, Walla Walla, Texas, or Maui are the best options for making delicious and crunchy onion rings. They don't come with the sharp and pungent taste of some onions.
They are also usually flatter than other kinds of onions, so make the best-shaped rings.
How to Make Crispy Onion Rings
Deep-fried onion rings should be crisp on the outside but tender within. Here are some tips:
Ice-cold batter will stick better to the onion rings while frying and make them crisper. Many people also like to chill their onion slices in ice-cold water for at least ten minutes. Make sure to thoroughly dry off your rings using paper towels before coating them with batter.
Heat the oil over medium-high heat. Allow it to heat up hot enough to fry, but not to smoke. The best temperature is 375 degrees. Use a deep-fry or candy thermometer attached to the side of your pot/frying vessel. This helps you adjust the temperature if it does not remain consistent. If the temperature becomes too low, the rings will soak up too much oil, and you will end up with soggy rings.
Cook the onion rings in small batches, so they don't stick together. When one side is fried, turn them over to brown on the other side. The process should take about three minutes.
Don't place your cooked onion rings directly on top of paper towels to drain. If you do so, the onion rings will soak up whatever oil ends up on the paper towel. Instead, place some paper towels on a cookie sheet and then lay a wire cooling rack on top. Place your fried rings on top of the rack to drain, so they don't sit in oil.
Season with some salt and serve your perfect crispy onion rings immediately.
How to Deep Fry Onion Rings
Place flour in a shallow bowl.
In a large bowl, combine buttermilk and water.
In a separate bowl, combine cracker crumbs and cornmeal.
Coat onion rings one at a time with flour, dip them in buttermilk, and then dredge in cornmeal mixture.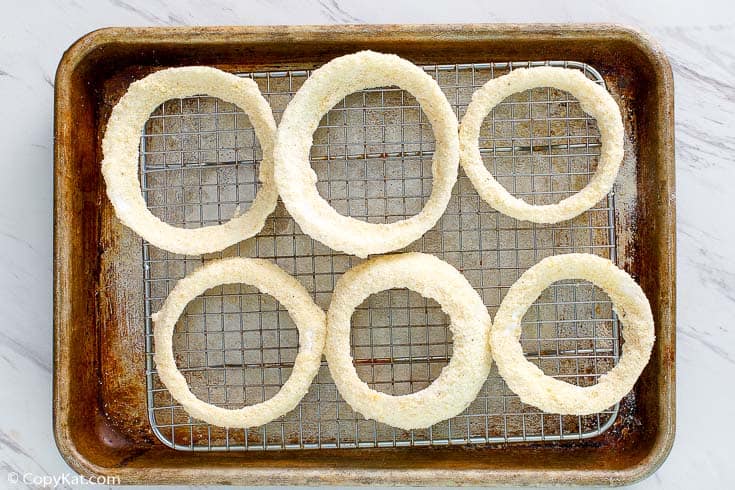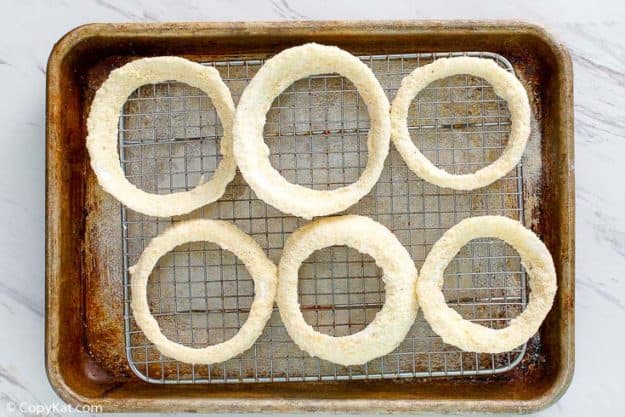 Heat oil in a large saucepan or deep-fryer to 375 degrees F (190 degrees C).
Working in batches, fry the battered onion rings in the hot oil until browned, about 5 minutes.
Remove fried onions from the oil with a slotted spoon and drain them on a wire rack.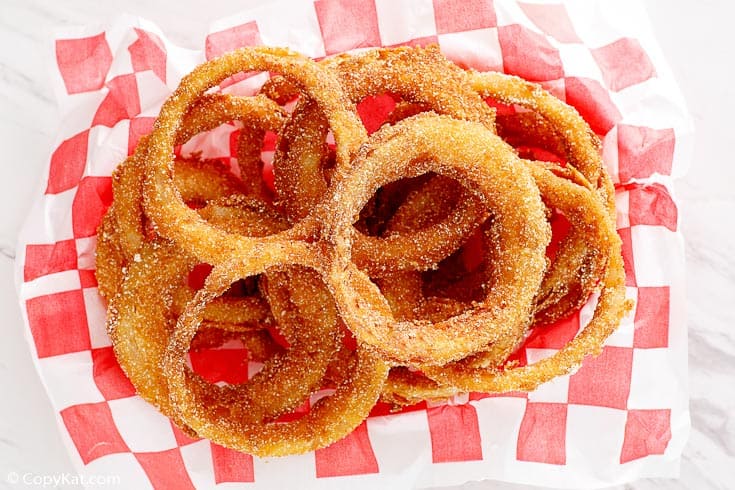 What is a Good Dipping Sauce for Onion Rings?
There are unlimited different sauces for you to dip your crunchy onion rings into. Dipping sauces can be based on mayo, ketchup, mustard, cheese, and more. They can be sweet or spicy. Here are a few recipes:
CopyKat Tip: Make dipping sauces a day ahead to allow the flavors to mature. If the sauce thickens too much, add a little water to thin it out.
Are Dairy Queen Onion Rings Vegan?
The answer is no. Buttermilk is not vegan, and you would need to closely examine the ingredients in the crackers you use to make cracker crumbs. However, you can make vegan onion rings.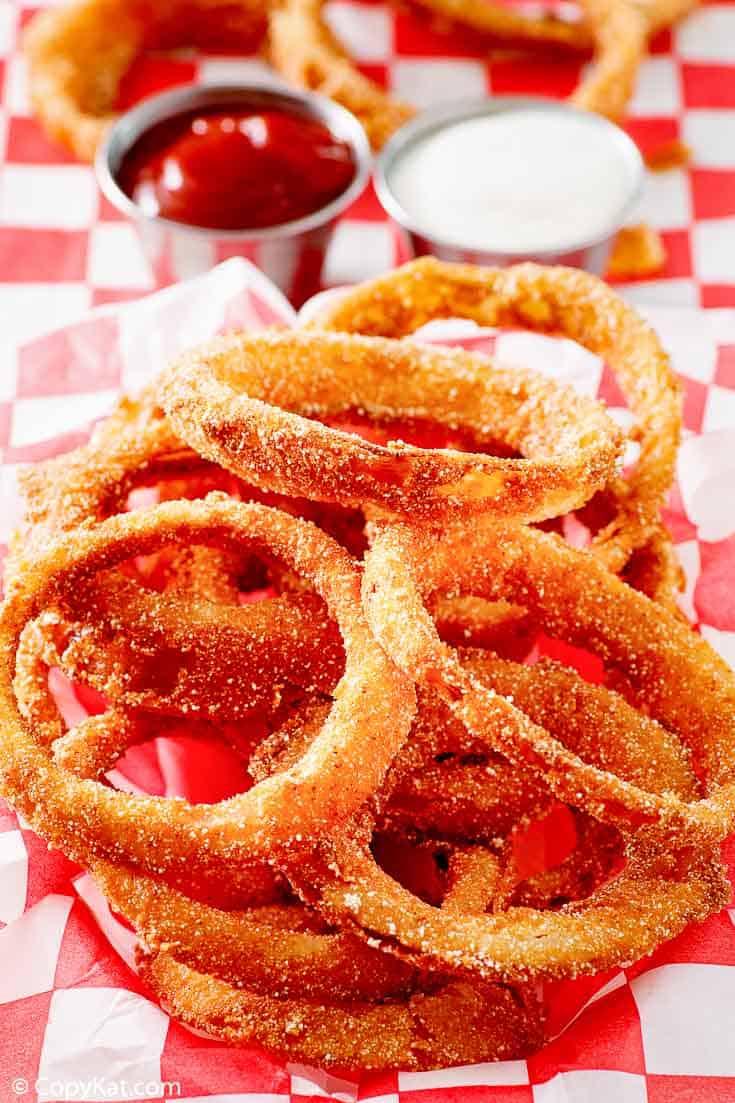 Love Dairy Queen and great fast food recipes? Try these!
Don't Miss These Reader's Favorities
Check out more of my easy side dish recipes and the best fast food recipes here on CopyKat!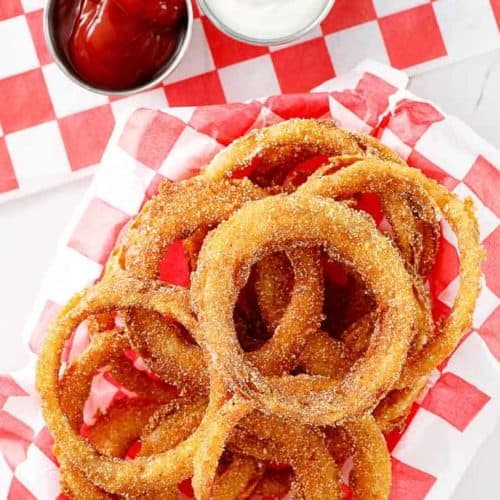 Ingredients
2

Vidalia onions

or 1015 sweet onions sliced into rings

2

cups

flour

2

cups

Buttermilk

1

cups

water

2

cups

fine cracker crumbs

2

cups

white cornmeal

vegetable oil

for frying
Instructions
Slice onions 1/2 inch thick. Do not use the very small rings, save those for chopped onions.

Place the flour in a shallow bowl.

In a large bowl, combine buttermilk and water.

In a separate bowl, combine cracker crumbs and cornmeal.

Take out rings one at a time and coat them with flour, then with buttermilk, and then coat with cornmeal mixture.

Drop battered onions into hot oil and fry until golden.
Nutrition
Calories:
409
kcal
|
Carbohydrates:
73
g
|
Protein:
11
g
|
Fat:
7
g
|
Saturated Fat:
2
g
|
Cholesterol:
6
mg
|
Sodium:
205
mg
|
Potassium:
406
mg
|
Fiber:
6
g
|
Sugar:
8
g
|
Vitamin A:
100
IU
|
Vitamin C:
4
mg
|
Calcium:
118
mg
|
Iron:
3.8
mg