La Madeleine Tomato Basil Soup is a classic soup. Perfect for a cold winter day or hearty lunch, La Madeleine is known for its tomato basil soup. This is another signature dish from the famous French restaurant and bakery, you can enjoy the flavors of the French countryside at home.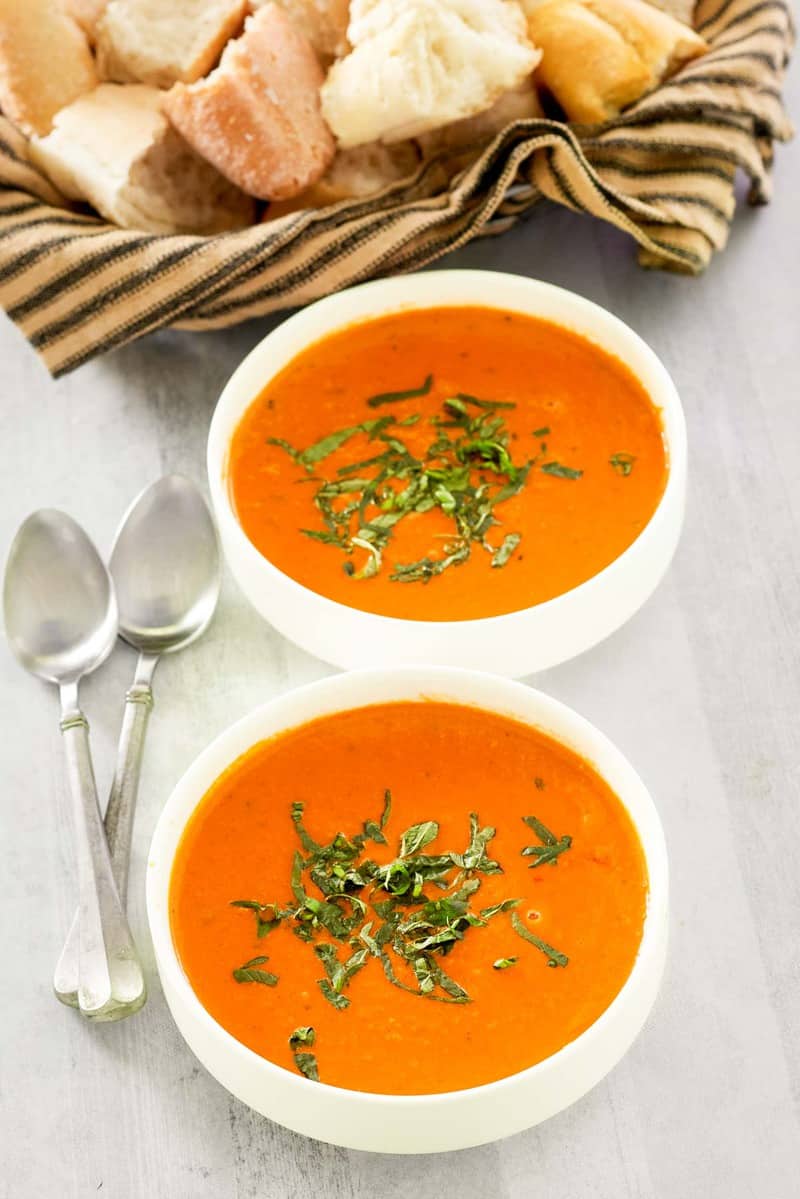 This post contains affiliate links. As an Amazon Associate, I earn from qualifying purchases.
Creamy Tomato Basil Soup
If you need an easy but tasty homemade soup, this recipe for La Madeleine tomato basil soup is the best one. It is the best creamy tomato basil soup you will ever have.
The soup is rich and creamy and simply packed with flavor. Fresh basil leaves add a lot of flavor to this recipe. Since many grocery stores sell fresh basil, you don't need to let that stop you when making this tomato basil soup.
What Makes La Madeleine Tomato Basil Soup So Good?
I can not emphasize this enough, it is the fresh basil! The fresh basil used in this recipe is a powerhouse of flavor that sets this homemade tomato basil soup apart from the others. Not to mention that it is super creamy and delicious.
You can turn this soup into its own meal and walk away completely satisfied. So, do not pass on this tomato basil soup with canned tomatoes just because it is a simple soup recipe.
Why Is La Madeleine's Tomato Basil Soup the Best?
There is something magical about tomato soup. It has the power to make you feel cheerful even on the bleakest of days.
Maybe it's childhood memories of the steaming bowl of tomato soup that waited for you after an afternoon playing in the snow. Perhaps it's just the balance of flavors and the warmth that makes a bowl of tomato soup feel like a giant hug.
Whatever the reason, a good tomato soup is a wonderful thing, and this recipe makes gosh darn great tomato soup.
Can You Make Homemade Tomato Basil Soup That Tastes Just as Good as La Madeleine?
Yes, this copycat recipe will produce the closest thing to La Madeleine's tomato basil soup recipe.
Why This Is the Best Copycat Recipe for Homemade Tomato Basil Soup
Basic, honest ingredients make the best food, and that is what this La Madeleine tomato basil soup recipe delivers. Nothing fancy or complicated, and the results are about as decadent a tomato soup as you ever had.
Ingredients For Tomato Basil Soup
Another thing that is great about this recipe is you only need a few ingredients. Here's the list:
Tomatoes
Tomato juice*
Fresh basil leaves
Heavy cream – heavy cream really is best, it will reheat better than using whole milk.
Unsalted butter
Salt
Fresh ground black pepper
*You can use half tomato juice and half chicken or vegetable stock.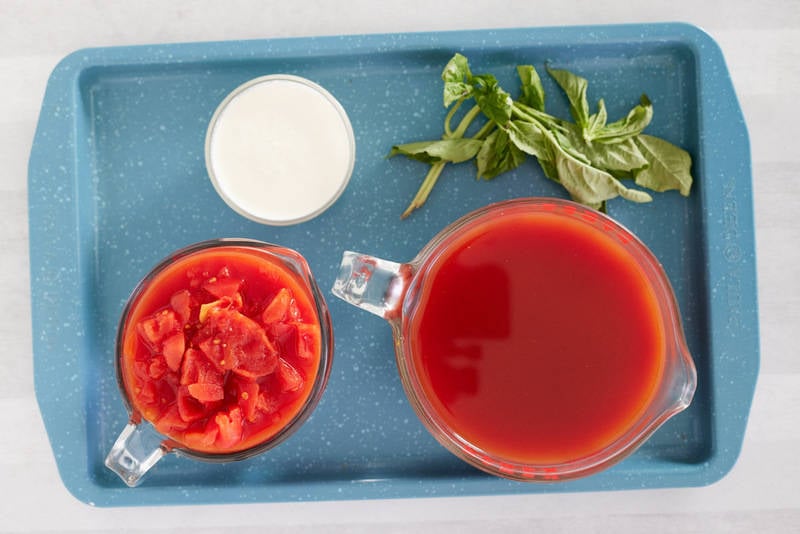 Homemade Tomato Basil Soup Ingredient Notes
You can use fresh or canned tomatoes for this recipe. Both will work just fine, I like to use San Marzano tomatoes. San Marzano tomatoes are grown in Italy in volcanic soil.
I have also used Kirkland brand from Costco with great results. One thing I don't skip on is the use of fresh basil. Fresh basil is what makes this soup extra special.
How To Make Tomato Basil Soup
Here are the simple steps for this recipe:
Once you have your tomatoes prepped, begin by combining the tomatoes, tomato juice, and basil leaves in a large saucepan.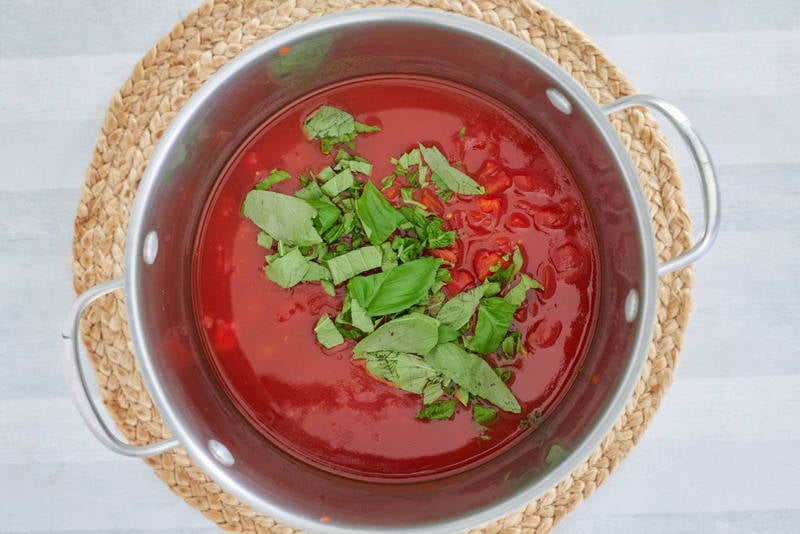 Then turn on the heat to high and let the mixture boil for 1-2 minutes and then reduce the heat and let it simmer for 30 minutes.
After 30 minutes, add in the unsalted butter and heavy cream to the pot, meanwhile continuing to stir it together until the butter melts.
When the butter has completely melted, remove the tomato soup from the heat.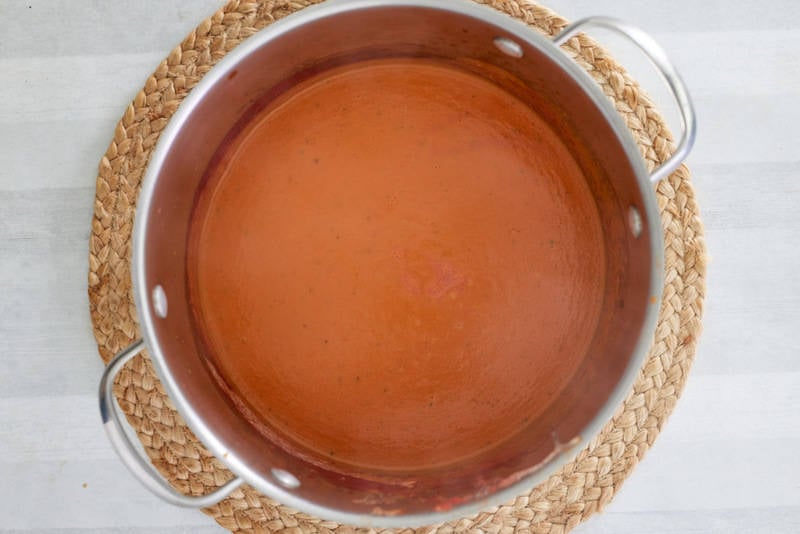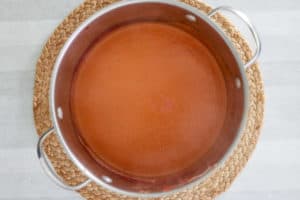 After all of the soup has been pureed, return the soup to the pot and bring it to a medium-low heat and add in the salt and pepper to your liking.
Now just serve the creamy tomato soup with fresh basil leaves and bread for dipping and you have a great meal.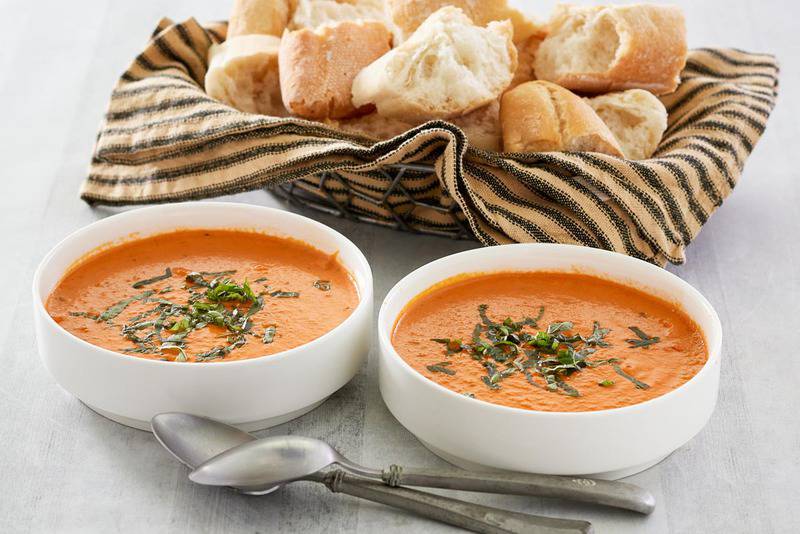 Recipe Variations
You can change this recipe up with different tomatoes and flavors:
Use canned tomatoes instead of fresh tomatoes
Use fire-roasted tomatoes for a roasted tomato soup.
Add garlic or oregano.
It is completely up to you! Whichever you chose will help develop the overall flavor profile of the soup.
Best Tool to Puree Soup
If you have tried this soup before you will know it is a fairly smooth soup. For this recipe, I like to use a stick blender (also called an immersion blender). A stick blender is easy to use, you simply immerse the blender into the soup, and puree away.
You can puree this soup in a regular blender, but be careful because the soup will be hot. When you need to puree the soup, do it in batches. Do not fill the blender to the top. Also, hold the top because the top may come off while blending.
How to Serve Tomato Basil Soup
You can keep it simple for serving tomato basil soup. Sprinkle on a little bit of cheese (I like cheddar or pepper jack cheese).
If you want a little crunch try some homemade air fryer croutons or crostini or even some fresh crusty bread.
What Goes With Creamy Tomato Basil Soup?
A really good grilled cheese sandwich is tough to beat, but pairing it with any sandwich makes a great lunch or an easy supper. You can also serve it with one of these:
How to Store Leftover Tomato Basil Soup
Since this recipe contains cream, it won't last as long as some other soups in the fridge. Try to finish any leftovers within two days. To minimize spoilage, you need to cool the tomato soup as quickly as possible.
Fill a large mixing bowl halfway with ice and water. Put a smaller metal mixing bowl into the ice-water bath and let it get cold.
Pour the soup into the smaller bowl and stir until cold.
Transfer the cold soup into an airtight container and store it in the fridge.
Can You Freeze Tomato Basil Soup?
The cream in this recipe does not freeze well. It is probably not a good idea to freeze creamy tomato basil soup.
How to Reheat Tomato Basil Soup
Reheating in the microwave doesn't do justice to this tomato soup, so warm on the stove if possible. Cook slowly over low heat until steaming. Stir constantly and add a little cream or stock to thin out the soup if it gets too thick.
If you must use a microwave, reheat the creamy tomato soup in 30-second increments and stir between each. Be careful not to overheat the soup.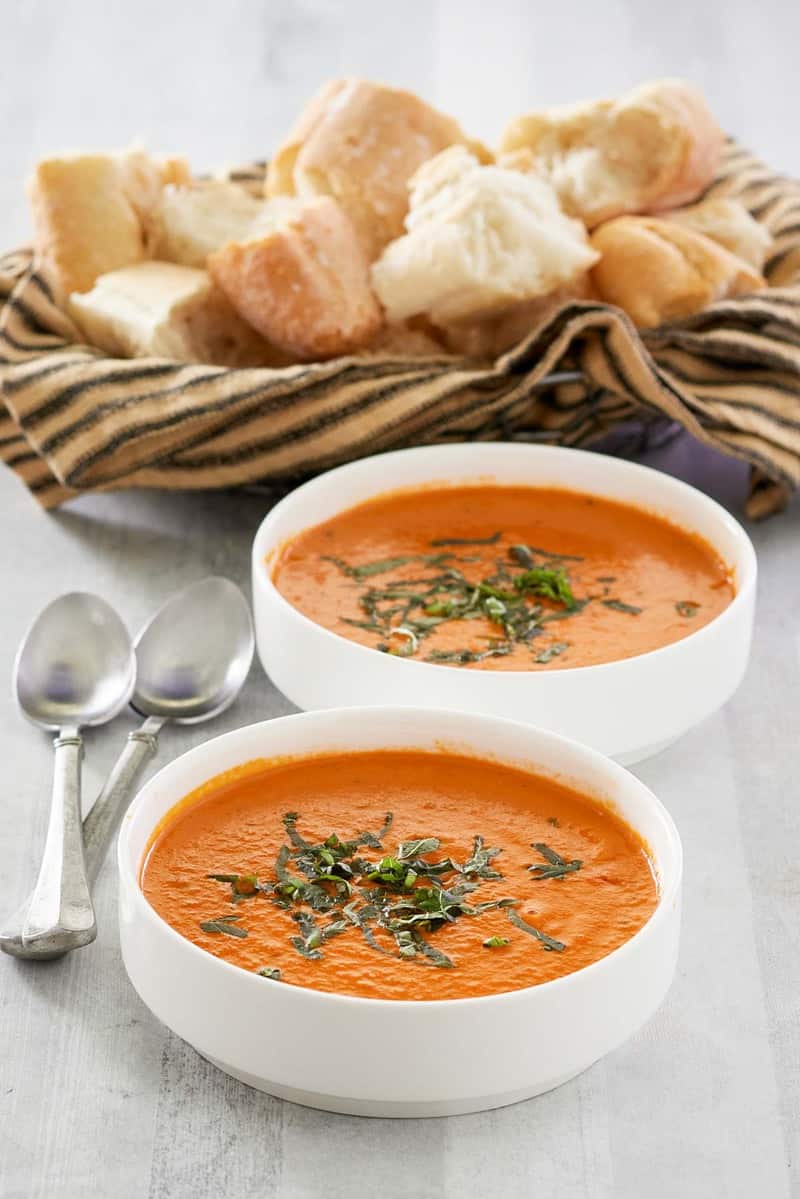 Tomato Basil Soup Frequently Asked Questions:
How high of a temperature should you take tomato basil soup to?
For creamy or thick soups like this, you will want to bring it up to 190 to 200 degrees Fahrenheit, or 88 to 90 degrees Celcius.
How Many Calories Are in La Madeleine Tomato Soup?
According to the La Madeleine website, a bowl of creamy tomato basil soup contains 540 calories, with 450 calories coming from fat. A cup of soup has 270 calories, 230 from fat.
Is Tomato Basil Soup Healthy?
Tomato soup is quite wonderful for you, which is often why it is good for you to have while you are sick.
If you want to know in-depth details as to why it is good for you, Healthline has a great article about the 9 surprising tomato soup benefits that you will find very interesting!
Is Tomato Basil Soup Keto?
Yes, based on the number of net carbs in this creamy tomato basil soup recipe, the soup is keto-friendly. It does not have added sugars or artificial sweeteners.
Is La Madeleine Tomato Soup Vegetarian?
This soup is vegetarian, but it is not appropriate for anyone vegan since it contains heavy cream and butter.
Is Tomato Bisque the Same as Tomato Basil Soup?
Technically, this creamy tomato basil soup is bisque because it has a smooth consistency and heavy cream. But whatever you call it, it's delicious.
How Do You Make Tomato Basil Soup Less Acidic?
Choosing fresh tomatoes over canned tomatoes will significantly reduce the acidity of this soup. That's because it is necessary for canning, so people choose tomatoes with high acid levels. This is especially true for any tomatoes canned at home.
You can also add a little baking soda to the simmering tomatoes to neutralize some of the acidity. An eighth of a teaspoon of baking soda should round off the aggressive bite without over-sweetening the soup as sugar will do.
What's the Difference Between Classic and Creamy Tomato Soup?
Classic tomato soup doesn't contain cream. Instead, you will see traditional tomato soup recipes that call for chicken or another type of stock.
How Do You Thicken Tomato Basil Soup?
Simmering the soup uncovered over low heat will naturally thicken the soup while at the same time sweetening and concentrating the flavors.
But, if you don't have time for that, you can try stirring in half a tablespoon of cornstarch dissolved in a tablespoon of water four to five minutes before finishing cooking.
Do You Need to Peel Tomatoes for Soup?
This homemade tomato basil soup recipe calls for using peeled tomatoes, but if you don't mind passing the soup through a strainer before serving, go ahead and leave the peels on.
Tomato peels are full of flavonols which some people may find to have an unpleasant bitter taste, but researchers have linked them to several health benefits.
At the end of the day, it is up to you whether you peel the tomatoes for this recipe.
Do you love tomato soup? Try these recipes!
Popular Soup Recipes
Check out more of my easy soup recipes and the best copycat restaurant recipes here on CopyKat!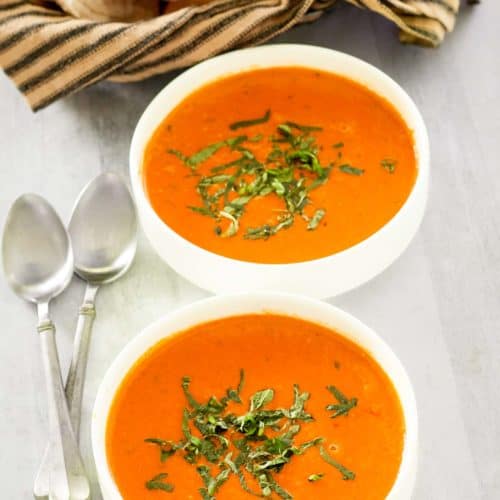 Ingredients
4

cups

tomatoes

peeled, cored, and chopped, or 4 cups canned chopped tomatoes

4

cups

tomato juice

12

fresh basil leaves

plus extra for garnish

4

ounces

unsalted butter

1

cup

heavy cream

salt

to taste

freshly ground black pepper

to taste
Instructions
Place the tomatoes, tomato juice, and basil in a soup pot or large saucepan. Bring the mixture to a boil. Then reduce the heat and simmer for 30 minutes.

Add the butter and heavy cream. Stir and cook until the butter is melted.

Puree the soup in small batches in a blender or food processor, or use a hand-held immersion blender to puree the soup in the pot.

Return the soup to the pot and bring to a simmer.

Add salt and pepper to taste.

Garnish the soup with basil leaves, and serve it with your favorite bread.
Notes
Soup Variations
You can substitute the 4 cups of tomato juice with vegetable stock, and/or chicken stock if desired. Here are my recommended variations.
2 cups tomato juice and 2 cups of chicken stock – I personally think the flavor is more well-rounded this way.
2 cups tomato juice and 2 cups of vegetable stock – perfect for when you want the soup vegetarian and not vegan.
Swapping out all of the tomato juice takes away from the tomato flavor of the soup. I typically make the soup with all tomato juice, or half tomato juice, and half chicken stock.
Excerpted from an article by Beverly Bundy of the Fort Worth Star-Telegram around May 20, 1994.
Nutrition
Calories:
477
kcal
|
Carbohydrates:
17
g
|
Protein:
4
g
|
Fat:
45
g
|
Saturated Fat:
28
g
|
Cholesterol:
142
mg
|
Sodium:
57
mg
|
Potassium:
954
mg
|
Fiber:
2
g
|
Sugar:
12
g
|
Vitamin A:
3980
IU
|
Vitamin C:
65.4
mg
|
Calcium:
85
mg
|
Iron:
1.4
mg