Chili's Baked Potato Soup is creamy, hearty, and delicious comfort food. Topped with bacon, cheddar cheese, and chives, this is a great loaded potato soup to enjoy for lunch or dinner.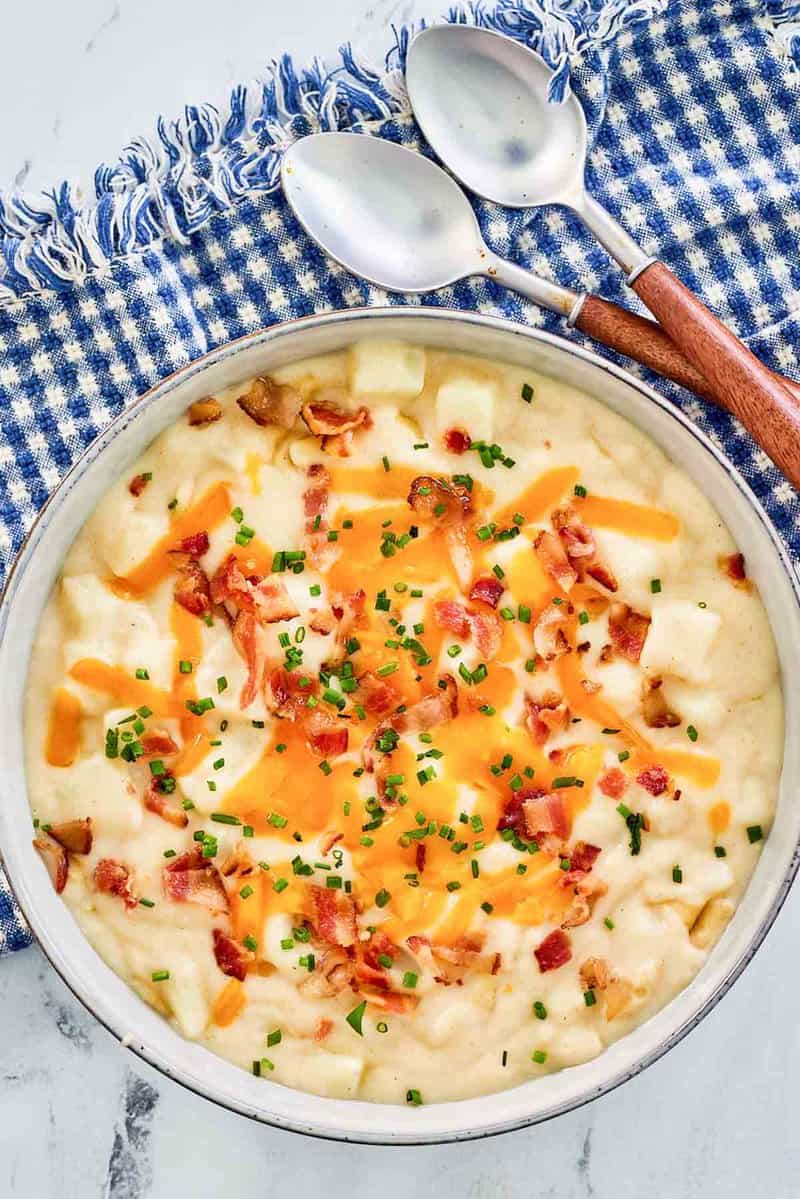 This post contains affiliate links. As an Amazon Associate, I earn from qualifying purchases.
What Makes Chili's Baked Potato Soup So Cravable?
Who doesn't like a baked potato when it is overflowing with cheese and bacon? This recipe delivers all the flavor of your favorite baked potato in soup form.
Whether you bring it to the office for a light lunch or serve it as a starter at dinner, Chili's Loaded Baked Potato Soup is as comforting and filling as it is delicious.
Why This is the Best Chili's Baked Potato Soup Recipe
Some versions of this recipe call for mashed potatoes to thicken the soup base. This Chilis potato soup recipe takes a different approach by using a roux to thicken the stock.
The resulting chicken veloute soup base is never gritty or gummy like other baked potato soups, and once the soup is thinned out with heavy cream, it develops a velvety mouthfeel.
When you combine the rich texture of the base with the hearty chunks of potatoes and the saltiness from the bacon and cheddar cheese, you have the perfect recipe that's a real winner!
Chilis Baked Potato Soup Ingredients
To make Chili's Loaded Baked Potato Soup, you'll need:
Unsalted butter
All-purpose flour
Chicken stock
Heavy cream
Medium Potatoes (Russet)
White pepper
Cooked bacon
Chives
Cheddar cheese, shredded
The type of potatoes you use is crucial. Save your waxy potatoes like Red Bliss and Fingerlings for roasting and potato salads. Instead, use more floury potatoes like Russets or Idaho potatoes.
Feel free to swap out the chicken stock and bacon for vegetable stock and imitation bacon bits to make this a vegetarian-friendly recipe.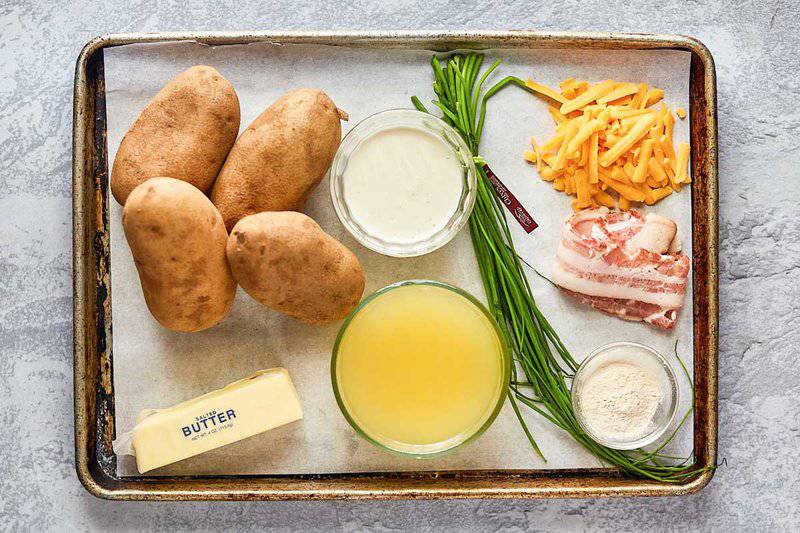 How to Make Chili's Loaded Baked Potato Soup
To prepare this Chili's potato soup recipe:
Wash, dry, and thinly slice chives and set them aside.
Rinse the potatoes under the faucet and scrub them with a kitchen towel.
Peel the potatoes and use a large knife to chop them into half-inch dice.
Put the diced potatoes in a bowl of cold water for at least about five minutes. Soaking is a crucial step because it helps soften the potatoes and draw out starch that causes the soup to become gloppy.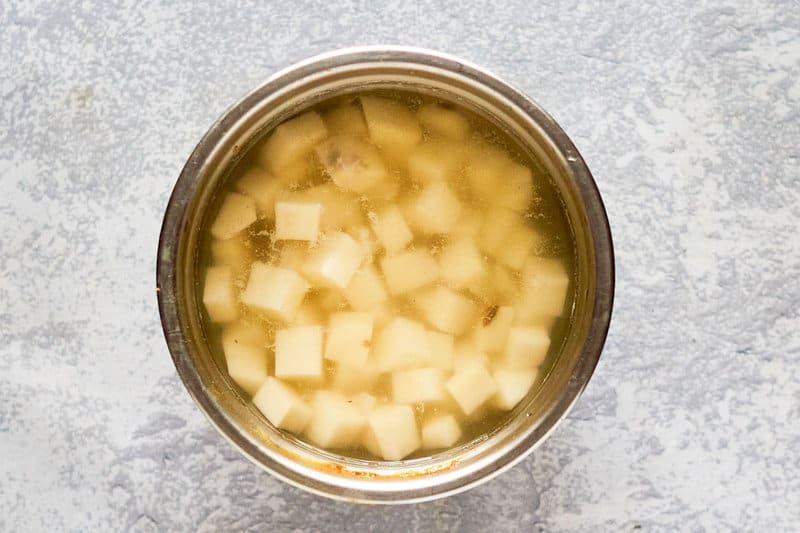 While the potatoes are soaking, make a roux in a soup pot. Start by melting the 8 tablespoons of butter over medium heat.
Once the butter stops foaming, sprinkle in 8 tablespoons of flour. Stir occasionally and cook until the flour smells like a baked pie crust and the roux is light brown.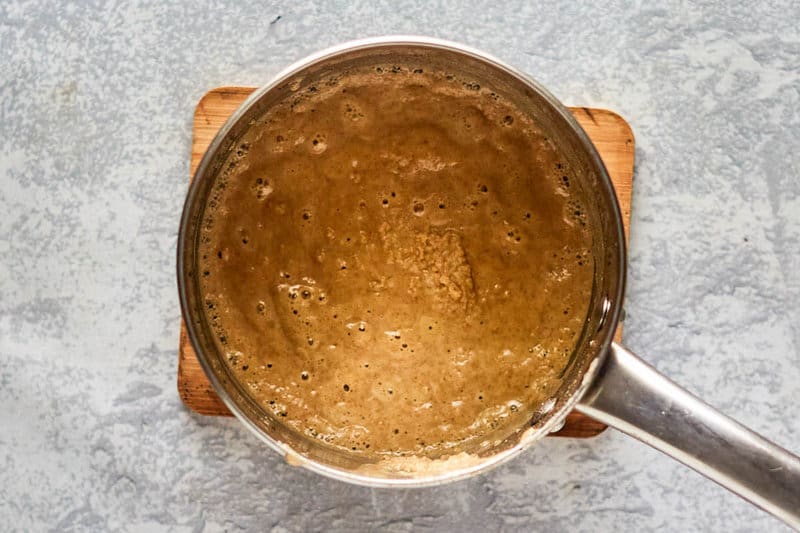 Add 6 cups of chicken stock and heavy cream to the cooked roux. Use a rubber spatula to scrape the roux from the bottom of the pot.
Drain the potatoes, and add them to the pan. Stir with a large spoon.
Adjust the heat of the stove until the soup mixture is just simmering. You do not want to boil the soup.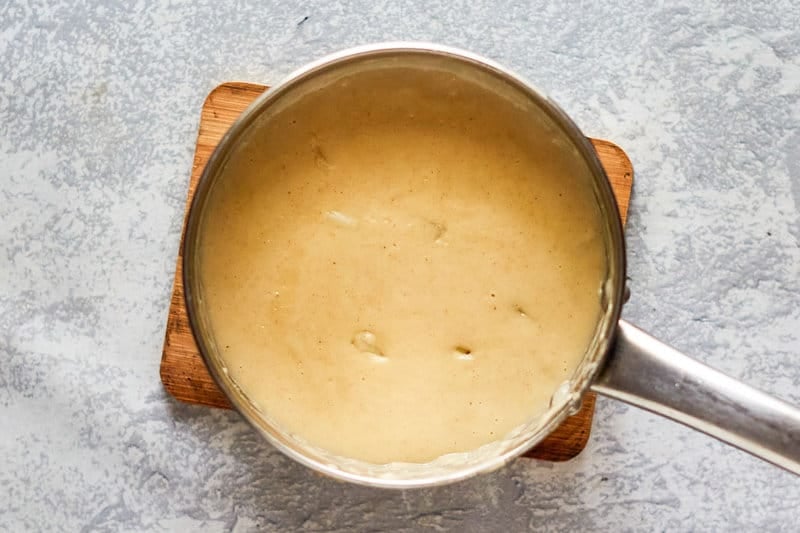 Gently simmer the potatoes until they are fork-tender.
Season the soup with white pepper and salt to taste.
Serve hot with a garnish of bacon bits, cheddar cheese, and thinly sliced chives or scallions.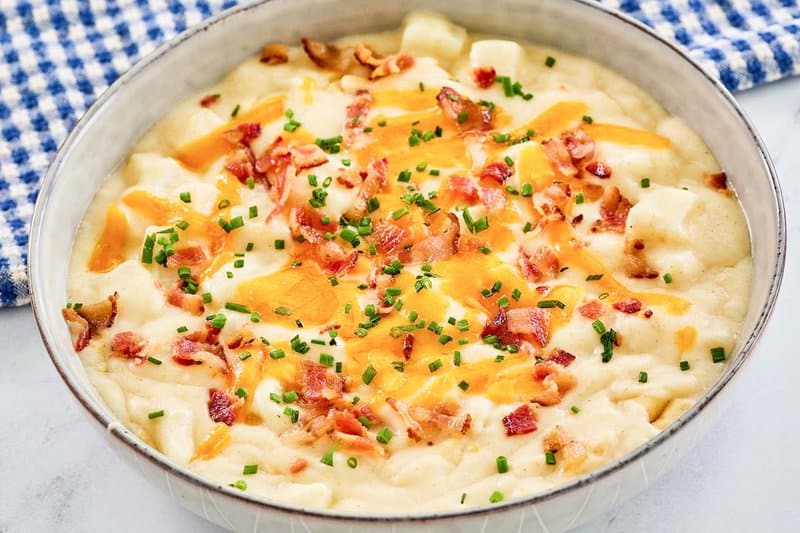 Other Topping Ideas
Anything you love on your baked potatoes is excellent as a topping for this recipe. Here are some fun combinations to get you thinking:
Beef and Cheddar Meat lovers will want to try this topping idea. Cook ground beef in a skillet, drain, and spoon over the Chilis potato soup recipe. Top with plenty of shredded cheddar cheese.
South of the Border Everyone loves Mexican food, so why not add a splash of spicy salsa, a dollop of sour cream, and plenty of queso fresco to take this recipe international?
Corned Beef This topping recreates the classic flavors of corned beef hash. Finely diced cooked corned beef and white onion. Mix well and saute in butter until crispy. Sprinkle the meat and onions on top of the soup. You can use store-bought corned beef or leftovers from this excellent Corned Beef and Cabbage recipe.
What To Serve With Chilis Baked Potato Soup
A green salad with a balsamic dressing is excellent with this soup since it is light and has a bit of acidity to it. Pair the soup with a nice steak and your favorite beer for a heartier meal.
How To Store Chili's Baked Potato Soup
To keep the soup in the fridge for up to three days, cool it and transfer it to a new container with a lid.
For longer storage, you can freeze the soup for up to two months in a freezer-safe container.
How to Reheat Baked Potato Soup for the Best Results
The best way for reheating this soup is over medium-low heat on the stove while stirring.
Storing will change the consistency and texture of the finished soup. If you find it is too thick, add some heavy cream or milk to thin it out. If the soup is on the watery side, adding a tablespoon or two of instant mashed potato flakes will thicken it wonderfully.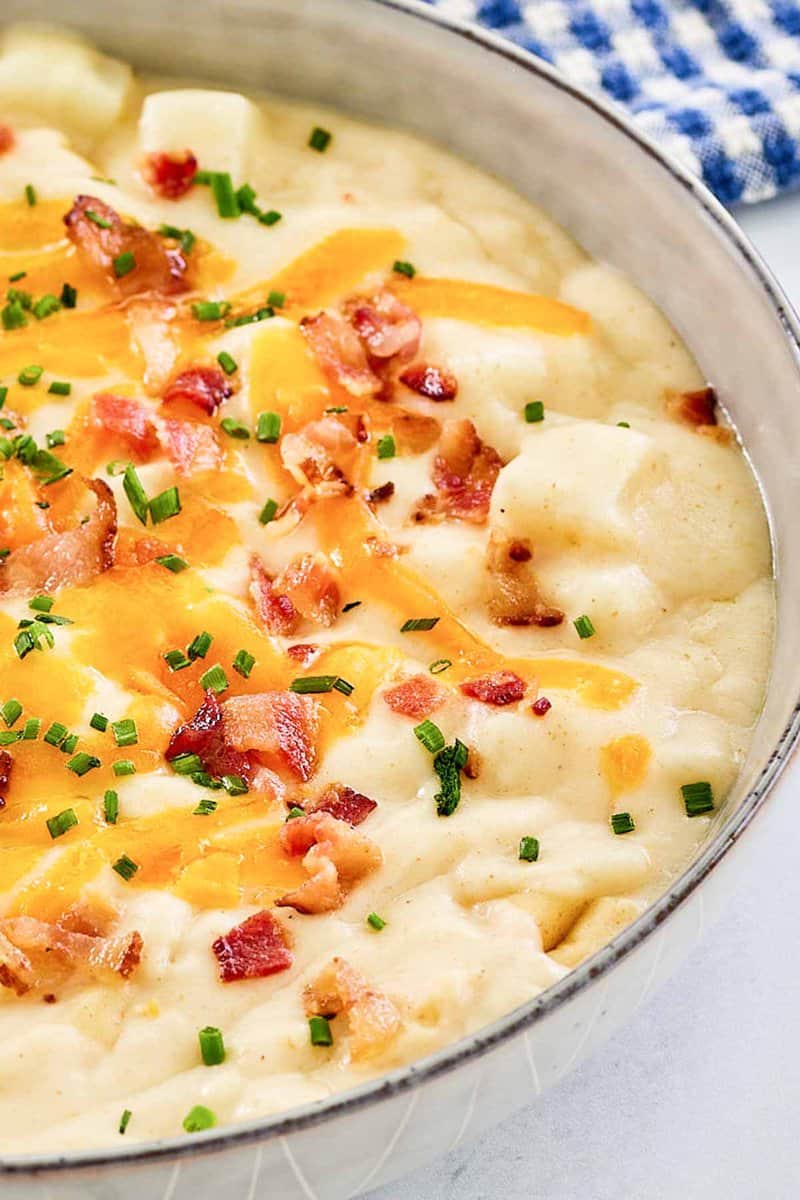 Love Chili's Grill & Bar? Try These Copycat Recipes
Popular Soup Recipes
Check out more of my easy soup recipes and the best Chili's copycat recipes on CopyKat!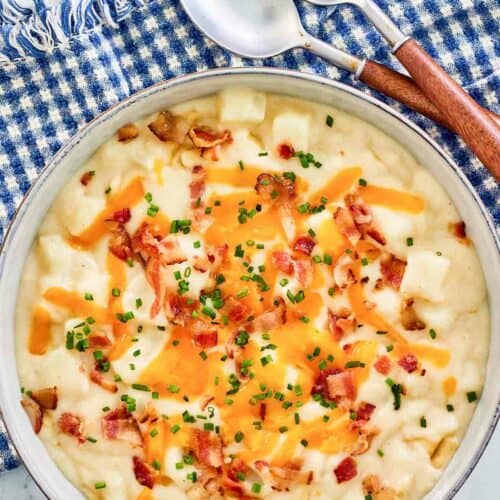 Ingredients
2 1/2

pounds

russet potatoes

washed and peeled

4

ounces

butter

½

cup

all-purpose flour

1 1/2

quarts

chicken stock

2

cups

heavy cream

2

teaspoons

salt

1

teaspoon

ground white pepper

1/2

cup

crumbled bacon

to garnish

1/2

cup

chopped chives

to garnish

1/2

cup

shredded Cheddar cheese

to garnish
Instructions
Cut potatoes into 3/8-inch cubes.

Place the potato cubes in a bowl and add enough water to cover the potatoes. Soak for 5 minutes.

Melt the butter in a large pot over medium heat.

When the butter has melted, add the all-purpose flour. Cook on medium heat for about 1 minute. The mixture should become fragrant and smell like pie dough.

Add the chicken stock and heavy cream. Stir until the soup thickens.

Drain the potatoes and add them to the pot.

Season with salt and ground white pepper.

Cook until the potatoes are fork tender, about 30 minutes.

Serve garnished with crumbled bacon, chopped green onions, and shredded cheese.
Notes
Makes one gallon of soup.
Nutrition
Calories:
572
kcal
|
Carbohydrates:
40
g
|
Protein:
14
g
|
Fat:
40
g
|
Saturated Fat:
24
g
|
Polyunsaturated Fat:
2
g
|
Monounsaturated Fat:
11
g
|
Trans Fat:
0.5
g
|
Cholesterol:
117
mg
|
Sodium:
2277
mg
|
Potassium:
894
mg
|
Fiber:
2
g
|
Sugar:
6
g
|
Vitamin A:
1418
IU
|
Vitamin C:
10
mg
|
Calcium:
122
mg
|
Iron:
2
mg