Turn up the heat on your salad with Houston's Spicy Caesar Dressing! Taking the classic Caesar to a fiery new level, this healthy salad dressing fuses the traditional creamy goodness with a bold kick of chili paste and a blend of spicy seasonings. Every drizzle promises to elevate your greens, croutons, and parmesan into a dance of flavors that's both zesty and comforting.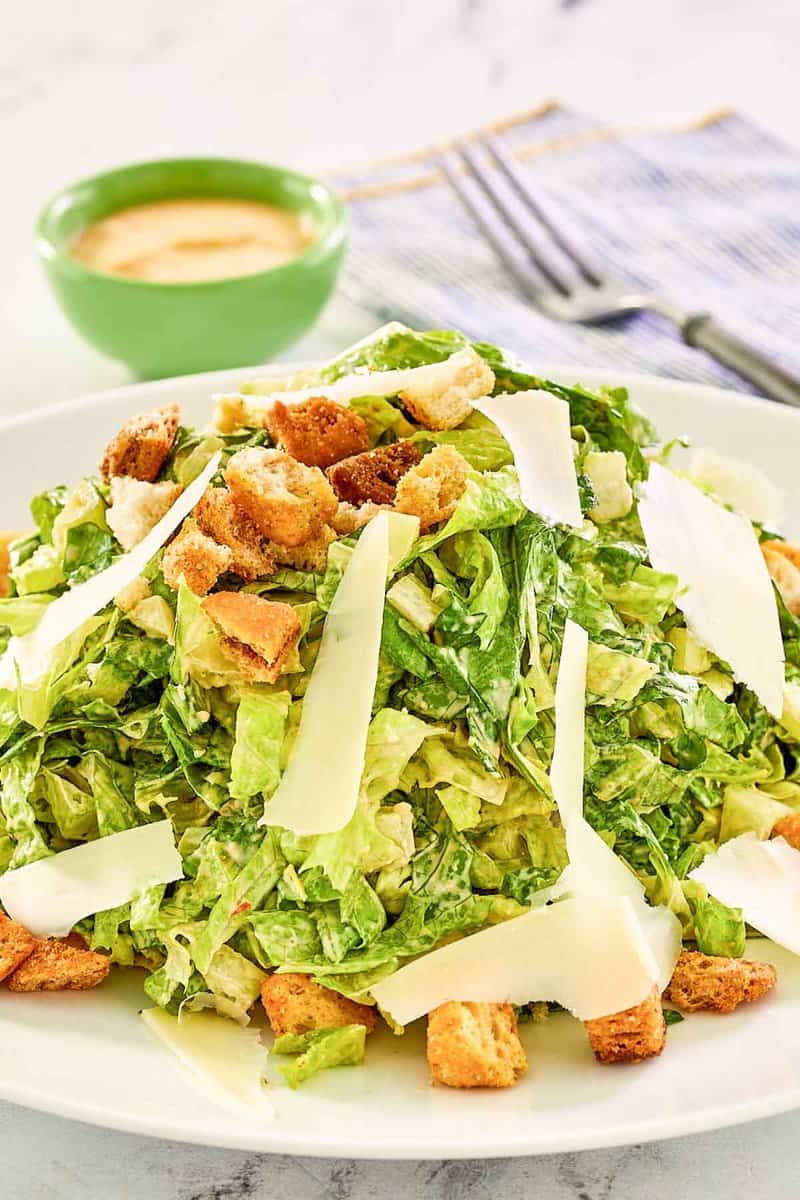 This post contains affiliate links. As an Amazon Associate, I earn from qualifying purchases.
What Makes Houston's Spicy Caesar Dressing So Good?
Do you like classic Caesar Salad but wish it had just a bit more oomph? Then this dressing is for you! Houston's Spicy Caesar Salad Dressing is certainly not afraid of making its presence known.
Think of it as a classic Caesar salad consisting of fresh eggs, extra virgin olive oils, anchovies, Dijon mustard, and plenty of fresh citrus juice mixed with just enough chili paste to get your attention. If you love spicy dressing and sauces, you will want to try this recipe.
Why You Should Try This Spicy Caesar Salad Dressing
If you are a fan of Houston's chain of restaurants, you already know the company rebranded some of its most popular locations as Hillstones back in 2010. Unfortunately, just like name changes, menus constantly evolve, and both chains replaced the spicy version of their Caesar Salad with an eggless, traditional-tasting one.
But you can still make a Spicy Caesar Salad at home with this Spicy Caesar Salad Dressing recipe, and you definitely don't need to be a master chef to do it.
Spicy Caesar Dressing Ingredients
For Houston's Spicy Caesar Salad Dressing, you'll need:
Egg yolk
Garlic
Dijon mustard
Ground black pepper
Salt
Ground coriander
Ground cumin
Worcestershire sauce
Water, ice-cold
Extra virgin olive oil
Canola oil
Sambal
Fresh lemon juice
Fresh lime juice
Parmesan cheese grated and slivers for garnish
To make the Spicy Caesar Salad, you'll need:
Romaine lettuce
Parmesan cheese
Croutons
Ingredient Notes
Eating raw eggs can cause some people to get ill. If you are concerned about using them in this recipe, consider substituting fresh egg yolks for pasteurized dried egg yolk powder.
Sambal is a type of hot sauce paste popular in Indonesia and Malaysia. There are several types of sambal, but the best one for this dressing is called Sambal Oelek. Huy Fong Sambal Oelek Chili Paste is available in some grocery stores and online in the US. If you can't find sambal oelek near you, use Thai Chili paste or Sriracha instead. 
How to Make Spicy Caesar Dressing
To prepare the dressing:
Pulse together the egg yolk, garlic, mustard, anchovies, black ground pepper, salt, coriander, cumin, Worcestershire, and ice-cold water in a food processor. Those without a food processor can finally mince the garlic and whisk together the rest of the ingredients in a mixing bowl.
Stir together the extra virgin olive oil and the canola oil. Slowly pour the combined oils into the food processor while it is on. If making the dressing without a food processor, have someone pour the oil into the bowl while you rapidly whisk
After pouring in the last of the oil, add the chili paste, citrus juices, and grated Parmesan cheese. Pulse to combine.
Transfer the dressing to an airtight container and stick in the fridge for at least 30 minutes to allow the flavors to meld together.
Shake well before using.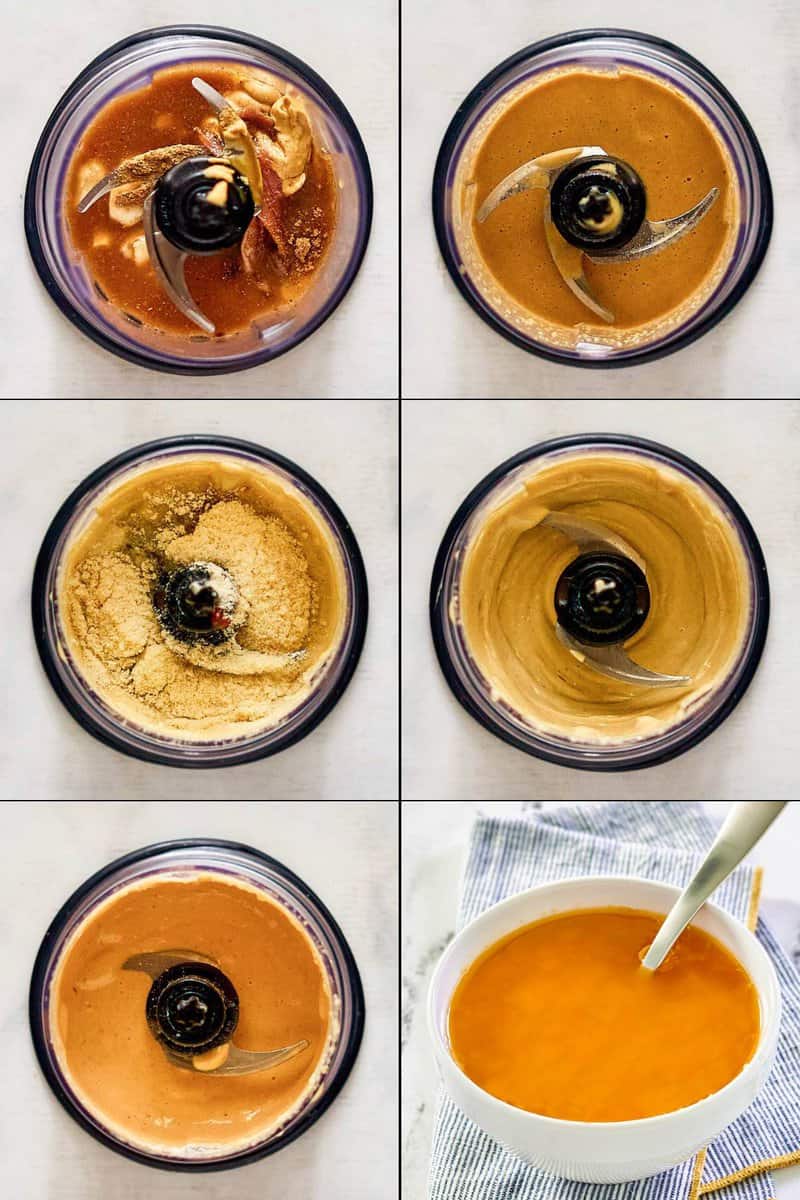 How to Serve the Dressing
One of the best ways to use this dressing is to make a Spicy Caesar Salad:
Remove any wilted leaves from a tight head of romaine lettuce.
Rinse and dry well.
Cut the romaine leaves into bite-sized pieces and place them in a large mixing bowl.
Add a few tablespoons of Spicy Caesar Dressing. Use tongs to toss and coat the lettuce well. You can use more dressing as needed.
Add croutons to the bowl and gently toss.
Plate the salad on a large plate and garnish with thick-cut Parmesan cheese slices.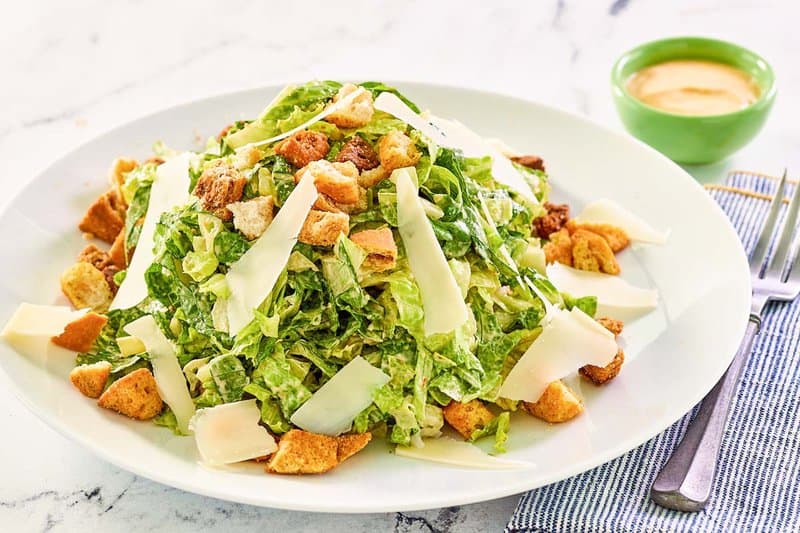 What to Serve With a Spicy Caesar Salad
This is not the typical luncheon salad that you can serve with dainty side dishes. You need something a lot hardier to stand up to the extra heat. A grilled steak or chicken would pair nicely with a Spicy Caesar Salad for dinner. And for a hearty lunch, add a side of soft breadsticks to really fill you up.
Other Ways to Use Spicy Caesar Salad Dressing
This stuff is too good just for salads. Try using the dressing by:
Swapping the dressing for ordinary mayo in potato and pasta salads.
Using as a dipping sauce for chicken fingers or nuggets.
Spreading it a burger or a hot roast beef sandwich.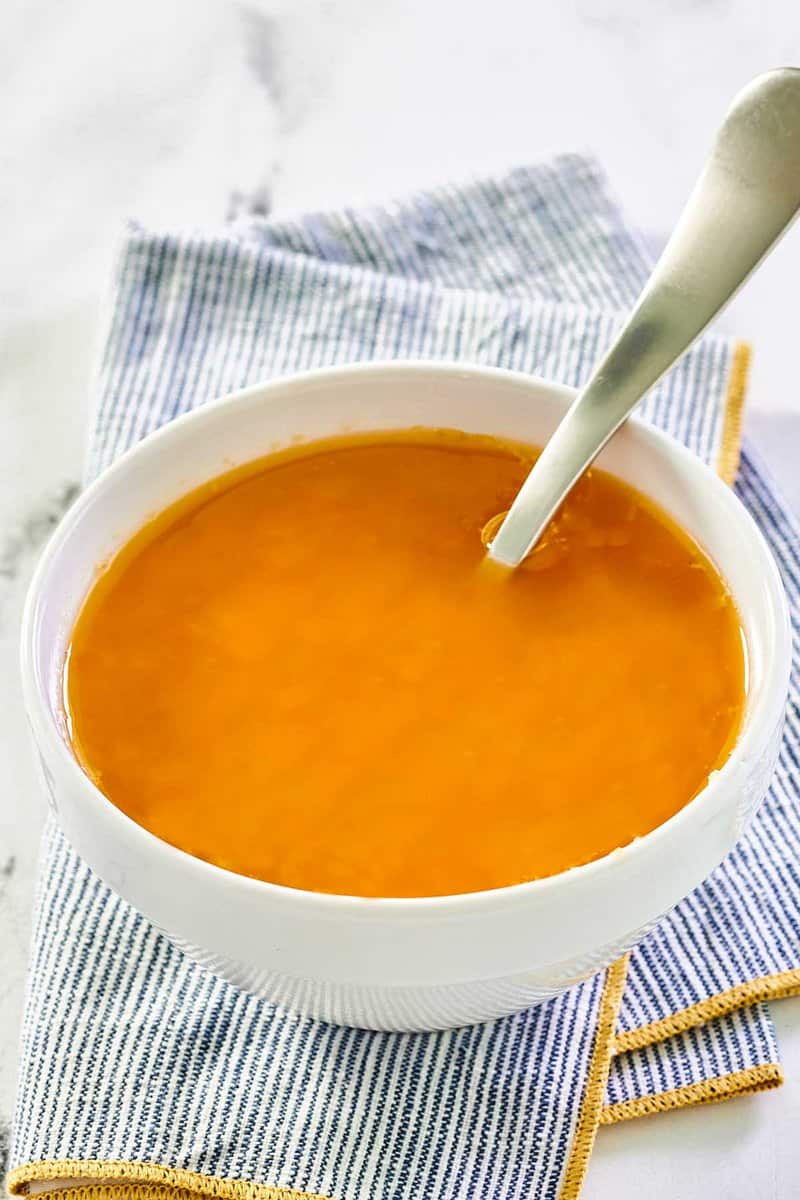 How to Store Caesar Salad Dressing With Chili Paste
Transfer the salad dressing to an airtight container and keep it in the fridge until needed. Shake the dressing well before using.
How Long Does It Last
To ensure Houston's Spicy Caesar Salad Dressing is as fresh as possible, consume it within 48 hours. However, the dressing should still be good for a day or two longer than that, but the longer you keep it, the more intense the flavor will become.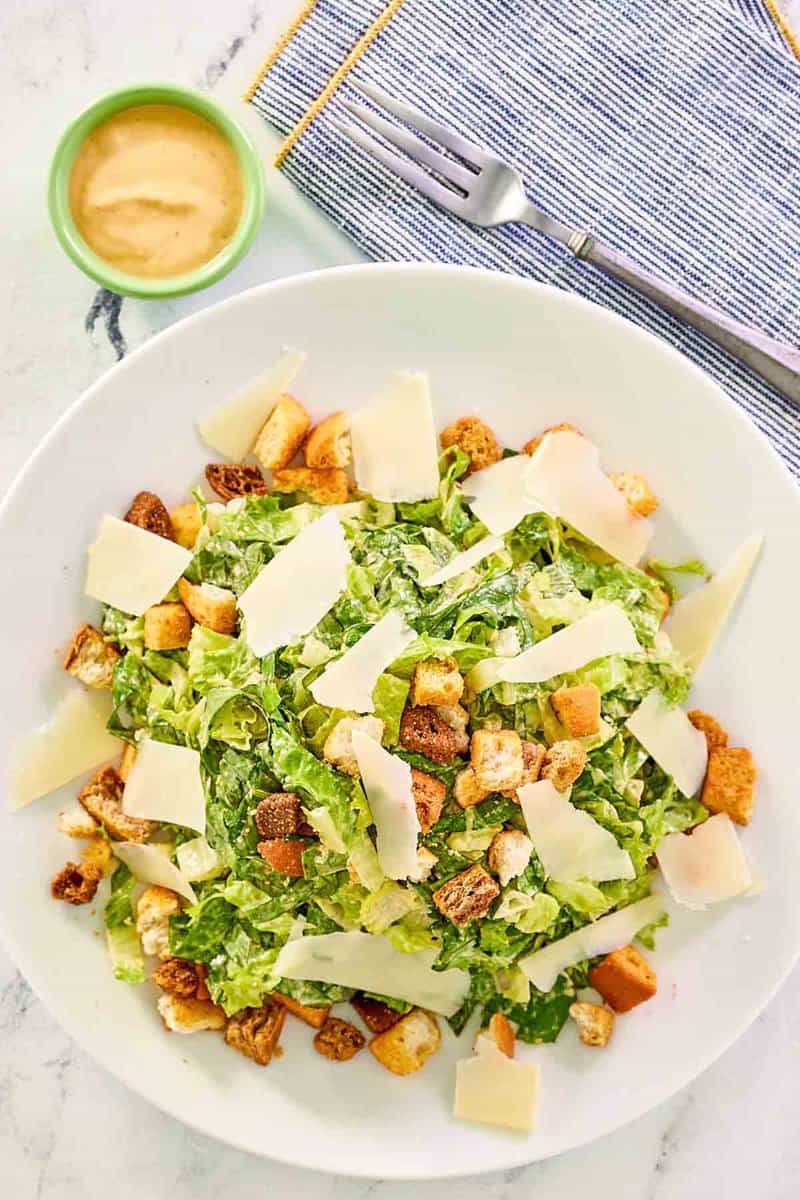 More Houston's Copycat Recipes
Favorite Salad Dressing Recipes
Check out more of my easy salad dressing recipes and the best copycat restaurant recipes on CopyKat!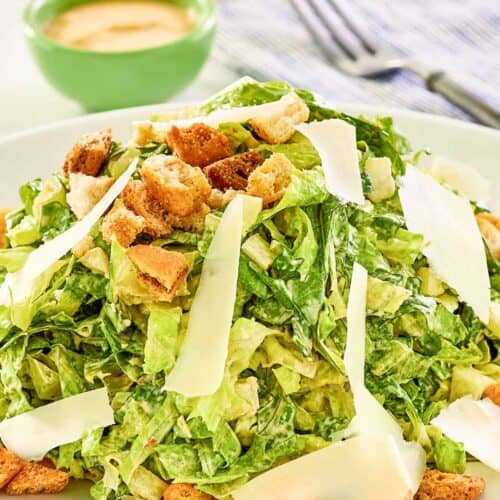 Ingredients
Dressing
1

egg yolk

1

tablespoon

minced garlic

2

teaspoons

Dijon mustard

2

anchovy filets

1/4

teaspoon

salt

1 1/2

teaspoons

ground black pepper

1/2

teaspoon

ground coriander

1/2

teaspoon

ground cumin

1

teaspoon

Worcestershire sauce

2

teaspoons

cold water

1/2

cup

extra-virgin olive oil

1/2

cup

canola oil

1 1/2

tablespoons

sambal oelek or Thai chili paste

1

tablespoon

lemon juice

1

tablespoon

lime juice

3

tablespoons

freshly grated Parmesan cheese
Salad
romaine lettuce

finely chopped

thick grated parmesan

mini croutons

or regular croutons crushed slightly into smaller pieces
Instructions
Combine the egg yolk, garlic, mustard, anchovies, salt, pepper, coriander, cumin, Worcestershire, and water in food processor. Process until smooth.

With the motor running, add the olive oil and canola oil in a slow, steady stream.

When all the oil has been incorporated, add the chili paste, lemon juice, lime juice, and Parmesan cheese. Process until smooth.

To build the salad, toss the romaine lettuce with the dressing. Sprinkle shredded parmesan cheese and croutons on top and serve immediately.
Nutrition
Calories:
214
kcal
|
Carbohydrates:
1
g
|
Protein:
1
g
|
Fat:
23
g
|
Saturated Fat:
2
g
|
Cholesterol:
21
mg
|
Sodium:
101
mg
|
Potassium:
17
mg
|
Fiber:
0
g
|
Sugar:
0
g
|
Vitamin A:
40
IU
|
Vitamin C:
1.7
mg
|
Calcium:
23
mg
|
Iron:
0.3
mg