Elevate your salads and snacks with Homemade Dill Pickle Ranch Dressing! Experience the delightful mix of tangy dill pickles and the creamy goodness of ranch dressing. This unique blend adds a refreshing twist to salads and veggies or serves as a tasty dipping sauce. Say goodbye to store-bought dressings and embrace the satisfaction of crafting your own DIY condiment masterpiece.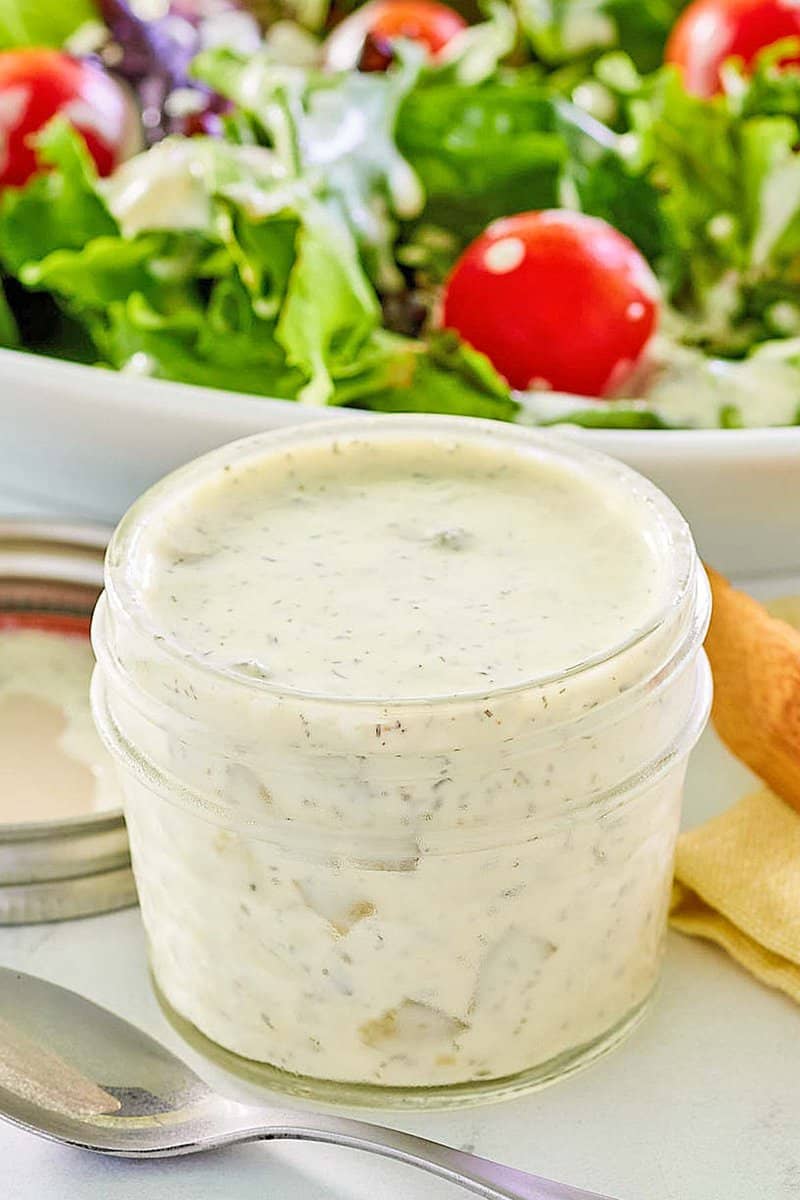 This post contains affiliate links. As an Amazon Associate, I earn from qualifying purchases.
What Makes Dill Pickle Ranch Dressing So Good?
People can be pretty picky when it comes to pickles. But if you appreciate the tangy crunch of an excellent kosher dill, you are going to want to try this ranch dressing spiked with chopped pickles and pickle juice.
Wait, can you use dill pickle juice in ranch dressing? Yes, you can, and adding it takes the acidity already in the buttermilk and ramps it way up. The result is a zesty dressing with a distinct garlicky flavor that enhances even the simplest salads.
Why You Should Try This Recipe
With just a jar of dill pickles, you can take typical ranch dressing to a whole new level. This Cracker Barrel Dill Pickle Ranch Dressing recipe is easy to make and much more versatile than you may think. In addition to topping salads, you can use this salad dressing on just about anything.
See the "What to Serve With Dill Pickle Ranch Dressing" section below for some great options, and drop some of your ideas in the comments.
This dressing is perfect for pickle lovers and one you'll want to make often. Oh, and it's low carb and keto friendly.
Dill Pickle Ranch Salad Dressing Ingredients
For this salad dressing, you'll need these simple ingredients:
Dill pickles
Hidden Valley Ranch Seasoning Mix
Mayonnaise
Buttermilk
Pickle juice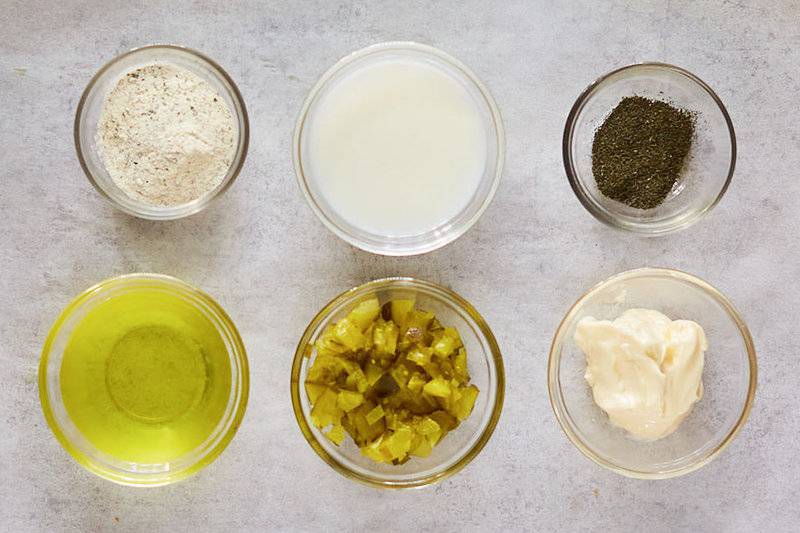 Ingredient Notes and Substitutions
Mt. Olive Sandwich Stuffers Kosher Dill Pickles come sliced into flat slabs, making them extra easy to dice. And if you can't get enough of the pickle juice, the company also sells that.
Hidden Valley Ranch Seasoning Mix is sold in the salad dressing section at your local grocery store. If you can substitute another brand of ranch mix or a packet of the dressing mix. Just make sure it's the kind that requires you to add buttermilk so the recipe will work.
You can substitute half of the mayo with sour cream or Greek yogurt for some extra tang and creaminess.
Stir in a teaspoon of finely chopped fresh dill for a complimentary herb taste. Chives are great too.
You can switch out the pickle flavor by using bread and butter pickles or spicy pickles.
How to Make Dill Pickle Ranch Salad Dressing
To prepare this dressing:
Chop the dill pickles into very small pieces and reserve them for later.
Whisk together the Hidden Valley Ranch Seasoning Mix, mayonnaise, buttermilk, and pickle juice.
Fold in the chopped pickles. Cover the bowl and chill for at least 30 minutes before using it to allow the flavors to meld.
If you want a smooth dressing, place the ingredients in a blender or food processor and blend until smooth.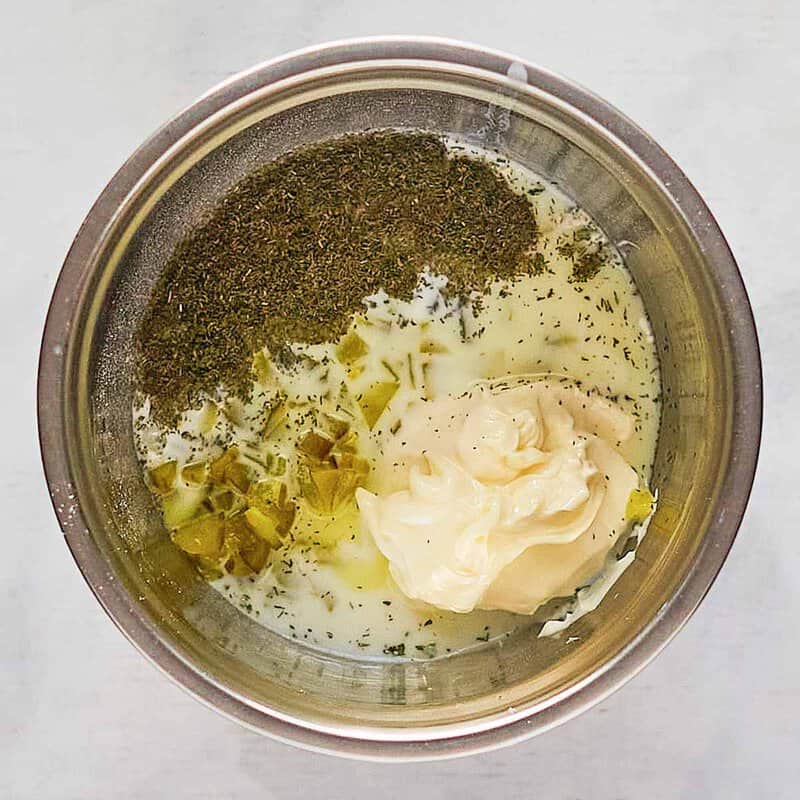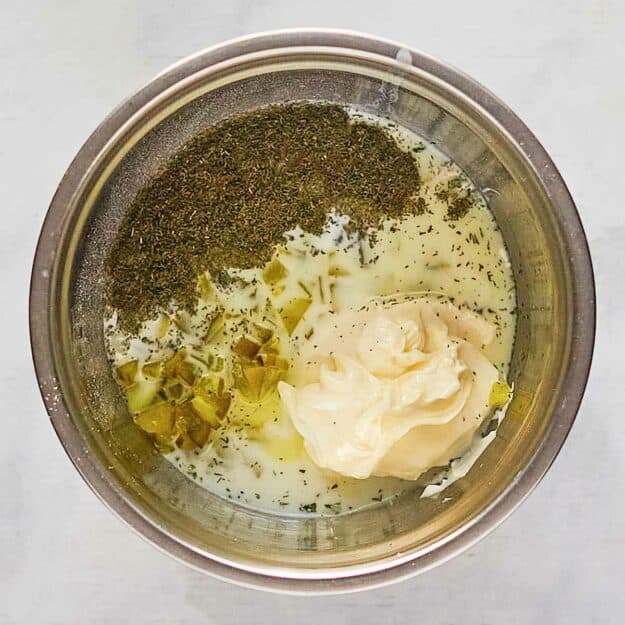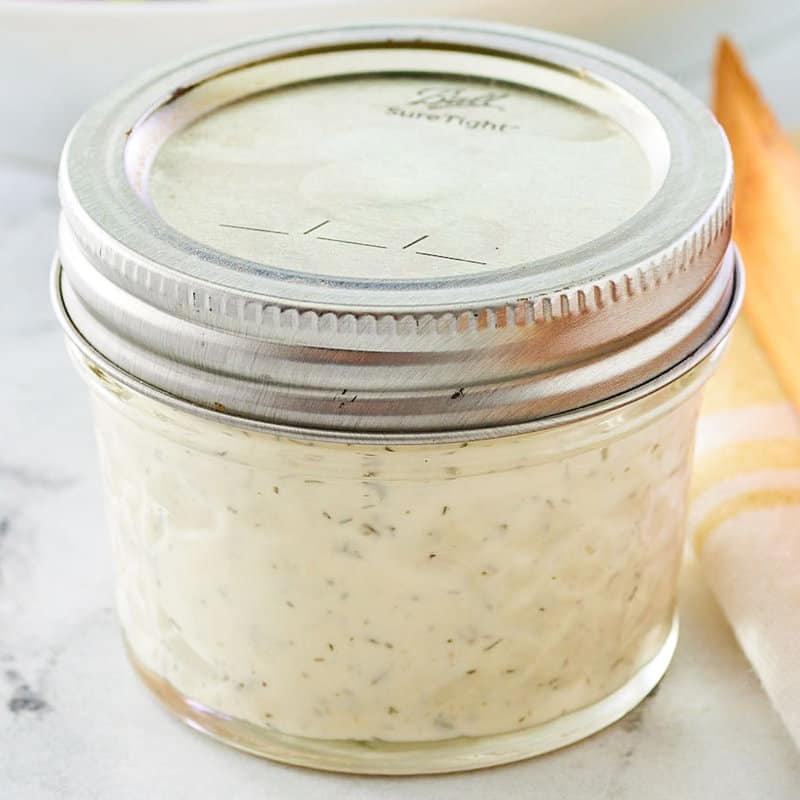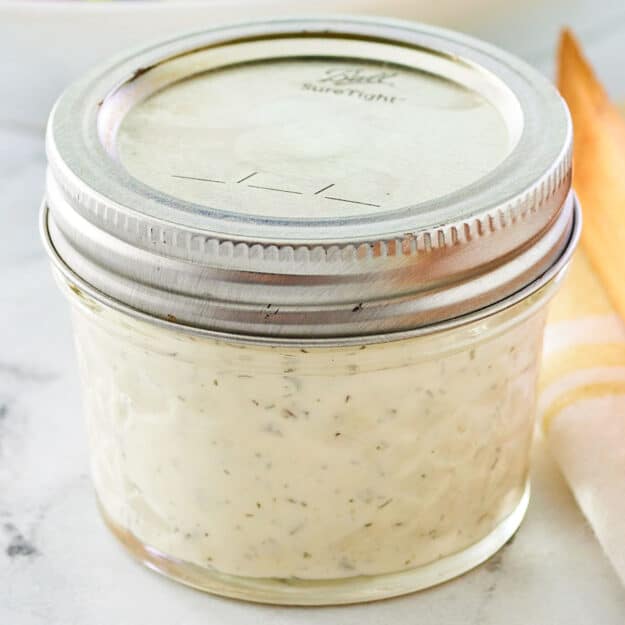 What to Serve With Dill Pickle Ranch Dressing With
Cracker Barrel Dill Pickle Ranch Dressing is just too good to only serve it over lettuce to make a delicious salad. Here are some other ways you can get more of it into your mouth:
As a sauce for sandwiches. Elevate any sandwich with a thick slathering of this dressing. It works for both hot and cold sandwiches and is particularly tasty when paired with roast beef or a burger.
As a dill pickle ranch dip. French fries, chicken nuggets, fried shrimp, and even veggies like broccoli, cauliflower, and carrots will all be better with a bit of Dill Pickle Ranch Salad Dressing.
As a coleslaw dressing. Mix it with shredded cabbage.
As a mayo substitute in salads. Are you making tuna, chicken, pasta, or egg salad? This recipe will kick the flavor into high gear!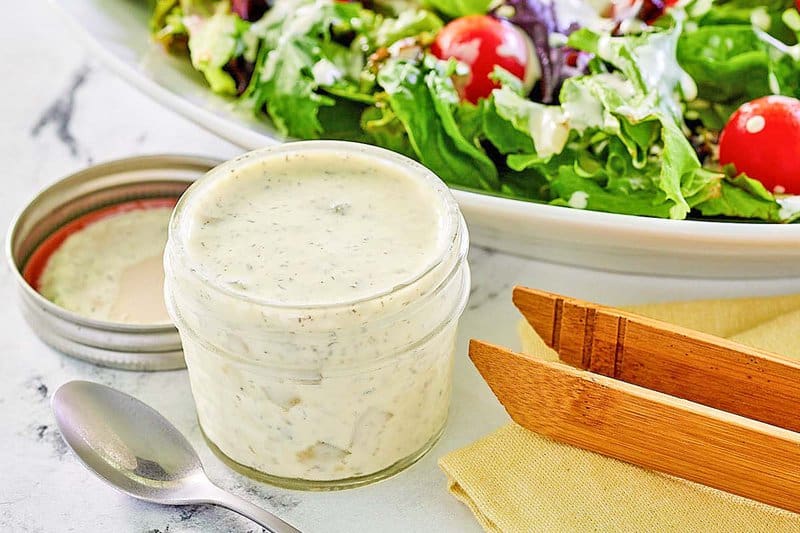 How to Store the Dressing
The best way to keep this Cracker Barrel Dill Pickle Ranch Dressing recipe fresh is in the fridge. Transfer any unserved dressing to an airtight container and refrigerate immediately.
How Long Does Dill Pickle Salad Dressing Last?
The dressing should stay fresh for up to five days in the fridge. However, the longer it sits, the more intense the flavor becomes. Most people find the dressing tastes best within a day or two after making it.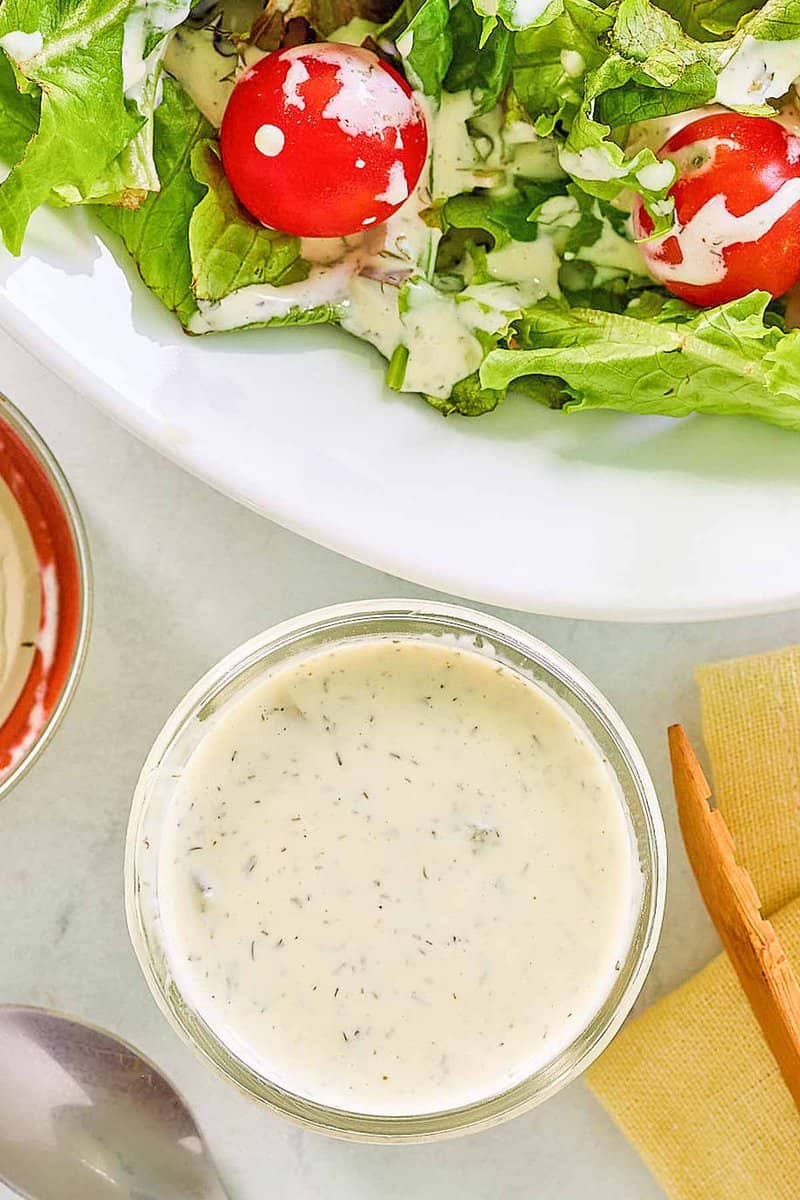 Favorite Salad Dressing Recipes
Popular Recipes with Pickles
Check out more of my easy salad dressing recipes and the best low carb recipes on CopyKat!
Ingredients
1 1/2

tablespoons

Hidden Valley Ranch Seasoning Mix

1/2

cup

mayonnaise

3/4

cup

buttermilk

1/2

teaspoon

dried dill

2

tablespoons

finely minced dill pickles

1

tablespoon

pickle juice
Instructions
Combine all the ingredients in a small bowl and mix well.

Store in an airtight container for at least 4 hours before serving.
Nutrition
Calories:
79
kcal
|
Carbohydrates:
2
g
|
Protein:
1
g
|
Fat:
7
g
|
Saturated Fat:
1
g
|
Polyunsaturated Fat:
4
g
|
Monounsaturated Fat:
2
g
|
Trans Fat:
0.02
g
|
Cholesterol:
6
mg
|
Sodium:
254
mg
|
Potassium:
26
mg
|
Fiber:
0.03
g
|
Sugar:
1
g
|
Vitamin A:
38
IU
|
Vitamin C:
0.1
mg
|
Calcium:
20
mg
|
Iron:
0.1
mg