Who doesn't like the wonderful flavor of Caesar salad dressing? In fact, many people order this dressing in a restaurant because it's their favorite. Although many Caesar salad dressing recipes involve raw eggs, this creamy Caesar dressing recipe is notable because it uses mayonnaise instead.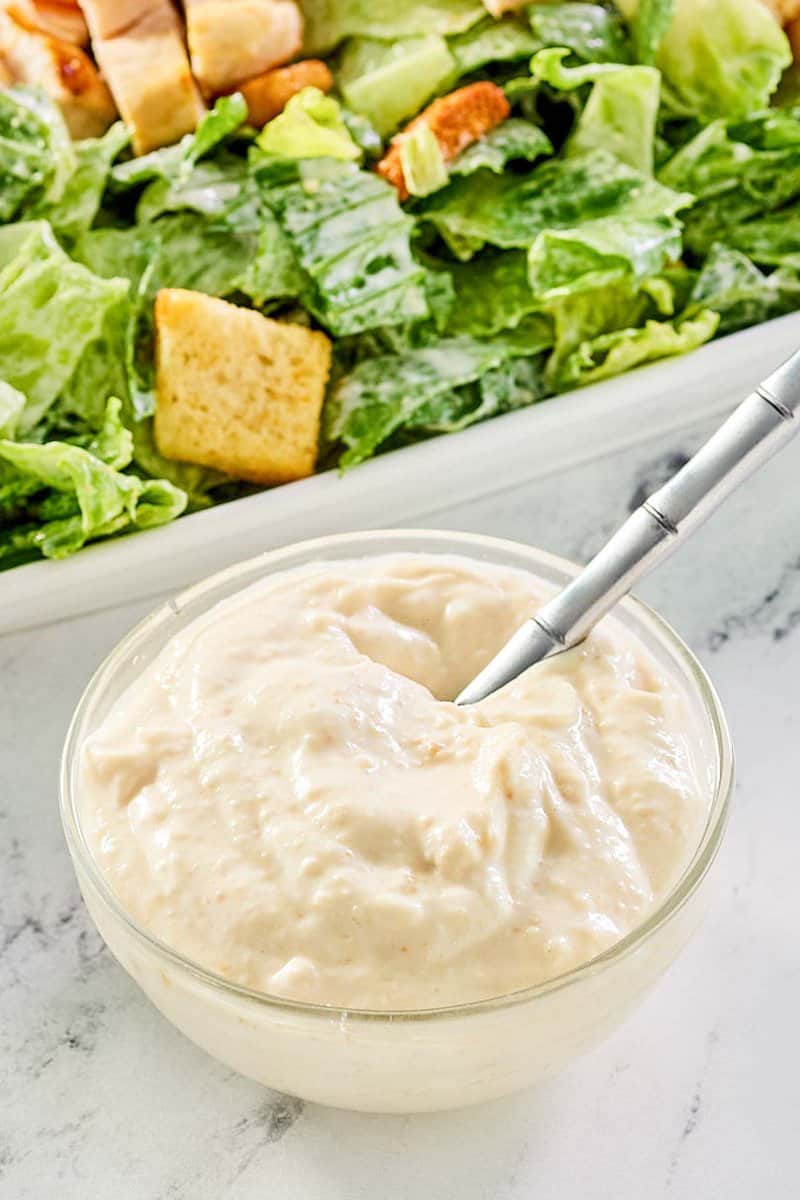 This post contains affiliate links. As an Amazon Associate, I earn from qualifying purchases.
Why You Should Try Making Homemade Caesar Salad Dressing
Like most people, you probably have often bought ready-made Caesar salad dressing in a bottle. However, homemade salad dressing is so easy to make and tastes so much better than store-bought. You know exactly what you are putting in it, and there is no need to worry about any chemical-sounding ingredients on the bottle label!
Traditional Caesar dressings are made with olive oil and thickened with raw eggs. However, this homemade creamy garlic Caesar dressing has a mayonnaise base, so you don't have to worry if you're understandably a bit squeamish about using raw eggs.
Why Caesar Salad Has Nothing to Do With the Romans
The original Caesar salad was not created in Italy and had nothing to do with Julius Caesar. This garlicky, tangy, romaine-based salad actually got its start in Tijuana, Mexico. It was created by a man named Caesar Cardini who was an Italian immigrant, so you could say there's some connection to Italy.
Cardini ran a restaurant in Tijuana that was popular with Americans during prohibition. They could simply pop across the border and enjoy a cocktail with dinner. In 1924, an unexpectedly busy July 4th left the restaurant short on certain supplies, and Cardini created a salad using whatever he had left. The result was an immediate salad hit.
Cardini's salad dressing was made with egg, lemon juice, olive oil, garlic, parmesan cheese, Dijon mustard, Worcestershire sauce, and black pepper – no anchovies. It was prepared table-side with romaine lettuce and croutons.
Why This Is the One Dressing Recipe You Should Use for Homemade Caesar Salad
Your family will love this rich and creamy Caesar dressing recipe. It's not too garlicky or overly fishy – it's just right! Your kids will love this dressing so much that they may not even wait for you to make the salad.
While you finish cooking dinner, they can sit at the kitchen table with a big heart of romaine and enjoy dipping the leaves. Of course, this means you will have to make some extra dressing.
Once you've tasted this awesome homemade dressing, it is sure to ruin all other Caesar dressings for you. For sure, you'll never be able to go back to bottled Caesar dressing.
Creamy Caesar Dressing Recipe Ingredients
This homemade salad dressing is created with wholesome ingredients as follows:
Mayonnaise
Sour cream
Anchovy paste
Onion salt
Garlic powder
Parmesan cheese
You don't need to cope with buying whole anchovies and mashing them up; you can purchase anchovy paste in a tube. Don't leave out the anchovy paste because you're not sure if you like anchovies – this dressing needs every ingredient to taste like the real deal!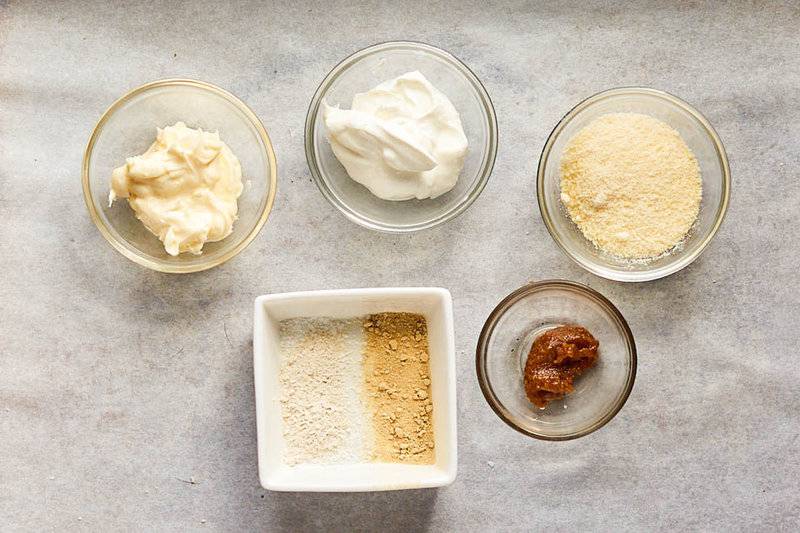 This creamy Caesar dressing recipe is super simple to make. All you have to do is blend the ingredients together, and that's that!
Place all the ingredients in a bowl.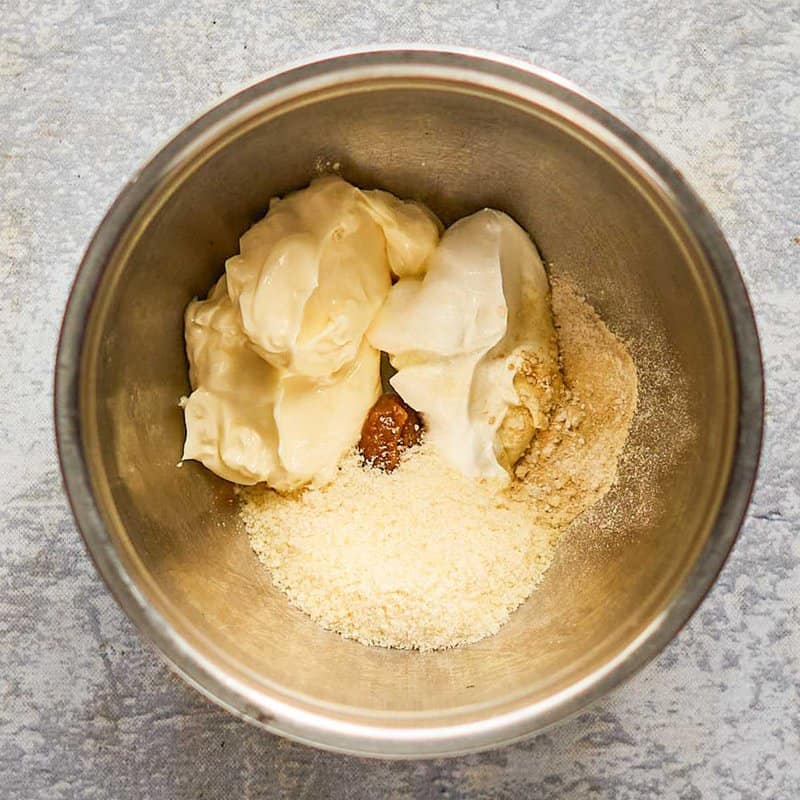 Stir or whisk to mix all ingredients by hand. Do not use a blender or food processor.
If it's too thick, thin it with vinegar.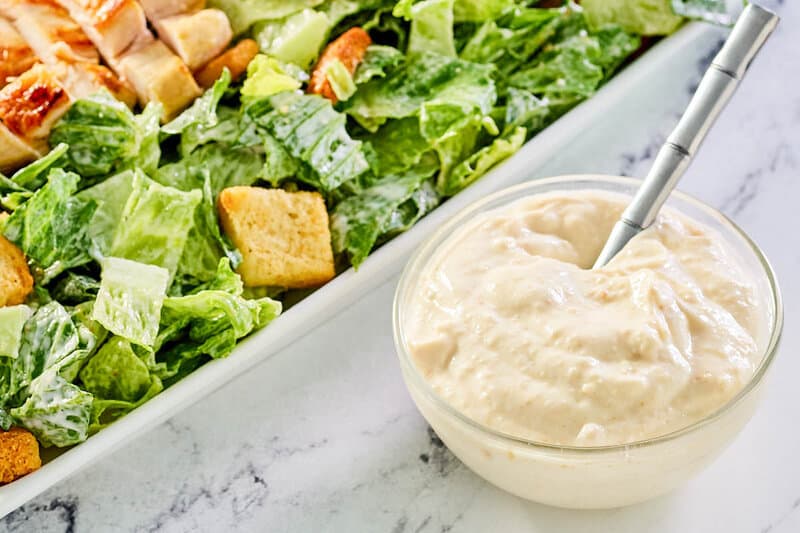 Caesar Dressing Variations
If you really hate the taste of anchovies, try using crushed capers instead.
A small splash of Worcestershire sauce will help replace the briny flavors missed by not including the anchovies. Note that some brands of Worcestershire sauce contain small amounts of anchovies.
Other Ways to Use Homemade Creamy Garlic Caesar Dressing
You don't have to stop with just using this Caesar salad dressing on a Caesar salad. This dressing can add great flavor to many other foods. Here are some ideas:
How to Turn a Caesar Salad Into a Main Meal
When it comes to salads, the dressing is king. The usual way to serve this creamy Caesar dressing is on a Caesar salad. Serve up your Caesar salad with homemade croutons or Little Caesars Breadsticks.
However, you don't have to only use a Caesar salad as a side salad. You can easily turn your salad into a main course.
Chicken Caesar Salad: Add chicken – a Caesar salad is a great way to use up leftover chicken.
Steak Caesar Salad: Grilled steak goes perfectly with this creamy Caesar dressing!
Shrimp Caesar Salad: Roasted, grilled, or even spicy buffalo shrimp will give you a delicious salad.
Bacon Caesar Salad: Because, bacon!!
Vegetarian Caesar Salad: Add veggies, chickpeas, avocado, white beans, pickled onions, etc. You can have a hearty Caesar salad and still keep it vegetarian.
How to Store Leftover Caesar Dressing
The homemade creamy Caesar salad dressing will keep well in the fridge for about a week. What's more, the flavor will continue to develop as it marinates.
Keep it in a sealable mason jar or an airtight container so it doesn't absorb any lingering odors from other foods in your refrigerator.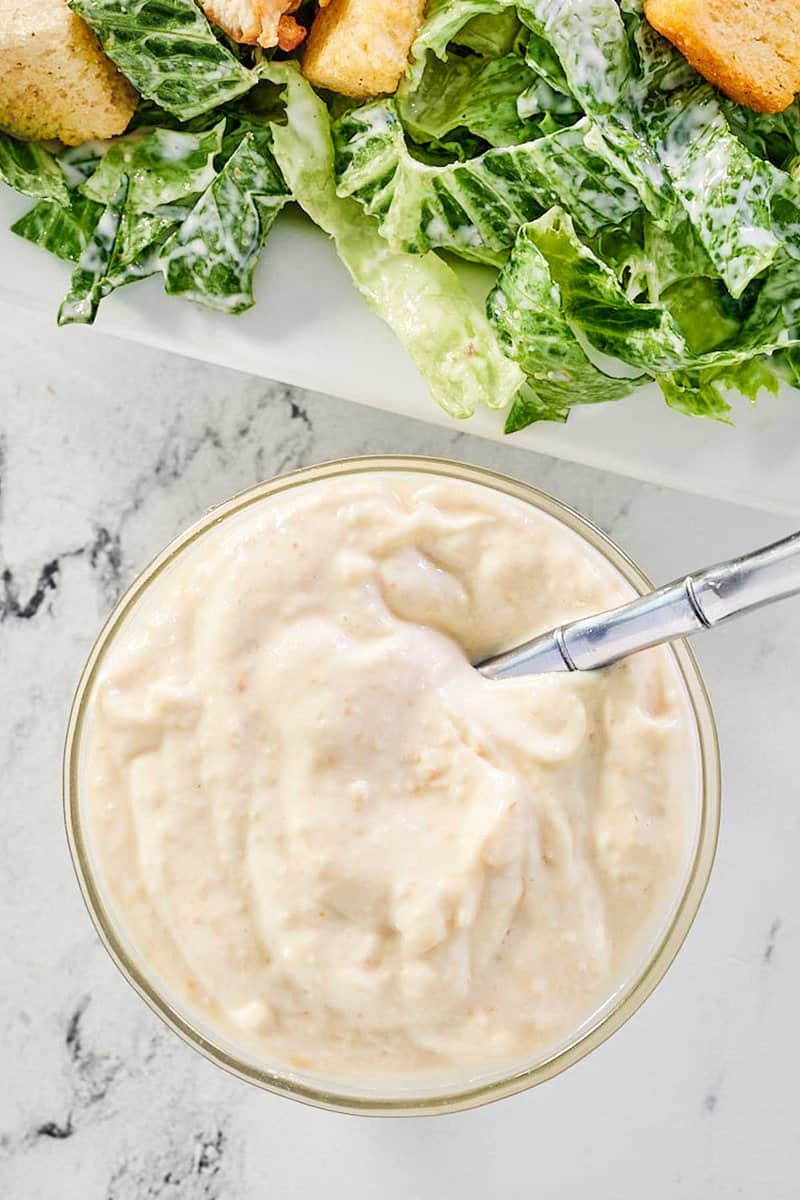 Favorite Salad Dressing Recipes
Popular Salad Recipes
Check out more of my easy salad dressing recipes and the best salad recipes on CopyKat!
Ingredients
1

cup

mayonnaise

1/3

cup

sour cream

1

teaspoon

anchovy paste

1/4

teaspoon

onion salt

1/2

teaspoon

garlic powder

2/3

cup

Parmesan cheese
Instructions
Mix all the ingredients together by hand. DO NOT use a

mixer

.

If the dressing is too thick, add vinegar.
Notes
This recipe makes 2 cups of dressing.
Nutrition
Calories:
40
kcal
|
Carbohydrates:
0
g
|
Protein:
0
g
|
Fat:
4
g
|
Saturated Fat:
0
g
|
Cholesterol:
3
mg
|
Sodium:
69
mg
|
Potassium:
4
mg
|
Sugar:
0
g
|
Vitamin A:
25
IU
|
Calcium:
19
mg
|
Iron:
0
mg