James Coney Island Chili is famous in Texas. Don't miss out on your chance to have a taste at what Texans enjoy.  What makes their chili so special is that they use diced chuck steak instead of ground beef. The diced meat really adds a nice rich flavor to this chili.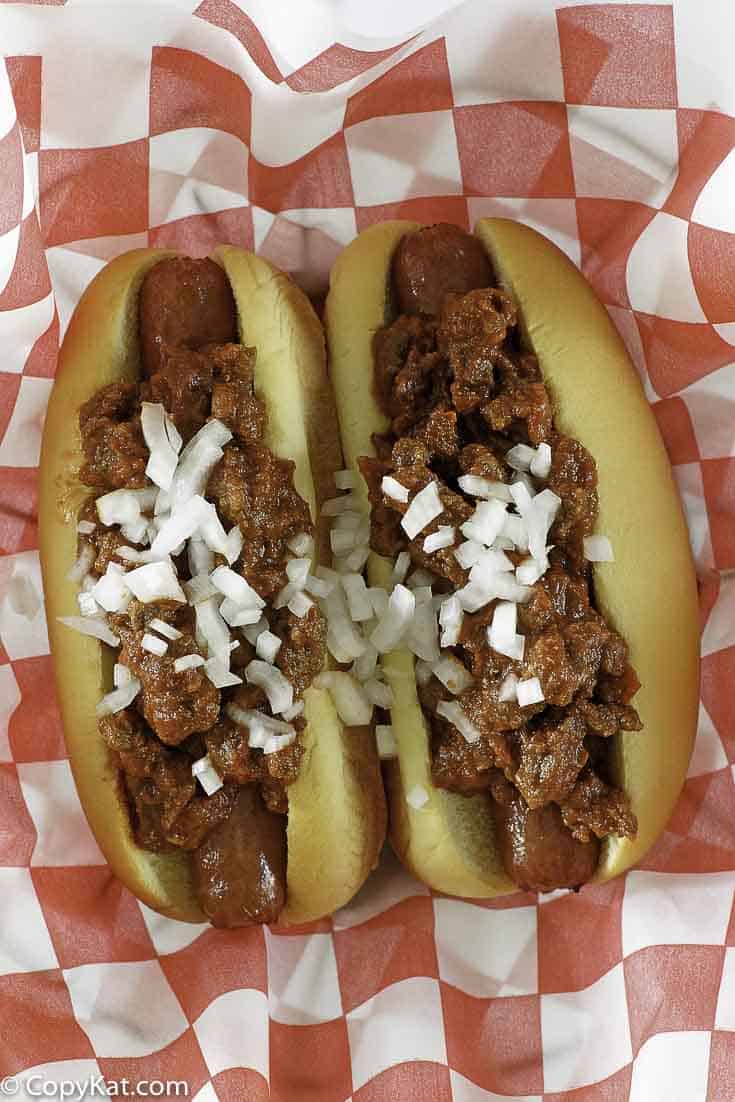 Hot and filling, a bowl of chili is the perfect dinner on a cold winter's evening or really any time you want a hearty meal. This recipe is made from diced chuck roast and not ground beef like most chili recipes and doesn't contain a single bean.
Like any other good chili, this one takes time to develop the best flavor. Start cooking the chili in the mid-afternoon, and by the time dinner rolls around, the wonderful smells will bring your family to the table before you have a chance to call them!
Not All Chili is the Same
What makes a great chili depends on where you live. This chili recipe falls squarely into the Texas-style chili category with its use of cubed meat, beef stock, and lack of beans. Other regions of the country have their own favorites such as Cincinnati-style chili made with ground beef, cinnamon, and, most surprisingly, chocolate powder.
Springfield-style chilli, yes, with an extra 'l', they like to do things their own way in Illinois like using ground turkey, bacon, beans, and beer to cook up their regional variation. And you can't forget the Coney Island-style chili from New York City. This beanless version is more of a sauce than a stew, and it is usually served up on hot dogs known as Coney Dogs.
The Origin of James Coney Island Chili
This recipe is inspired by the classic chili served at James Coney Island, a Houston tradition since 1923. When brothers Tom and James Papadakis opened up their tiny stand on the corner of Walker and Main they couldn't have known it would grow to become the multiple-location chain it is today.
While some things have changed (you won't find goose liver and Roquefort sandwiches on the menu today, sorry), others, like the chili, have not. That is why Houstonians are just as crazy about James Coney Island food now as they were close to a hundred years ago.
Stop by if you are ever in town, but if you can't make it to one of the restaurants, cook up a big batch of the recipe below.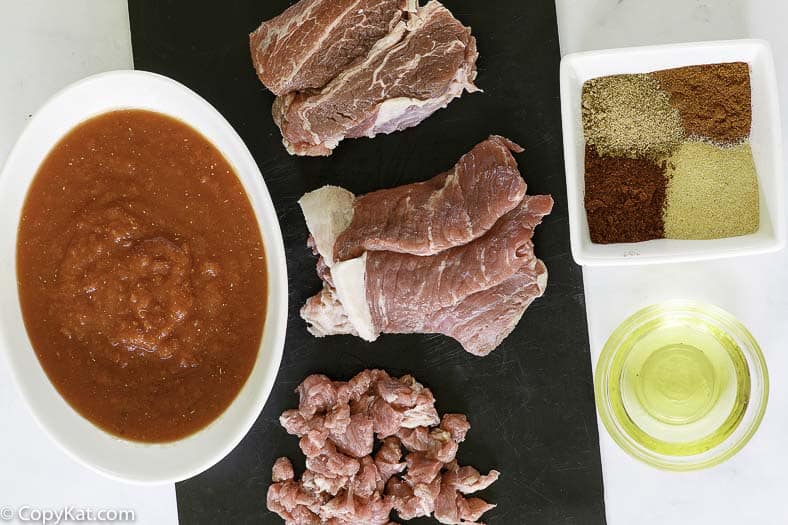 Extra Hints For Making and Serving James Coney Island Chili
Toast your spices to really bring out the flavor. Heat a dry heavy-bottom skillet over medium heat. Add the paprika, chili powder, garlic powder, onion powder, and cayenne pepper to the hot pan. Heat slowly while continually stirring until you can smell the toasted spices. Remove from the heat immediately to avoid burning.
Serve the chili right. Toppings are almost as important as the chili itself. Favorites serve chili includes topping with sour cream, chopped green onions, or shredded cheese. James Coney Island chili also makes great Coney Dogs or use as a sauce for spaghetti.
If you can't get enough of chili, try these other favorites chili recipes:
Best Ever Instant Pot Wendy's Chili Copycat Recipe
Wick Fowler 2 Alarm Chili
Cincinnati Chili
Ruby Tuesday's White Chicken Chili
Love copycat recipes like James Coney Island Chili? Never miss our newest recipes when you follow us on Twitter!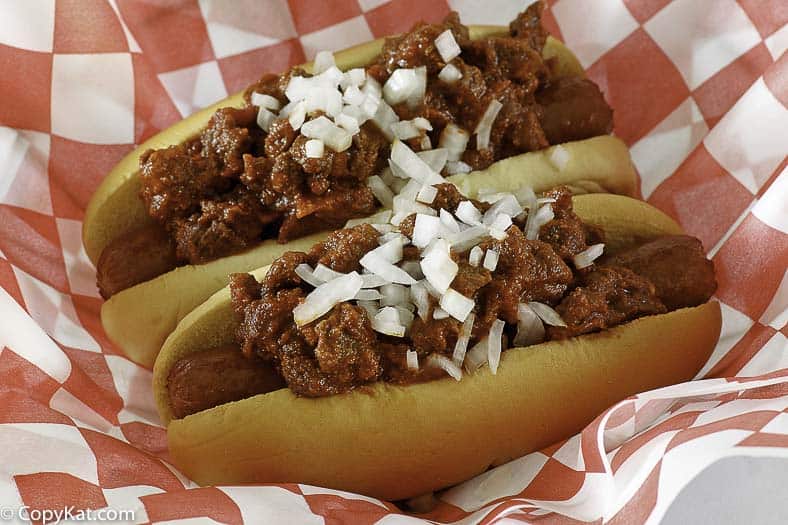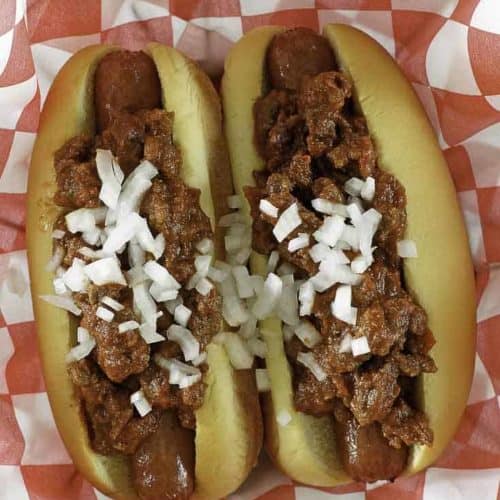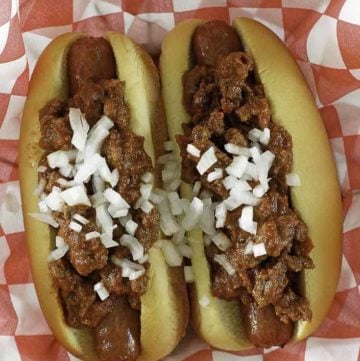 Ingredients
2 1/2

pounds

chuck roast

(tenderized and diced finely)

21

ounces

beef broth

30

ounces

water

4

tablespoons

vegetable oil

29

ounces

whole tomatoes with the Juice (food process, strain seeds and pulp, measure two cups for Chili, save remainder for another recipe)

1

tablespoon

paprika

5

teaspoons

chili powder

1

teaspoon

garlic powder

1

teaspoon

onion powder

3/4

teaspoon

season salt

1/4

teaspoon

garlic salt

1/4

teaspoon

cayenne pepper
Instructions
In a 4-quart saucepan brown diced chuck steak in vegetable oil, stir steak frequently until lightly brown. Add beef broth and water.

Simmer beef mixture for 1 hour on medium-low heat. After beef has been simmering for 1 hour, add 2 cups of tomatoes that have been processed in a

blender

with their juice.

Strain after processing to remove seeds and pulp. Add all spices to meat and tomatoes and stir well. Simmer for forty-five to fifty minutes on low heat, stirring from time to time. Slowly pour enough of the thickening sauce into meat and tomato mixture, to bring it to a thick state, stir constantly.

Depending on how much the liquid has been reduced, you may need less of the thickener. Simmer on low heat and stir until chili reaches the desired consistency and ready to be served. Great over hot dogs or served alone with your favorite accompaniments. Yield: approximately 12 servings
Nutrition
Calories:
241
kcal
|
Carbohydrates:
6
g
|
Protein:
20
g
|
Fat:
16
g
|
Saturated Fat:
8
g
|
Cholesterol:
65
mg
|
Sodium:
563
mg
|
Potassium:
573
mg
|
Fiber:
1
g
|
Sugar:
3
g
|
Vitamin A:
710
IU
|
Vitamin C:
6.3
mg
|
Calcium:
49
mg
|
Iron:
3.2
mg