Are you a novice cook? This easy chili for beginners recipe is a very basic chili recipe for you. It is part of my learn to cook series where I am cooking through my old home economics cookbook.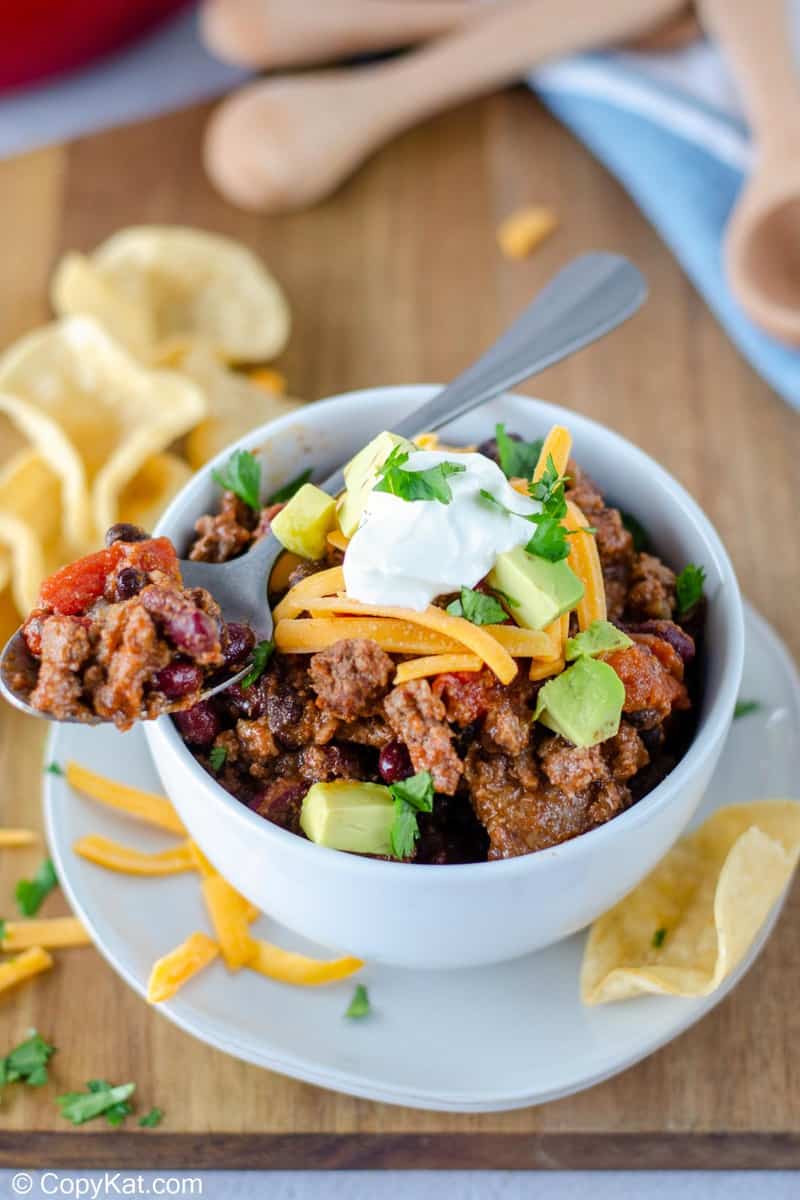 There are about a zillion chili recipes out there. Some of them are complex with multiple types of meats and an ingredients list about a mile, and others, like this beginner chili recipe, are straightforward and foolproof. You no longer have any excuse to spend extra money buying premade chili from the deli department or those awful cans when you can whip up this fresh and tasty homemade chili recipe for pennies on the dollar. Even if you are a chili-making expert, this inexpensive version is the perfect recipe for camping, taking to a potluck, or really, any time when you can't be bothered with preparing something a little fancier.
How Do You Make Chili?
There isn't much more to making this chili than browning the ground beef, dumping in a couple of cans, and adding some seasoning, but learning a few chili basics can help your chili turn out better than you can imagine.
It is always essential to start with quality ground beef. For this basic chili, you want to buy a ground beef mixture that isn't too lean. Remember that fat equals flavor, but too much fat is not only unhealthy but can turn your chili into an unpleasant oil slick. An 85/15 ground beef mix is pretty much ideal, but you can feel free to play around with the fat content a little. Anything within the range of 80 to 90 percent lean is going to be good. If you choose to use a mixture with a bit more fat, you may want to wait to season your meat until after cooking it and draining off most of the fat.
Make sure to drain the beans and tomatoes before adding them to the ground beef. Bring to a boil and reduce to a simmer. Simmer for about 20 minutes before adding half of the tomato juice to the saucepan. You don't want all the liquid in the pot to evaporate, but at the same time, you are not making soup, and too much liquid will dilute the chili's flavor. Continue to simmer the chili, stirring occasionally, and add a few splashes of tomato juice if you notice the chili drying out.
Be patient! Avoid the urge to rush the simmering process. Ground beef needs at least an hour to break down and help to thicken up the chili.
Tips on How to Make Chili for Beginners
Bring out the complex flavors of your chili powder. Thirty seconds is all it takes to lightly toast the chili powder in a dry sauté pan over high heat. Just cook until you can smell the spices and immediately remove the chili powder from the pan to avoid burning.
Chili is always better the day after making it. You can make chili a few days in advance to save time preparing dinner on weekdays. Chili will last up to three days in the fridge or three months in the freezer!
Provide plenty of your favorite toppings. Sour cream, shredded cheese, chopped hot chili peppers, and corn chips are just some of the most popular options.
Check out our other chili recipes on YouTube!
Chili Ingredients
Chili ingredients are very basic, and you can always change your chili to your personal preferences. You don't need to buy special packets of seasoning. You just need a few simple ingredients for making this chili for beginners.
Ground beef
Onion
Salt
Ground black pepper
Chili powder
Canned diced tomatoes
Canned beans (red kidney, pinto, or black beans)
Tomato juice or V8
Ingredient Notes
Ground beef is one of the most important ingredients for chili. I personally like to use ground chuck. I think it has a better flavor than most other types of ground beef.
Onions are popular in chili. When it comes to onions, I have a small preference for white onions over yellow. I think white onions are a little sweeter. Honestly, I just look at what is less expensive.
How to Make Homemade Chili
Brown the ground beef and chopped onions in a skillet over medium heat.

Season ground beef with salt and black pepper as it is browning.
Drain the beef after it has browned.
In a pot, add chili powder, tomatoes, beans, tomato juice, and cooked ground beef. Stir to combine.

Simmer for 1 hour, stirring occasionally.

Chili Variations
I think the biggest question people have is to add beans or not? While if you are living in Texas, you may feel that chili does not contain beans. It is up to you if you want to add the beans. I like to add either red kidney beans, pinto beans, or even Ranch Style Beans.
You may also want to add other spices. The spices I like to use are cumin, chipotle powder, cayenne pepper, or extra chili powder.
Keep in mind you can add a lot of different items to your chili. Be sure to practice adding one thing at a time and in small amounts. This way you can feel confident that the variations you choose to make if you make small changes at a time.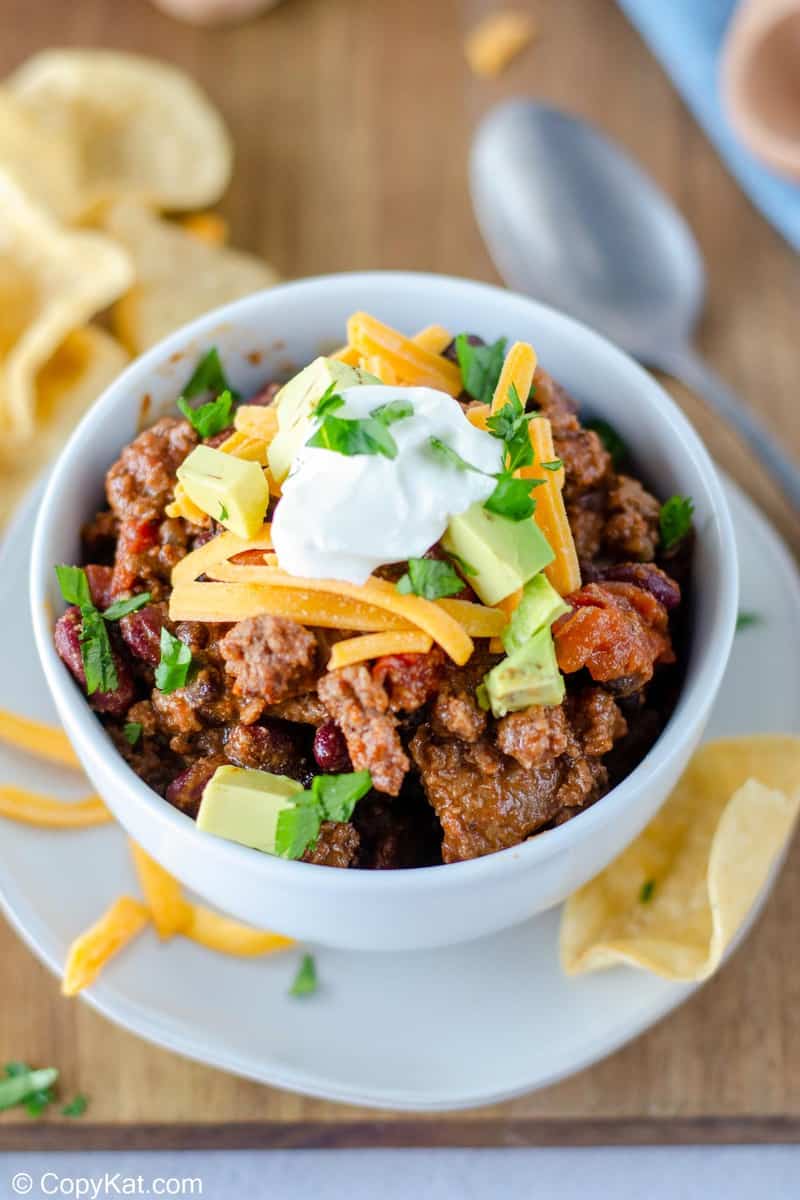 What to Serve with Chili
Here are some great toppings and sides to serve with chili:
Shredded Cheddar cheese
Sour Cream
Chopped Avocado
Jalapeno peppers
Tortilla Chips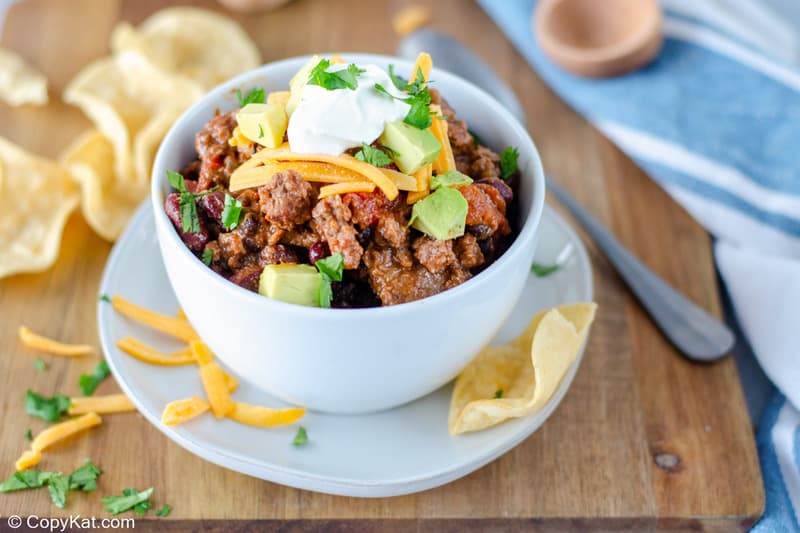 More Chili Recipes
Hearty Soup and Stew Recipes
Check out more of the best soup recipes and easy recipes for beginners here on CopyKat!
Ingredients
1

cup

onion

chopped

1

pound

ground beef

2

teaspoon

salt

1/8

teaspoon

ground black pepper

2

tablespoons

chili powder

(you can add additional up to 1 tablespoon)

14.5

ounces

canned diced tomatoes

29

ounces

canned beans (red kidney, pinto, or black beans)

2 cans

1

cup

tomato juice

(V8 is a great substitute)
Instructions
Brown the ground beef and chopped onions in a medium-sized skillet over medium heat.

Season ground beef with salt and black pepper as it is browning.

Drain beef after it is browned.

In a medium-sized pot, add tomatoes, beans, tomato juice, and chili powder.

Add cooked ground beef and onion. Stir to combine.

Simmer for approximately 1 hour before serving.
Nutrition
Calories:
307
kcal
|
Carbohydrates:
30
g
|
Protein:
19
g
|
Fat:
12
g
|
Saturated Fat:
4
g
|
Cholesterol:
40
mg
|
Sodium:
730
mg
|
Potassium:
752
mg
|
Fiber:
10
g
|
Sugar:
3
g
|
Vitamin A:
790
IU
|
Vitamin C:
11.8
mg
|
Calcium:
68
mg
|
Iron:
4.3
mg