Enjoy Indiana Style Chili, this is a quick and easy chili recipe that you can make in just 30 minutes. Perfect for folks that don't want a chili that is super spicy!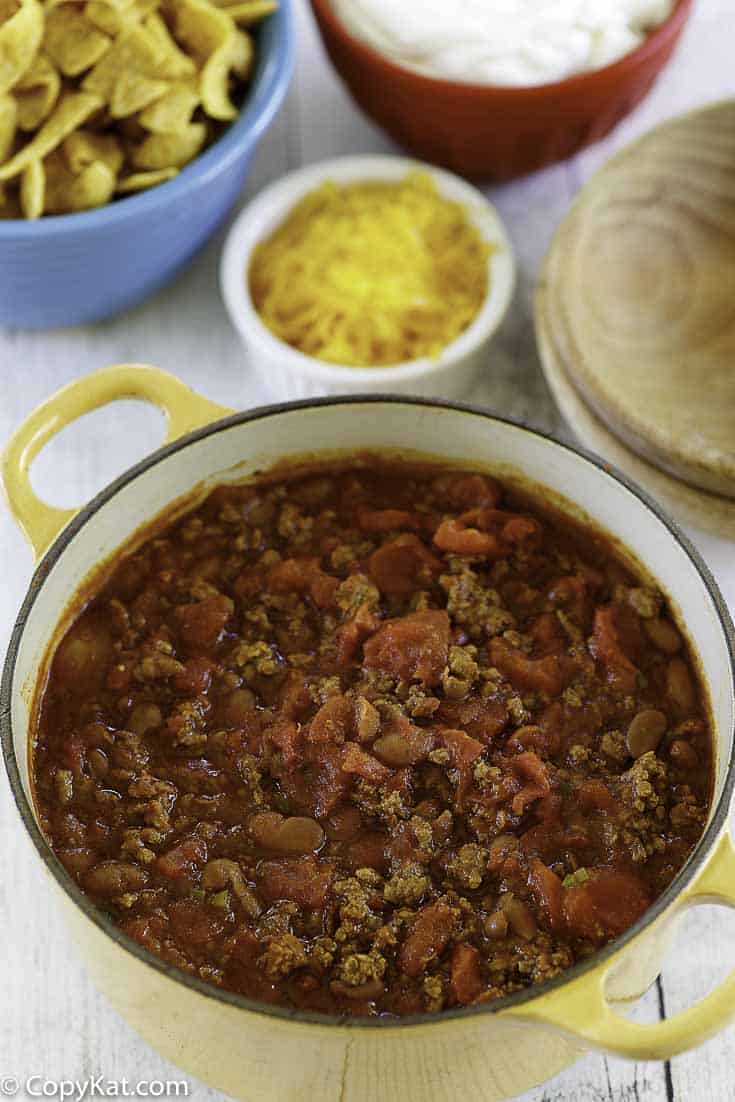 You don't have to be a Hoosier to love this mild, easy chili recipe. Indiana Chili is the perfect weeknight dinner when you want something warm and satisfying for your family but don't have a ton of time to bring it to the table. Prepare this delicious recipe in around 30 minutes with just a pound of ground beef and a few shelf-stable ingredients you can keep on hand. It's perfect for any time you need to make a satisfying dinner in a hurry.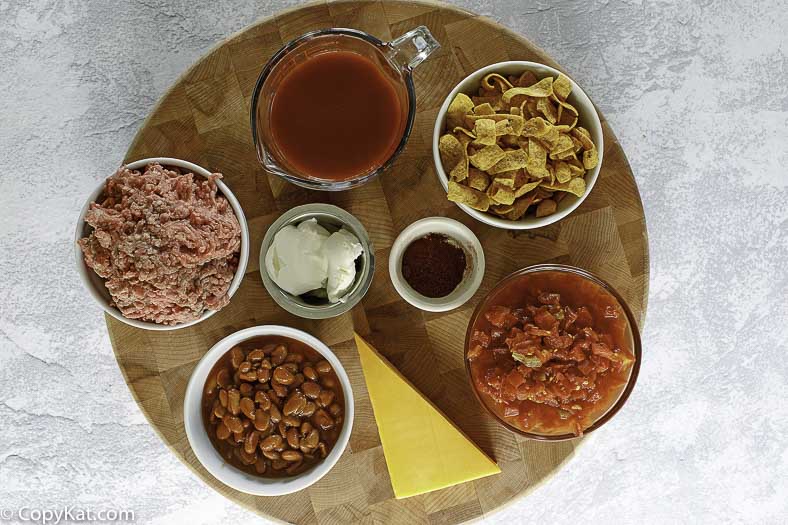 What Are Chili Beans?
This recipe calls for a can of chili beans, but don't mistakenly think that chili beans are the same as any old can of beans you usually dump in your chili pot. They are two very different animals. Chili beans are beans, usually pinto or red beans, which come in a rich chili pepper-infused sauce. Don't be tempted to try to substitute regular canned beans, or your Hoosier Chili will lack flavor. Chili beans come in several levels of spiciness from mild to hot to suit your taste, and you can usually find them in the bean aisle. Some popular brands include Bush's. Joan of Arc, and S&W.
If you can't locate chili beans in the supermarket where you live, it is easy to order them online or you might try making your own chili beans if you have the time to spare.
Does it Have to be RO-TEL Brand Tomatoes and Green Chillies?
I'm not going to tell you that you can't use a different brand of tomatoes and green chilies in your chili, but if you want the authentic taste of Hoosier Chili, then you owe it to yourself go for RO-TEL. Since the 1940s, RO-TEL has been the must-have secret ingredient for generations of chili cooks. Its unique seasonings and a little touch of cilantro make all the difference.
Extra Tips for Cooking and Serving Indiana Chili
Don't cook the chili for too long, or it may dry out. The best Indiana Chili is loose. So, once you add the tomato juice to the pot, cook just until the liquid begins to thicken slightly. Remember, the chili will tighten up further as it cools to serving temperature.
Where are you going to put those corn chips? Corn chips can play two different, but equally delicious, roles in your chili. One option is placing a handful on the bottom of each serving bowl and spooning the chili on top. The corn chips will soak up extra liquid and soften. The alternative is to place them on top where they will remain crunchy and work as a nice contrast in textures.
You can't have too many toppings. Besides corn chips, shredded Cheddar cheese, and sour cream, there other fabulous toppings. Try diced avocado, diced raw onions, or salsa.
Love Indiana Style Chili? Check out our other chili recipes:
New Mexico Chili Verde
Best Ever Instant Pot Wendy's Chili Copycat Recipe
Quick chili – a tried and true family recipe
Zero WW Point White Bean Chicken Chili
Chili Seasoning Recipe
Don't forget to follow us on Facebook to get our latest recipes and updates.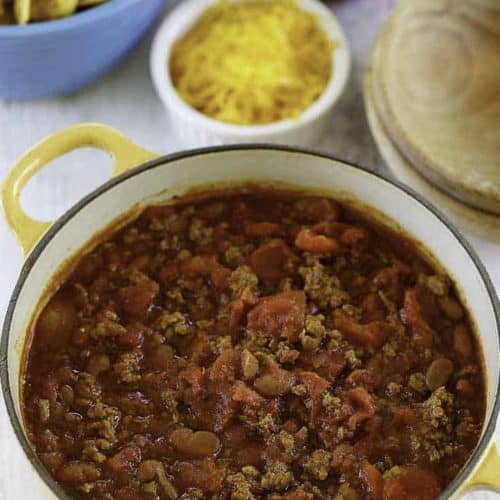 Ingredients
1

pound

ground beef

2

tablespoons

chili

20

ounces

Rotel tomatoes and green chili's

16

ounces

chili beans

16

ounces

Campbell's tomato juice

2

cups

shredded cheddar cheese

8

ounces

Frito chips

1/2

cup

sour cream

optional
Instructions
Brown ground beef in large pot. drain. Return to pot. Add chili beans, rotel tomatoes and chili's, and chili powder to taste. Simmer for 10 minutes.  Add tomato juice to desired consistency. Simmer for approximately 15 minutes.
Nutrition
Calories:
680
kcal
|
Carbohydrates:
45
g
|
Protein:
30
g
|
Fat:
43
g
|
Saturated Fat:
17
g
|
Cholesterol:
103
mg
|
Sodium:
1071
mg
|
Potassium:
1026
mg
|
Fiber:
6
g
|
Sugar:
10
g
|
Vitamin A:
1005
IU
|
Vitamin C:
31.3
mg
|
Calcium:
429
mg
|
Iron:
5
mg