Crock-Pot Chili is a very easy chili to put together and it has very common ingredients. By using a Crock-Pot you have a meal that almost cooks itself. This crockpot chili recipe is super popular in my house, and I know your family will love this!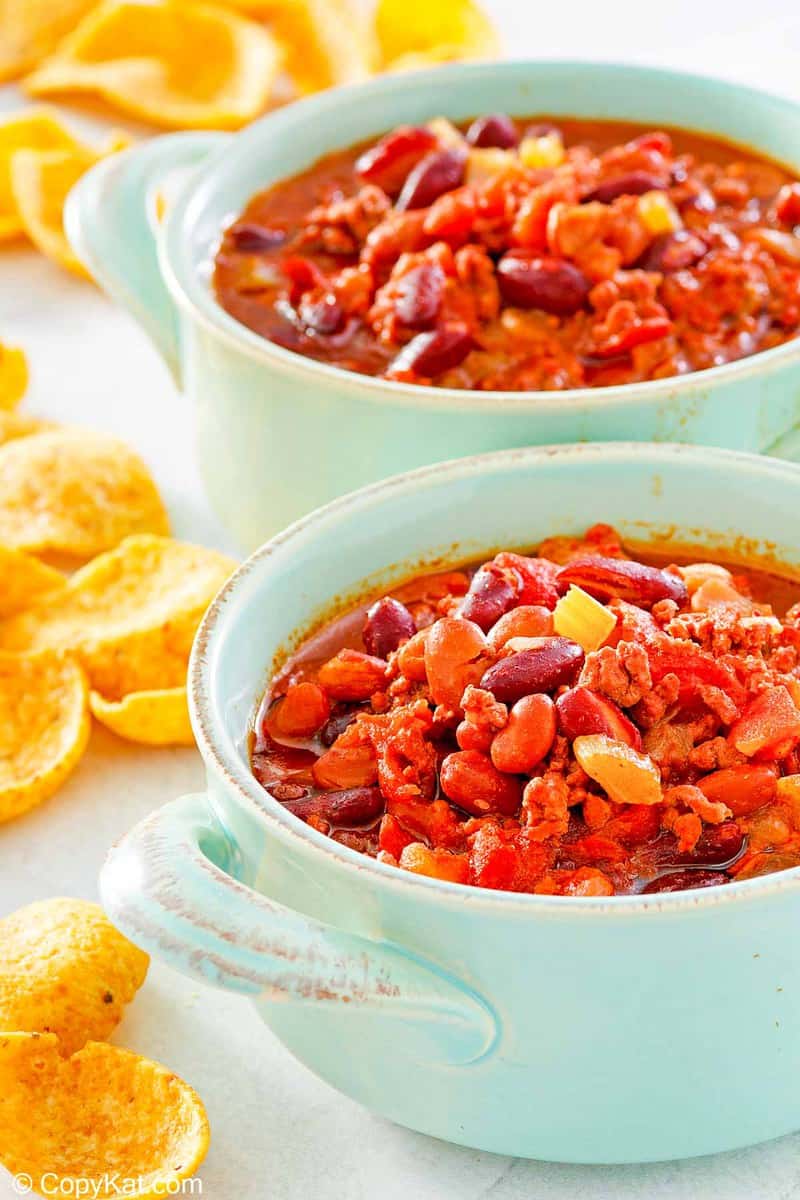 This post contains affiliate links. As an Amazon Associate, I earn from qualifying purchases.
Beef Chili with Beans
There is nothing more satisfying than coming home after a long day and smelling chili simmering away in a slow cooker, well, except for eating it.
This classic beef and bean chili offers a medium kick but is easily adjustable to suit your tastebuds. Everyone needs a go-to slow cooker chili recipe, and this may just be the one for you!
Why We Love Slow Cooker Chili
These days there never seems to be enough time to make a home-cooked meal. But instead of buying yet another take-out dinner for your family, give them something delicious, nutritious, and easy on your wallet.
Slow cooking chili in a Crockpot means you can prepare everything, push a button, and go about your day knowing that you will sit down to a family meal that everyone will love.
Why This is the Best Recipe for Chili
Everyone has a favorite chili recipe. Some are super spicy; others are meat or bean-free versions. But when you are looking for a solid chili that will please most people, you can't go wrong with this chili in a crockpot recipe.
The smoked paprika and chipotle powder give this chili just enough spice to stand out without leaving more timid folks sweating.
Recipe Ingredients
To make this easy crockpot chili, you will need:
Ground beef
Onion
Fresh garlic
Celery
Canned chopped tomatoes
Tomato sauce
Canned pinto beans
Canned kidney beans
Chili powder
Ground cumin
Smoked paprika
Chipotle powder
Additional liquid if desired (tomato juice, beer, or water)
Ingredient Substitutions
One great thing about chili is that you can throw almost anything into the pot, and it will taste great. So, go ahead and get as creative as you want with this recipe.
Start by swapping out some or all of the beef for another kind of meat. Ground chicken, ground turkey, or even bulk pork sausage works particularly well in this recipe.
Vegetarians can go with a plant-based meatless option, like Gardein Gluten-Free Ultimate Plant-Based Beefless Ground Crumbles or Beyond Meat Plant-Based Beefy Crumble.
Not everyone likes beans, so you can feel free to leave them out if you desire, but the chili may wind up a bit on the thin side. So, why not add a can of drained sweet corn, an extra pound of meat, or both?
If you notice your chili is still a little too watery, try mixing a tablespoon of cornstarch and two tablespoons of water into a slurry. Stir the cornstarch slurry into the chili and bring it to a simmer for at least 5 minutes to cook out the raw taste of the cornstarch before serving.
Try adding a couple of finely chopped jalapenos or a teaspoon of cayenne pepper powder for a bit more spice.
How to Make Crockpot Chili
In a dry skillet, toast the spices over medium heat until you can smell them. Remove the spices from the heat and set them aside.
Heat a large skillet over medium-high heat. When it comes to temperature, add a tablespoon of oil to the skillet and cook the onions and celery until they're translucent. Then add the garlic and stir together.
Add the ground beef and cook until browned. Pour out any excess grease.
Put the cooked meat and vegetable mixture and the other ingredients into a 6-quart or larger slow cooker. Stir well.
If you want more liquid in your chili, you can add tomato sauce, beer, or water until it reaches the consistency you desire.
Cook on low for 6 to 8 hours.
Serve in a bowl with your favorite chili toppings.
Best Toppings for Chili
Prepare a few toppings to let everyone personalize their chili. I personally love to grab some warm tortillas and dig in. You may want to include some of these garnishes:
Shredded cheese (cheddar, Monterey Jack, and cotija are great options)
Chopped onions
Sliced green onions
Chopped cilantro
Crumbled tortilla chips
Avocado
Sour cream
Sliced scallions
Bacon bits
Salsa verde
There is no need to gussy things up for slow cooker chili. Eat it straight from a cup or bowl with your favorite garnishes on top. You can also serve the chili over rice or on a baked potato if you want.
What to Serve with Chili
Chili is a hearty dish and doesn't really need side dishes to make it a meal, but you can't go wrong by serving:
How to Store Chili
Like many stews, letting the chili rest overnight improves its flavor. Leftovers are such a blessing, you will want to save this chili, it is the best chili made in a crockpot. But if you want to keep chili for longer, you need to know how to store it properly.
To keep the chili fresh in the fridge for 3 to 4 days, let it cool completely and transfer it to a container with a tight lid. Putting warm chili in the refrigerator can be dangerous because it will stay in the danger zone (40 – 140 degrees) for too long.
How to Freeze Chili
Chili freezes wonderfully for up to six months. Just let it cool and then put it in a freezer-safe container.
The day before you want to eat the chili, let it thaw in the fridge overnight. If you need the chili sooner, you can defrost it in the microwave on high for 5 minutes.
How to Reheat Crockpot Chili
Try reheating chili in the microwave using the reheat function or cook for minute bursts until hot. Remember to stir after each minute.
You can also reheat the chili in a skillet over medium-low heat. You may want to add some water to keep the chili from burning.
Favorite Chili Recipes
Looking for more great Crock-Pot recipes? Try These!
Check out more of my easy soup recipes and the best Crockpot recipes here on CopyKat!
Ingredients
2

pounds

ground beef

1

cup

chopped onion

1

tablespoon

chopped garlic

1/2

cup

chopped celery

28

ounces

canned chopped tomatoes

15

ounces

tomato sauce

15

ounces

canned pinto beans

15

ounes

canned kidney beans

4

tablespoons

chili powder

1

tablespoon

cumin

1

teaspoon

smoked paprika

1

teaspoon

chipotle powder

Additional liquid if desired (tomato juice, beer, or water)
Instructions
In a skillet over medium-high heat, cook the ground beef, onion, garlic, and celery until the ground beef is no longer pink. Drain the grease.

In a 6-quart Crockpot, combine the cooked ground beef and vegetable mixture with the chopped tomatoes, tomato sauce, pinto beans, red kidney beans, and spices. Stir well.

If you desire more liquid in your chili, you can add tomato sauce, beer, or water until it reaches the consistency you desire.

Cook on low for 6 to 8 hours.
Nutrition
Calories:
383
kcal
|
Carbohydrates:
28
g
|
Protein:
24
g
|
Fat:
19
g
|
Saturated Fat:
7
g
|
Cholesterol:
64
mg
|
Sodium:
407
mg
|
Potassium:
940
mg
|
Fiber:
9
g
|
Sugar:
4
g
|
Vitamin A:
1370
IU
|
Vitamin C:
9.4
mg
|
Calcium:
90
mg
|
Iron:
5.8
mg