Savor the rich flavors of this Crockpot Beef Stew with tender beef, potatoes, and carrots and a blend of mushroom, tomato, and French onion soups. A comforting meal that's sure to warm your heart and fill your stomach.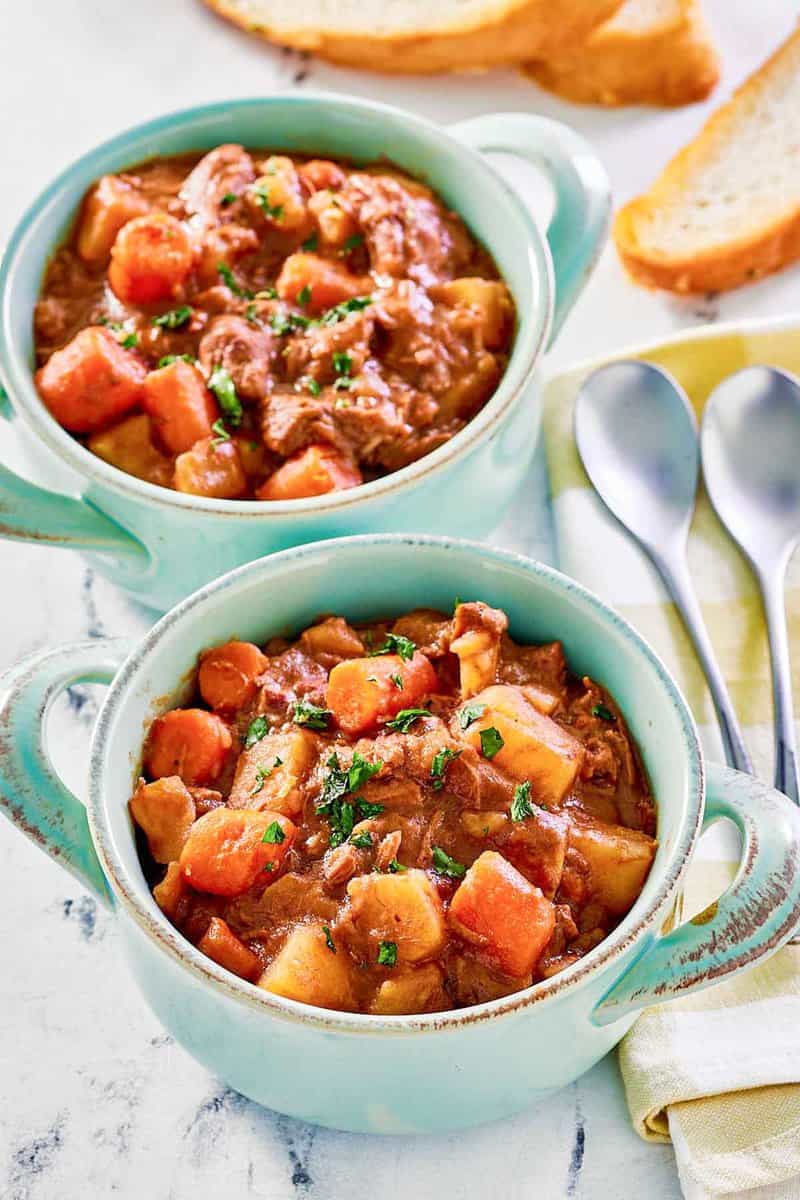 This post contains affiliate links. As an Amazon Associate, I earn from qualifying purchases.
What Makes Crockpot Beef Stew the Perfect Weeknight Dinner?
Few dishes are as comforting as beef stew, but traditional recipes require hours of babysitting. This version delivers the same incredibly rich and hearty taste without the need to watch over the pot constantly.
Simply throw all the ingredients into a crockpot after eating lunch and go about your day. When dinner time rolls around, you can serve your family a homemade meal that will beat any takeout meal hands down.
Why Should You Try This Beef Stew Crockpot Recipe?
There's no reason why a good dinner needs to be a hassle to prepare. When you cook this simple slow cooker beef stew, you are guaranteed a tasty meal without wasting a lot of money or time.
This version keeps things basic by using only canned soups, carrots, potatoes, and cubed beef. But that doesn't mean you can't liven the recipe with a few other ingredients (see the Possible Recipe Variations for a few suggestions).
Crockpot Beef Stew Ingredients
To prepare beef stew in a crockpot, you'll need:
Carrots
Potatoes
Beef cubes
Cream of mushroom soup
Tomato soup
French onion soup
Water
Ingredient Notes
Bottom round is an excellent meat choice for this beef stew crockpot recipe. It's inexpensive and ideal for slow cooking. Buying a whole bottom round and cutting it into large cubes yourself will save even more. Other great choices are beef chuck roast or beef stew meat.
The starch in potatoes is what thickens the stew. For the thickest stew, the best potatoes are russet potatoes. However, if you want the potatoes to keep their texture, use a waxy potato like red potatoes or Yukon gold potatoes.
How to Make Easy Crockpot Beef Stew
To make the best beef stew in a crockpot:
Peel the potatoes and carrots.
Cut the potatoes into medium dice and slice the carrots into pieces about the same thickness as the potatoes. Add the vegetables to the crockpot.
Add the remaining ingredients to the crockpot and give it a good stir.
Cover the crockpot and set it to HIGH.
Cook for five hours or until the vegetables and meat are fork-tender.
Switch to the WARM setting and hold until serving.
Serve it in bowls or soup crocks.
Possible Recipe Variations
There are almost endless ways to customize a beef stew. Here are a few that you may want to try:
Replace some of the water with a dark beer like a stout or a porter. If you don't like the taste of beer, you can substitute beef broth or stock instead.
Replace some of the water with red wine.
Swap a carrot or two for a parsnip.
Add a cup of chopped celery.
Add 1 or 2 chopped garlic cloves.
Add 1 tablespoon of Worcestershire sauce for some umami.
Stir in some frozen peas in the last 15 minutes of cooking time.
Add a tablespoon of a beef bouillon paste (like Better Than Bouillon Reduced Sodium Roasted Beef Base)
What to Serve With This Crockpot Beef Stew Recipe
Really, all you need to enjoy this crock pot beef stew is a spoon or fork, but a few sides won't hurt either. Consider adding one of these to help round out the meal:
A few slices of bread: Not only will the bread help fill you up, but you can use it to soak up all the gravy. Crusty, artisan bread is best, but quality sandwich bread isn't too bad at all. If you feel fancy, why not try making Red Lobster's Cheddar Bay Biscuits?
Roasted vegetables. Although this Crockpot Beef Stew recipe already contains some veggies, you can always use more! Whether you love Roasted Brussels Sprouts or Roasted Cauliflower, cooking veggies in the oven is so gosh darn easy; you should be serving them with every meal.
A simple salad. Don't go fancy here. Think simple, like a Wedge Salad or just chopped romaine with sliced cucumbers, shredded carrots, and wedges of tomato with a nice dressing.
How to Store the Leftovers
Allow the stew to cool to room temperature before transferring it to an airtight container. You can keep the stew in the refrigerator for up to three days or in the freezer for up to a month.
Dividing the stew into individual portions and then freezing each serving in a freezer bag will make defrosting only the amount you want to eat easier. Defrost the beef stew in the fridge overnight or use the QUICK DEFROST setting on the microwave.
What Is the Best Way to Reheat Crockpot Stew
The preferred method of warming up beef stew is on the stove:
Place the thawed stew in a saucepan.
Heat over a medium-low flame until hot while stirring continuously. If the stew is too thick, thin it with some beef stock or water.
More Soup and Stew Recipes
Favorite Crockpot Recipes
Check out more of my easy soup recipes and the best Crockpot recipes on CopyKat!
Ingredients
10.5

ounces

cream of mushroom soup

10.5

ounces

tomato soup

10.5

ounces

French onion soup

1 1/2

pounds

beef

cut into bite-sized cubes

5

carrots

sliced

3

pounds

potatoes

peeled and cut into pieces

3

cups

water
Instructions
Place all the ingredients in a Crock-Pot and cook on high for about 5 hours or until the meat and veggies are tender.
Nutrition
Calories:
332
kcal
|
Carbohydrates:
34
g
|
Protein:
30
g
|
Fat:
8
g
|
Saturated Fat:
3
g
|
Cholesterol:
69
mg
|
Sodium:
670
mg
|
Potassium:
1434
mg
|
Fiber:
6
g
|
Sugar:
6
g
|
Vitamin A:
6515
IU
|
Vitamin C:
26.4
mg
|
Calcium:
81
mg
|
Iron:
8.2
mg