Disney Fried Pickles with ranch dressing is a tasty appetizer or snack. These crunchy deep-fried pickle spears with creamy dipping sauce are sure to be a hit with pickle lovers!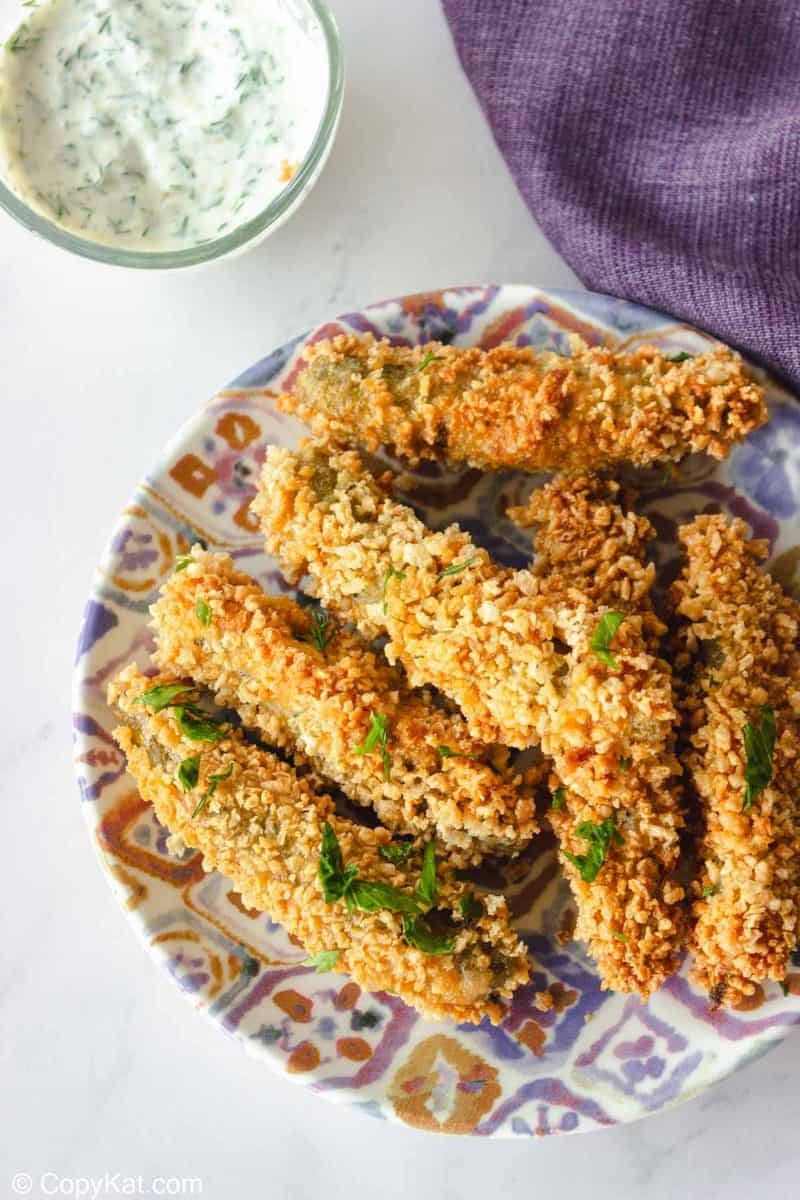 These tasty deep fried pickle spears are popular at the Disneyland Carnation Cafe restaurant.
There are recipes you want to try simply because they sound so odd that there is no way that they could possibly taste good. However, sometimes one of these weird recipes turns out to be surprisingly delicious. That is the way it is with these deep fried pickle spears from Disney World. This unusual snack has become a favorite of guests at the park ever since it appeared on the menu at Carnation Cafe 2012. While Disney isn't the first to come up with the idea of frying pickles, but 'frickles' is a regional dish that many non-Southerners have never tried before. Whether you already love frickles or just heard about them, you should really give this recipe a shot.
What Kind of Pickle Should I Use?
There are many types of pickles, and while you can bread and fry any of them, the most popular choice is a standard dill. Dill pickles are cucumbers that are left in a boiled vinegar-based brine flavored with herbs (like dill) and seasonings. After a week or two, the cucumbers begin to pick up the flavor of the brine. Dills made this way are called quick pickles.
On the other hand, making kosher dill pickles doesn't use any vinegar at all. Instead, kosher dills spend more than a month in a salt-water brine where they get their sour taste. This long period of natural fermentation leaves them a little saltier and a whole lot crunchier than regular dills. Most people don't like to make deep fried pickle spears from kosher dills for this reason, but you can experiment if you want.
Another popular kind of pickle that you may want to try using in this recipe is the sweet pickle. Sweet pickles (which aren't all that sweet), like the bread and butter variety, add sugar and other seasonings and flavorings to their vinegar-based brine. They offer more of a balanced tang and are perfect for anyone who doesn't like things too sour.
The Breading Process
Breading a pickle is just the same as breading anything else and starts with getting your breading station set up. Breading can get messy, so the better organized you are, the less you have to wind up cleaning!
Use a paper towel to dry the pickle spears.
Set up three large shallow bowls. The first is for flour, the second the whisked eggs, and the last is for the panko mixture.
Use one hand (the dry hand) to coat a pickle spear entirely with flour. Shake off any extra flour. Place the floured pickle spear in the bowl with the egg.
Use the other hand (the wet hand) to coat the pickle with egg. Let excess egg drain off and place in the last bowl with the panko mixture.
Use your dry hand to coat with the panko mixture and place it on a plate.
Repeat until you bread all the pickles. Be sure to use one hand for the wet ingredients and the other for the dry ones.
Tips for Making Copycat Disney Fried Pickle Spears
Use panko bread crumbs. Panko bread crumbs are larger and lighter than ordinary breadcrumbs and give deep fried pickle spears more of a crunch.
After breading, stick the pickles in the fridge for about 30 minutes. Chilling helps the breading adhere to the pickle.
Use a thermometer. Make sure the oil is at 375 degrees before frying. Fry in small batches and let the oil return to the correct temperature before starting the next batch.
Keep the deep fried pickle spears warm in the oven. Place the fried pickles on a sheet pan in a 200-degree oven.
See what we are up to on Facebook!
Disney Fried Pickles Recipe Ingredients
Pickle spears
All-purpose flour
Panko bread crumbs
Grated Parmesan cheese, optional
Egg
Vegetable oil for frying
Mayonnaise
Plain yogurt
Garlic powder
Lemon juice
Fresh dill
Fresh parsley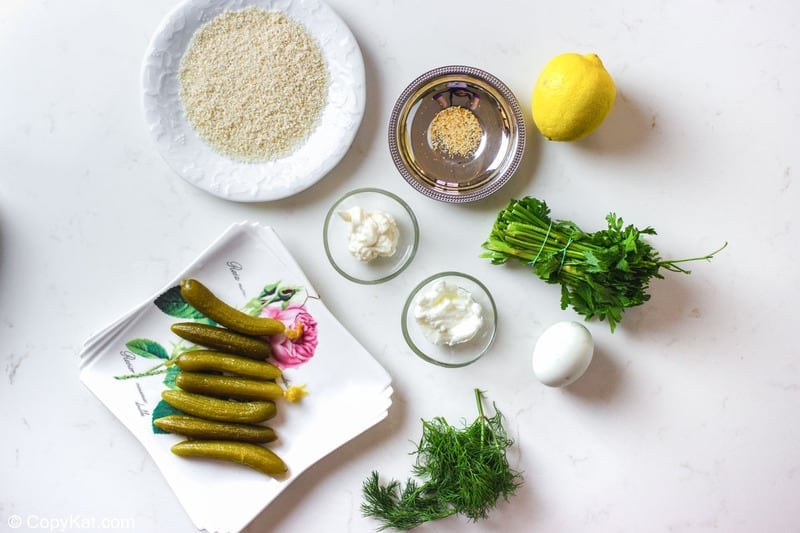 How to Make Fried Pickle Spears
Dry pickle spears with paper towels.
Place flour in a shallow bowl.
Combine breadcrumbs and grated parmesan in a shallow bowl.
In a small bowl, beat the egg.
Coat the pickles with flour.

Dip floured pickles in the egg.
Place pickles in the breadcrumbs and turn to coat them completely.

Place breaded pickle spears on a wire rack.
Repeat this process for the remaining pickle spears.
Heat oil to 375 degrees.
Fry the pickles a few at a time.

Drain fried pickles on paper towels.

Garnish the fried pickles with chopped parsley if desired.

Place mayonnaise, yogurt, garlic powder, lemon juice, in a small bowl.

Add parsley and dill. Stir to thoroughly combine.

Serve fried pickle spears with ranch dipping sauce.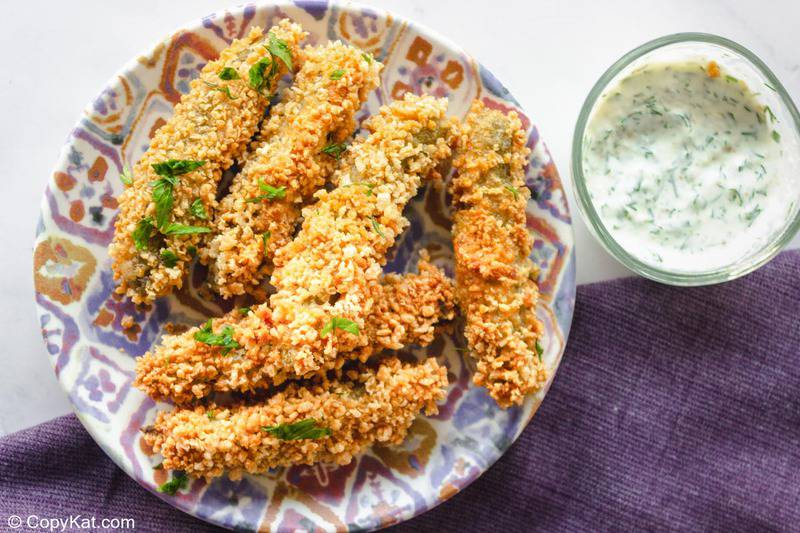 Love pickles? Try these recipes!
Favorite Fried Appetizer and Snack Recipes
Check out more of my easy appetizer recipes and the best copycat recipes for casual dining restaurants here on CopyKat!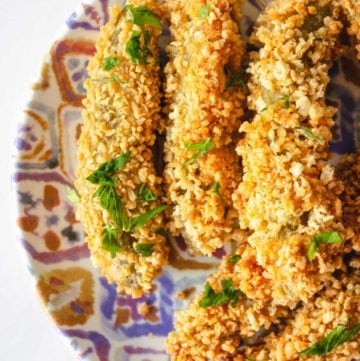 Copycat Disney Fried Pickles
Disney Fried Pickles with ranch dressing dipping sauce is a tasty appetizer or snack. Make the best fried pickle spears like Disneyland Carnation Cafe. These crunchy deep fried pickles with creamy sauce are sure to be a hit with pickle lovers!
Print
Pin
Rate
Add to Collection
Go to Collections
Ingredients
Homemade Ranch Dressing
1

tablespoon

mayonnaise

1

tablespoon

yogurt

1/2

teaspoon

garlic powder

1

teaspoon

lemon juice

1/2

teaspoon

chopped dill

1/2

teaspoon

chopped parsley
Fried pickles ingredients
8

ounces

pickle spears

1/2

cup

panko bread crumbs

1/3

cup

flour

1

tablespoon

grated Parmesan

1

tablespoon

chopped parsley

1

large egg

chopped parsley

for garnish

vegetable oil for frying
Instructions
Ranch Dressing
Place mayonnaise, yogurt, garlic powder, lemon juice, dill, and parsley into a small bowl. Stir to combine. Set aside as you work on the pickles.
Fried Pickles Instructions
Heat oil to 375 degrees in either a deep fryer, or a large pot.

Dry pickle spears with a paper towel.

In a shallow pan add the flour.

In a shallow bowl add the egg, and beat it well.

In another shallow pan add the breadcrumbs and parmesan cheese.

Coat the pickles by first coating with flour, and shaking off the excess flour.

Dip the pickles into the egg.

Dip pickles into the panko crumb mixture, shake off the excess.

Fry pickles for about 30 to 60 seconds or until they turn brown.

Serve with the Ranch dip.
Nutrition
Calories:
248
kcal
|
Carbohydrates:
16
g
|
Protein:
5
g
|
Fat:
19
g
|
Saturated Fat:
2
g
|
Polyunsaturated Fat:
6
g
|
Monounsaturated Fat:
10
g
|
Trans Fat:
1
g
|
Cholesterol:
44
mg
|
Sodium:
611
mg
|
Potassium:
115
mg
|
Fiber:
1
g
|
Sugar:
2
g
|
Vitamin A:
268
IU
|
Vitamin C:
2
mg
|
Calcium:
67
mg
|
Iron:
1
mg