Are you looking for a delicious and healthy salad? Look no further than a traditional Greek salad! Made with crisp lettuce, juicy tomatoes, tangy feta cheese, and briny black olives, this salad is a refreshing and flavorful meal. Top it off with a drizzle of homemade Greek salad dressing for the perfect finishing touch.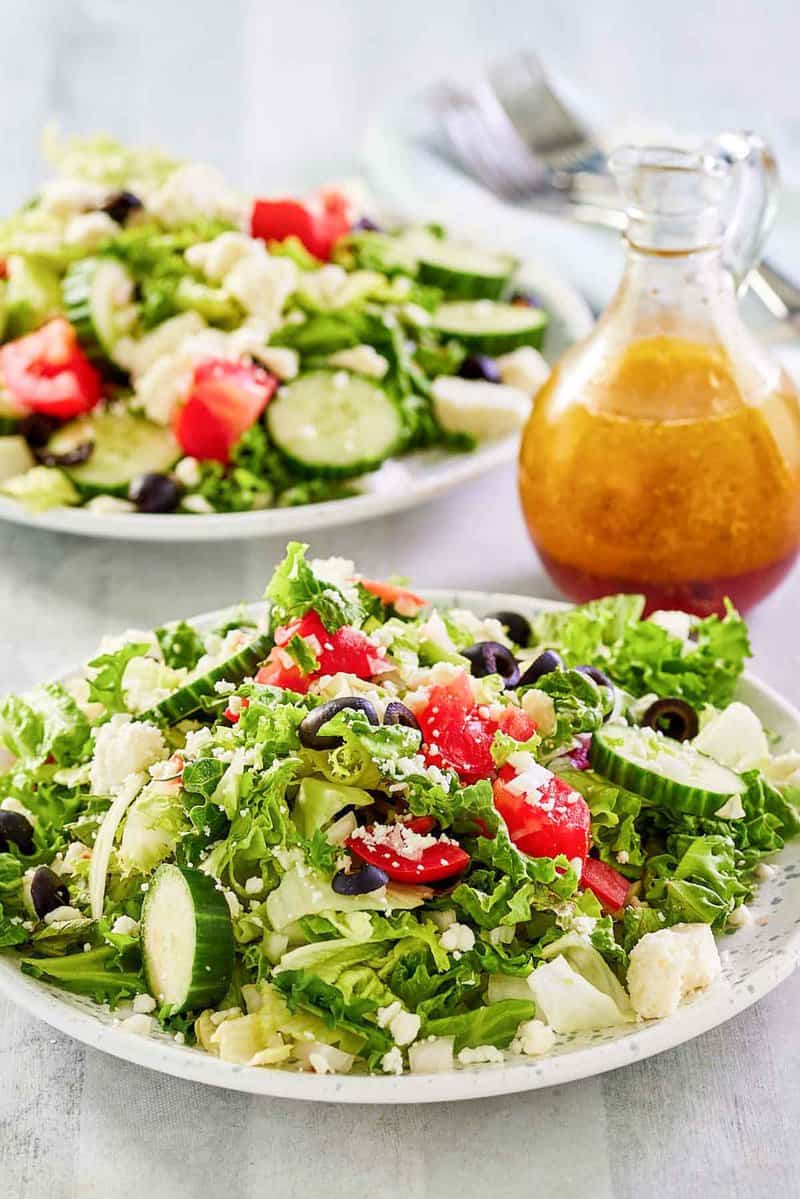 This post contains affiliate links. As an Amazon Associate, I earn from qualifying purchases.
What Makes This Traditional Greek Salad So Good?
An authentic Greek Salad is tart and bright with a subtle saltiness reminiscent of a summer day at the Mediterranean seaside. This version of Greek Salad is loaded with crunchy vegetables and creamy feta cheese over a bed of lightly dressed leaf lettuce.
It's so delicious that you will want to make it again and again. Thank goodness this Greek Salad recipe is so easy!
Why This Greek Salad Makes for the Perfect Light Lunch
Some folks think vegetarian salads aren't main course worthy. Well, this Greek Salad with lettuce will prove them wrong. Sure, you could add a piece of grilled chicken if you want, but there is no need.
As it is, this classic Greek salad is as filling and much healthier than your average brown bag lunch.
Greek Salad Ingredients
For the salad dressing, you'll need:
Red wine vinegar
Extra Virgin Olive oil
Crushed garlic
Salt
Freshly ground black pepper
Sugar
For the rest of this traditional Greek salad recipe, you'll need:
Leaf Lettuce
Cucumber
Yellow onion
Olives
Feta cheese
Most Greek Salads use crunchy lettuces like romaine, but since these types contain a lot of water, you can wind up with a soggy lunch. Using leaf lettuce prevents that. Choose any leaf lettuce you like. Oak Leaf or Red Leaf are excellent options.
Kalamata olives are the most popular choice for Greek salad, but feel free to use whichever you prefer. For an extra burst of flavor, try stuffed olives!
How to Make a Greek Salad
To mix the easy Greek Salad dressing:
The easiest way to make this dressing is by shaking all the ingredients in a jar. But for a thicker, creamier dressing, try putting all the ingredients in a small bowl except for the olive oil. Then drizzle the oil into the bowl while whisking.
Keep the dressing in an airtight container in the fridge and shake well before using.
To assemble the salad:
Chop the lettuce into bite-sized pieces. Place them in a large bowl.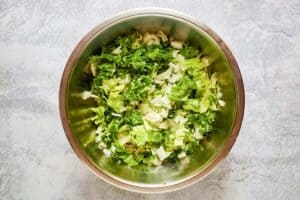 Peel the cucumber and cut off the ends.
Cut the cucumber in half the long way and use a spoon to scrape out all the seeds.
Dice the deseeded cucumber and tomatoes into half-inch pieces.
Finely slice the yellow onion.
In a large mixing bowl, toss the lettuce with the dressing.
Add the diced cucumbers and tomatoes, sliced yellows, olives, and feta cheese.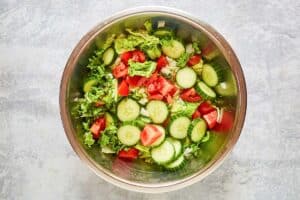 Toss the salad gently and serve it on plates or in bowls.
Recipe Variation
Add sliced red onions and green bell peppers for extra veggies on the salad.
What to Serve With an Authentic Greek Salad
Do you want to turn your salad into a hearty meal? Here are a few ideas to try:
How to Store the Leftovers
Although finishing the salad the day you make it is best, you can keep any leftovers overnight in an airtight container.
How to Pack Salad for Lunch for the Best Results
If you are preparing a Greek Salad to take with you for lunch, separating each component is a really good idea. You can get specially designed salad bowls with separate compartments for everything or use a few food bags.
More Greek Recipes
Favorite Salad and Salad Dressing Recipes
Check out more of my easy salad recipes and the best homemade salad dressings on CopyKat!
Natasha's Cafe generously submitted this recipe.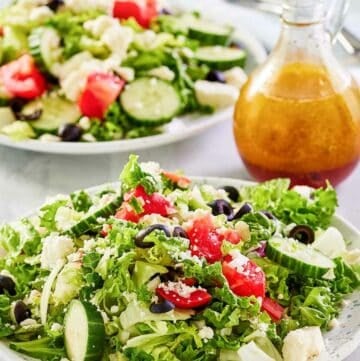 Ingredients
Salad Dressing
1/4

cup

red wine vinegar

1/4

cup

olive oil

2

teaspoons

crushed garlic

salt and pepper to taste

1/4

teaspoon

sugar
Salad
1/2

pound

leaf lettuce

finely chopped

1/2

cup

finely chopped yellow onion

1

pound

cucumbers

coarsely chopped (1/2 inch)

2

pounds

tomatoes

coarsely chopped (1/2 inch)

2

tablespoons

Greek olives

4

ounces

feta cheese
Instructions
Combine all the salad dressing ingredients and mix well.

Combine the lettuce, onion, cucumbers, tomatoes, and salad dressing. Toss to combine.

Garnish with feta and olives.
Nutrition
Calories:
138
kcal
|
Carbohydrates:
8
g
|
Protein:
3
g
|
Fat:
10
g
|
Saturated Fat:
3
g
|
Cholesterol:
12
mg
|
Sodium:
205
mg
|
Potassium:
424
mg
|
Fiber:
2
g
|
Sugar:
5
g
|
Vitamin A:
3150
IU
|
Vitamin C:
23.4
mg
|
Calcium:
103
mg
|
Iron:
0.8
mg