Unlock the velvety richness of homemade garlic hummus! Dive into this creamy blend of chickpeas, tahini, and aromatic garlic, that's perfectly balanced for an irresistible taste. Perfect as a dip for your crunchy veggies, a spread for sandwiches, or a companion for warm pita bread. Simple ingredients and incredible flavor. Elevate your snacking game with this classic Middle Eastern delight!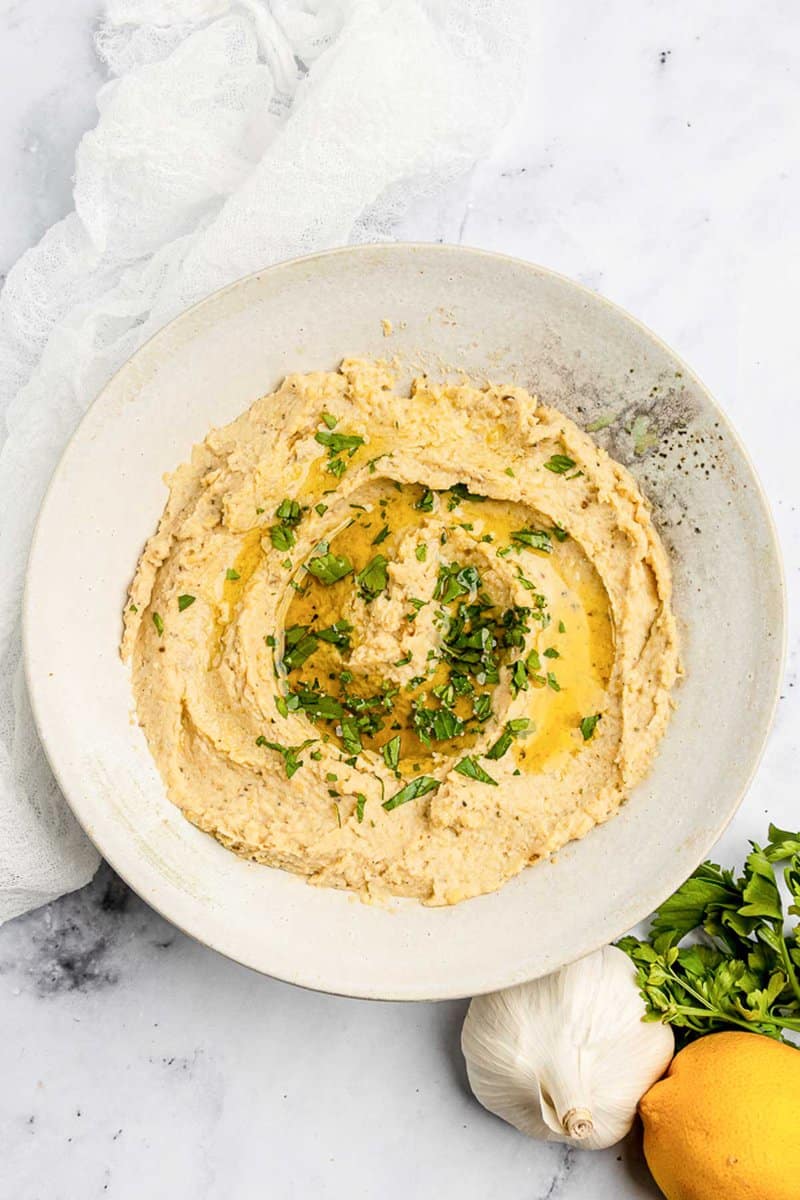 This post contains affiliate links. As an Amazon Associate, I earn from qualifying purchases.
Homemade Garlic Hummus
This easy homemade garlic hummus recipe is the key to unlocking the velvety richness of garlic hummus! Dive into this creamy, perfectly balanced blend of chickpeas, tahini, and aromatic garlic for an irresistible taste. Homemade garlic hummus is perfect as a dip for crunchy veggies, a spread for sandwiches, or a companion for warm pita bread on game day.
What Is Hummus?
Hummus is a delicious dip or spread made from chickpeas, tahini, lemon juice, and spices. It's commonly enjoyed throughout the Mediterranean region and the Middle East.
Why You Should Try This Recipe for Garlic Hummus
It's so easy to make garlic hummus at home, and the flavor is incredible. This is a no-fuss hummus recipe – just toss the ingredients into your food processor and whir away!
If you always want to have tasty snacks on hand, elevate your snacking options with this classic Middle Eastern delight! If you already enjoy eating hummus, this may become your favorite hummus recipe! And it's so much better than store-bought.
In fact, you can add it to your list of things you'll no longer buy at the grocery store. The taste of store-bought hummus just pales in comparison to this best garlic hummus recipe.
Another perk to making your own hummus is that it's budget-friendly. You can make two or three times more homemade garlic hummus for the same price as store-bought!
Best Garlic Hummus Recipe – Ingredients You Will Need
Here are the simple ingredients for making homemade hummus with garlic:
Canned chickpeas (also known as garbanzo beans)
Garlic
Tahini
Fresh lemon juice
Oregano
Olive oil
Salt
Black pepper
What Is Tahini?
Tahini is a paste made from ground sesame seeds that gives hummus a distinctive taste. You can buy tahini or make it yourself, and it will last up to a month in your refrigerator. Read more about tahini and how you can make tahini at home.
Do You Need to Peel the Chickpeas?
Skinless chickpeas do produce a slightly smoother hummus, but it isn't enough of a difference to warrant the time and hassle of skinning chickpeas. However, if you do want to peel your chickpeas, here's how to do it:
Soak the chickpeas with some warm water and baking soda.
Rub the chickpeas with your hands in the baking soda water. The peels will float to the top, ready to be discarded.
How to Make Garlic Hummus
Here are the steps for making this easy garlic hummus recipe:
Drain and rinse the chickpeas.
Process all the ingredients in a food processor or high-powered blender to make a paste.
If your hummus is too thick or still has tiny bits of chickpeas, slowly add 2 to 3 tablespoons of water with the processor running until you reach your desired texture.
Spoon the hummus into a serving bowl.
Drizzle extra-virgin olive oil on top and garnish it with fresh herbs such as parsley or cilantro.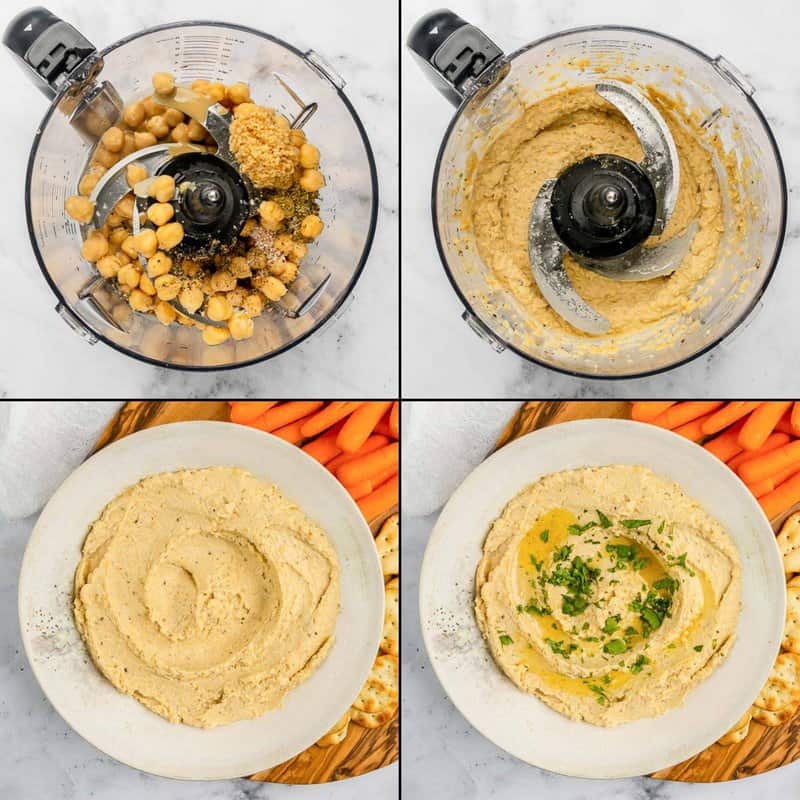 Recipe Variations
This recipe for garlic hummus can be adapted in lots of ways. Here are some ideas:
Tahini substitutes: If you don't have (or like tahini), you can substitute almond, sunflower, cashew, or peanut butter.
Roasted garlic hummus: If you want, you can roast your garlic cloves. Roasting the garlic brings out its sweet and nutty flavor and reduces the sharpness.
More spice: For a little more spice and richness, add some ground cumin, paprika, sumac, or za'atar.
Other additions: Olives or pine nuts.
Black bean garlic hummus: This is a delicious twist on classic hummus. Make it with black beans (instead of chickpeas), lime juice, and cilantro, along with tahini, garlic, and olive oil.
Red pepper hummus: Add 3/4 cup jarred or homemade roasted red peppers. Garnish with finely diced roasted red peppers.
Artichoke and spinach hummus: Add 2/3 cup baby spinach and 2/3 cup drained artichoke hearts. Instead of spinach, you could use baby kale. This is a good way to sneak some greens into your kids' diet – they will never even know!
Sundried tomato hummus: Add 1/2 cup oil-packed sundried tomatoes (drain the excess oil) and 2-3 tablespoons fresh basil. Sprinkle with finely chopped basil.
Pesto garlic hummus: – Gradually Add spoonfuls of pesto to taste to make an extra-lemony, herbaceous dip.
Toppings: Top your hummus with pine nuts, fresh parsley, chopped olives, roasted red peppers, or feta cheese crumbles.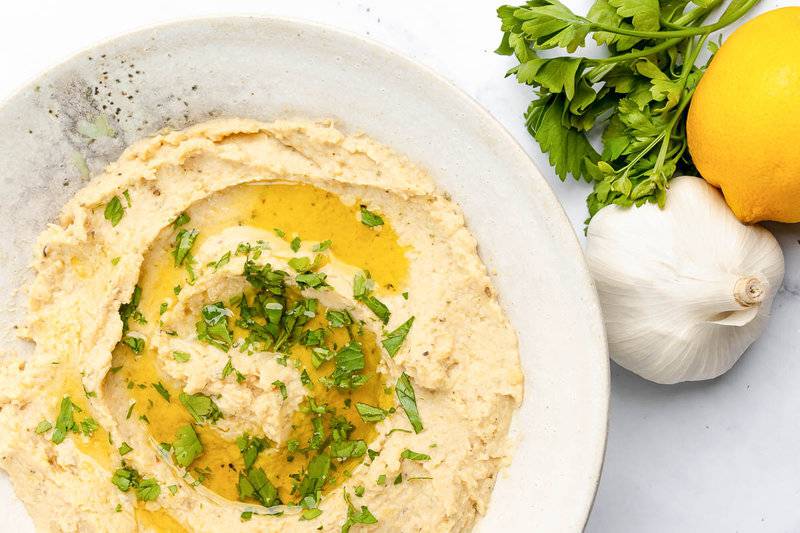 What to Serve Garlic Hummus With
How to serve this best garlic hummus recipe can be summed up in three ways:
Dip It, Spread It, Add It
You can serve homemade garlic hummus with a wide variety of different foods, including:
Pita chips
Crudités – This easy garlic hummus recipe deserves pride of place at the center of your crudité board.
As an essential part of a traditional Mediterranean mezze platter with tabbouleh, stuffed grape leaves, tzatziki, and baba ganoush.
Lebanese Hashweh (cooked ground beef and onions).
Hummus also makes a flavorful addition to:
Veggie sandwiches. Try roasted cauliflower and hummus pita sandwiches.
Slow-roasted vegetables.
Salads – thin your hummus out with some water or lemon juice to give you a more salad dressing consistency.
Pizza
Pasta
How to Store Homemade Garlic Hummus
Make Ahead or Storing Leftovers: Store hummus in an airtight container and refrigerate it for up to 5 days, preferably in a glass container. Hummus tends to absorb flavors and taste a bit funky if stored in plastic.
If you make the hummus beforehand, you will enhance the flavors as the garlic will be more infused in the hummus.
Freezing: You can freeze hummus for up to 3 months but it can be a little gritty when thawed. However, just place it back in the food processor and process it with a little warm water to loosen it up and restore its creaminess.
Favorite Dip Recipes
Popular DIY Recipes
Check out more of my easy dip recipes and the best DIY recipes on CopyKat!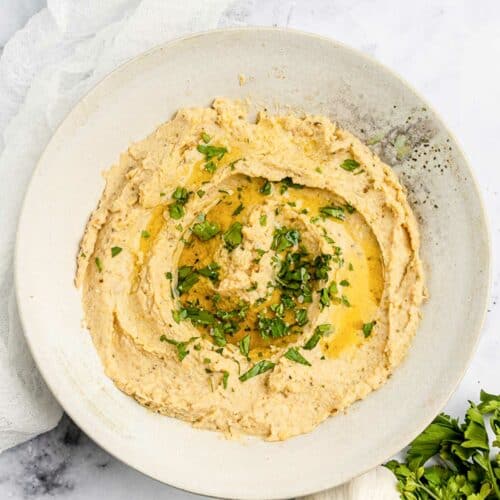 Ingredients
1

can

chickpeas

drained and rinsed

3

cloves

garlic

crushed

2

tablespoons

tahini

2

teaspoons

lemon juice

1/4

teaspoon

oregano

2

teaspoons

olive oil

1/2

teaspoon

salt

1/4

teaspoon

black pepper
Garnishes
olive oil

finely chopped onions

fresh parsley

fresh cilantro
Instructions
Put all the ingredients in a food processor and process into a paste.

Transfer to a bowl and serve topped with a drizzle of olive oil and finely chopped onions, parsley, or cilantro.
Nutrition
Calories:
118
kcal
|
Carbohydrates:
13
g
|
Protein:
4
g
|
Fat:
5
g
|
Saturated Fat:
0
g
|
Cholesterol:
0
mg
|
Sodium:
150
mg
|
Potassium:
149
mg
|
Fiber:
3
g
|
Sugar:
2
g
|
Vitamin A:
10
IU
|
Vitamin C:
1.8
mg
|
Calcium:
30
mg
|
Iron:
1.5
mg