Carrabba's Olive Oil Bread Dip is served freshly made at your table. This herb and garlic oil is perfect for dipping fresh, hot bread. But you don't have to go to the restaurant to enjoy it. You can make this spicy Sicilian butter recipe at home in no time.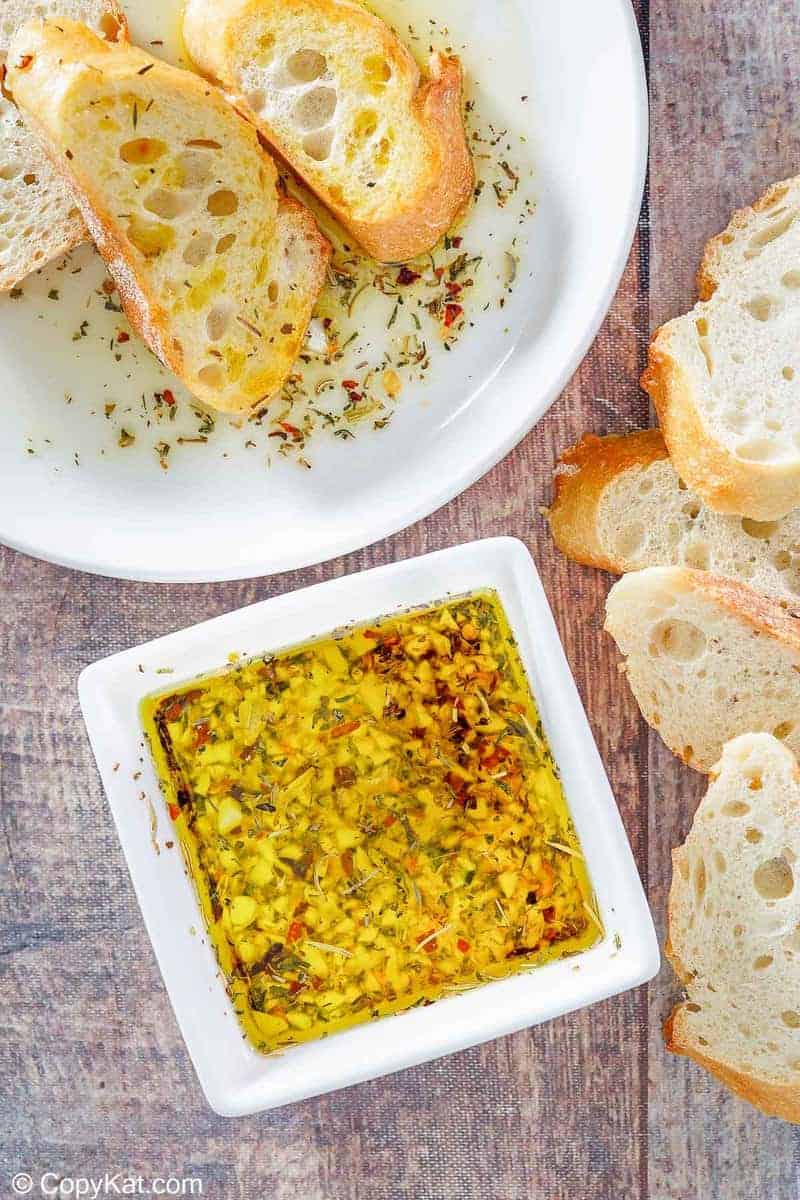 It's tough to beat simplicity, especially when it tastes really, really, good. Good bread and perfectly seasoned olive oil to dip it in is just about as simply delicious as you can get. It is a wonderful way to start a meal or a great snack that much healthier for you than a bag of potato chips. One restaurant, Carrabba's Italian Grill, gets a lot of menu items right. Still, for many guests, it is the chain's coyly named Italian Butter, otherwise known as olive oil bread dip, that keeps them coming back again and again. Now you can make Carrabba's dipping oil at home with this easy recipe.
Choosing the Best Olive Oil
You can't have amazing seasoned olive oil without a stand-out olive oil. Sure, you want to use extra-virgin olive oil, but there is a huge difference between the dozens of different brands that line your supermarket shelf. Picking the right one to pair with crusty bread is more complicated than you may think.
The first thing you want to look for is fresh extra virgin olive oil. Unlike fine Italian wine or balsamic vinegar, olive oil does not age well. Fresh olive oil has a grassy, peppery flavor with hints of fruitiness, while older olive oil can develop a musty off-putting odor. If you can't remember when you bought the bottle sitting in your cupboard, perhaps it is time to buy another one.
High-end Italian olive oil from a specialty store is probably not the best choice. Remember, freshness is rule one when it comes to buying olive oil. So unless you are buying yours from a store with a high product turnover rate of the expensive stuff, you are probably spending more money on older olive oil.
Don't immediately judge the quality of the olive oil from where it was produced. California growers make some pretty incredible olive oils.
Selecting the Best Bread
You need great bread to bring out the best in Carrabba's dipping oil. There are only two requirements. The first one is that the bread needs to be crusty. Ideally, that means a fresh-baked artisan-style loaf such as a Tuscan or sourdough bread. Stay away from that that is already overly seasoned or contains add-ins. You want the flavor of the bread to complement and not compete with the bread.
Secondly, you want the bread warm, but not hot or toasted. The easiest way to warm your bread is to wrap it in aluminum foil and place it in a preheated oven at 350 for five to ten minutes. Never heat bread in the microwave.
Warming bread makes it go stale quicker, so you should only warm the bread you intend to eat immediately. Keep the rest of the loaf wrapped in a kitchen towel or a linen bread bag on the counter.
Tips for Making and Serving Carrabba's Olive Oil Bread Dip Recipe
Mix the seasonings in bulk. Measuring out each or herb or spice every time you make this dip takes a lot of time. When you want to serve, add a teaspoon of the bulk seasoning mixture and some freshly minced garlic to the olive oil.
This olive oil bread dip is versatile. Try it over sliced fresh tomatoes or as a simple pasta sauce.
Watch how to make your favorite recipes on YouTube.
Ingredients for Carrabba's Olive Oil Bread Dip
Here's a list of what you need to make Carrabba's spicy Sicilian butter:
Dried oregano
Dried basil
Dried rosemary
Kosher salt
Ground black pepper
Red pepper flakes
Minced garlic
Extra-virgin olive oil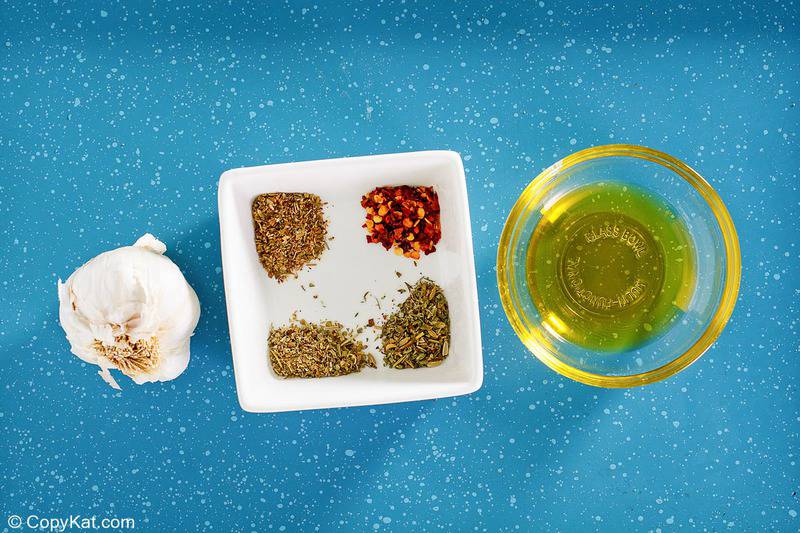 How to Make Carrabba's Bread Dip
Mix together the dry spices.
Add crushed garlic to the dry spices and place the mixture on a small saucer.
Pour olive oil over mixture.
Dip with your favorite sourdough or French bread.
I like to make this Sicilian butter when making Italian food. This is a nice change from garlic bread. You may want to give this a try as well.
Carrabba's Italian Butter would be great simply drizzled over pasta.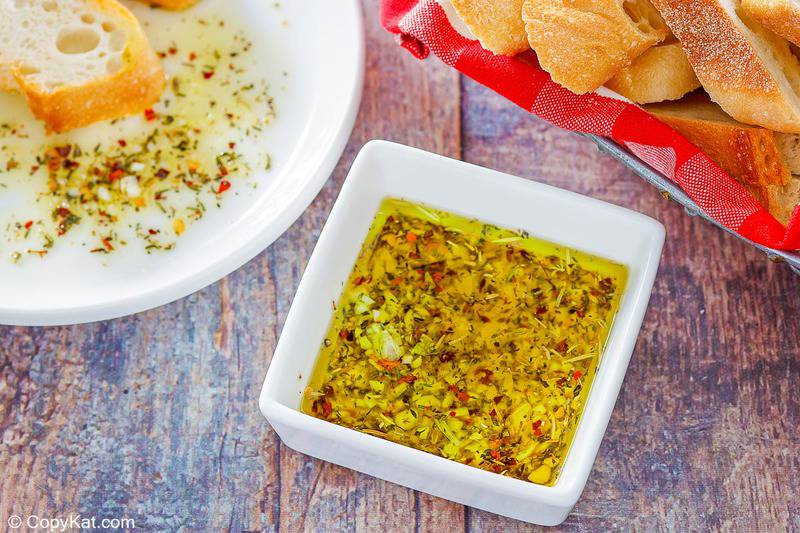 Love Carrabba's food? Try these copycat recipes!
Favorite Italian Recipes
Be sure to check out more of my easy Italian recipes and the best copycat restaurant recipes here on CopyKat.com!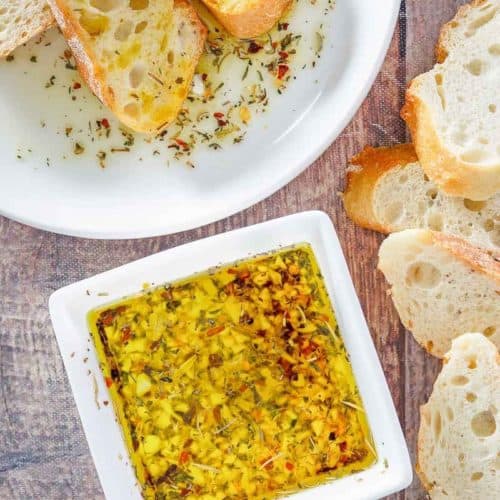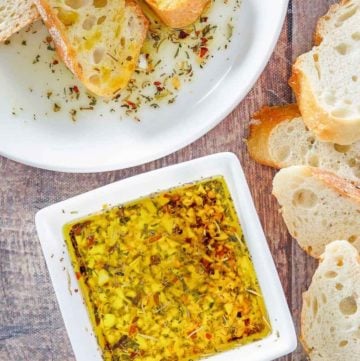 Ingredients
1/8

teaspoon

oregano

1/8

teaspoon

basil

1/8

teaspoon

rosemary

1/8

teaspoon

kosher salt

1/4

teaspoon

ground black pepper

1/4

teaspoon

red pepper flakes

2

teaspoons

minced garlic

3

tablespoons

extra virgin olive oil
Instructions
Mix together the dry spices. Add minced garlic to the dry spices. Place on a small saucer. Pour olive oil over mixture. Dip with your favorite hot French or sourdough bread.
Nutrition
Calories:
47
kcal
|
Carbohydrates:
0
g
|
Protein:
0
g
|
Fat:
5
g
|
Saturated Fat:
0
g
|
Cholesterol:
0
mg
|
Sodium:
37
mg
|
Sugar:
0
g
|
Vitamin A:
20
IU
|
Vitamin C:
0.2
mg
|
Calcium:
1
mg
|
Iron:
0
mg