Making homemade cream cheese can be done. You only need half and half and a special culture that is sold in stores.
I love cream cheese; it has been the salvation of many of my favorite meals. Making homemade cream cheese came about because one year I decided to cook a dish every week that included one specific ingredient, and for that ingredient, I chose cream cheese. When I announced my intentions on Twitter, I got a reply back from Michael Ruhlman, who constantly asks us to cook our own food. (I made my own bacon after seeing his demo at the Blogher Food conference.) So I was inspired to look up how to make cream cheese.
You may ask, why would you make your own cream cheese? Basically, you don't do it because it is more economical. However, I have personally jumped onto an organic kick, and I try to substitute organic products where I can. Organic cream cheese is expensive, but making your own from scratch isn't quite as pricy. The real reason I make my own cream cheese is that I enjoy crafting my own cheese. It isn't hard – it's pretty easy to tell you the truth. What I really like is that I get a wonderful homemade organic cream cheese that tastes rich and tangy.
A lot of homemade fresh cheeses – that is, cheeses that don't have to be aged – you can make at home. Often it is simply a matter of adding some lemon juice to some milk and letting the milk sit on the counter for 12 to 24 hours – voila, homemade ricotta! Leave the curds to grow a little more, and you have farmer's cheese. This type of cheese is wonderful for breakfast – spread some on some toast, and you have a really tasty start to your day.
For your adventure into making homemade cream cheese, you do need some supplies. I recommend purchasing some butter cloth (also called butter muslin), which has a finer weave than cheesecloth, to drain the whey from the cheese. Or you could use a flour sack towel. You will need a lot of half-and-half. And you will need some Mesophilic culture, which is a mix of different bacteria and enzymes – I don't know of any substitute for this for making homemade cream cheese. One packet of culture will set up to two gallons of half and half, but I tried it out using just one quart. So, you can use up to 2 gallons of half and half for this recipe, or, like me, you can use just one quart.
I am not the only one who loves making their own homemade cream cheese. Check out these lovely folks!
Making Cream Cheese So Easy a Child Could Do It
Two Ways to Make Cream Cheese
You can use up to 2 gallons of half and half for this recipe, or if you are like me, I am going to use 1 quart, but you this culture will set up to 2 gallons of milk.
Homemade Cream Cheese
Yield: 8 – 10 ounces of cream cheese
1 quart light cream or half and half
1 package Mesophilic  culture
Butter cloth
Allow your half and half to reach room temperature, your cheese will set more quickly if it isn't refrigerator chilled when you add the starter culture.
Add your half and half to your container, I like to use a flat baking dish to make mine, I am sure technically there is no real difference in how long it will take your cheese to set, but for me, I like to do this in a flat container.

Add your culture to the milk, sprinkling it over the top. I let this sit for about two minutes before I stir in the culture and mix it up really well.

Next, I simply place some plastic wrap over the top of the dish and let it set on my counter anywhere from 8 to 12 hours. While my pets would never climb on top of a countertop and see what is there, I like a little extra insurance from flying objects to land in my cream cheese.

When the cream cheese is set, it will have the texture of yogurt. It will appear to you that the whole process isn't going to work, but here is where you wait and be patient, it really takes about 10 – 12 hours for the cream cheese to set in a cooler house, so be patient. Here is what mine looked like 10 hours after setting. When it is thick like this, you can start to drain the whey out of it.

I take the butter cloth, and make a small sling over the top of the pot, using the handles to secure the cloth. I then add my soft cream cheese into the cloth and let the whey drain out of it.
You can let the whey drain out for up to 12 hours. Then you have some delightful cream cheese you can package into smaller containers. You might like to stir in some herbs or even some jam for a nice treat for breakfast.
I was really amazed at how easy it was to make homemade cream cheese. This would be a fantastic project for kids, there is very little measuring. I have not tried making this recipe with milk, skim milk or anything else, so I can't speak to if that would work for those types of milk products. What I really liked was I got to make a wonderful organic cream cheese that tastes rich and tangy.
Can I make cheese with yogurt or buttermilk?
Yes. Yes, you can. Here is why I don't entirely recommend it for the novice. Actually, you can try to make it with the ambient bacteria in the air, it could turn out, most likely it will fail. This is how it was originally discovered thousands of years ago. Over time our ancestors realized you could reproduce it by using whey as a starter and they would get more dependable results.
I personally think if you are trying this for the first time you should spring a couple of bucks for culture and get dependable results. I looked up the bacteria that are in both mesophilic culture and buttermilk. They are as follows.
Mesophillic culture may contain lactose, lactococcus lactis subsp. lactis, lactococcus lactis subsp. cremoris
Buttermilk may contain lactose, (LL) lactococcus lactis subsp. lactis, (LLC) lactococcus lactis subsp. cremoris, (LLD) lactococcus lactis subsp. biovar diacetylactis, (LMC) leuconostoc mesenteroides subsp. cremoris.
Yes, there is some overlap. As you can see they are not the same, so sure you will produce a type of cream cheese but isn't the recipe that I am sharing.
Use homemade cream cheese in these recipes:
Panera Bread Honey Walnut Cream Cheese Spread
Also, learn how to make Yogurt Cheese too.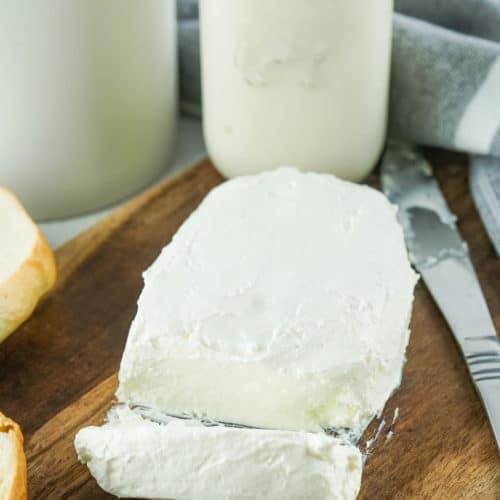 Ingredients
2

quarts

half and half

1

package

mesophilic culture
Instructions
Pour half and half into a large flat container, like a 9 x 13-inch baking pan.

Sprinkle mesophilic culture into half and half. Wait about two minutes for the culture to bloom, then stir in the culture.

Seal the baking dish with plastic wrap. Leave the milk mixture outside on the countertop for about 8 to 12 hours, or until it begins to set up.

The cream cheese has set up properly when it has the consistency of Greek yogurt.

You will want to fold over the butter muslin so the fabric is double layered. Place the soft cheese into the butter muslin and hang it so the whey drains out. It may take up to 12 hours for the whey to drain out.

Once the whey is drained out, transfer the cream cheese to an airtight container. You can serve it as-is or form it into a block.

Store the cream cheese in the refrigerator.
Nutrition
Calories:
2461
kcal
|
Carbohydrates:
81
g
|
Protein:
56
g
|
Fat:
218
g
|
Saturated Fat:
135
g
|
Cholesterol:
700
mg
|
Sodium:
776
mg
|
Potassium:
2461
mg
|
Sugar:
3
g
|
Vitamin A:
6700
IU
|
Vitamin C:
17
mg
|
Calcium:
1987
mg
|
Iron:
1.3
mg