There's nothing like a unique deli-style spread to complement a chewy, delicious bagel. Panera honey walnut cream cheese is one of the best choices if you're looking for distinctive but subtle flavors that don't overwhelm your bagel.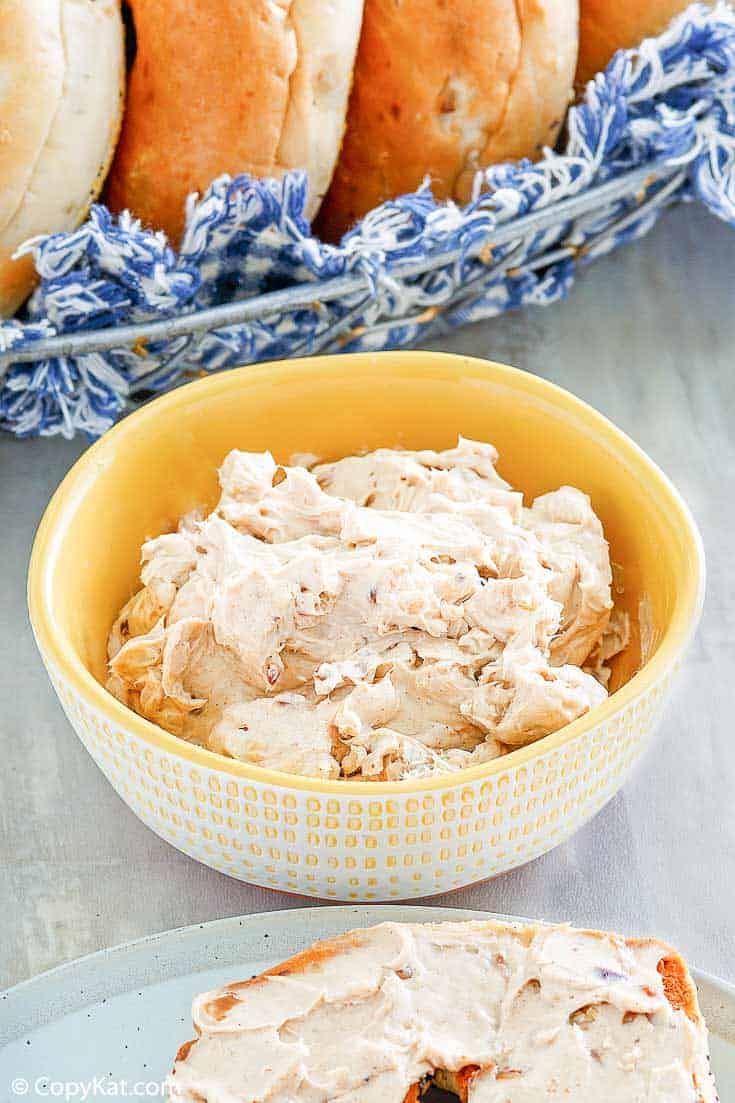 This post contains affiliate links. As an Amazon Associate, I earn from qualifying purchases.
Panera Bagels and Cream Cheese Spreads
Grabbing a bagel from a bakery or bagel shop can be a delight for many reasons. But one of the most important is the spreads and toppings you can get, which can turn even the most ordinary baked goods into a breakfast or snacking star.
Fortunately, simply "ordinary" baked goods aren't something you have to worry about when dealing with Panera, which offers a whole host of delicious bagels. They range from familiar flavorings like savory Everything bagels and sweet blueberry to mouthwatering, only-at-Panera styles like cinnamon crunch and asiago.
They're complemented by what some see as the real star of the show – the cream cheese, made from the lighter Neufchatel. Along with a classic plain spread and a herby chive-and-onion variety, Panera lovers may find themselves craving the chain's mouthwatering honey walnut cream cheese.
But a daily trip to Panera can take up a lot of time, not to mention money. Luckily, it's easy to enjoy that distinctively sweet, nutty creaminess at home.
Why This is the Best Recipe for Honey Nut Cream Cheese
This spread will be a hit at any breakfast or brunch event, helping elevate your bagel toppings from any old homemade cream cheese spread for bread to a conversation-worthy side. It's also a money-saver. Depending on your location, an eight-ounce tub of Panera's official honey walnut cream cheese will run between $3.50 and $6.
Home cooks can produce equal amounts for much cheaper, especially since many of the shelf-stable ingredients can be bought in bulk. With only a couple minutes of work, it's a tremendous value for the flavor it provides.
Ingredients
Just a few ingredients are required to make this honey walnut cream cheese recipe. Here's what you need:
Cream cheese (unflavored)
Honey
Molasses
Brown sugar
Cinnamon
Walnuts
Most of these can be conveniently stashed in your pantry or refrigerator, ready to craft a batch on short notice.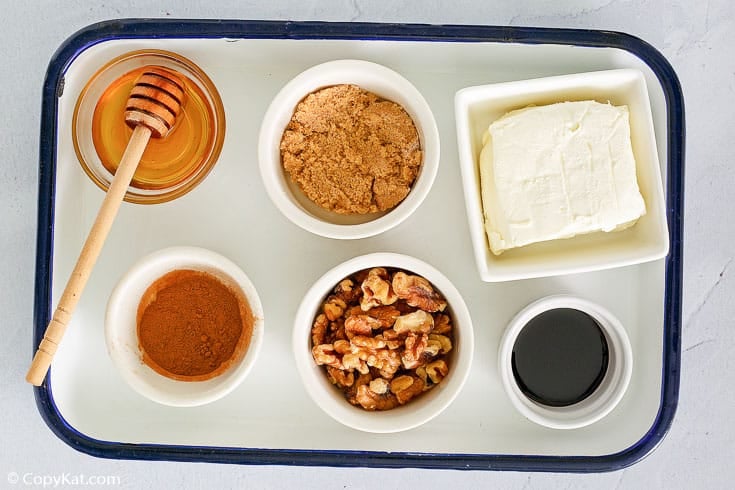 Ingredient Substitutions
While this honey nut cream cheese is simple to put together, it's also easily customizable for food allergies or preferences.
Walnuts can be swapped with other nuts for similar texture and taste.
Varying styles of molasses offer different levels of sweetness and intensity of flavor.
There are also seemingly endless varieties of honey, each offering its own consistency, taste, and aroma, from familiar clover honey to more exotic styles like orange blossom or tupelo.
Those avoiding dairy aren't out of luck either, thanks to the availability of non-dairy and vegan cream cheese alternatives that perform similarly to the real thing.
How to Make Panera Honey Walnut Cream Cheese Spread
It doesn't get much simpler than this honey walnut cream cheese recipe.
Let the cream cheese soften at room temperature for a few minutes.
Combine cream cheese with the honey, cinnamon, molasses, and brown sugar in a large bowl and mix well.
Fold the chopped walnuts into the cream cheese mixture.
All that's left to do is spread it on your favorite bagel or baked good!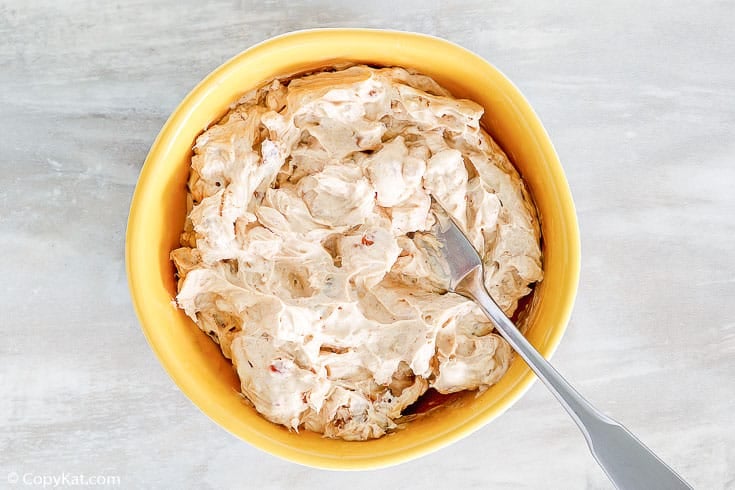 Recipe Variations
As you can see, the simple process of making Panera walnut cream cheese makes variations of all kinds pretty straightforward. Along with the substitutions listed above, it's easy to toss in extras like additional nuts or dried fruit like raisins.
One of the best variations involves simply toasting the chopped walnuts in a heated, dry skillet for a few moments. This brings out their natural oils, creating an even more intense nuttiness. They should be allowed to cool down before they're mixed into the cream cheese.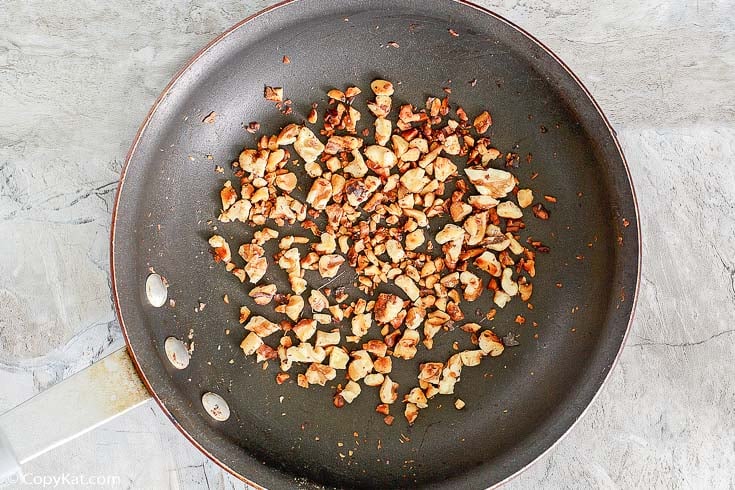 What Goes Well with Panera Honey Walnut Cream Cheese
There's nothing like the pairing of a bagel and cream cheese, especially when it's a high-end spread like Panera honey walnut cream cheese. A spread like this one can pair well with any of Panera's sweeter bagel options like cinnamon swirl, blueberry, chocolate chip, or cinnamon crunch (or their supermarket-bought or homemade siblings.)
Plain bagels are always a solid choice, and more adventurous eaters may enjoy pairing the spread with savory bagel options like everything or asiago.
You're certainly not limited to just bagels. This recipe works just as well as a homemade cream cheese spread for bread, English muffins, biscuits, and more. It can even be enjoyed as a dip with fruit or crackers.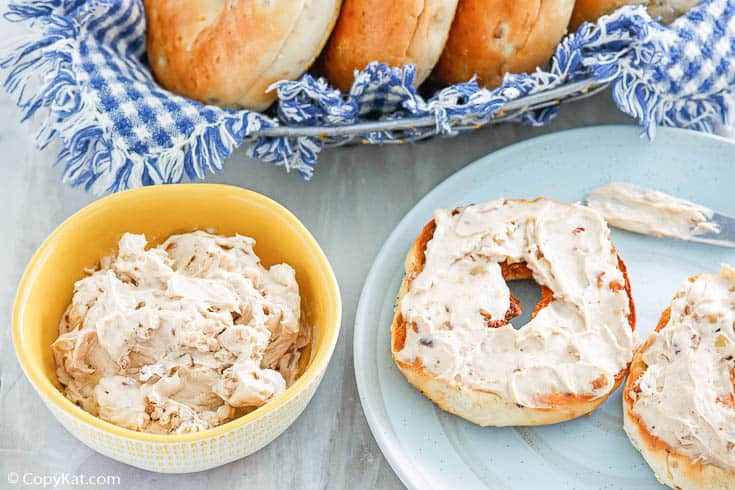 How to Store
Homemade Panera honey walnut cream cheese is as easy to store as it is to make and enjoy. Keep it refrigerated in an airtight container. Freezing isn't recommended, so only prepare as much as you think you'll use in the near future.
It'll stay good for up to ten days in the fridge, but with a recipe this delicious, it may not last that long anyway.
If you love another great schmear for your bagel, try my copycat recipe for Zabar's Cream Cheese Spread.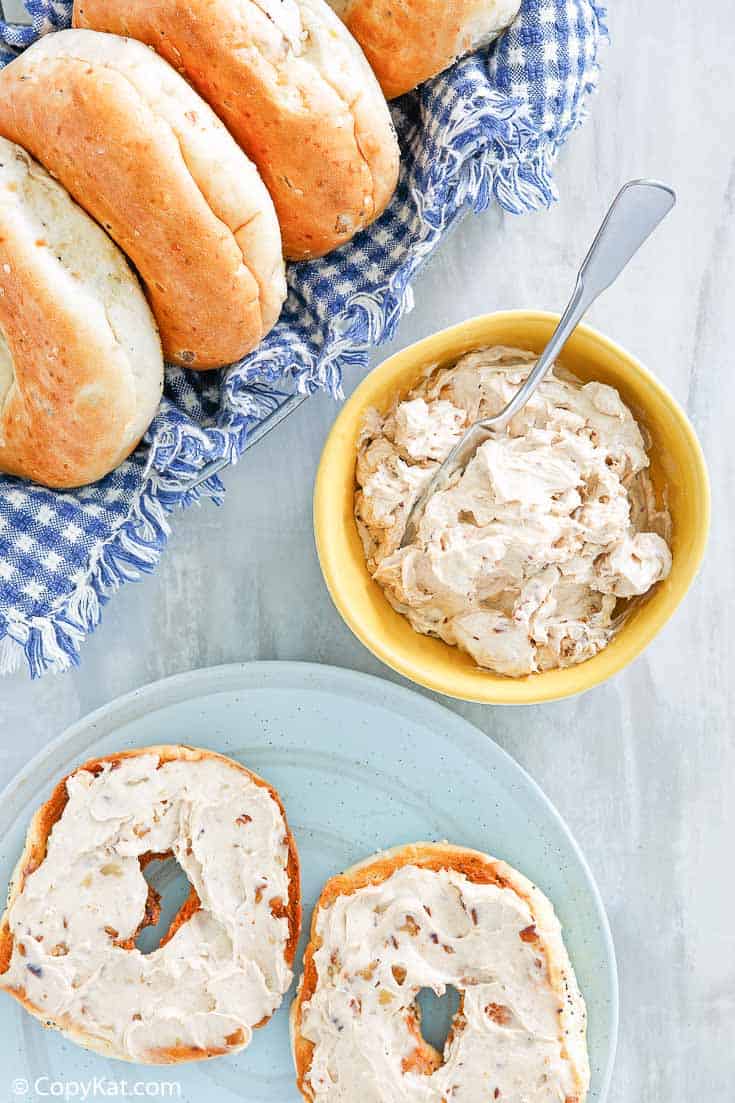 Love Panera Bread? Try these copycat recipes
Savory Cream Cheese Recipes
Sweet Cream Cheese Recipes
Be sure to take a look at the best restaurant copycat recipes and CopyKat favorites.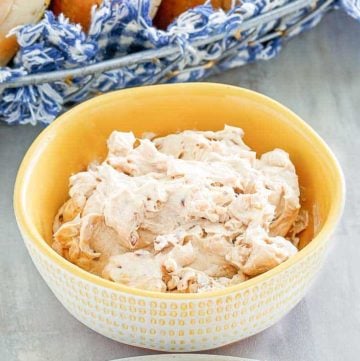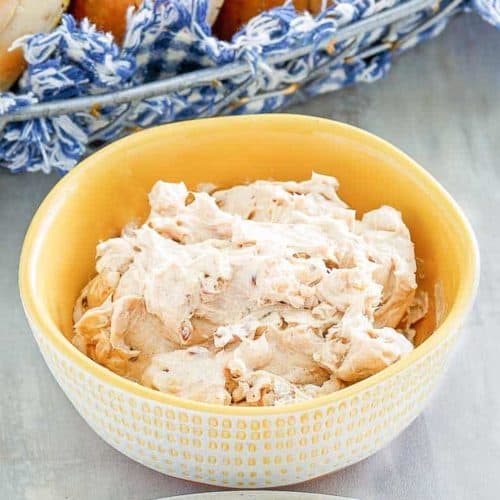 Panera Honey Walnut Cream Cheese
If you don't have a Panera Bread near you, you may never have had the chance to try this type of spread. Be assured this honey walnut cream cheese spread is just like Panera's. It's super easy to make and absolutely delicious.
Print
Pin
Rate
Add to Collection
Go to Collections
Ingredients
8

ounces

cream cheese

softened

1

tablespoon

honey

1

teaspoon

molasses

1

tablespoon

brown sugar

1/4

teaspoon

cinnamon

1

tablespoon

chopped walnuts
Instructions
If you wish, toast the walnuts in a skillet over medium-high heat until they just turn fragrant. Watch the skillet closely – there is a short time between the nuts being toasted and burnt. Take the nuts off the heat and allow them to cool completely. 

In a small bowl, combine the softened cream cheese, honey, molasses, brown sugar, and cinnamon. Stir until all of the ingredients are well blended. 

Stir the walnuts into the honey cream cheese.

Store in an air-tight container in the refrigerator.
Video
Nutrition
Calories:
121
kcal
|
Carbohydrates:
5
g
|
Protein:
1
g
|
Fat:
10
g
|
Saturated Fat:
5
g
|
Cholesterol:
31
mg
|
Sodium:
91
mg
|
Potassium:
57
mg
|
Fiber:
0
g
|
Sugar:
5
g
|
Vitamin A:
380
IU
|
Calcium:
30
mg
|
Iron:
0.2
mg